Ever lost important data from your Android smartphone? Well, we have all been there. We have all lost data from our Android devices due to various situations. Be it through an accidental deletion, factory reset, an OS update, a non-responding device, lost device or even when you forget the password to your locked smartphone. Well, the good news is, there are software that let you recover data from an Android smartphone or tablet pretty easily. Among others, the most trusted one is Wondershare's Dr. Fone.
While there are other ways to recover lost data on Android, most of the solutions aren't as detailed or feature rich as Wondershare's offering. So, if you are someone who has a knack of losing files on Android, you must check out Dr. Fone. Want all the details? Let's begin!
Features: What Dr. Fone Offers?
Wondershare Dr. Fone is a very feature rich Android data recovery software, so let's check out its best features, shall we?
Various Recoverable File Types
Unlike other apps and software, which only let you recover specific file types like photos, Dr. Fone lets you recover contacts, messages, call logs, WhatsApp messages and attachments, audios, videos and documents. Yes, basically you can recover almost all file types with Dr. Fone. Moreover, it also lets you recover deleted files from an SD card.
After Dr. Fone scans your device for deleted or lost files, it lets you see a preview of the files. You can then go ahead and choose the files you want to recover, which comes in extremely handy if you only want to recover specific files and not all of them.
Support for almost Android devices
According to Wondershare, Dr. Fone's data recovery features are compatible with more than 6,000 Android devices. Also, the tool supports both rooted as well as non-rooted devices, so chances are, you will be able to recover your Android device's lost or deleted files using Dr. Fone.
Wondershare claims that the software only reads data from your device to recover it. It does not modify, keep or leak any of your data.
Getting Started: How to Use Dr. Fone
Now that you know the features Dr. Fone offers, let's dive into how you can use it:
1. Launch Dr. Fone from your PC or Mac and make sure your Android device has USB Debugging enabled. You can enable it in Settings->Developer Options.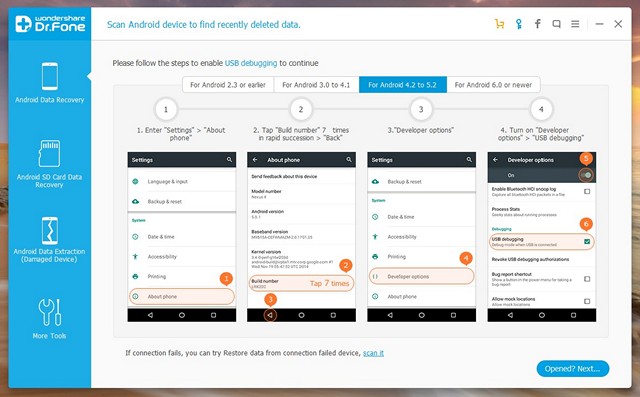 Note: You can enable Developer Options by going to Settings->About Phone and tapping "Build Number" 7 times.
2. Then, connect your Android device to the computer. You should get a prompt on your Android device asking you to allow USB Debugging.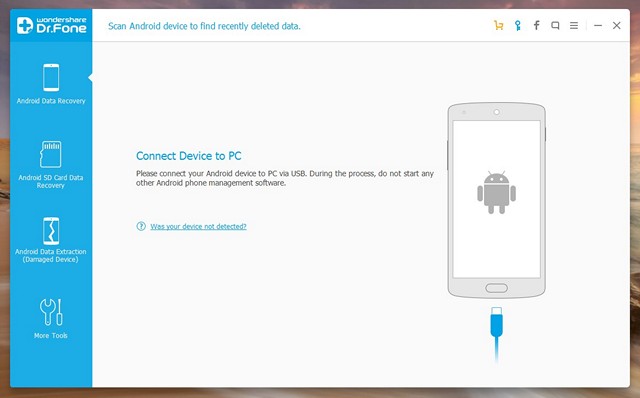 3. Once your device is connected, you will be straight away shown the different files types you can recover. Check the file types you are looking to recover and click on "Next".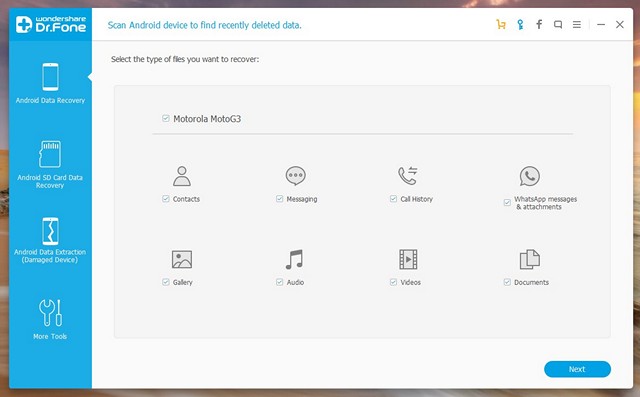 4. The tool will then prompt you that it will try and apply "one-click root" on your device to gain access to all the files. Click on "Start".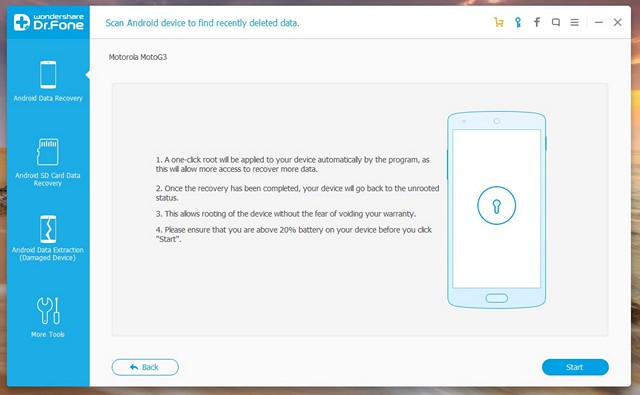 Note: The one-click root process only tries to root your device temporarily and does not void your warranty. Also, the process might not work on some devices but don't worry, because Dr. Fone works even without root-access. 
5. The process will then start, with the device information being matched and the one-click root process being applied. Your Android device will restart in the process but there's nothing to worry about, so don't disconnect it. The process should just take a few minutes.
6. Once the process is completed, the software will start scanning the device, after which you will see the left pane showing all the different file types and the number of files up for recovery.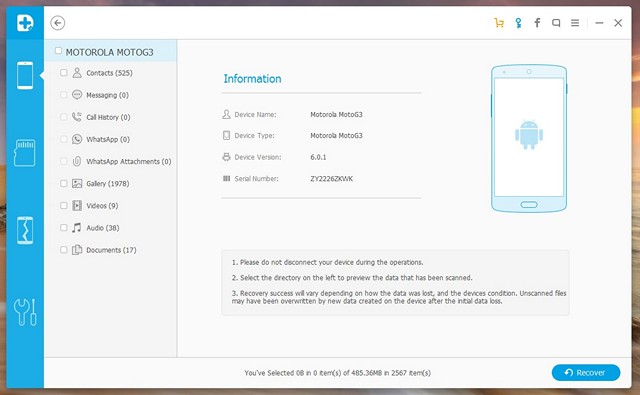 7. You can check out the previews, select all the files or specific files you want to recover and click the "Recover" button. Then, Dr. Fone will prompt you to set the location where you want to save the restored files.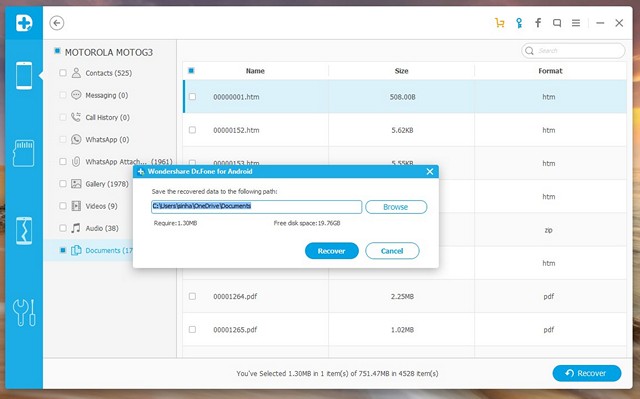 8. Once done, the files you selected will be recovered in an instant and saved in the folder you selected.
As you might have noticed, the software is pretty easy to use, so you should have no problem following the aforementioned steps. Also, we tested out the software on both rooted and non-rooted devices. It obviously works faster on rooted-devices but it worked perfectly fine with non-rooted devices too.
Pricing and Availability
The Wondershare Dr. Fone software is available for Windows, macOS and Android. The software is available for $49.95 for 1-5 devices and a single PC but you can try the free trial for 30-days, which only lets you preview recoverable files. You can download the software from Wondershare's official website.
Pros:
Different file types supported
Works for both rooted and non-rooted devices
Easy to use
Cons:
Free trial only lets you preview files
Takes more time in some cases
SEE ALSO: How to Recover Deleted Text Messages on Android
Recover Deleted or Lost Files with Wondershare Dr. Fone
While it's fairly easy to recover deleted or lost files on a PC or Mac, it's not the same when it comes to an Android smartphone or tablet. Thankfully, the Wondershare Dr. Fone just works! Yes, the free trial not letting you recover files might irk some but we tried the software and it does restore your lost files. So, if you can shed some money, Dr. Fone is a great Android data recovery solution. Well, don't take our word for it, try the software and find out. Do let us know your experience in the comments section below.
---
Load More