If you are passionate about your favorite TV shows, movies etc., chances are that you have stored physical DVD copies of them. We also tend to use DVDs to store the special moments in our lives. However, DVDs aren't the best solution in a digital world, where they are slowly being phased out. There are multiple reasons for that; they are prone to scratches, can be broken easily or they might even get lost. Thus, it's a good idea to move contents from your DVD to your computer and that's where a DVD ripper software comes in handy.
While there are a number of good DVD ripper software available, you should take a look at WinX DVD Ripper Platinum for Windows and Mac. So, if you have been looking for a great DVD ripper software, let's dive into the details of WinX DVD Ripper:
Here's a chance for Beebom readers to download a licensed copy of WinXDVD Ripper for free
Key Features
The WinX DVD Ripper software is a very feature rich tool and it includes a number of features that make it stand out against the competition. So, without any further ado, here are the key features of WinX DVD Ripper Platinum:
Support for various video formats
As is expected of a DVD ripper software, WinX supports a plethora of video file formats. There's support for usual formats like MP4, AVI, MPEG, WMV, AVS, MTS, along with support for Mac friendly formats like MOV and M4V. Chances are, no matter which video format you want to convert a DVD to, WinX should be good enough for it.
WinX DVD Ripper comes with more than 350 profiles, which are nothing but video formats specific to devices and platforms. There are profiles for DVD Backup formats, Apple devices like the iPhone or iPad, Android smartphones & tablets and other devices. It also profiles for general web videos, Facebook, YouTube, Vimeo and there's also a profile to convert a DVD to audio.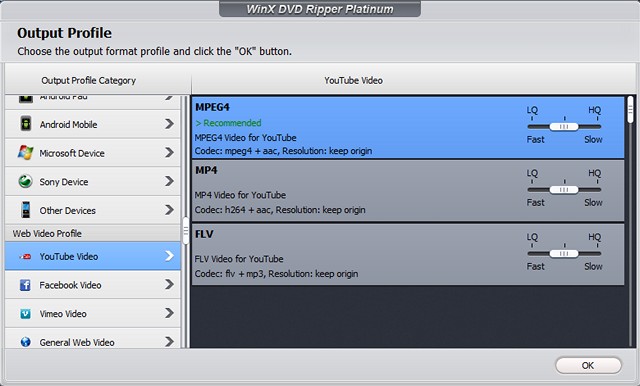 If you just want to make a copy of your DVD to another backup DVD, WinX DVD Ripper lets you do that too. The software lets you clone DVDs using the built-in DVD copy feature. The feature supports 1:1 cloning of DVDs to a full ISO image and lets you copy the content in the MPEG2 file format with lossless quality and 5.1 channel AC3/DTS Dolby audio. Plus, the process only takes approximately 5 minutes, although it depends on your system configuration.
Now, this is something I really like in WinX DVD Ripper. The software includes a built-in video editor, so that you can make any changes to the video before you rip it. You can adjust the volume of the video, add subtitles and its position, crop to remove unwanted areas, trim parts of a video and merge several titles. You can also add details like tags, video description, genre etc.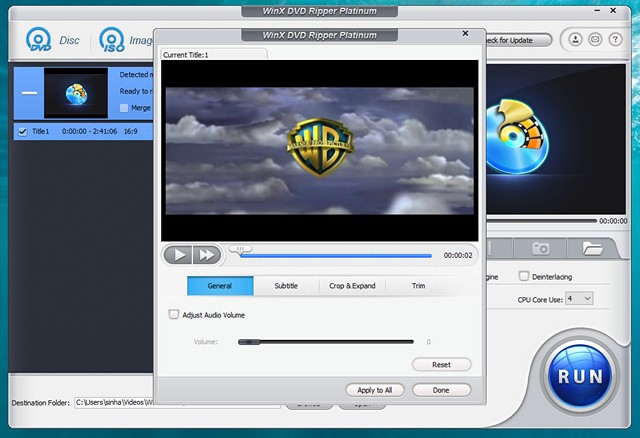 Options to Enhance Video and Audio Quality
Along with some great video editing options, WinX DVD Ripper also lets you enhance videos through some cool options. There's "High Quality Engine", which makes sure the video is of the highest quality possible and "Deinterlacing", which improves the video output effects.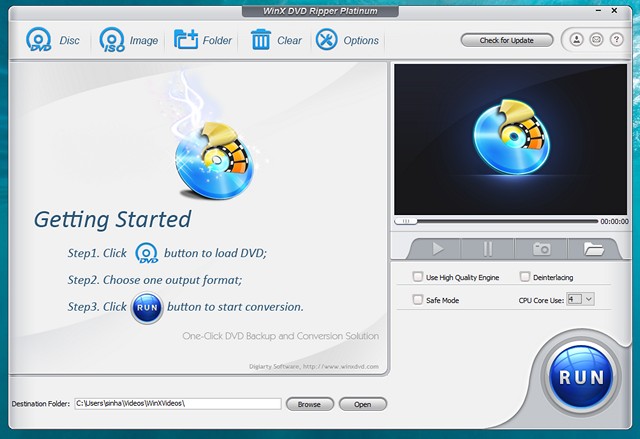 Other than these great options, WinX DVD Ripper also includes a number of options to tune the audio and video of a DVD. When it comes to the video, you can change the codec, frame rate, bit rate, aspect ratio and resolution. On the audio front, you can change the codec, channel, sample rate and bit rate.
A lot of DVDs come with encryption technologies, so that you are not able to make a copy but if you have WinX DVD Ripper, there is nothing to worry about. The software lets access DVDs with encryption technologies like DVD CSS, region code, RCE, Disney X-Project DRM, Sony ArccOS and more. Plus, it's updated from time to time to handle any new protected DVD technology.
WinX DVD Ripper lets you set the CPU cores to be used in the ripping process, so you can set it depending on your usage. It's also compatible with the newest CUDA and the latest Intel Core i5 and i7 chipsets. Plus, it features a Super Encode Engine based on MMX- SSE & 3DNow! and Hyper-threading tech, which results in fast ripping speeds and great output quality.
WinX DVD Ripper: How it Works?
Unlike many DVD ripping software out there, the WinX DVD Ripper is fairly simple to use. Well, here's how it works and how you can use it:
1. When you open the software on your Windows PC or Mac, you will have to select the DVD option and choose the path of your DVD drive. The main page also houses the options to enable High Quality Engine, Deinterlacing, Safe Mode and set the CPU cores to use.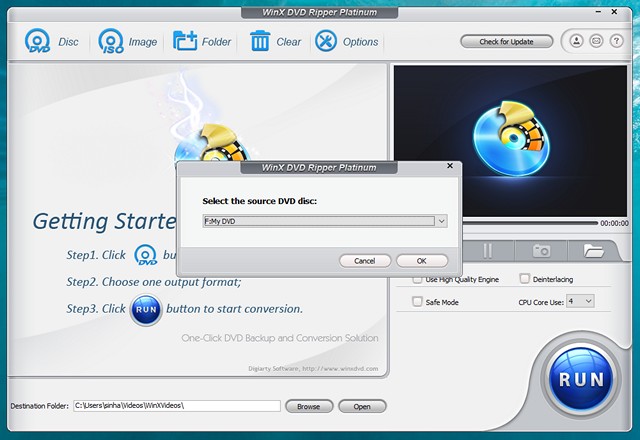 2. Then, you will have to choose the output profile. As we mentioned above, there are a plethora of profiles and video formats to choose from. Here, you can also adjust the quality and the ripping speed of a specific profile.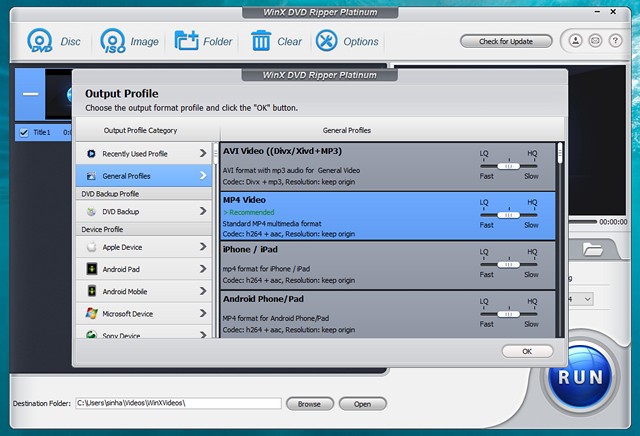 3. Once done, you can now make changes to the video. You can hit the settings icon to access various audio and video quality options. You can also edit the video through the "Edit" button. There's also the option to add details to a video, merge titles if you have multiple files through the "Set Tag" option.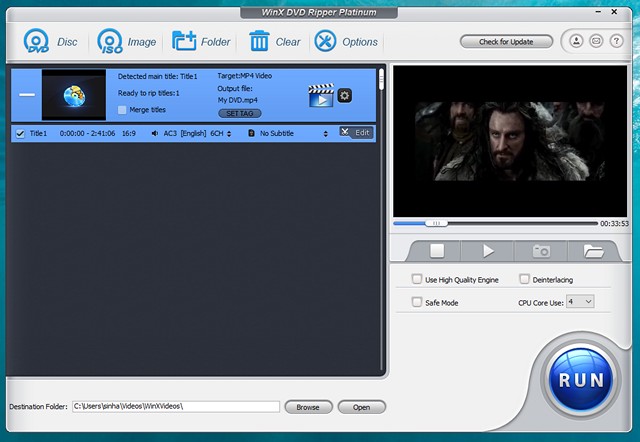 4. Once you are done, you can hit the "Run" button to start the process. The ripping will then begin and the process time will depend on the file format you chose for the output as well as your system configuration.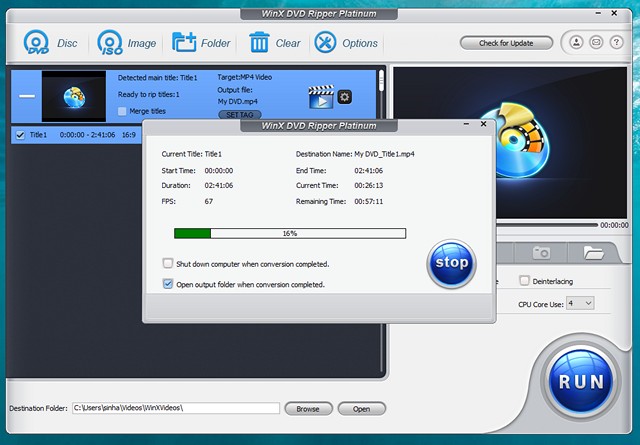 Overall, WinX DVD Ripper works really well. We tested it several times and it worked like a charm. Plus, it's very easy to use, even if you are just a beginner. Other than that, the user interface does look a bit dated but it's functional. We also have qualms with the options buried in icons that aren't very noticeable when you are using it for the first time. However, you should not face any problems because we have already outlined the steps to get to various options above. Also, you can get a detailed guide on the software by clicking on the "Help" button.
When it comes to the features, I especially like the ability to edit videos and the various audio & video quality options. To sum things up, WinX DVD Ripper Platinum is a great DVD ripping software that you should indeed check out.
Pricing and Availability
The WinX DVD Ripper Platinum software is available for Windows and macOS. It's available in free trial for 30-days that limits you to rip videos that are not more than 5 minutes, after which you will have to buy the full version $59.95. However, you can get it for $39.95 till November 30, as a Black Friday offer and you even stand a chance to get it for free, thanks to the official giveaway that is ongoing.
Pros:
Different profiles
Video Editor built-in
Unlock protected DVDs
Works well
Cons:
Some options hard to find
Dated UI
SEE ALSO: 10 Best DVD Burning Software
Rip Your DVDs and Edit Videos Through WinX DVD Ripper Platinum
With a number of decent DVD ripping solutions available on the market, it can be a tough job to stand out but that's not a problem for WinX DVD Ripper Platinum. The great software brings in some unique features along with the usual DVD rip features that make it a must have software if you want to rip your DVDs and also edit the videos stored in them. So, do try out WinX DVD Ripper and let us know your thoughts about it in the comments section below.
---
Load More