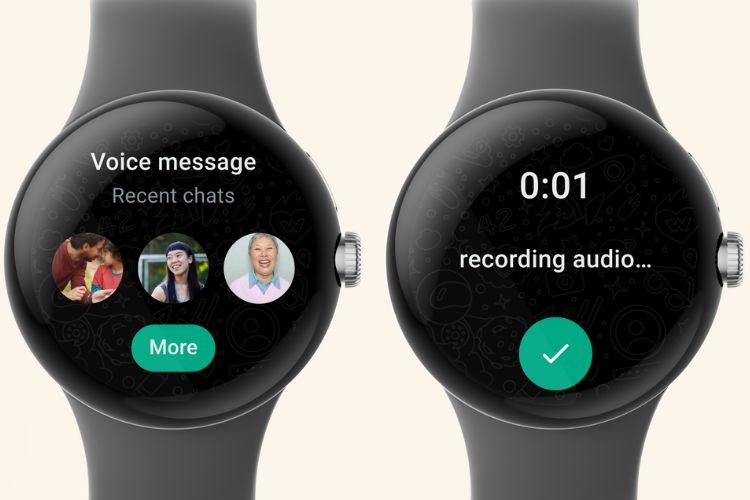 Announced during Google I/O 2023 held a few months back, WhatsApp has now reached Wear OS smartwatches, becoming a part of the new ecosystem (in addition to Android, iOS, and Desktop) while expanding Wear OS' third-party app horizon. This will help Wear OS-run smartwatch owners easily use WhatsApp, which is arguably an integral part of billions of people. Check out the details right below.
WhatsApp on Wear OS
Meta has started rolling out the WhatsApp app on Wear OS 3.0 smartwatches and if you own one, you are in for a treat. This app will help you reply to messages or send a new message and receive or reject calls, right from your wrist.
Besides this, you will be able to record voice notes and send them as voice messages on a Wear OS smartwatch. And if the watch is LTE-enabled, responding to messages will be easier even when the connected phone is not around.
This new development is a way for Google to enhance the capabilities of Wear OS, especially when it comes to third-party apps. And look at the timing! A WhatsApp app for Wear OS comes right before Samsung's Galaxy Unpacked event scheduled for July 26, which will see the launch of the new Galaxy Watch 6 Series smartwatches. These are also expected to be the first ones to run the upcoming Wear OS 4.0.
This integration can perhaps persuade people into going for a Samsung watch and even other contenders like the Pixel Watch, which could also see a successor later this year.
We expect WhatsApp on Wear OS to see more refinements in the future with new features and optimizations. For now, the basic features can work really well. So, what do you think? Do you own a Wear OS smartwatch? Let us know your thoughts on this in the comments below.
---