Much like other VoIP platforms, Discord employs different icons to indicate your activity status. Through status icons, other users on the platform can easily know whether you are online or offline. However, you can also be Idle on Discord, which is a different kind of a status altogether. Now, you may ask, what exactly does being Idle mean on Discord? In this article, we will not just decipher its meaning for you, but also show you how to set the Idle status on Discord. So, let's get into it.
What the Idle Status Means On Discord
On Discord, the Idle status is denoted by a crescent moon (🌙) emoji. When you set your Discord status to Idle, it usually indicates that the app is open on your device but you have not interacted with the app for more than 5 minutes. In other words, you are away from Keyboard or AFK. However, since you have not logged out of the platform, it doesn't mean that you are offline.
You can still receive messages and notifications from other users and stay on top of what's happening on the platform. Discord will set your status to Idle automatically if it detects inactivity for around 5 to 10 minutes. However, you can set your status to Idle manually as well.
Set Discord Status to Idle on Android
Now that you know what "Idle" means on Discord, let me show you how you can also set your status to Idle in a few easy steps. In this way, you gain manual control over your Discord status without waiting for the platform to change it for you automatically. Since the process to change your status is slightly different on all platforms, we have explained each individually.
That said, let's first look at how you can change the status to Idle in the Discord app on Android:
1. Open the Discord app and head to your Profile by tapping on your avatar in the bottom panel.
2. Here, tap on your username or profile picture to see the pop-up "Change Online Status" menu.
3. Then, tap to select Idle, and it should immediately set your Discord status to the same.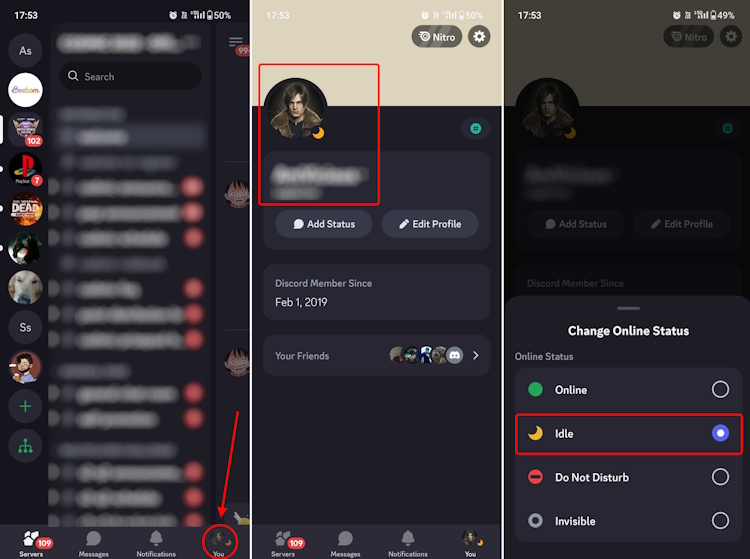 Note: Unlike iOS and the desktop versions, the Android app doesn't have an option that asks you to "Set a custom status." Instead, you will need to tap on Add Status to set a custom one.
Set Discord Status to Idle on iPhone
1. In the Discord iOS app, tap on your profile icon at the bottom right corner.
2. Next, tap on Set Status and select "Idle" from the popup menu that appears.
Set Discord Status to Idle on Desktop/ Web
1. Launch the Discord app on your desktop and click on your avatar at the bottom left corner of your screen.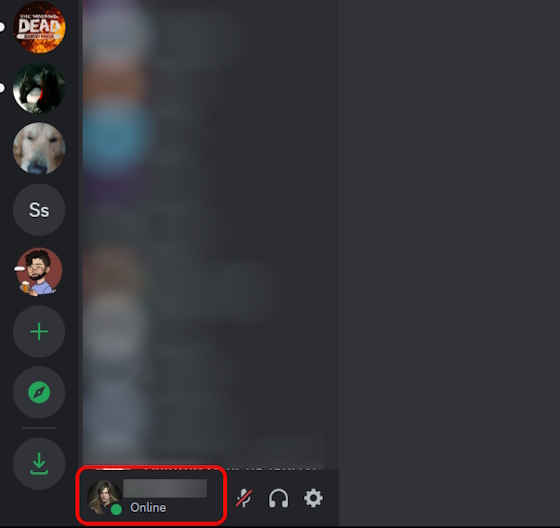 2. Hover over the status panel where your current status is being shown and a small pop-up menu will appear.
3. From the list of status options, click on Idle to change your Discord status.
With that, you will have successfully set your Discord status to Idle on your Windows, Mac, or Linux PC. You will now see a yellow crescent moon icon on your avatar with the word "Idle" written beside it. Other Discord users will be able to see your status on the servers you are a part of.
Other Discord Status Meaning Explained
While setting your status to Idle, you will come across other status options in the Discord app. So, in case you are wondering what these do, here's a quick explainer for other status icon meanings:
Online – It implies that you are active on Discord at that moment and are available to receive notifications and messages. It is usually denoted by a green dot next to your Discord avatar.
Do Not Disturb – DND indicates that you are not open to receiving messages and notifications. It is denoted by a red dot with a black dash in the center, and you have to toggle it on manually. The steps to enable this status is similar to the Idle mode.
Invisible – With this option toggled on, you choose not to inform other users that you are online. It is indicated by a grey semi-filled dot icon beside your avatar. It is the same symbol used to indicate your offline status on Discord.
As you can notice in the screenshot above, you can even set a custom status message on Discord. However, unlike the iOS and desktop apps, the Android app doesn't have an option that asks you to "Set a custom status" in the status pop-up. Instead, you need to tap on "Add Status" to set a custom status on Discord via the Android app.
This custom status will accompany any of your above-chosen statuses and can be used to elaborate on your current status on the platform. You can choose to use this option creatively as well. Apart from these options, Discord will also add a small phone icon beside your avatar to indicate the device you are using and a purple play icon when you are streaming on Twitch. Also, let us know in the comments if this guide came in handy.
---
Load More