Microsoft Visio is one of the most popular and capable diagramming tools out there, and it's the first choice for a lot of amateurs and professionals alike, seeing how it's been bundled with the Microsoft Office Suite. However, if you're favouring a Mac over Windows, you might face a major challenge – there is no Visio in Office for Mac. The good thing is, there are a lot of capable third-party alternatives for Visio available for Mac that you can employ, and here we'll give you our top picks for Visio alternatives for Mac.
1. Lucidchart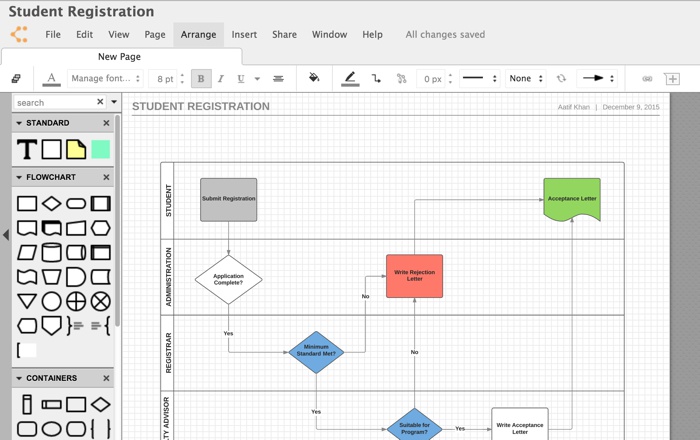 Lucidchart is one of the most favoured choices not just for Mac systems, but pretty much any platform, since this capable diagramming tool is web-based and can be used wherever you are. Lucidchart packs a really powerful feature set, being enough to meet needs of both amateurs and professionals alike. The online tool also supports importing Visio files (alongside the likes of Gliffy and Omnigraffe), ensuring that if you favour two different platforms, you still have cross compatibility. In itself, Lucidchart allows you to either begin with a blank canvas, or select from many available templates to quickly get you off the ground. Also, when you're done working on a project, you can export it in a number of formats, including Visio-c0mpatible VDX files.
Lucidchart works on the freemium model, with a free, limited version being able to cater to most of an average user's needs, while pricier paid versions can cater to business and high-end users. This online tool packs a really powerful punch, is cost effective, can be used across a variety of platforms (including mobile devices and tablets), and totally deserves the first place in our list beyond question.
License: Freemium (Paid plan starts at $8.95/month for single user, offers free trial)
Availability: Lucidchart (web)
2. Dia Diagram Editor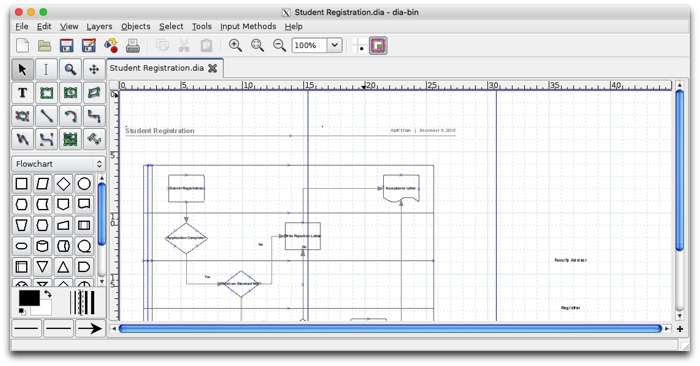 Dia Diagram Editor is the tool of choice if you're looking for a free, very powerful graphing and diagramming tool for Mac that is highly customisable as well. In fact, this one sentence pretty much summarises everything Dia has to offer. This open source tool, although featuring a really outdated and distasteful interface, packs advanced features that are usually found in paid solutions only, including the ability to import and export from various formats, expand capabilities through addition of new plugins, precision charting, and more. The software carries a learning curve, but once you get the hang of it, there's nothing it can't do for you.
Please bear in mind that Dia has a dependency on XQuartz to run. It's not a problem because the server is free, but setting it up is still a little annoyance that you'll have to deal with.
License: Open source
Availability: Dia Diagramming Editor (OS X)
3. Cacoo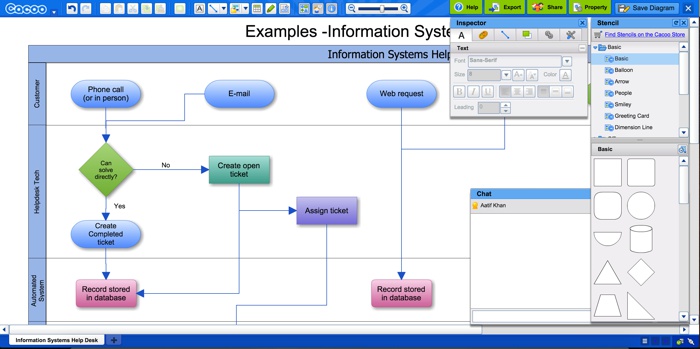 Cacoo is an extremely powerful web-based diagramming and graphing tool, and it packs a mean punch. Consider this as Lucidchart on steroids, with the downside that the average user might not need as many options as this tool has on offer. Cacoo offers a rather cartoonish interface when compared to the likes of Lucidchart and some others, but don't let that fool you – in all the web-based graphing tools that I have experimented with, Cacoo has the largest selection of templates for all imaginable categories, supplemented by an additional collection in the Cacoo store. There are powerful collaboration features, ability to import/export in different formats, and an installable "Cacoo ninja" that makes using this tool even better than it is already.
Cacoo also operates under the freemium model, with the free version being more limited than what Lucidchart offers. However, the pricing plans are quite affordable, and if you're ever looking for a Visio alternative (not just for Mac), do check Cacoo out.
License: Freemium (Paid plan starts at $15/month, offers 30 days free trial)
Availability: Cacoo (web)
4. yEd Graph Editor
The yEd Graph Editor, more commonly referred to as simply yEd, is another really powerful software for graphing, mind mapping, swim lane diagrams, flow charts, family trees and lots more. The software packs a neater interface than the very close competitor Dia, but doesn't offer as many features as the former. My biggest issue with yEd is lack of support for Visio files, both in import and export (and that is part of the reason why we've ranked it after Dia). Beyond this little shortcoming, there are quite a lot of useful and unique features, particularly the ability to import data for graphing directly from Microsoft Excel files. It also doesn't hurt that yEd brings a neat looking interface that is considerably better than Dia's.
yEd is also a free application that you can download at the link below. It's worth noting that yWorks, the company behind yEd, has a number of other diagramming utilities on offer as well at their website, so do check out their full product suite if you have cross platform needs.
License: Freeware
Availability: yEd Graph Editor (OS X)
5. Omnigraffle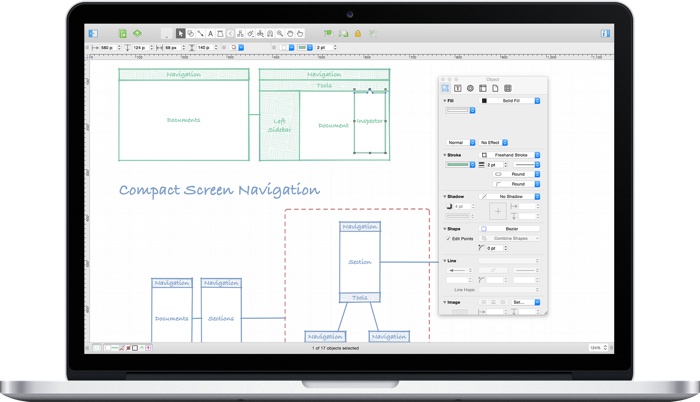 No list of Mac graphing and diagramming tools can be complete without mentioning Omnigraffle. Heralded as the most powerful software of its nature, perhaps even superior to the infamous Visio, Omnigraffle is the pinnacle of diagramming and the like. Then why does it fall at number 5 in our list? Because of the pretty steep pricing; Omnigraffle pro costs at whopping $200!
Moving past the pricing, you do get what you pay for. From wireframes to UML diagrams to floor plans pretty much anything you can imagine, can be created using Omnigraffle. The software has the best shape recognition of any lot, and since it has apps for both iOS and OS X (purchased separately), you can even use the new Apple Pencil to work as freely as you like. Everything is top notch, from the program's interface to after-sales customer support. If you do have need to for the most powerful bad boy on the block, and can spend the buck for it, look no further than Omnigraffle. Oh, and you can even try it for 14 days on a Mac if that fancies you.
License: Commercial (Standard version priced at $99.99, offers free trial for 14 days)
Availability: Omnigraffle (OS X)
6. ConceptDraw Pro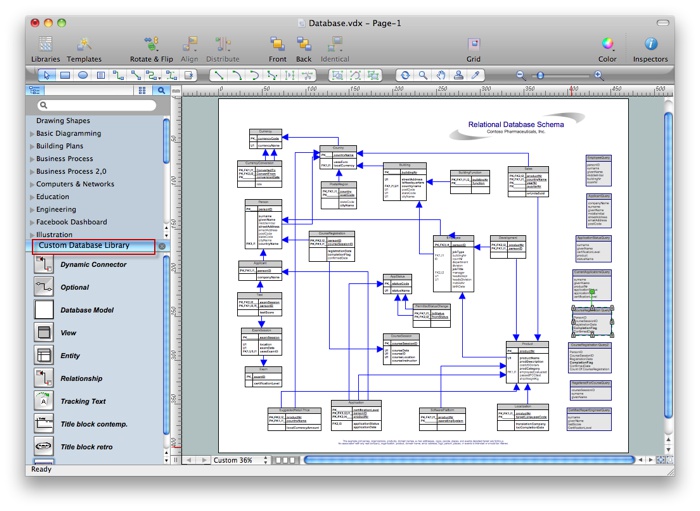 Coming in at number 6 in our list is ConceptDraw Pro, another very powerful diagramming tool for both Windows and OS X that can give a fair amount of competition to both Visio and Omnigraffle, albeit falling short on some accounts. What sets ConceptDraw apart from the crowd is its focus on making presentations out of your diagrams and flow charts etc, allowing for one-click conversion of a graphing diagram into a presentation. The program also features tight integration with Visio, and not only does it support Visio file formats but can also integrate with an existing Visio library for seamless operation (Windows only).
ConceptDraw Pro is yet another paid utility that costs a good $200 for a single user license. This program is part of the ConceptDraw Project and offers several other software as well, including the ConceptDraw Office, MindMap, Project 7 and others. Check them all out at the source link below.
License: Commercial (ConceptDraw Pro costs $199, offers free trial)
Availability: ConceptDraw Pro (OS X)
7. Pencil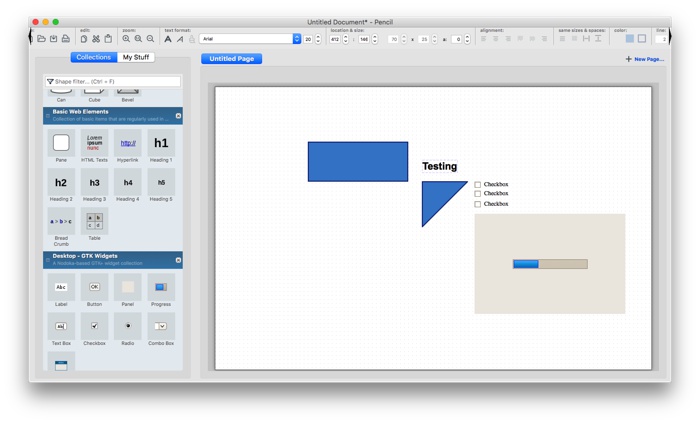 Pencil is a freeware that will be a pleasure to use. First, let's get this straight; this software doesn't support Visio files directly, so if that's what you're after, look elsewhere. Beyond that, Pencil is a great wire framing tool that can do graphing and diagramming really well for you. I say wire framing because that's where Pencil's true strength shines. Pencil isn't too big on giving templates, but offers one of the biggest possible libraries of shapes and artwork to choose from. You get a ton of formatting options and can pretty much customise every aspect of your wireframe, flow chart or diagram to your liking. The software is pretty light and small, and doesn't require any installation on your Mac either, making it a perfect choice if you have to work offline or don't need an online solution for any other reason.
License: Open Source
Availability: Pencil (OS X)
8. Gliffy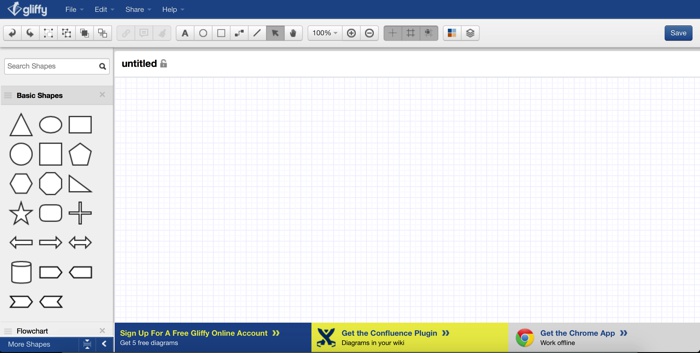 Gliffy is yet another online diagramming tool not unlike Lucidchart, but has considerably fewer options than our top pick. You'll favour Gliffy if you're looking for a no-nonsense solution that lets you get your required work done easily with minimum distraction. The biggest plus for this tool is that it relies on HTML 5 rather than Flash, making it suitable for any browser. There is Visio support, Google Drive integration, bunch of templates and themes to hit the ground running, and more. What sets Gliffy truly apart, however, is the Wikia plugin that it offers if you want to embed diagrams in your Wiki, and a Chrome app for offline working – something that other online tools don't bring to the table.
Gliffy follows the freemium model as well, albeit it's free version is rather limited for my taste. Still, it won't hurt to give it a try.
License: Freemium (Standard plan costs $4.95/month for one user)
Availability: Gliffy (web)
9. Draw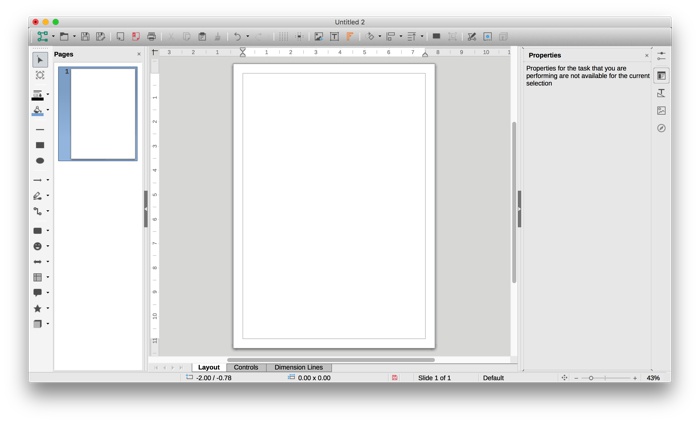 Draw isn't technically a graphing or diagramming tool, but it can get the job done fairly well. Draw is a part of the Libre Office suite, and not only does it make it possible to create professional grade drawings, but also equally powerful wireframes, flow charts, UML diagrams and the like. There is no support for Visio files, though.
It's hard to recommend Draw as a purely graphing application, but since it's free and carries the very reliable name of Libre Office behind it, it's worth a try. The software performs well, and it's worth noting as a possible alternative to Visio, but there are certainly better solutions available if you're looking for just diagramming on your Mac.
License: Freeware
Availability: Libre Office (Draw)
10. Creately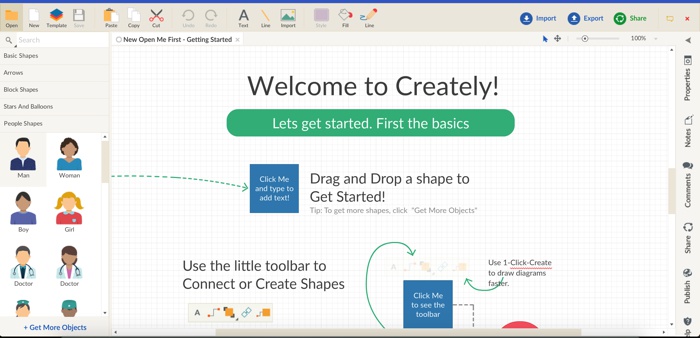 Creately is the last web-based tool in our list of best Visio alternatives for Mac, and for good measure. While it's pretty useful for a quick flow chart or two, it doesn't pack quite a punch compared to the likes of Lucidchart and Cacoo. However, on the plus side, the interface of Creately is a sight to behold. It's just so neat and organised that using this tool is a pleasure. You get all the usual stuff with Creately: guidelines, automatic snapping, templates, shapes and artwork, and everything else you'd expect from a capable diagramming tool.
Like other online utilities of this nature, Creately is freemium, and the best part is, using the free version doesn't really require a sign up either (if you're doing a one-time project, that is). However, Creately relies on Flash to run, so if you're using an unsupported browser like Safari, this utility won't work for you.
License: Freemium (Paid plan starts from $5/month for a single user)
Availability: Creately (web)
SEE ALSO: 11 Handy Tips and Tools to Keep Your Mac Clean
Do you know of any other Visio alternative for Mac that deserves to be on this list? Let us know in comments section.