Having a good VPN app is almost a necessity these days. Whether it's to get around geo-restricted content, unblock websites, or just to ensure some semblance of privacy in a connected world where privacy is but a lie. Well, recently I came across one such VPN service that I think deserves your attention for sure. It's called, "VeePN" (visit the website), and it has features that you'll be hard pressed to find in any other VPN service out there… for the most part.
Key Features of VeePN
1. Smart VeePN
One of the biggest reasons I've heard from people for using VPNs is to access geo-restricted content, and also to bypass some of the most insane blocking that governments do, especially in China and UAE. VeePN uses its own custom protocol to connect you to the internet, and it doesn't just encrypt your traffic (which in itself is a pretty solid safeguard), but it even masks it, so websites, ISPs, and governments don't get to know if you're using a VPN. That's particularly nice.
Other than that, since websites can't know that you're using VeePN, they simply assume that you're actually accessing them from the server you set up for yourself in the VeePN app. Guess what I tried first? Accessing Netflix's US library, and it works flawlessly. I watched a couple of episodes of Friends on Netflix thanks to VeePN, and I love it. It also works with Spotify, by the way, so if you're in a country that Spotify doesn't support yet, like I am (come to India already, Spotify!), you can use VeePN to make Spotify think you're in the US, or the UK, or wherever you want it to think you are.
2. Privacy, Anonymity, Speeds, and Data Caps
If you're looking for a VPN because you want to browse the internet privately and anonymously, VeePN has got you covered there too. Like I said earlier, the service encrypts all your data with 256-bit encyrption so anyone trying to sniff at your browsing session will not be able to successfully do so. Moreover, VeePN promises that it doesn't store any logs about your use of the service, which means you're completely anonymous while using the VPN. Plus, the company is based out of Panama, and they claim that there are no laws that can force them to keep logs of a user's data anyway, which is definitely great.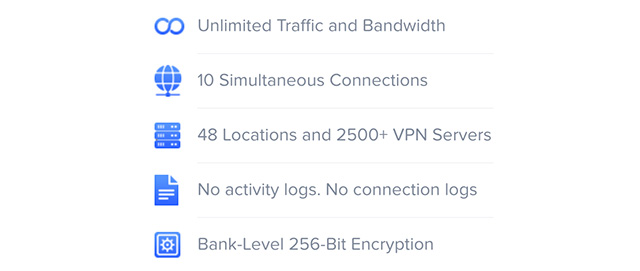 What's more, VeePN has over 2500 servers in over 48 locations across the world, which means you can access the internet from any one of those servers using VeePN, so you can choose something that's the best in terms of speed for your location, or you can choose a different location if you're looking to access geo-restricted content. Plus, with VeePN you don't need to worry about speed-drops, the VPN service offers high speed connections, so your browsing sessions will not get hampered with speed issues.

Also, VeePN offers unlimited data usage across all of its plans, which means whether you're paying by the month, or by the year, you will never have to worry about your reaching your VPN's data cap and getting stuck with your old, unprotected internet.
3. Multi-Platform Support
You know what sucks? When you pay for a VPN app without doing your due diligence only to find out that it doesn't support some of the platforms you use. That's not a problem with VeePN — it's available on almost every platform out there. You can get dedicated apps for your Windows PC, Mac, or Linux systems. Plus there are apps available on both Android and iOS, and along with that, there are extensions and addons for Chrome, Firefox, and Opera. Also, if you want it, there's even an app for your router, so you're always connected to the VPN without configuring it every time you log on. It's really impressive, and having native apps available for so many systems is definitely really handy. I've used VeePN on my MacBook Pro, my iPhone XR, and my OnePlus 5 and it works perfectly.
Plans and Pricing
By now, I'm sure you're convinced about the usability and the appeal of VeePN as a VPN service. Which would lead you to wondering what the pricing models are like. So let's talk about that.
VeePN offers a bunch of plans. I'm listing all of them below:
1 Month: $10.99 per month
1 Year: $5.83 per month
3 Years: $2.78 per month (one time payment)
Lifetime: $199.99 (one time payment)

I know what you're thinking: "why are there no free trials, or a free plan with data caps?" Well, there actually is a free trial available for VeePN. You can simply register on their website, and use the VPN service free for 7 days. Plus, if you're worried about VeePN being useful to you, you'll be glad to know that they offer a 30-day money back guarantee. So, if you pay for VeePN, and you find that you're not satisfied with it, you can always get your money refunded within 30 days.
Also, regardless of what plan you spring for, VeePN offers you unlimited data usage, and the ability to connect up to 10 devices simultaneously! That's pretty impressive too.
VeePN: Pros and Cons
Look, I'll just come right out and say it, VeePN is one of the best VPN services available out there, but as it is with almost everything, there are pros and cons here as well. So let's take a quick look at them:
Pros:
Unlimited data usage
Can bypass Netflix and Spotify geo-restrictions
Fast speeds
Apps available for almost every platform out there
Cons:
No free plans
… actually, that's pretty much it for the cons
Use VeePN for All Your VPN Needs
So yeah, if you're looking for a VPN service that checks all the boxes, VeePN is the one to go for. It comes with great encryption, it doesn't let websites and services know you're using a VPN, it has apps for almost every platform out there, allows unlimited data usage, and it can bypass geo-restrictions on Netflix and Spotify. What more do you want? Go ahead and check out VeePN. It might very well turn out to become your new favorite VPN provider.
Check out VeePN from the website
---
Load More