Apple just launched the brand new MacBooks with a new Touch Bar that allows multi-touch gestures in an OLED strip placed where there were "function" keys, traditionally. While all of the changes to the MacBook line up were pretty great, there was one that might sting a bit. All of the MacBooks now only come with Thunderbolt 3 ports. Apple even did away with the MagSafe 2 charging port that the MacBooks were known for. While this might be a good move, we can only wait and see. The immediate problem we'll face is that we will need adapters and dongles for almost everything that we want to connect to our MacBooks. Fortunately, Thunderbolt 3 ports support USB Type-C accessories as well, and there is no shortage of USB Type-C dongles. So, here are 12 USB Type-C Accessories for the new Apple MacBook Pro:
1. Lumsing High Speed USB 3.1 Type C to HDMI Adapter
The new MacBook Pro can drive two 5K displays together, and if you often connect external monitors to your MacBook, you will obviously need an HDMI adapter. The Lumsing USB C to HDMI adapter is a direct plug and play adapter that you can use with your MacBook. Since it uses the USB 3.1 standard, it can achieve data throughput of up to 10Gbps, which is more than enough to carry full HD video, and multi-channel, uncompressed audio. It can carry 1080p video at 60Hz, and 4K video at 30Hz.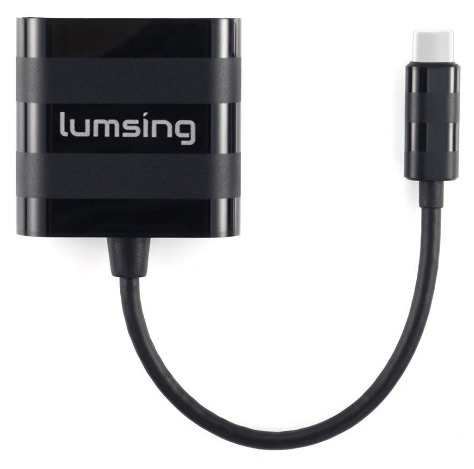 The adapter uses a unibody design that makes it very durable. It can be used with any device that supports USB Type C, and that makes it a perfect fit for all your Apple devices, from the 12″ MacBook, to the extremely powerful 15″ Retina MacBook Pro.
Buy on Amazon.com ($12.99)
2. Baseus Type C to Lightning Cable
The one big issue with the new MacBooks, is that since they use Thunderbolt 3 ports, there is no direct compatibility between the MacBooks, and the iPhone 7 and iPhone 7 Plus, out of the box. That's a big problem, because how else are you supposed to sync, and backup your iPhone?
To tackle this issue, you can buy the Baseus USB Type C to Lightning cable. The cable supports both data transfer, and charging. It has a galvanized copper core for a stable performance, and since it outputs 2A current, it can charge your devices fast enough. The transmission offered by the cable is also very efficient.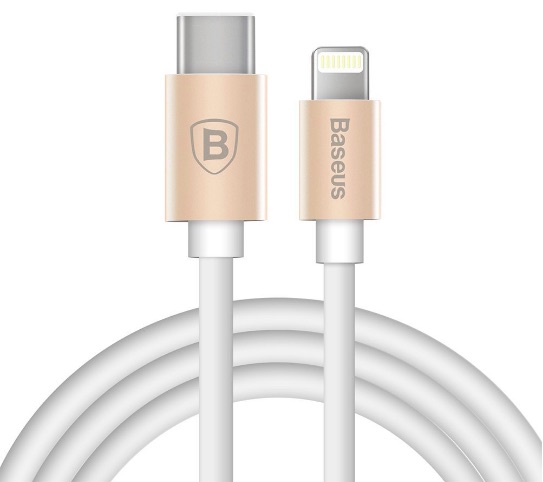 The cable is made using environment friendly TPE materials, has a high tenacity, and is stretch resistant, ensuring that the inner core of the cable is not harmed if the cable is stretched. It features nickel plated interfaces, and a strong metal shell. The cable is also shock proof, durable, and provides a long service life.
Buy on Amazon.com ($6.99)
3. USB C To HDMI / USB 3.0 / USB C Hub
The new MacBooks only have four thunderbolt 3 ports, and that is in the high-end of the spectrum. If you like to connect multiple external devices to your laptop, then four thunderbolt ports might not cut it for you. If that is the case with you, you should definitely check out Mokin's USB Type C to HDMI/USB3/USB C Hub.
The Hub uses a single USB C port on your laptop, and gives you an HDMI, a USB 3.0, and a USB C port that you can use at the same time, effectively extending one USB port on your laptop, to 3 ports. You can connect an external monitor, a USB flash drive, as well as charge your iPhone with the USB C to Lightning cable, all from this one hub.
Buy on Amazon.com ($27.99)
4. Apple USB-C to USB Adapter
If you ever need to connect a standard USB device to your MacBook, you will definitely need an adapter that can convert your USB C style Thunderbolt 3 port on the MacBook, to a standard USB compatible port. For this, you can use the official Apple USB-C to USB adapter. You can use this to connect devices such as external hard disks, flash drives, and even your iPhone (I know, it's bad that you need an adapter to connect one Apple device with another…). You can also use this to connect cameras, and other accessories to your MacBook.

If you use the adapter with a standard lightning cable to connect your iPhone, or iPad with your Mac, you will be able to charge, and sync your device at the same time. At $19, the adapter is in no way cheap, but it is definitely a requirement in order to connect devices that do not support USB Type C connectors.
Buy on Amazon.com ($19.00)
5. Apple USB C to Thunderbolt 2 Adapter
If you have been using Apple MacBooks for some time now, you probably have a lot of Thunderbolt 2 accessories that you bought for your Mac. However, in the new MacBooks, Apple is coming up with Thunderbolt 3, the port for which is extremely different from that found in MacBooks from 2015 and earlier. So, if you want to be able to use the same cables, adapters, and accessories that you used with your older MacBook, then you should definitely look into the Apple USB C to Thunderbolt 2 Adapter.
The adapter can let you connect Thunderbolt displays, external hard drives, etc., to any of the four ports on your new MacBook Pro. So you don't have to buy new hard drives, or displays. You can simply use this adapter to connect all your older devices with the Thunderbolt 3 ports on the new MacBooks.
Buy on Apple.com ($49.00)
6. Anker PowerLine USB-C to USB-C
The Anker PowerLine USB C to USB C cable is definitely something you should consider buying for your brand new MacBook. It can be used to connect your MacBook with other USB C devices, and it can also be used to charge your MacBook on the go. The USB cable utilises E-marker chips to safely deliver up to 60W of power to your MacBook. It also supports super speed transfers, with up to 5Gbps of transfer speed, and can be used for 4K video as well. Anker reinforces the cable with aramid fiber, to give it a lot of strength, and as such, the cable comes with an 18 month warranty, so you can rest easy.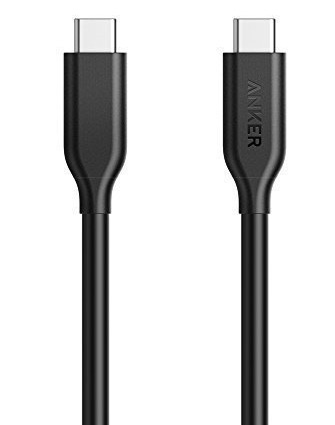 Buy on Amazon.com ($14.99)
7. Belkin USB-IF Certified 3-Foot Thunderbolt 3 Cable
Obviously, to make the full use of the bandwidth offered by the Thunderbolt 3 ports on the new MacBook, you should preferably be using Thunderbolt 3 cables, and the Belkin Thunderbolt 3 cable is exactly the thing you should be looking at. It is a 3 foot long cable, that consists of Thunderbolt 3 male connectors on both sides, so you can connect two devices with Thunderbolt 3 ports, together, and get the maximum possible speed of data transfer. The cable can also be used with USB Type C devices and it can easily support a 4K display, and even charge your MacBook with up to 60W of charging power.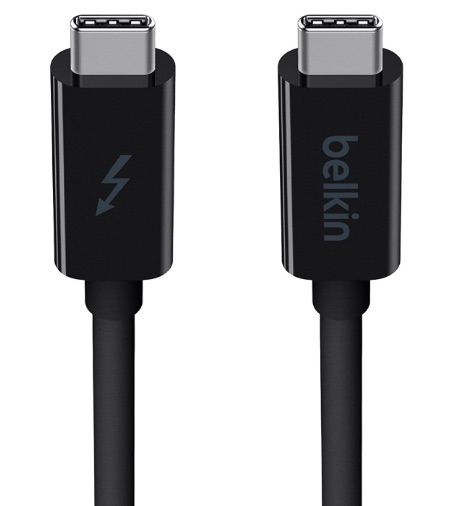 The best possible transfer speeds can be obtained when two Thunderbolt 3 devices are connected together, with transfer speeds reaching up to 20 Gbps, while the cable can get up to 10 Gbps when connected between USB 3.1 devices.
Buy on Amazon.com ($29.99)
8. Plugable USB Type-C Memory Card Reader
Another big issue that people see with the brand new MacBooks from Apple, is the absence of an SD Card reader. MacBooks are most often used by photographers and videographers, to make edits to their pictures, and the easiest way to transfer data from a camera to a laptop is by using the SD Card. However, since the MacBooks now only have four Thunderbolt 3 ports, and a headphone jack, there is no way one can directly mount an SD Card on the MacBook. If you need to do this, you should definitely consider the Plugable USB Type C Memory Card Reader.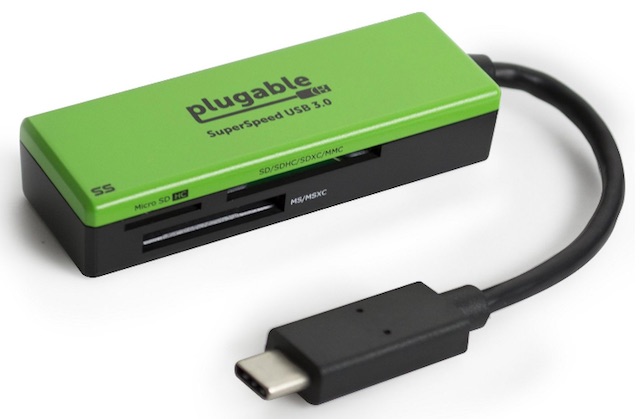 The card reader supports cards from microSD cards, to SD Cards, and MMC. So, no matter what storage media you use, you will be able to plug it into the Plugable USB Type C Memory Card Reader, and transfer data from your memory card to the MacBook. The card reader supports cards up to 2 TB in size, so no matter the capacity of cards that you use, the Plugable USB Type C Memory Card Reader has you covered.
Buy on Amazon.com ($15.95)
9. AUKEY USB C to Ethernet Adapter
If you connect your MacBook to the internet using wired connections often, you should probably check out the Aukey USB C to Ethernet Adapter. This Ethernet adapter from Aukey supports Gigabit networks, for speeds of up to 1Gbps. The adapter uses USB 3.1 standard to achieve high data transfer speeds. It is definitely an adapter to have in your arsenal, especially if you prefer connecting to the internet using Ethernet cables, for the added stability that it offers.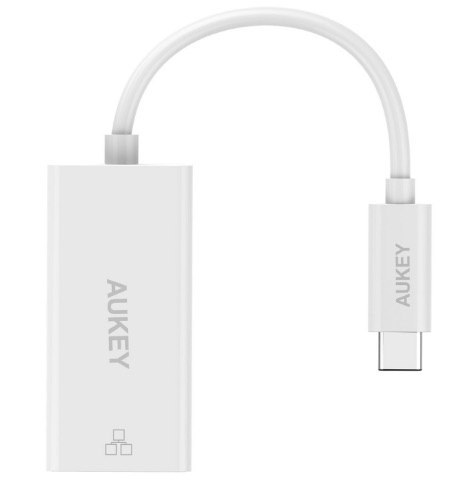 The adapter looks good, and reviews have shown that it works well enough to be considered as an adapter for your brand new MacBook. The adapter can simply be plugged in to your MacBook, and directly be used. There is no need for any drivers to be installed. Overall, this adapter is definitely one that you should consider buying for your MacBook, if you want to connect to Ethernet connections.
Buy on Amazon.com ($16.99)
10. AUKEY USB C to VGA Adapter
Another great product from Aukey, the USB C to VGA Adapter is definitely one to consider if you connect external monitors, or projectors to your MacBook, often. While most monitors these days come with HDMI ports, you might need VGA adapters, especially if you're connecting to older monitors, or projectors at work.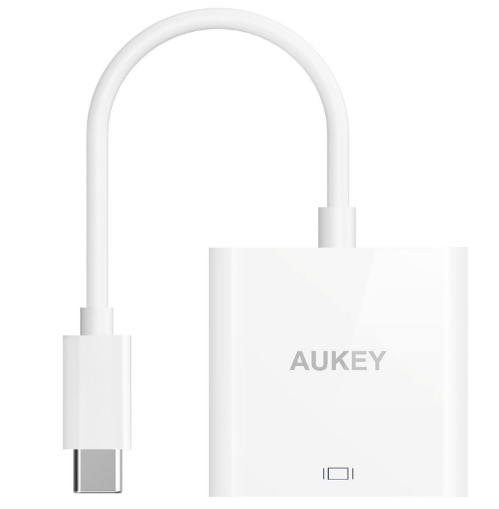 This adapter from Aukey supports up to 1080p resolution on the connected device, and is extremely small and durable, so you can carry it around with you.
Buy on Amazon.com ($15.99)
11. LaCie Porsche Design 1TB USB-C Mobile Hard Drive
The MacBook Pro comes with an entry level SSD of 256 GB, which will obviously not prove enough, if you edit photos and videos on it. So, if you need extra storage for your brand new Apple MacBook, you should definitely consider the LaCie Porsche Design 1 TB Hard Drive. The hard disk uses a USB C connector, so you can directly plug it into your MacBook, and just get started with it.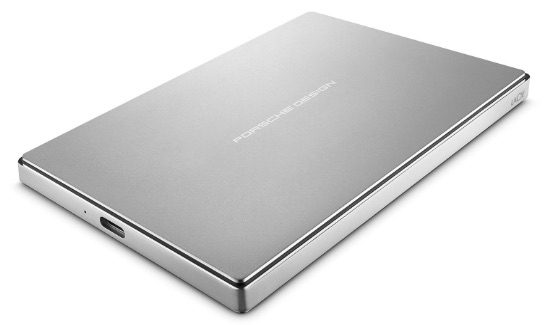 The hard disk has been designed in collaboration with Porsche, and it looks very clean and minimal. It comes in an aluminum enclosure that makes it a perfect match to the MacBook's all aluminum design. The drive offers speeds of up to 5Gbps, and is lightweight and portable. It is also compatible with USB 3.0 ports, but gives its maximum speed on USB 3.1 ports. The drive also supports any PC, or Mac, that has USB C ports on it, so you can use it with any computer that you have.
Buy on Amazon.com ($109.94)
12. Griffin BreakSafe Magnetic USB-C Power Cable
Personally, one of the things I am most annoyed about, in the new MacBook Pros is that Apple removed their MagSafe charging port. The MagSafe charging technology was extremely useful, especially for people like me who are clumsy. If you want the same sort of reliability with the new Thunderbolt 3 ports on the MacBook, you can check out the BreakSafe Magnetic USB C Power Cable from Griffin.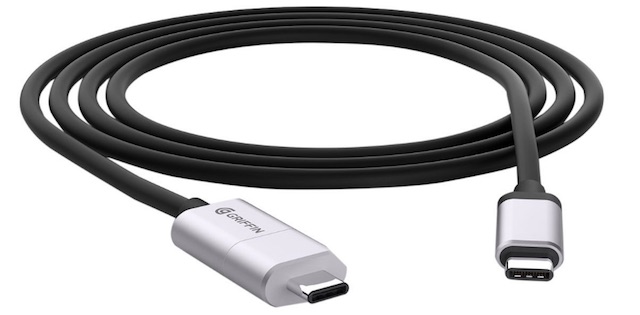 The cable is fully compatible with the MacBook, and any other device that uses USB C for charging. It can supply power up to 60W, and has been designed and tested to meet USB Type-C standards.
Buy on Amazon.com ($34.99)
SEE ALSO: Switching from Windows to Mac? Everything You Need to Know
USB Type-C Accessories for your new Apple MacBook
Those were the 12 accessories you should definitely consider buying for your new Apple MacBook Pro. I have tried to cover almost everything that one might want (or need) to do on their MacBook, and included accessories for every one of those use cases. However, if you find any other accessories that you think should be mentioned in this article, do let me know in the comments section below.
---
Load More