We had already heard inklings that Xiaomi was gearing up to launch the successor of the wildly popular Redmi Note 4 smartphone in coming weeks. But, the Redmi Note 5 hadn't made any public appearance until date. Now, alleged real-life photos of the Redmi Note 5 have been uploaded to China's social media website Weibo and are making rounds of the Internet.
From the image attached below, we not only get our first alleged look at the Redmi Note 5 in real-life but get a glimpse of the rumoured specs of this upcoming device as well. Xiaomi Redmi Note 5 is expected to sport a taller 5.99-inch Full HD+ display, with an 18:9 aspect ratio and 2160 x 1080 pixel resolution.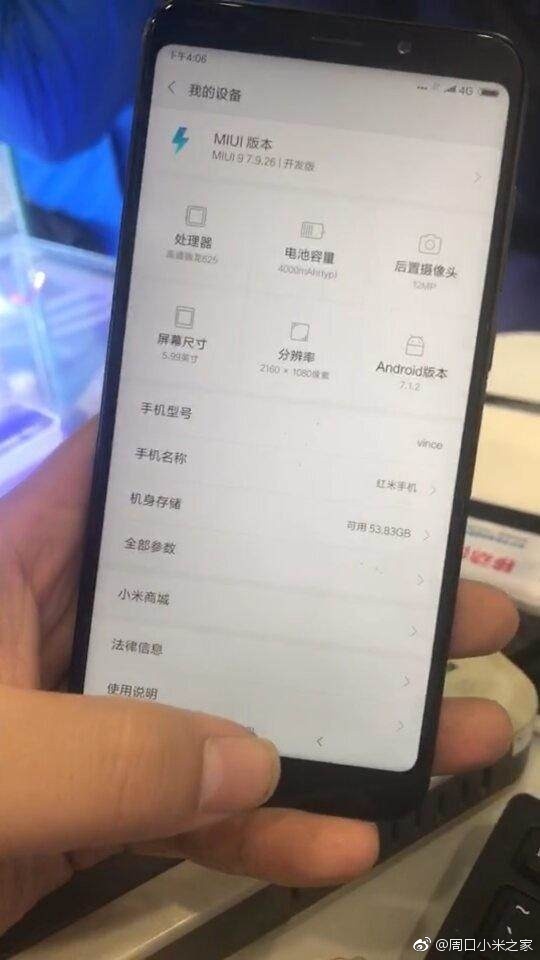 It also tells us that the device may include a Snapdragon 625, 64GB of internal memory, 4000mAh battery pack, and run on Android 7.1.2 Nougat. The image even confirms that Redmi Note 5 may include a 12-megapixel rear camera as opposed to the rumoured dual-lens camera system. If the leaked image and specs match up, then the Redmi Note 5 is now turning out to be a stunning budget smartphone with the trendy taller display.
But, I still have a qualm against Xiaomi. The device shown in the image is running MIUI 9 but that's not the most critical detail to notice here. It is the processor of the Redmi Note 5 that might make our worst fears come true. While we anticipate the Redmi Note 5 to be powered by the Snapdragon 630 or 660, the alleged image leak shows that it'll include the older-gen Snapdragon 625.
If this leak is true, it will be a major disappointment for Xiaomi fans (like me) who've been asking for a processor upgrade for a really long time. The Chinese giant has launched all of its recent four odd devices powered by Snapdragon 625, making consumers agitated for a much-awaited upgrade.
Xiaomi has garnered immense support for its Redmi lineup over the past couple odd years, especially the Redmi Note 4 which became the most-selling smartphone in India. Xiaomi is now inching closer to Samsung's lead and their much-awaited Redmi Note iteration can be helpful in achieving this goal. So, how eager are you for the Redmi Note 5 launch? Tell us in the comments down below.