If you're out looking for VPN services I'm sure you've come across a bunch of them, and while they might all work for you, most VPN services offer limited to no help in actually setting up a VPN on your smartphone or PC, and with a lot of those services, you just never know if they suddenly cease operations. That's why UFO VPN is something you should check out before even looking at anything else (and you probably won't look at anything else once you've tried it anyway). Here's why.
Key Features
As VPN services go, there are a couple of things to keep in mind while choosing one, and UFO VPN checks almost every box on that list. Let me take you through the key features of this service.
Unrestricted Access to the Web
If I were to take a guess about why you're looking for a VPN, I'd say it's to unblock parts of the internet that governments and ISPs block. With UFO VPN, you can simply connect to a different server and access the entire web, without restrictions. You can use UFO VPN to access geo-restricted content, view websites that have been blocked, and bypass other restrictions that you may be experiencing with your internet provider.
Privacy and Security
One of the biggest issues with most free VPN services is the fact that they sell your data and serve ads to earn money. Moreover, a lot of VPN services simply aren't secure enough to trust. UFO VPN, on the other hand completely encrypts your internet traffic, and ensures that no one can snoop in on your internet usage while you're connected to the VPN. The service also hides your real IP and location from the world, so you remain anonymous on the internet.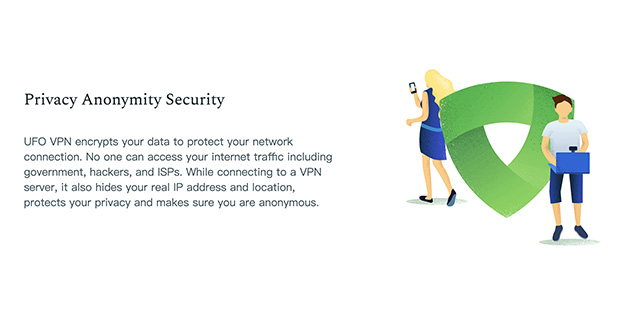 Fast Servers and Faster Network
UFO VPN makes use of fast servers that it connects you with, which means that you don't need to worry about your internet speeds taking a drastic hit just because you're using a VPN tunnel to access the internet. With UFO VPN, you'll get fast internet speeds all the time, so you can even stream videos and movies while staying connected to UFO VPN. It's pretty great, and in my usage so far, I've not once experienced a drop in speed while browsing the internet.
Easy to Use App
If you're gonna be using UFO VPN on your smartphone, you'll be glad to know that the dedicated Android and iOS app is extremely simple to use. The UI is clean and nice, but more importantly, the app focuses on connecting you to the VPN as easily and quickly as possible, and does it remarkably well.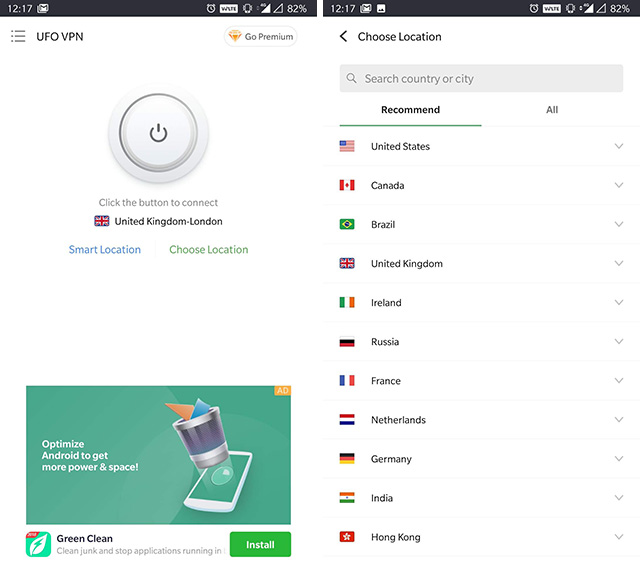 You can choose a server from the list of free servers available (of which there are a lot), or, if you simply want the fastest possible connection, you can go with the Smart Location option to connect to the server closest to you.
With your server of choice selected, you can simply tap on the button to connect to the VPN and that's it. You're free to browse the internet without restrictions.
Download UFO VPN (Android, iOS)
Pricing Structure
Even though UFO VPN can be used completely free, there are paid plans that offer additional benefits. The plans start from $2.09 per month for an annual subscription, but there are options for monthly, and 6-month plans for $5.59 per month, and $3.49 per month respectively.

Subscribing to the paid service gives you the following benefits:
Access to all of UFO VPNs servers (across 6 continents)
No Ads
Easy, 1-tap connection
File Sharing
Simultaneous connection for up to 5 devices
There's also a 14-day money back guarantee when you subscribe.
Pros and Cons:
Before we wrap up this article, here's a list of the pros and cons about UFO VPN:
Pros:
Free to use
No Sign-up required
Easy connection
Fast servers
Support for Android, iOS, macOS, and Windows
Cons:
Selection of servers is not as wide-ranging as some other VPN offerings
No kill-switch feature
Check Out UFO VPN for the Easiest VPN Connection
So, if you're looking for a VPN service that's free, available on multiple platforms, and is extremely simple to set up and use, you should definitely check out UFO VPN. Even though using the service for free is completely fine and UFO VPN offers a great number of benefits even to free users, you can always upgrade your account for an even higher selection of servers, faster connections, and no ads.
Check out the UFO VPN.