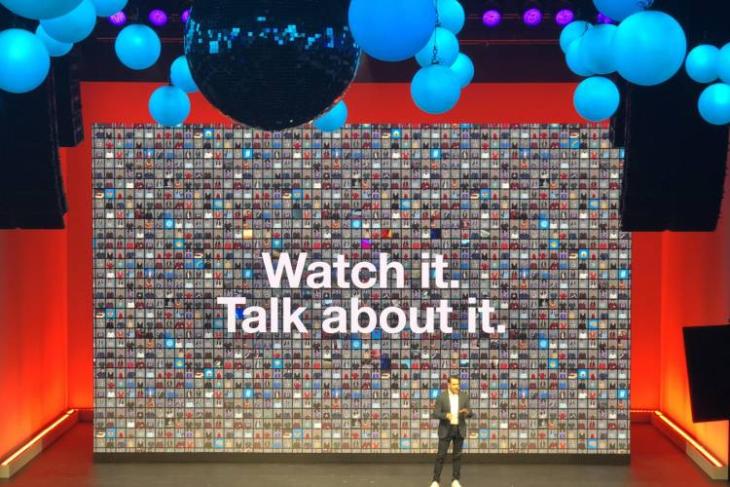 Earlier this year, Twitter announced that publishers and social media influencers can now sponsor their Moments, which was meant to broaden Twitter's appeal as a lucrative platform among advertisers. The company is now looking to become an online destination for live videos and original content by partnering with leading media and entertainment companies.
Twitter has signed over 30 deals with Disney, NBCUniversal, and Viacom among a host of companies to produce exclusive live shows and original content, to take on rivals such as Facebook, Snapchat, and YouTube, along with upcoming Apple and Disney video offerings as well as incumbents Netflix, Amazon Prime and the likes.
We're thrilled that Twitter will present today at our second digital #NewFronts. We'll be announcing 30+ partnerships that bring together the best conversations and the most premium content across Sports, News, Lifestyle and Entertainment. pic.twitter.com/aUt3xT09Bl

— Twitter Marketing (@TwitterMktg) April 30, 2018
Twitter recently revealed that around half of the company's net advertising revenue comes from videos, so it is quite obvious that adding popular content will only shore up the bottomline.
We're unveiling a multi-year partnership with @NBCUniversal, launching programming for The NBC Network, @NBCNews, @TheTodayShow, @e_entertainment, @CNBC, @MSNBC, and @Telemundo. #NewFronts pic.twitter.com/Bew1J0Lj1Z

— Twitter Marketing (@TwitterMktg) April 30, 2018
"We're not guessing: We're listening. People on our service tell us directly what they want to see through conversations on Twitter", Twitter's Head of Content, Kay Madati, said at the company's NewFront presentation in New York. As part of the partnership, Disney will bring content from its properties such as ABC, Disney Channel and Marvel to Twitter, and will also create a live-sports program called 'SportsCenter Live' for sports news. Also, ESPN's 'Fantasy Focus Live' podcast will be live-streamed on Twitter.
NBCUniversal will bring live videos, original shows and clips from NBC News, MSNBC and E! News among other properties. Twitter will also stream live coverage of the MTV and BET award shows through Viacom, and has also partnered with Comedy Central for pop culture news and humour content.
Formula 1 is the biggest motorsport competition in the world, and it's coming to Twitter. @F1 is launching a global, exclusive post-Grand-Prix show, broadcasting LIVE on site during the most iconic races of the season. #NewFronts

— Twitter Marketing (@TwitterMktg) April 30, 2018
Fox Sports is also on board to create a highlights program for the 2018 FIFA World Cup.
With more than 200 million Tweets in 2018 so far, gaming is massive on Twitter. This year we have new partnerships with @Activision's @CODWorldLeague, plus @gamespot and @IGN are bringing live coverage of @E3 and Comic-Con. #NewFronts

— Twitter Marketing (@TwitterMktg) May 1, 2018
Twitter also plans to launch Live Brand Studio, which is its form of ad-supported live content. Twitter also announced renewal of original shows and live video series that debuted last year. Twitter has roped in nearly all major names from domains like sports, news, lifestyle and pop culture to strengthen its portfolio of live content and original shows, and is expected to announce new partnerships tomorrow.