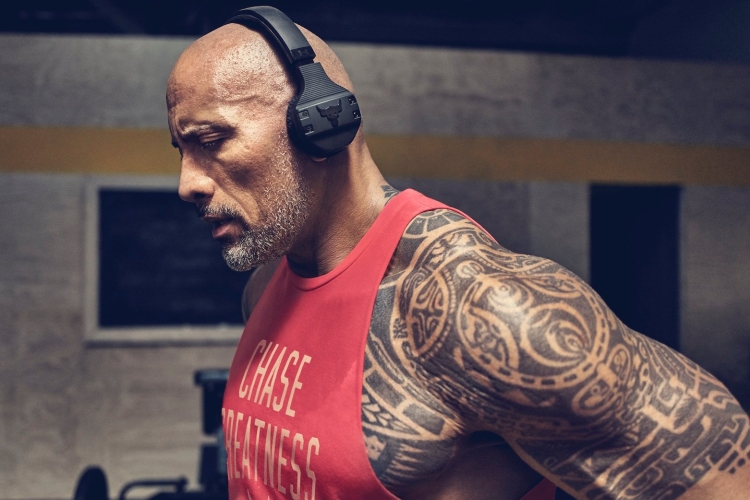 Dwayne 'The Rock' Johnson has just launched a pair of fitness-centric wireless headphones called the Project Rock!
Built by JBL in partnership with Under Armour, these are adorned with The Rock's signature Brahma bull insignia and are being launched along with a Spotify playlist, curated by Johnson, called Iron Paradise Airwaves. The headphones, which are essentially the Project Rock Edition of the new UA Sport Wireless headphones, provide you with high-quality Under Armour materials in every aspect.
The foldable headphones offer SuperVent lining alongside the perimeter of the ear pads for breathability coupled with a so-called Under Armour grip material on the inner parts of the pads and headband for a soft feel and more stability. Furthermore, the pads are removable and hand-washable. They also come with a ventilated hard case to let them dry out between workouts.
The headphones are powered by a 610mAh battery and should last up to 16 hours, depending on the volume. Also, thanks to JBL's quick charge technology, a simple 5-minute charge should last you for an hour of wireless use, while it takes two hours to charge from empty.
It's ON!
Our most anticipated @underarmour #ProjectRock drop – the CHASE GREATNESS COLLECTION is OUT NOW.
As always, I make my gear not so you can be the best at something, but rather a lil' better – day by day. The project of you is never finished. 👊🏾https://t.co/vYtBQVKnbv pic.twitter.com/6gjXTbMIot

— Dwayne Johnson (@TheRock) June 28, 2018
JBL has also incorporated a TalkThru function to quiet the music and turn on speech-optimized microphones to let you talk with people nearby. What's more is that these mics can also be used to activate Siri or Google Assistant commands. Unfortunately, though, the headphones still rely on the older micro USB for charging and Bluetooth 4.1 for connectivity.
Disappointingly, there's no support for Qualcomm aptX or other high-quality wireless audio transmission technologies, which means you might not get the best audio quality, which is quite a deal-breaker.
The Project Rock headphones are now available for $249.95 (Rs. 17,100) via the Under Armour store.
---