While iTunes gets the job done, over the years, it has become a bloated piece of software which is as far away from Apple's vision of "it just works" as possible. That's why I am always on the lookout for apps which can help me manage my iPhone without making me jump through tons of hoops. Today, I am going to share one such software with you which not only makes it really easy to manage your iPhone from your Windows or Mac device but also brings a number of other features which iTunes cannot provide even in its best dreams. The software I am talking about is called Tenorshare iCareFone, and here is our review:
Key Features
Tenorshare iCareFone brings a lot of features which will make any iPhone user happy. From managing your iPhone to transferring data to creating a backup to fixing problems, Tenorshare iCareFone does it all. Here are the top features that the software brings to the table:
Have you ever had your iPhone stuck while updating or just restarting again and again without any reason what so ever? If you have, Tenorshare iCareFone will be a boon for you as it can fix all of iOS stuck problems. So, whether your phone is stuck in bootloop or your apps are crashing frequently, you can use this software to fix all these issues by simply hitting a button.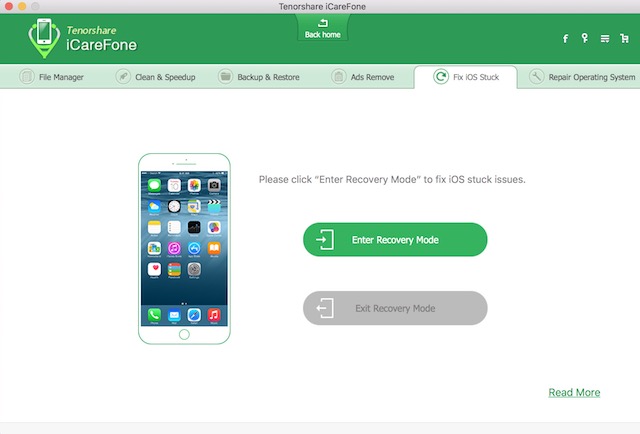 Other than fixing all the above-mentioned problems the software also allows you to solve any operating system level problems by allowing you to easily downgrade or upgrade your iPhone's OS thereby repairing the corrupted system, that too without losing any data.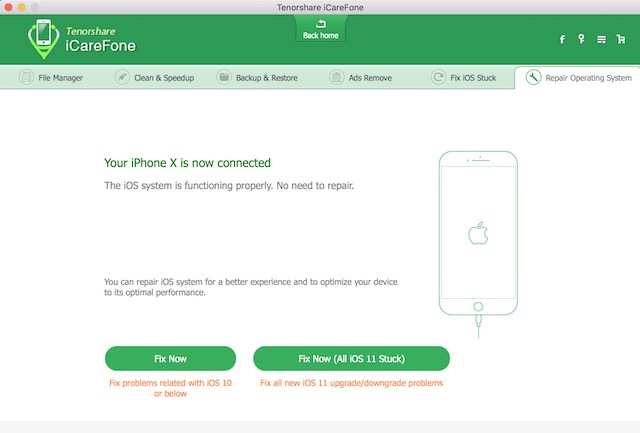 While iOS is good at handling residual files, since the OS doesn't give you any control over the cleaning of the residual files, overtime your device gets unbearably sluggish due to accumulating junk files, caches, apps, and other invisible files. Using the iCareFone app, you can easily locate and remove all those junk files which are making your iPhone slow. The app can also use its built-in compress feature to compress your photos to release even more storage on your phone.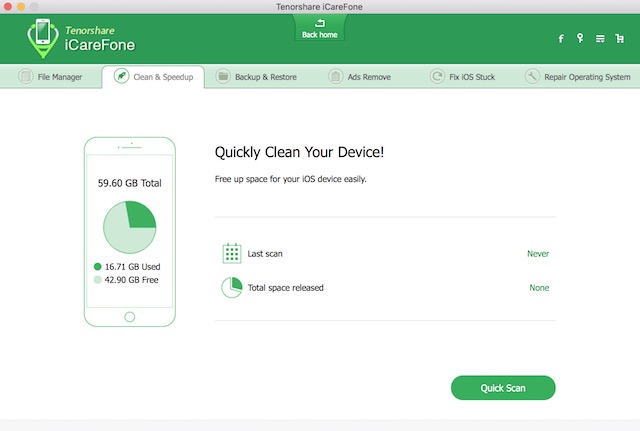 While iOS is a pretty secure system, it isn't infallible. Your iPhone can just easily be attacked as any other device. Most of the attacks on iPhones happen through malicious pop-up ads which shady websites put on to earn money. The iCareFone app will block all those malicious ads whether they are on Safari or in-app ads, thereby keeping your iPhone protected from any harmful attack.
Just like iTunes, you can use iCareFone to quickly create a backup of your device and use that backup to restore your iPhone. The software backs up all your media (including photos, music, videos, voicemails, and more), apps (app data and related attachments), and system data (SMS Message, iMessage, Contact, Call History, Note, Calendar, Reminder, Safari Bookmark, Safari History, and more) with just a click of the button.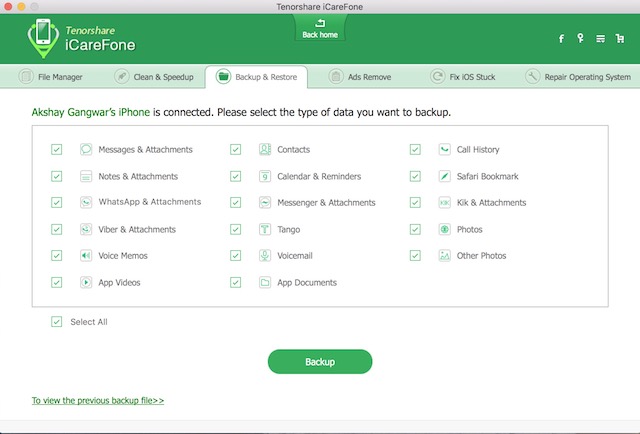 One of my most favorite features of iCareFone is the file management system that comes with the app. The app allows you to easily export and import your files from your iPhone to your computer. You can perform actions like batch transfer, mass delete, and two-way transfer to easily share any file type including and not limited to contacts, photos, apps, bookmarks, notes, iBooks, calendars, and even iOS 11 HEIC images and HEVC videos.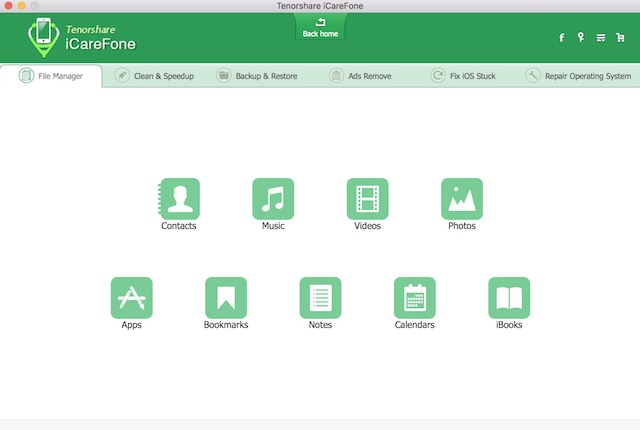 User Interface
iCareFone offers a modern and easy to navigate UI. When you launch the app, the homepage will showcase most of the important information at a glance. You can see your iPhone's storage status, and the status for last scan, last clean, and last backup dates. Below the information, you will see a grid of all the major features of the app which you can be accessed by clicking on them. The app is straight-forward and should not take anyone more than a minute or two to figure out.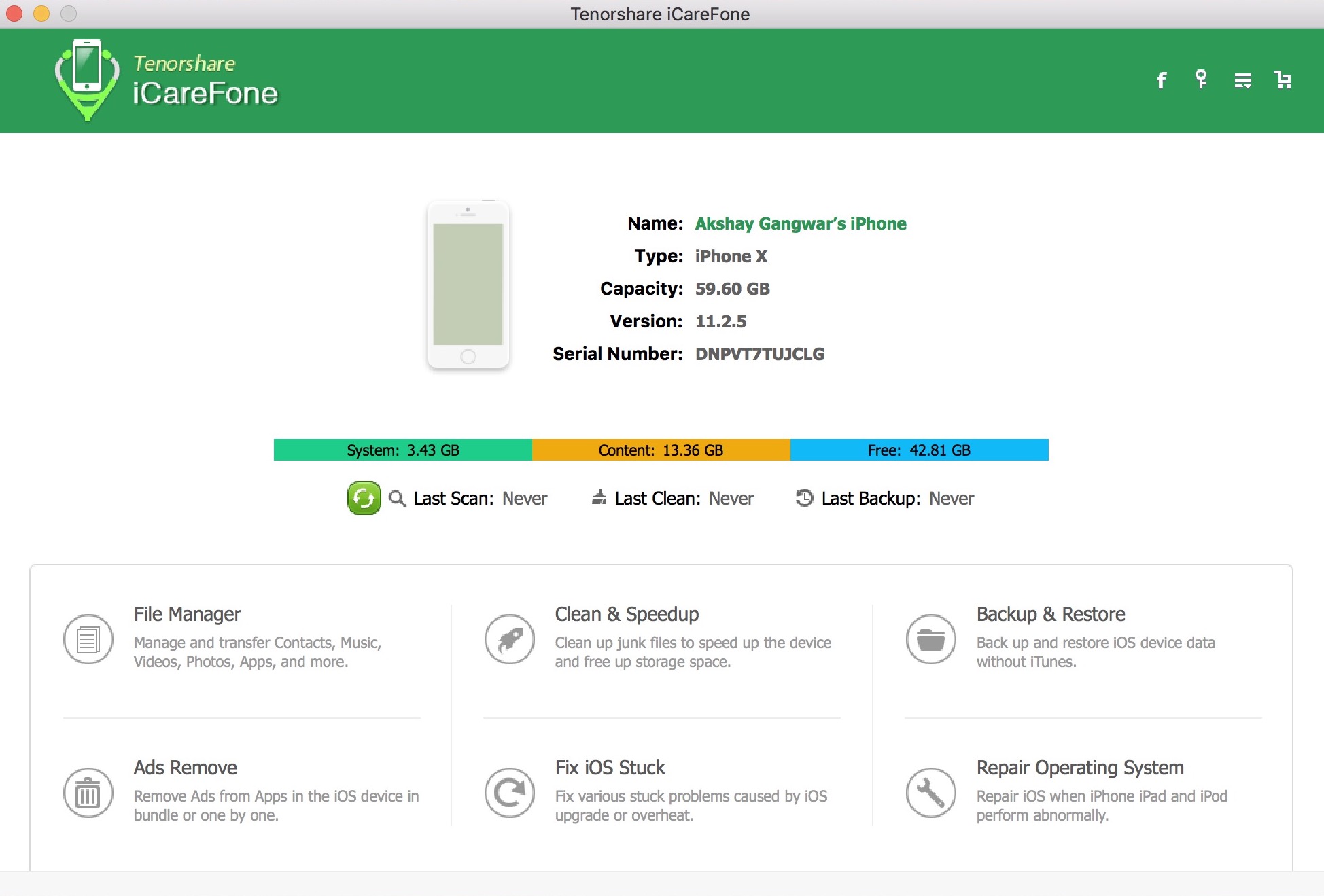 Price and Availability
Tenorshare iCareFone is available for both Windows and macOS devices and can be downloaded from their website. The app comes with a free-trial period which you can use to check out the app. When it comes to pricing, the company uses differential pricing scheme for macOS and Windows version of the app.
On Macs, a single license which is valid for one machine will cost you $59.95/year. If you want to use the software on multiple Macs, you should buy the Family Pack which not only allows you to run the software on five different Macs and costs only $79.95, but is also valid forever. Similarly, a single license on Windows cost $39.95/year while the Family Pack costs $59.95. As you can see, whether you buy a single license or a Family Pack, the Windows version is $20 cheaper than the Mac version of the app.
Pros:
Easily solve iOS stuck problems
One click backup and restore
Easily clean and remove residual files
Manage files
Block malicious ads
Cons:
The base price is a little too pricey considering they are only offering 1 year of usage
Mac version of the app costs more than Windows version
Use Tenorshare iCareFone to Easily Manage Your iPhones
Tenorshare iCareFone is a very handy piece of software which can help you completely manage your iOS devices without making you pull out your hairs. It packs a ton of features and pretty easy to use, making it one of the must-have applications for any iOS device owner.
---
Load More