Bethesda's new space action adventure, Starfield, is all set to become one of the highlight games of 2023. However, for all the new things it brings to the table, there are a few points of contention with the game. One of them is the lack of a good localized map system, which makes it difficult for players to discover landmarks in prominent Starfield cities. However, that job has now been simplified by Starfield DB, which has launched interactive maps for New Atlantis and Akila in the game. Let's talk about them below.
Starfield Interactive Maps Will Make Your Life Easier
While you can choose the best Starfield backgrounds and have different companions join your party, it is tedious to have to find your way around major cities without a map. I personally, more often than not, got lost around New Atlantis before I found my bearings. However, some people recognize this problem and rush to find a solution. Fortunately, the Starfield Database website has released dedicated maps for two of the game's major cities, which are New Atlantis & Akila.
Starfield's New Atlantis Interactive Map Is Gigantic
Undoubtedly, New Atlantis is one of the biggest and most prominent cities spacefarers set their boots on in Starfield. As such, it is all the more painful navigating through the landscape without a local map. Besides being huge, New Atlantis is known for hosting the headquarters of the Constellation faction, the one the player joins initially.
You also run into a few key characters here, including faction's Sarah Morgan, Noel, and even Sam Coe. Two of these characters can be romanced in Starfield, so check out the details here if you are interested in that.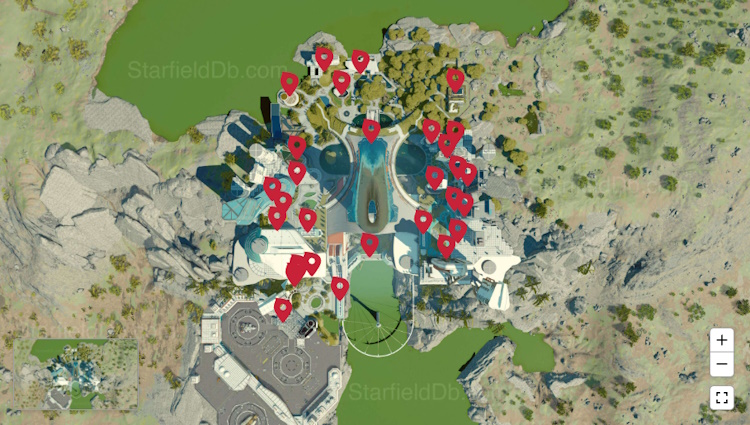 Since the city itself is vast, the map matches that scale. Nonetheless, it's easily configurable with the names of various locations present. While there isn't any more information when you click, the interactive map is still useful enough for players to open it on another screen while playing Starfield. You can check out the map for New Atlantis here.
Akila's Interactive Map Shows Coe Estate & More Landmarks
For those unaware, Akila City is known for being the home of the Freestar Collective faction, one of the biggest in the game. However, the city also houses multiple points of interest, including general stores, arms, hitching posts, museums, and more. Furthermore, Akila City also has NPCs like Sam Coe's father in the Coe Estate, Emma Wilcox, and more.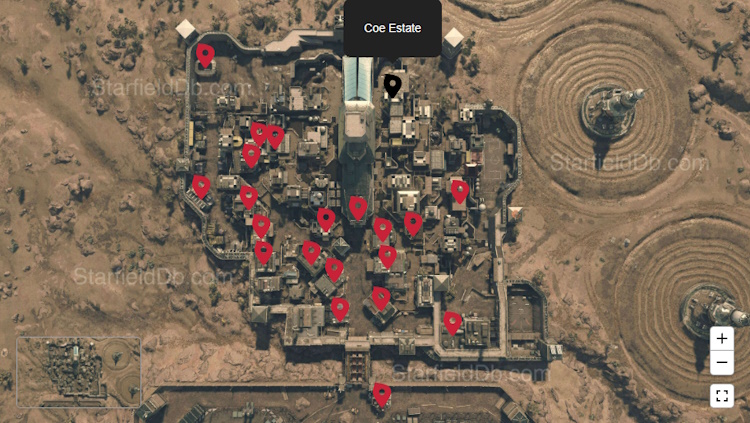 The interactive map comes with a good amount of detail and is scaleable, so players can quickly zoom in and out. Each location has been marked with a GPS point, and you can click it to get its full name. Nonetheless, if you want to quickly find out who's who in Akila City, this map by StarfieldDB is the one to get it. Check it out here.