Companions are the heart and soul of any game. Bethesda, in particular, is no stranger to this phenomenon. Since space and its exploration can become a lonely experience, the studio's upcoming Starfield follows suit. With a few substantial companions already confirmed during the Starfield Direct in June, there are a lot of characters to look forward to. Let's look at all the Starfield's confirmed companions and crewmates revealed so far.
Each companion shown during the showcase had unique traits tied to them. These traits give them the skills to perform specialized work in the game. Here are all the confirmed companions in Starfield, which you probably should look out for, when the pre-load copy goes live on September 1st. Check out our article on Starfield pre-load guide which details star time, size, and how to download. Meanwhile, check out the list below to see all Starfield companions at a glance.
VASCO
Sarah Morgan
Sam Coe
Barrett
Heller
Marika Boros
Adoring Fan
1. VASCO
Skills: Currently Unavailable
As seen during the deep dive in June, VASCO is a utility robot and one of the initial companions in Starfield. Inspired by NASA machines, the developers gave it elongated limbs to give it more of a human touch. While its skills are currently unavailable, VASCO should be proficient in combat, judging by its actions in the trailer. Furthermore, from what we have seen, the handy robot will also come with some quippy voice lines that will make the experience all the more enjoyable.
2. Sarah Morgan
Skills: Botany (1), Leadership (2), Lasers (3), Astrodynamics (4)
Sarah Morgan narrates the story backdrop and your mission in Starfield during the deep-dive trailer. Furthermore, she is also the Constellation faction leader. She is an ex-soldier and adventurer who comes with a set of good skills, making her an effective companion in Starfield.
Sarah Morgan is proficient in four skills, with Astrodynamics and Lasers skills being the highest. This means that she will become a valuable asset for space exploration and during dogfights in space. Furthermore, since we can send companions to outposts, it seems she is mildly proficient in gardening through the botany skill.
3. Sam Coe
Skills: Geology (1), Payloads (2), Rifle Certification (3), Piloting (4)
Sam Coe is a former space cowboy equipped with a long pistol and spaghetti western attire. As per the trailer, Sam Coe lives in Akila City in Freestar Space and becomes a companion and a romance option. Coe might also be a descendant of Coe Plaza's Solomon Coe, making him a powerful companion.
For his skills, Sam is proficient in four of them. Outside of them, he is a great pilot possessing a rifle certification. Hence, he probably becomes someone you can instruct to fly your spaceship at the free-time. Sam can also be someone you can rely on during gunfights, so feel free to take him anywhere you wish, making him an excellent companion in Starfield.
4. Barrett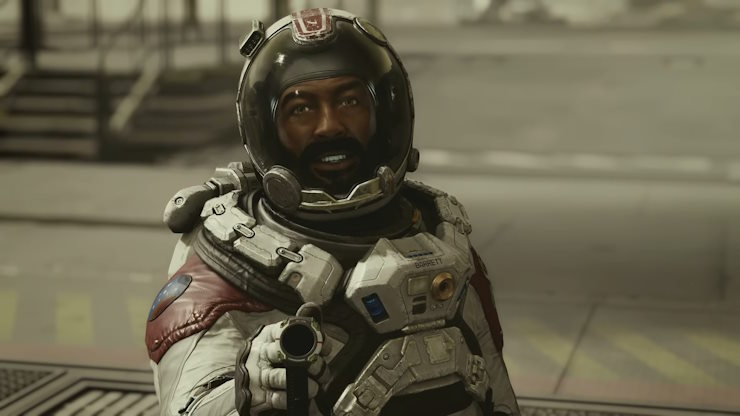 Skills: Gastronomy (1), Robotics (2), Particle Beam Systems (3), Starship Engineering (4)
Barrett is one of the friendly faces Constellation Starfield players can expect when booting up. He was even introduced to players in the game's tutorial section, which means you can expect more appearances from him. This means that maybe he holds a principal role in the overall story.
As for his skills, Barrett is a great starship engineer and someone who can work with the particle beam weapon system and robotics. This proves that he is an engineer by profession, meaning players can go to him and ask him for ship protection and maintenance.
5. Heller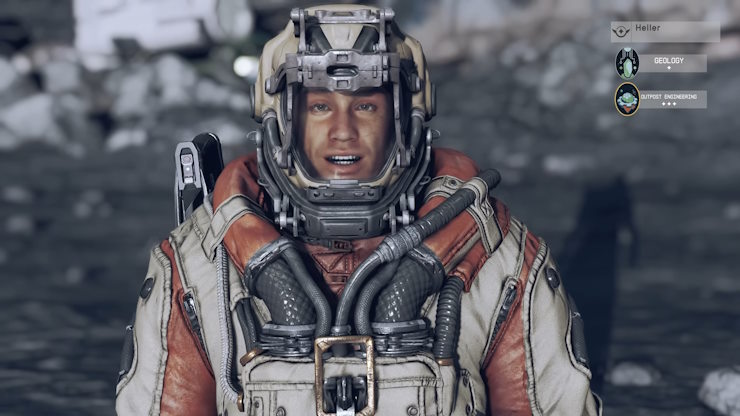 Skills: Geology (1), Outpost Engineering (3)
Heller is briefly shown in the Starfield deep-dive during the companions showcase. The developers put him as an example of companions you find during your space exploration. We will find him on an empty planet, and judging by his dialogue, he might be stuck there. Rescuing him will make Heller your companion, and you can put him to work soon after.
Heller is proficient in outpost engineering, meaning he can maintain and protect outposts that players create better than other companions. As previously confirmed, you can assign your companions to any outpost. As such, Heller seems like the person most players will probably assign maintenance duties.
6. Marika Boros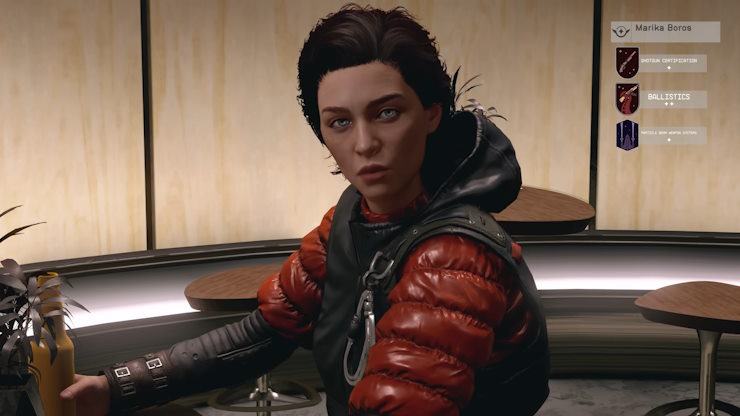 Skills: Shotgun Certification (1), Particle Beam Weapon System (1), Ballistics (2)
One of the hireable companions in Starfield, Marika Boros, shows up at a bar called Viewport in New Atlantis and has some intriguing skills geared toward gunfights. She is proficient in Ballistics, meaning she probably is adept at shooting her enemies when needed. Furthermore, Shotgun certification possibly allows her to be someone that can use shotguns much more effectively. So for the ones looking for head-on action, look no further than Marika.
7. Adoring Fan
Skills: Scavenging (Rank 1), Concealment (Rank 1), Weight Lifting (Rank 2)
In Elder Scrolls: Oblivion, your character comes across an adoring fan who is infamous for being an extremely clingy companion. Chances are, you've seen him appear randomly in your YouTube recommendation, where a player pushes him down a high hill to his death. The Bethesda Game Studio devs seemingly immortalized his legacy and brought him back for Starfield.
The adoring fan of Starfield looks pretty similar to the Oblivion counterpart, except this time he has more polygons and wears NASAPunk-inspired clothing. The fan is adept at scavenging and even weight lifting, so you can use him to lighten your load. However, you can always push him off a hill, too, so there's that.
---
Load More