With the ever-increasing cases of ransom malware hitting the computers and the age-old problem of hard-drives getting corrupted or out-right dying, having an online backup solution for keeping your important files safe has become more paramount than ever before. That's why in this article we are going to talk about one of the best online backup solutions out there.
The backup solution I am talking about is called SpiderOak One and it is one of the best online backup and sync solutions you can get for yourself. The service not only allows you to backup your files, but it also allows you to sync them across devices and share them with people even when they do not have a SpiderOak One account. Today we are going to take a detailed look at the SpiderOak One and see what it has to offer us:
Key Features
Let's start our article with finding out what key features the software actually brings to the table. Once we are through this section, you might be surprised to find more features than what is expected from a cloud backup solution. So, let's begin, shall we?
The main service that the SpiderOak One focuses on is creating an online backup of your files. Here the main way SpiderOak One differs from services like Dropbox or Google Drive is that not only it has a dedicated folder which automatically backs up, it allows you to select any folder or file on your system to back it up. For example, in the picture below, you can see that I can backup my Desktop, Documents, and other folders. Not only that, I can go inside the folder and pick and choose the files that I want to backup. This is better than maintaining a single folder as it lets users keep files in their places while creating an online backup.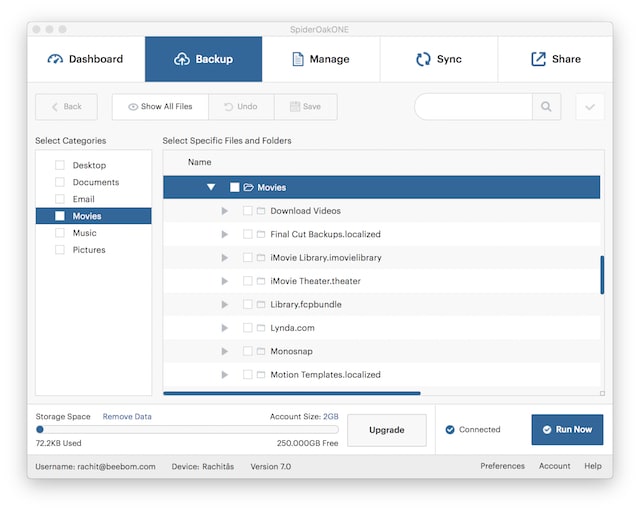 While most of the online backup solutions only do that, SpiderOak one also allows you to sync your backup across multiple devices. SpiderOak is a truly cross-platform solution with apps supporting all the major desktop platforms including Windows, macOS, and Linux. It also has both iOS and Android native apps. The best thing about using SpiderOak is that it doesn't restrict the number of devices you can use. Once you have subscribed to the service, you can sync your data across any number of devices.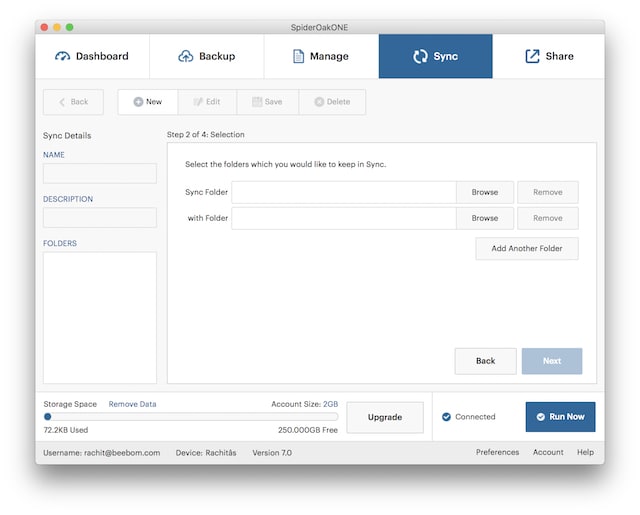 SpiderOak One also allows you to share your backed up files with anyone. The person on the other side doesn't even have to have a SpiderOak One account. When you share a file, SpiderOak One creates an external link which gives the recipient the authority to download the shared files. The shared links are also time-based and expire within three days, so you can be sure that no one has lifetime access to your files. Apart from sharing files, SpiderOak One also allows you to create what it calls ShareRooms. ShareRoom is a place where you can keep the files you want to share and allow other people to download files from there. So, once you create a ShareRoom and share its link with others, any file that you add to it will automatically become available to them.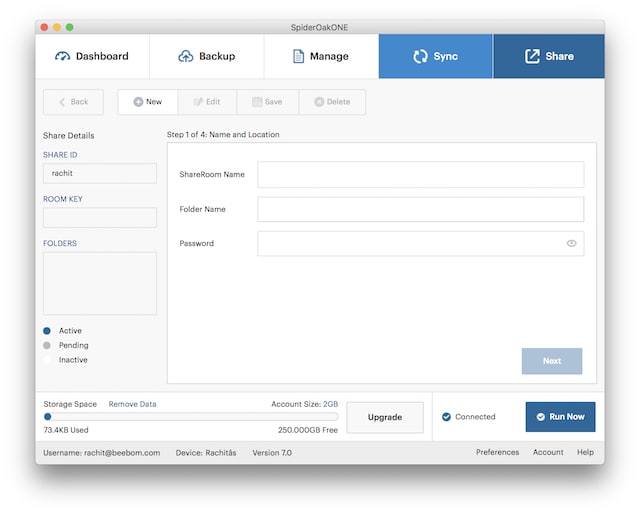 The last and one of the most important key feature of SpiderOak one is privacy. The service offers Zero-Knowledge privacy to all its consumers. If you don't know what Zero-Knowledge privacy is, it basically means that not only your files are end-to-end encrypted for users, even SpiderOak One does not save any of the passwords and encryption keys, making it impossible for anyone, even the workers at SpiderOak One to access your files. So, if privacy is one of your biggest concerns, you are safe here.
User Interface
Now that we have looked at all the key features of SpiderOak, let's check out its user interface. Once you install the app on your device, it will either ask you to login or register for the service. Once you have done that, you can just open the app. As you can see in the picture below, there are five different tabs; Dashboard, Backup, Manage, Sync, and Share. Each of the tabs houses all the major features of SpiderOak One. The Dashboard as the name suggests gives you an overview of everything.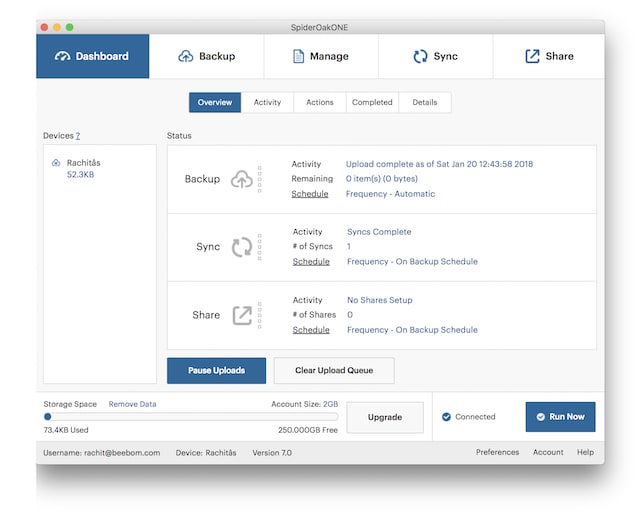 The Backup tab is where you decide which files you want to back up. Skipping the Manage tab, the next is the Sync tab, which allows you to choose files which you want to sync across devices. Next, the share tab houses all the features you will need to share files or create ShareRooms. Lastly, the Manage tab which we skipped before houses all the files that you have backed up using the service. Here is where you can choose the files which you want to restore or download. SpiderOak One mobile apps also offer pretty clean UI and make it very easy to find files.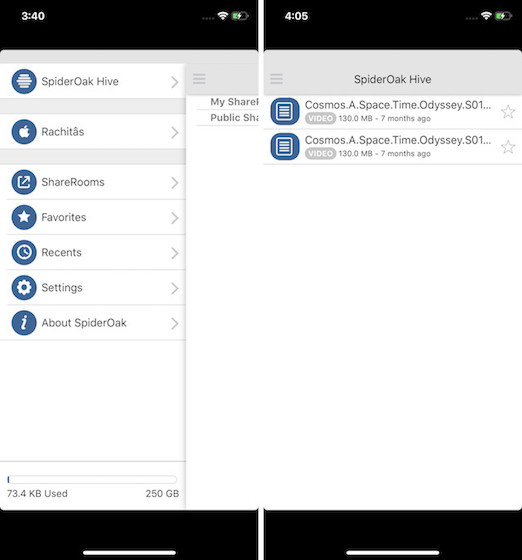 Ease of Use
As can be guessed from its user interface, SpiderOak One has a very easy to use and navigate UI. Every key feature gets its own tab and can be managed easily from there. Backing up files is as easy as making a few simple clicks. The best part about backing up files with SpiderOak One is that once you have selected the folders, every change that you make is automatically updated.
That said, the sharing of the files by creating a ShareRoom is a little less intuitive. The fact that SpiderOak One doesn't provide any in-app guidance makes it even harder. Apart from its Sharing feature, everything else can be figured out pretty easily. The Sync feature did take a little bit of getting used to, but that's only for the first time. All in all, SpiderOak won't win any awards when it comes to ease of use, but it will certainly pass with respectable marks.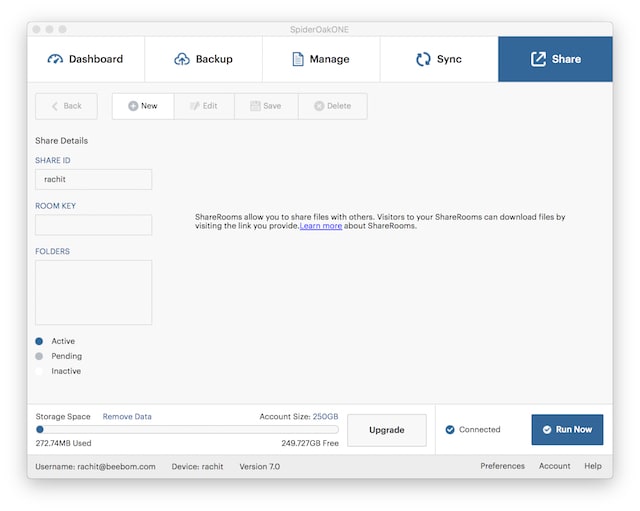 Price and Availability
As mentioned above, SpiderOak One is available for Windows, macOS, and Linux. Plus it also offers handy iOS and Android apps. The service is available as a free trial for 21 days which comes with a solid 250 GB of storage. That said, it's enough to see figure out if you like its service or not. If you do decide to buy it, the pricing starts at $5/month for a 150GB plan. You can see the rest of the pricing in the picture attached below:
Pros
Backup any file on your computer.
Sync files across multiple devices and operating systems.
Unlimited devices can be used.
Zero-Knowledge privacy
High upload and download speed
Cons
Sharing files is not very intuitive
SpiderOak One: A Secure and Feature Rich Online Backup Solution
SpiderOak One is one of the most secure and feature rich online backup solutions out there. The service not only lets you backup your files but also sync it across multiple devices and share it with other people. The service is cross-platform and has its own mobile apps. It also offers Zero-Knowledge privacy so your files are safe from peeping eyes. If you love these features, be sure to check them out.
Enter the promo code Beebom15 to receive 15% OFF on all SpiderOak One plans? Free Trial