Sony has announced the launch of a new in-car AV receiver in India. The new device comes with model number XAV-AX5000, and offers enhanced smartphone integration, smarter navigation, and full integration with Android Auto and Apple CarPlay. The XAV-AX5000 has been launched at a price of Rs. 24,990, and is already available at car accessories shops and car showrooms across India with immediate effect.
The AX5000 has bit the 'bezel-less' bug that is seemingly not restricted to the smartphone world anymore. It is said to feature a 'bezel-less' 6.95-inch capacitive touchscreen display of unspecified resolution. It is also said to wake up 2.5 times faster than previous models. The AX5000 also comes with a rear-view camera for reversing, and has dual-USB ports for connectivity.
The AV receiver comes with Android Auto, which makes it easier to get directions via Google Maps in real time. Users can also use voice commands to communicate with the system and play music from smartphones. It also automatically brings useful information organized into simple cards that appear when needed, for directions, music, messaging and more. Furthermore, it is also compatible with Apple CarPlay.
The XAV-AX5000, claims Sony, is ergonomically designed with a key terminal that gives instant access to the basic operations that includes source selections and sound adjustments while minimizing distractions. The rear chassis is designed with single-DIN dimensions that give enough room to store connected cable harnesses, steering wheel control adopter, and more.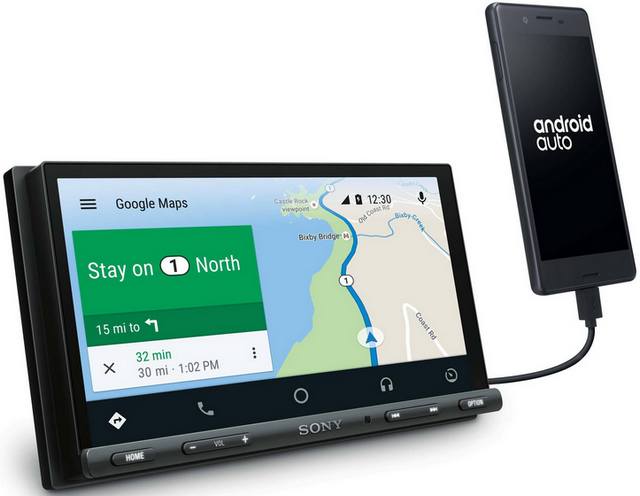 The system also features the DSO (Dynamic Stage Organizer) for powerful sound, and has extra bass to overcome engine noise, thanks largely to the 2-mode boost steps that allows for both delicate and heavy boost settings. The device comes with a built-in 4-channel amplifier that delivers 55 watts x 4 (max. at 4 ohms) output power with DRA2 (Dynamic Reality Amp 2) power IC.