Smart homes were one of the hot tech trends of 2015, and with all of that attention we've started to see many of the formerly expensive devices come down in price. Now, you can start working on your own smart home without spending a fortune; the key is to start small and build up. Here are 12 awesome products that you can use to get started on your own smart home!
1. Philips Hue Starter Kit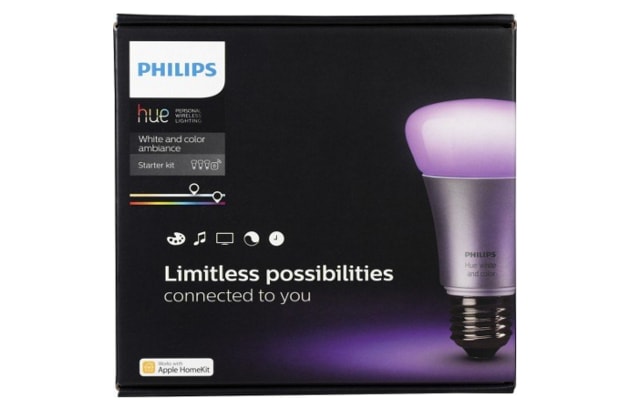 Hue is one of the big names in the smart home business; its lights have been an absolute smash hit with homeowners, and their starter kits make it easy to get the system set up. This kit comes with three bulbs that can shine white or colored lights, and everything else that you need to get started. The lights can be controlled from a smartphone app, letting you turn the bulbs on and off, adjust brightness and color, and even match your lights to the colors in an image file from anywhere in your house.
Buy Now ($200)
2. WeMo Switch and Motion Sensor
If you really want to feel like you're living in a smart home, the WeMo Switch and Sensor combination is a great way to go—in addition to turning on any item plugged into a specific outlet with the tap of a button on your phone, you can also have lamps or fans turn on whenever someone walks into the room. Forget to turn your lights off before you go to work? Just do it from your phone! Tired of running into things when you get up in the middle of the night? Use the motion sensor to turn on a lamp! There are tons of possibilities for creative uses.
Buy Now ($80)

Unlocking your door is probably something you don't think about, but with the August smart lock, it can become a really cool process. You can set up the lock so that it automatically unlocks your door when you get close to it, you can give people temporary keys so they can get into your house while you're gone, and you can even lock and unlock your door from afar. Installation is pretty simple, and you don't need to do anything to the outer part of the lock, so you can still use your keys if you forget your phone.
Buy Now ($194)
4. Nest Thermostat

The Nest was one of the first smart home devices to become popular, and it's earned its place as one of the better devices out there. The Nest uses artificial intelligence to learn your patterns, and will adjust the temperature in your house so that it stays comfortable as efficiently as possible, helping you save money on your heating and cooling. It knows when you're away, and can manage the temperature while you're gone to further reduce costs. And if the thermostat makes some automatic adjustments that you don't like, you can change it directly from your phone.
Buy Now  ($249)
5. Amazon Echo
https://www.youtube.com/watch?v=KkOCeAtKHIc
The Echo is a relative newcomer to the smart home scene, but there's a very good possibility that it will become popular very quickly. The Echo functions as a 360º speaker that fills your room with your favorite music, and lets you control the playback with your voice. It can stream Amazon Prime, Pandora, iHeartRadio, and other services, and all you have to do is ask. You can also ask it questions, have it read the news, get weather reports, and more. And, maybe most importantly, it works with other smart home devices, so you can activate WeMo, Hue, SmartThings, Wink, and other connected devices (though reports say that not all of these are supported yet).
Buy Now ($180)
6. Canary
If there's one part of your home where smart technology can make a huge and noticeable difference, it's in monitoring. The Canary is an all-in-one security monitor with an HD camera, wide-angle lens, and high-quality audio that you can stream any time, anywhere. It also packs a 90 dB siren, recording capabilities, and a wide range of sensors that track things like air quality, temperature, and humidity. Everything that you need to know about your home, Canary can tell you. And because it's not a subscription-based service, all you need to do is buy the unit and set it up; no monthly payments or contracts.
Buy Now ($199)
7. Piper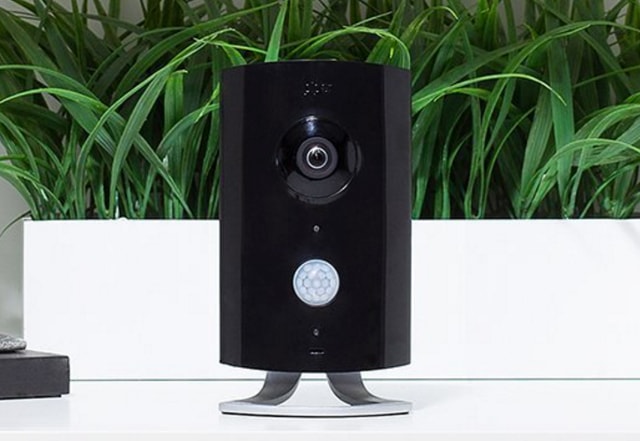 Another smart monitoring system, Piper offers HD video monitoring and recording, motion and sound detection, and a very loud 105 dB siren. Its wifi and Z-wave compatibility make it easy to link it up to other devices so you can keep tabs on what's going on at your house, and it's integrated with Life360, a free online service that helps you keep tabs on your family members throughout the day. Piper's videos are also encrypted, reducing the chances that someone might be able to hack into your camera and see what you're doing.
Buy Now ($274)
8. Roost Smart Battery
You could spend a lot of money on a smart smoke detector, or you could spend $35 on the Roost smart battery and get most of the same functionality for a fraction of the cost. The battery lasts over five years, and will send a warning to your phone when it's about to run out—no more putting up with chirping alarms! It also sends an alert to your phone if the smoke alarm goes off, alerting to you to potential danger in your house no matter where you are. You don't need a hub or any special equipment, making the Roost by far the easiest way to start making your home smarter.
Buy Now ($35)
9. SmartThings Home Monitoring Kit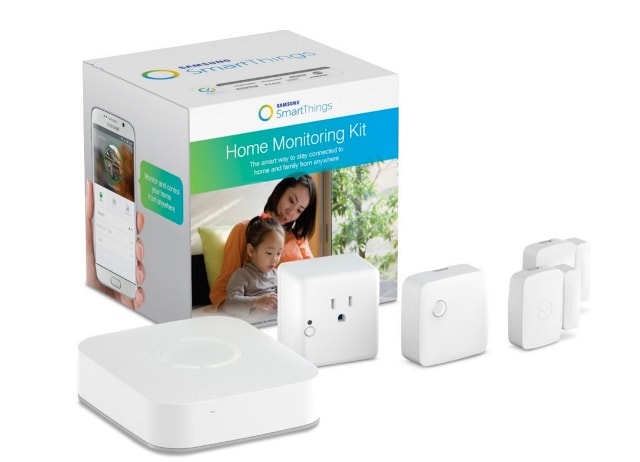 This is a great kit for getting started on your smart home; it includes a SmartThings hub, two multipurpose sensors, a motion sensor, and an outlet. The sensors are great for monitoring things when you're away from home, and the motion sensor and outlet can be paired, much like the WeMo Switch and Sensor, to turn on almost any device when someone enters the room. If you think you'd like to get really into the smart house scene and use a lot of technology to make your house safer and more efficient, this is a great place to start.
Buy Now ($249)
10. Withings Aura Smart Sleep System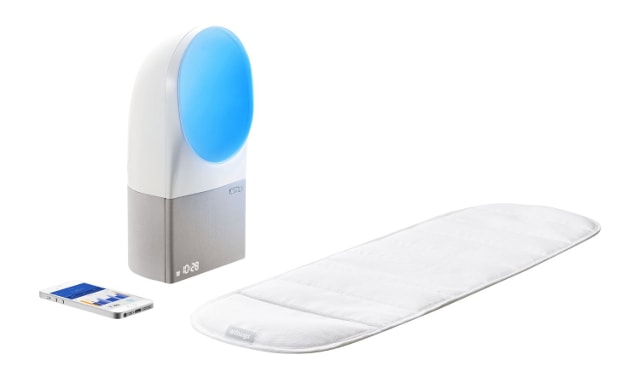 Getting high-quality sleep is crucial to your being awake throughout the day, keeping stress in check, being effective at your job, and just being happier. The Aura system aims to help you get the best sleep you possibly can by closely monitoring your body with the under-mattress sensor and waking you up gently with a smart wake-up lamp. The lamp will wake you up when you're at the proper point in your sleep cycle, obviating the need for jarring alarms and harsh wake-ups. The sunset light also helps lull you to sleep when you decide to turn in.
Buy Now ($300)
11. iRobot Roomba 650 for Pets
Like the Nest, the Roomba robotic vacuum is a classic of the smart home scene—and why shouldn't it be? It zooms around your house, vacuuming your carpets and hard floors so you don't have to, and its small size makes it easy to get under tables, chairs, and even some couches. Obstacle-avoidance sensors keep it from running into things or falling down the stairs, and the three-stage cleaning cycle gets your floors clean in no time. You can set your Roomba to automatically vacuum up to seven times per week, or you can just hit the CLEAN button to start it going whenever you need it to.
Buy Now ($359)
12. H20Vibe Rain Showerhead with Bluetooth Speaker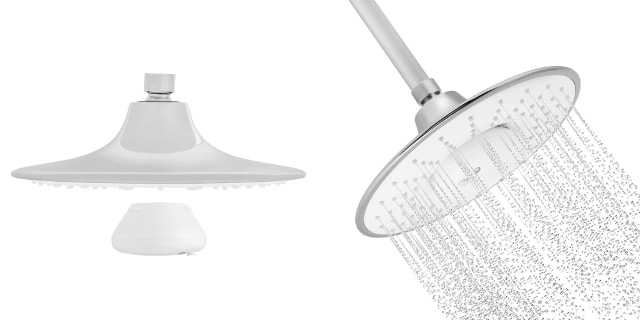 This showerhead packs a removable Bluetooth speaker—what else to you need to know? Combine powerful jets with waterproof music in the shower, and you have an absolute winner. It's debatable whether this actually makes your house smarter, but it's a fantastic addition to any bathroom and a great place to start in adding wireless capabilities to your home. Stream music to the showerhead from any Bluetooth-capable device, and take the speaker out when you want to listen to music elsewhere in the house. No-brainer.
Buy Now ($42)
SEE ALSO: 15 Examples of Internet of Things Technology in Use Today
Get Started on Your Own Smart Home
With these 12 devices, you'll be able to get a great start on making your home a smarter, more efficient. Whether you're looking to save money on heating, do a lot less vacuuming, or just listen to music in the shower, something on this list will appeal to you. And with the hundreds of other options out there, you're sure to find a smart home device to kick off your own smart home!
---
Load More