Google recently released the very cool GBoard keyboard app, which brings Google's search capabilities to a keyboard. Moreover, it brings features like GIF sharing, emoji search, glide typing and more. However, the keyboard is only available only for iPhone users, which is quite a surprise because we are used to Google bringing its cool new offerings on its own Android platform first. This move has infuriated a lot of Android users and if you are one of them, we have some good news for you.
While Google plans to bring GBoard to Android soon, there's a cool keyboard app dubbed Slash Keyboard (Free) you can use on Android, which is similar to GBoard. In fact, we are going to go ahead and say that it's even better than GBoard. So, let's get into the details of what makes the Slash keyboard better, shall we?
What makes Slash a great GBoard alternative?
Third Party Service integration
GBoard brings great Google Search integration, which lets you search and send locations, videos from YouTube, images, news, weather reports, sports scores and more, right from your keyboard. GBoard is cool but Slash keyboard includes a ton of third party services integrated right into its keyboard. The third party services available in Slash include Amazon, Google Search, Maps, YouTube, Twitter, Contacts, NY Times, GIFs from Giphy, Foursquare, Spotify, Apple Music and more. So, after you start using Slash, you won't have to switch among different apps to share something to people you are chatting.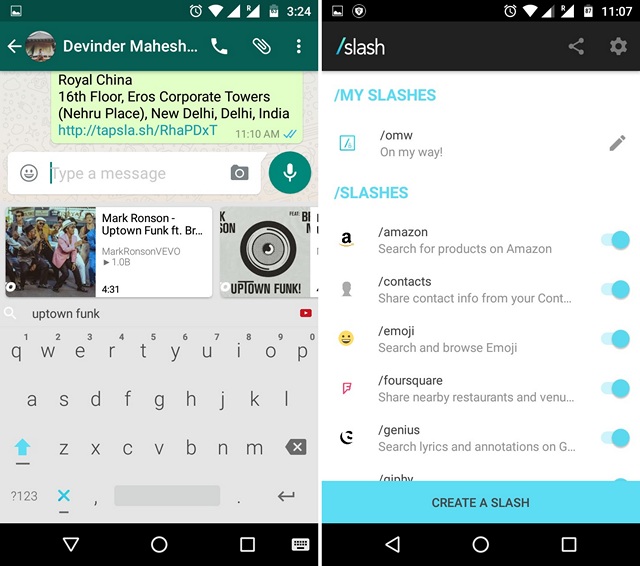 If you use a certain phrase or message regularly, you can create a custom "slash". This brings a message available at a tap from your keyboard, so you don't have to type it all over again and again. For instance, you can create a custom slash dubbed "/wru" with the shortcut as "Where are you?". So, when you type /wru from the keyboard, it will automatically turn to Where are you? Pretty cool, right?
What Slash lacks when compared to GBoard?
GBoard brings the ability to search for emojis. Yes, you heard that right, you can type an expression like "Anger" and you will be shown angry emojis. Sadly, Slash lacks this ability, so if you like this feature, you will have to wait for GBoard to arrive on Android.
Glide aka swipe aka gesture typing is now the norm in most keyboard apps, so it's no surprise that GBoard packs in the functionality. However, Slash lacks this feature and that could be a deal breaker for some.
Set up and use Slash keyboard
If you are planning on using the Slash keyboard, here's how to set things up and get slashing:
1. When you first open up Slash, the app will ask you to enable the keyboard. To do it, go to Settings-> Language & input and tap on "Current keyboard" and hit the "Choose Keyboards" button. Here, go ahead and enable "Android Keyboard (AOSP)".
Note: While Slash says, you will find the keyboard in the list with the name "%s", we found it as Android Keyboard (AOSP).
2. After you have enabled Slash, the app will ask you to switch from your current keyboard to Slash. You can do that by hitting 'the link' app shows you or by going to Settings->Language and input->Current keyboard.
3. After you are done, the app will open up and you will see all the slashes for different services along with your own custom slashes. To create a custom slash, you can tap the "Create a slash" button at the bottom. You can even turn off a slash by simply toggling it off from the main page of the app. On the Settings front, the app includes the usual keyboard options like auto-capitalization, text correction, theme etc.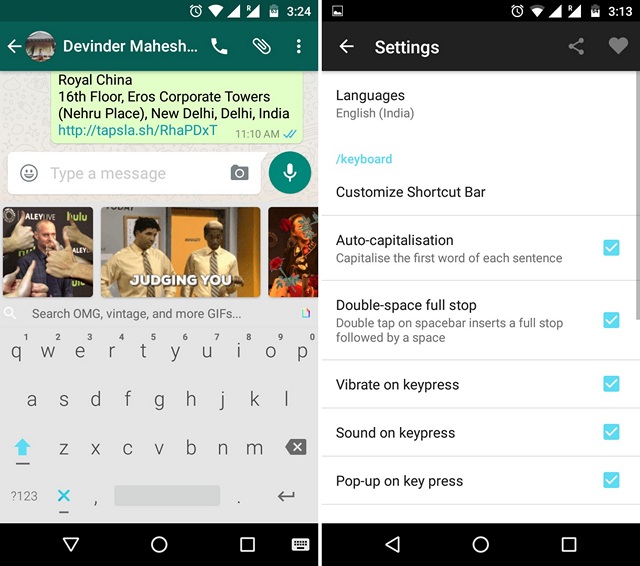 When it comes to using the Slash keyboard, it's fairly simple. The keyboard looks similar to Google keyboard but adds a shortcut bar at the top for emojis, GIFs, search and the third party services you choose to have. You can just tap on one of the shortcuts to start using a third party service right from the keyboard. You can even type a "/" to get a list of all slashes. Also, when you share a YouTube video or a place from Foursquare, they will go through as a link from Slash. To customize the shortcut bar, just hit the three dot button on the right end.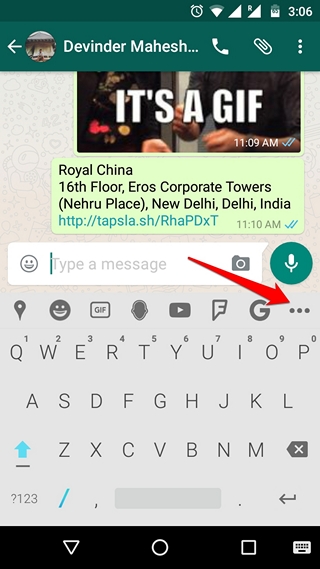 Install: (Free)
SEE ALSO: How to Install and Use Google Voice Access App on Your Android
Try Slash Keyboard and you might forget GBoard
If you can live without swipe typing, which is tough if you are accustomed to it, then you will surely enjoy Slash keyboard. In fact, you might end up liking Slash keyboard so much that GBoard's absence from Android would not even bother you. To sum things up, Slash keyboard is more than just a GBoard alternative and we certainly hope that the developers pay some attention and bring features swipe typing to make it an even better keyboard app.