We are already half way through 2013 and this is the best time to write about what we have learnt till now in 2013 to help your website rank above your competition. While most of the factors are still the same and most of our audience know those, there are many things that have lately become irrelevant or are now against the Google SEO Game. The factors have been compared to their last year strength and thus should help you decide where you need to work and what areas can rest at the moment.
1. Social Sharing
The role of social sharing is on the rise. The simple logic being – if its shared, its valuable. If you have been ignoring SMO for your projects, its high time that you start with these right away. The social signals that you should work on immediately are:
Google+

Shares

Facebook

Shares

Facebook

Comments

Facebook

Likes

Pins

on Pinterest

Tweets
But in case you have been active on the social front, you already know how important this is and how viral these signals can get you. The above order is what you should and you must follow for the remaining year and next half of 2014.
SEE ALSO:  Top 5 Things To Do After Publishing a New Blog Post
2. Backlink Count
No matter what people may say but the truth is – Back-links are the backbone of any website ranking. Google has been laying stress on giving up SEO for ranking and working on building a better website for visitors but that time is yet to come when Google will stop considering backlinks and rely totally on on-site SEO or other such factors. For the time being, lay a little more stress on making everything look natural. Google has been taking into account the number of no-follow links pointing to your website. No-follow links make the process look somewhat natural. Also you should consider increasing the backlinks from QUALITY and RELATED websites only. Some people have a habit of getting links from anywhere possible. Get over it. Those times are gone and wont ever return. Quality is the key. Key it in your brains and campaigns.
SEE ALSO:  High PR Do-Follow Forum List of 2013 (Generate Quality Back-links)
3. Content
In the recent Google algorithm updates, Content has been the king. Many websites have been penalized just for having BAD CONTENT. What is bad content? Is it some boring topic? No. By bad content we mean the duplicate and the low-quality content that has been scraped from somewhere else or has been written in a lousy way. A few more things that Google has been considering lately are:
Number of internal links
Word count
Position of keyword in title
Keywords in body
Keywords in external links
Keywords in internal links
H2 and H3 headings (H1 has somewhat lost a bit in the race)
Image count and tags
SEE ALSO:  10 Most Essential WordPress Plugins For 2013
4. Other Technical Things
There are a handful of more technical things that you should consider to improve your website ranking. These are:
Site loading speed. I would recommend switching to cloud if you have any issues with this.
Sub-domains are somewhat losing popularity with Google
5. Rumors
As per a very trusted source of mine, Google has been discouraging websites with lots of ads. Since almost every website on the internet uses Adsense, Google already knows how many ads you are serving and thus it might reflect on your website. But unless specialists announce it, I plan to classify it as a rumor.
Bonus:  Here's the periodic table of seo ranking factors for 2013 developed by our friends at searchengineland.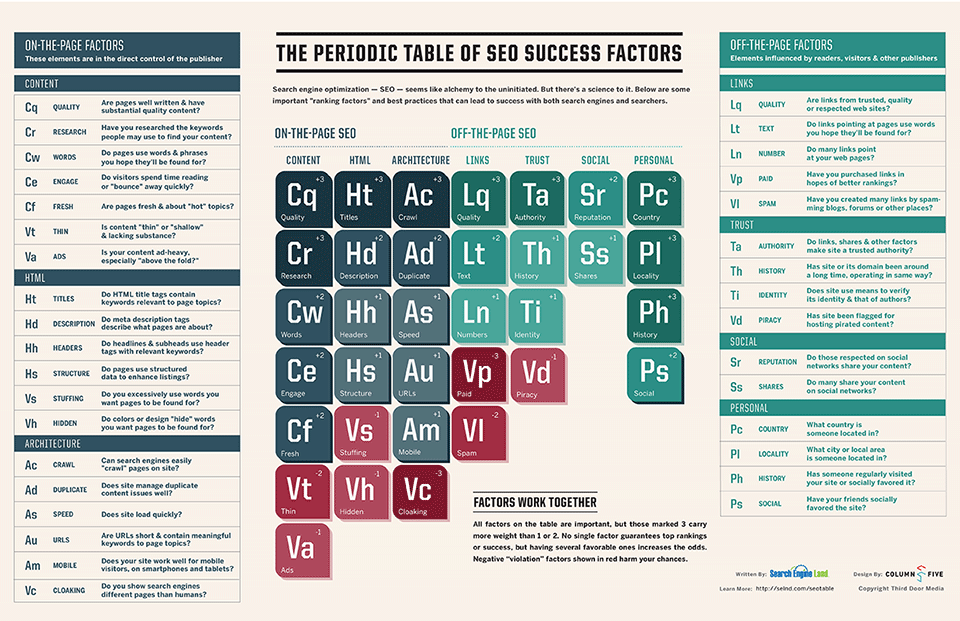 We hope you find the post useful. And If there is any question related to SEO strikes in your mind, feel free to ask in comments below the post.