I don't think there's even one Windows user on the planet who doesn't like to regularly change their desktop wallpaper and screensavers. I love to change the wallpapers on almost a daily basis. While I love changing the wallpaper and screensaver on my Windows 10 laptop, I hate searching for them. Finding quality screensaver is not easy. And while there are tons of apps on Windows Store that promise to do that, most of them regurgitate the same photos. That's why today I want to share an app with you which is a different and unique screensaver app. The app is called Screen Saver Gallery and it brings a huge catalog of excellent Windows 10 screensavers. Not only that, but the app also works on Xbox devices. In this article, we are going to take a quick look at the app and all the features that it brings to the table.
Key Features
To get a sense of the Screen Saver Gallery app, let's take a quick look at the key features of the app. Understand that at its core this is a simple screensaver app so we are not looking for some extra-ordinary feature set, rather at things that make this app stand out from the rest.
1. A Catalog of Beautiful Photos
The first thing that you expect from a Windows screensaver app is a huge catalog of beautiful photos and in that regard, the Screen Saver Gallery app doesn't disappoint. The photos have been collected from around the world and cover all the popular categories. You can easily choose the category of photos that you want the app to show you. Just launch the app, click on the "Gallery" button at the top and select the categories. The categories include Animal, Architecture, Boats, Food, Flight, History, and more. Not only that, but you can also click on a category name to further specify your preferences.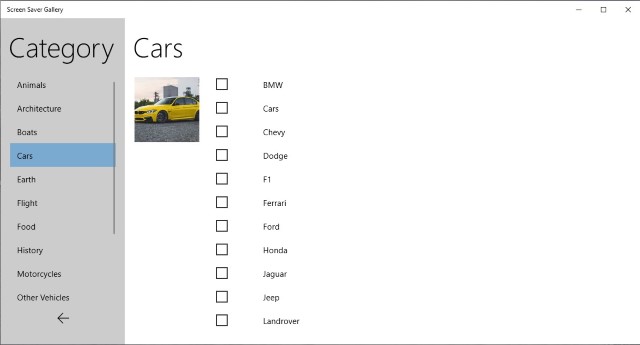 2. One-Click Action
Probably my favorite thing about this app is the ability to use photos with one-click actions. When you launch the app, you will notice that there are various buttons at the top of the photos. You can use these buttons to take one quick action on photos. For example, you can click on the "Wallpaper" button to set the photo as your desktop wallpaper, "Lock Screen" button to set it as a lock screen wallpaper and "Download" button to download the photo. I also love the "dislike" button that blocks images you don't like from being displayed on your computer.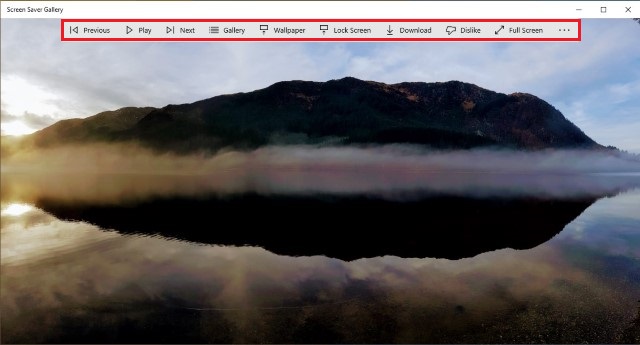 3. Works on Windows 10 and Xbox
While this is not a groundbreaking feature I wanted to mention it for our Xbox users who are looking for a good screensaver app. The app is phenomenal on Xbox and the wallpapers look gorgeous on TV. If you are using Xbox as your TV's main media provider, this is a must-have app for you. This app will turn your TV in a beautiful scenic wallpaper paradise.
User Interface and Ease of Use
Well, let's just say that I have never used a more minimalist and straight forward app as Screen Saver Gallery. As it is evident the app is extremely easy to use. You just have to launch the app and select the categories you want to choose. Then everything else can be performed with a one-click action. Whether you want to download the photos, use it as wallpaper, let it automatically change or keep a single photo as a background, you can do everything with just one click.
Pricing and Availability
The app is available for Windows 10 and Xbox users. It is available on the Microsoft Store so even Windows S users can enjoy it. You can download the app by clicking on the link below. So click on it and install the app right now. As far as pricing is concerned, the app is free to download and use with ads. There is an in-app payment option to remove the ads if you want.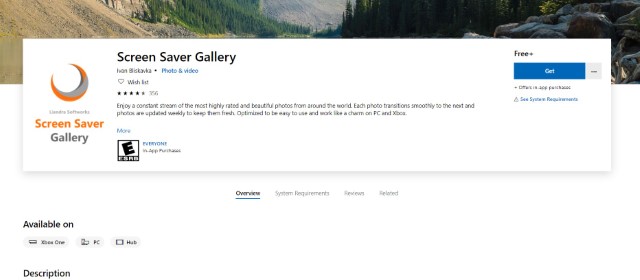 Download Screen Saver Gallery: Free, in-app purchases
Get the Best Screensavers with Screen Saver Gallery
I am using the Screen Saver Gallery app for the past week and I am in love with it. All the images on this app are high-quality and unique. The app never disappoints me. If you were looking for a good screensaver and wallpaper app for your Windows 10 or Xbox machine, you should definitely check it out.
---
Load More