Samsung started with their home-made OS named Bada and then switched onto Android. Since then Samsung never really experimented with any other Mobile OS Platform and there was never any need to do that because they have been ruling the Android Smartphone Market throughout the world for a long time now, but it seems that in order to break the monotone in the UI of their smartphones they have stepped towards a new Mobile Platform OS, Tizen.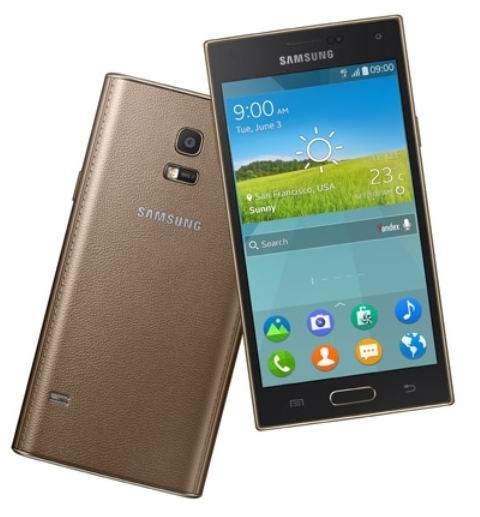 We have seen this OS being used on Samsung Galaxy Gear watch and now they have introduced this on their newly launched smartphone Samsung Z for the very first time. It has also been reported that Samsung is also working to make this platform popular by getting more and more applications for Tizen's Store.
Key Specifications
| | |
| --- | --- |
| Model | Samsung Z |
| Display | 4.8 Inches, HD resolution |
| Processor | Quad Core @ 2.3 GHz |
| RAM | 2 GB |
| Internal Storage | 16 GB, Extendable up to 64 GB |
| OS | Tizen OS v2.2.1 |
| Cameras | 8 MP/ 2 MP |
| Battery | 2600 mAh |
| Price | Not Disclosed Yet |
The specifications of this device is really good as it comes along with a Quad Core Processor operating at the frequency of 2.3 GHz. The Primary camera is of 8 MP accompanied by a single LED Flash, apart from this you also have a secondary camera for video calling. Internal memory support is also decent which is 16 GB and this support can be extended with the help of external memory card slot up to 64 GB.
All the common connectivity features are available on the device, but you will also see NFC and GLONASS working on the device. The battery strength of the device is also good which is 2600 mAh, especially when it has a Ultra-power saving mode helping you out in the low-battery conditions.
Samsung will start touting this device from Russia and that too from the third quarter of this year and then Samsung will slowly expand the market for this device. The reason for such a gap in announcing and launching this product is the time that they need to accelerate the development of a good chunk of applications for the platform before it reaches the hands of customers.
Conclusion
Though this new initiative by Samsung can be appreciated but it is really hard for a new OS to compete against Android. Don't forget that Windows Phone OS has been trying to do the same for last few years but they are still not able capture significant market share. The price of the device has not been disclosed yet, so stay tuned to get more information about it.
SEE ALSO: Can Samsung Compete Using Tizen? [Study]