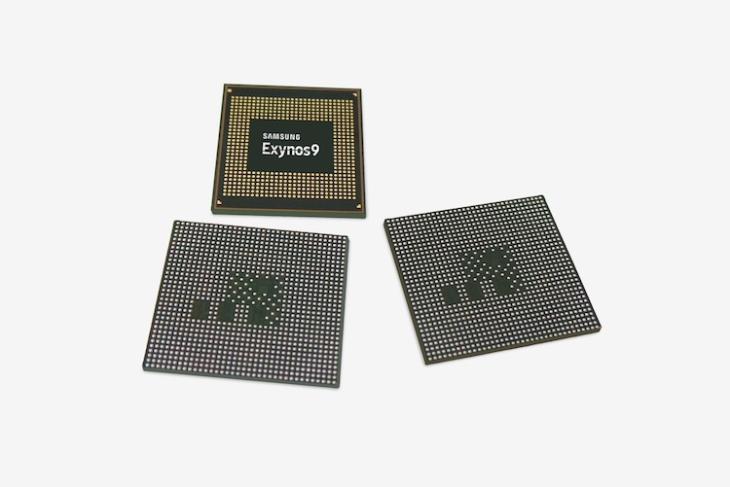 Samsung is notoriously known for using two different processors in its flagship Galaxy S series of devices. While it uses the latest and greatest Snapdragon processors for the phones being sold in US markets, it uses its in-house Exynos processor for the rest of the world. But, that's not necessarily a bad thing as Exynos processors have proved their mettle both in benchmarks and day-to-day performance.
Keeping up with its trend of using Exynos processors, Samsung just unveiled its top of the line processor which will power the Samsung Galaxy S9. The new Exynos processor dubbed Exynos 9 Series 9810 is built on Samsung's second generation 10nm FinFET process and brings about 10% speed improvement over its predecessor. It is also using 10 LPP (Low Power Plus) technology in conjunction with 3D transistors which makes is much more power efficient. The processor is about 15% more power-efficient than the current generation Exynos processor which is powering the likes of Samsung Galaxy S8 and S8 Plus.

But that's not all, the new processor also includes Samsung's latest LTE modem with support for six carrier aggregation (6CA). The new Cat 18 6CA modem consists of higher-order 256 QAM and 4*4 MIMO which allows it to support high-speed internet and can reach a peak download speed of 1.2 Gbps. The Exynos processor is also said to pack a faster and better GPU, however, no details about the GPU has been released yet.
Together with the new Exynos 9810 processor, Samsung also announced its new image sensor. The new ISOCELL Slim 2X7 is a 24-megapixel image sensor with 0.9μm pixels which is the smallest pixel in the industry. The small size of the pixels can allow Samsung to fit a 24-megapixel image sensor inside a relatively small camera module. This might result in no camera bump in the next year's Samsung Galaxy S9 and S9 Plus.
Although at this point it's not clear that which devices will be the first to receive the new processors and the image sensors, however, seeing how the release of Samsung's Galaxy S9 is just around the corner, its more or less confirmed that it will be first device to utilize and benefit from these advancements.