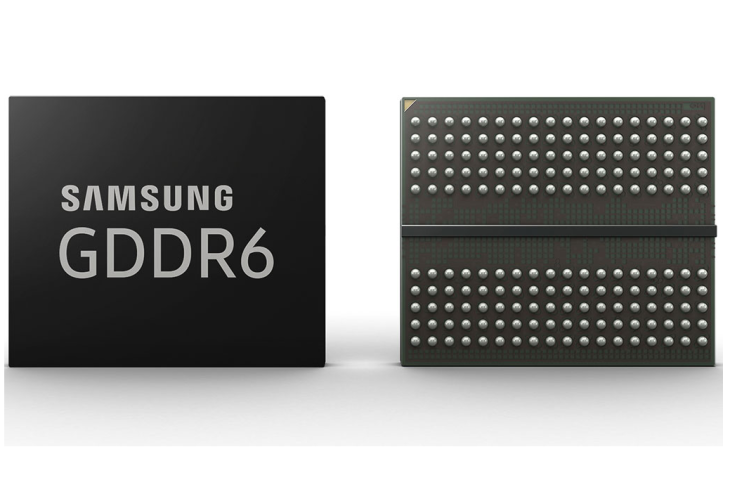 Samsung has announced all-new GDDR6 memory modules that are expected to be incorporated in high-end gaming and workstation GPUs to be released next year. The memory chips come with a transfer rate of 16Gbps and are able to reach bandwidths of up to 64 GB/s (per chip) at a mere 1.35v. To put things into perspective, current-generation GDDR5 memory found on a Radeon RX 480 or a GTX 1070 is only around the 8Mbps mark at best, which means the promise of double the bandwidth and higher clock speeds at a similar or lower voltage is certainly something to look forward to. Density support is also expected to rise to 32GB max from the 16GB standard in GDDR5 and GDDR5X. Speeds, meanwhile, are expected to jump from 12 Gbps in GDDR5X to 16 Gbps in GDDR6.
Samsung isn't the only company, however, that's on track with its GDDR6 production schedule. SK Hynix and Micron are also said to be working on bringing their own GDDR6 modules to the market next year, with the former actually announcing its own GDDR6 modules earlier this year at Nvidia's GTC 2017. The noted graphics chip-maker is expected to make use of the latest memory chips on its next-gen Volta-based graphics cards in 2018, replacing the intermediate GDDR5X chips they've been using on their cards as a stop-gap solution.
While Nvidia is confirmed to be using GDDR6 for its next-gen graphics chips, there's some confusion about AMD's plans. The company has been using HBM2 on its current products, but the company has been suffering because of HBM2's manufacturing difficulties. It's expected, however, that the company will continue to persevere with HBM2 on their high-end Vega cards, although, more pocket-friendly cards could still end up with GDDR6 memory interface, which will be faster in performance terms and cheaper to produce. Unconfirmed online speculations suggest that, it could be one of the reasons for the delay in the rollout of Vega 11.