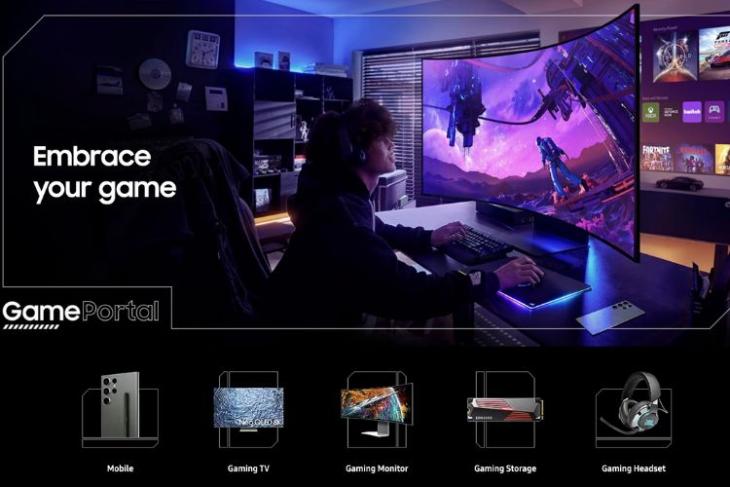 Samsung is making purchasing decisions for gamers more streamlined with a new service dubbed Game Portal. The new service aims to deliver a premium experience to gamers in the form of cross-platform gaming capabilities, "who use more than one device to play." Keep reading below to know more about the latest offering from Samsung.
Samsung Game Portal Announced!
Samsung's Game Portal is a convenient virtual store featuring a comprehensive list of all the gaming hardware manufactured by Samsung. This includes a wide variety of devices, from top-of-the-line smartphones such as the Galaxy S23 Ultra to high-quality monitors like the Odyssey Curved monitors. You will be able to make direct purchases from the portal itself.
In addition to shopping, you can also access a range of content such as gaming-related Samsung product reviews on YouTube, details about upcoming products and events, customer support, and more. Additionally, products purchased via the Game Portal are subject to special offers and discounts.
Commenting on the launch, Evelyn Kim, the Executive Vice President of the D2C Center at Samsung Electronics, said, "Gaming has become an important part of consumers' lifestyle, not just entertainment, especially for Millennials and Gen Z. We will implement various initiatives to provide customers with a superior gaming experience, from purchase to use, by providing an environment that makes it enjoyable and easy to purchase gaming-related products."
The Game Portal will soon be accessible in 30 different countries, including Brazil, France, Germany, Italy, Spain, the US, and the UK. In celebration of the launch, Samsung is providing discounts and incentives on gaming devices and bundles, tailored specifically to each region. Additionally, they are offering enticing deals on their newly released Odyssey gaming monitor and Neo QLED 8K products.
So, what do you think of this new service from Samsung? Will it make your gaming decisions better? Do let us know your thoughts in the comment section below.