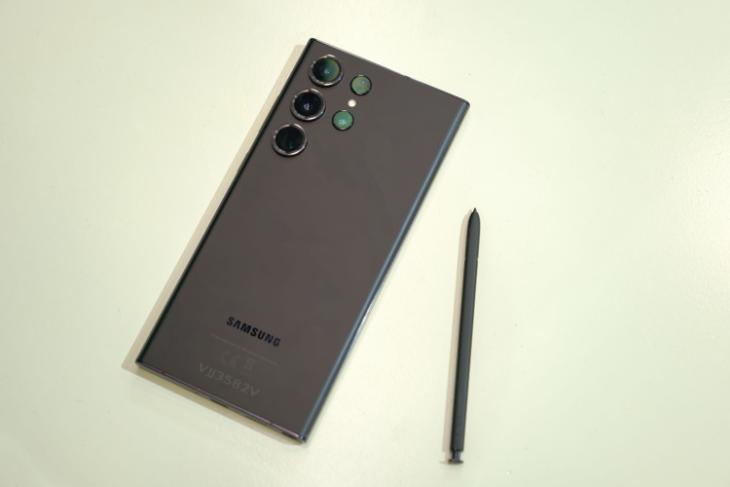 Earlier this year, Samsung unveiled its S23 lineup with the flagship S23 Ultra. Apart from the customary hardware upgrades, we saw the primary camera of the S23 Ultra jump to 200MP from the S22 Ultra's 108MP. However, the rest of the cameras remained unchanged. This is set to change with the Galaxy S24 Ultra, which is likely to see upgrades for its zooming capabilities. Keep reading to find out how.
Galaxy S24 Ultra Zoom Camera Upgrade Expected!
As per a GalaxyClub report, the Galaxy S24 Ultra will ditch the 3x 10 MP telephoto lens for a 5x telephoto lens. It is suggested that Samsung will continue to include another telephoto lens with 10x zoom. Samsung adopting a continuous zoom lens has been rumored in the past but this latest development seems to refute those claims.
If implemented, this will be a big camera upgrade. If you remember, we last saw Samsung using a 5x telephoto lens with its Note 20 Ultra back in 2020. Since then, the Galaxy S21 Ultra, the Galaxy S22 Ultra, and the Galaxy S23 Ultra have all stuck with the same 3x 10MP telephoto lens.
As of now, there is no information on the resolution of the telephoto lens. Apart from this, the S24 Ultra is rumored to stick with a 200MP primary camera.
As for other details, it could bring more RAM and storage, a slightly large dynamic AMOLED display with QHD+ resolution, S Pen support, and improved battery life. It is also set to be powered by the Snapdragon 8 Gen 3 chipset, which will most likely arrive during the Snapdragon Summit 2023 scheduled to begin on October 24. It can also become the first smartphone to come with Android 14 out of the box.
Much like every year, the Galaxy S24 Ultra is expected to launch alongside the Galaxy S24 and the Galayx S24+. The series could arrive early in 2024 but since we have plenty of time for this, we can expect more new leaks and rumors to surface. We will keep you posted as we learn more about this.
So what do you think of this new development? Are you excited to see where Samsung takes its zoom game with the S24 Ultra? Do let us know in the comments below.
Feature Image: Samsung Galaxy S23 Ultra