Upcoming flagship smartphones could potentially have storage space up to 512 GB, thanks to recent advances in technology by Samsung. The South Korean giant has started mass producing the world's first 512 GB embedded Universal Flash Storage solution for use in next-gen mobile devices, including smartphones, tablets and more. So far, Samsung's largest Universal Flash Storage was 256 GB, which was seen in some of this year's top-tier smartphones. This size has now been doubled to 512 GB which is an impressive progress nonetheless.
The new eUFS utilizes Samsung's latest 64-layer 512 GB V-NAND chips for "unparalleled storage capacity and outstanding performance" for flagship smartphones and tablets alike that are due to be released in the near future.
By assuring an early, stable supply of this advanced embedded storage, Samsung is taking a big step forward in contributing to timely launches of next-generation mobile devices by mobile manufacturers around the world, said Jaesoo Han, executive vice president of Memory Sales & Marketing at Samsung Electronics.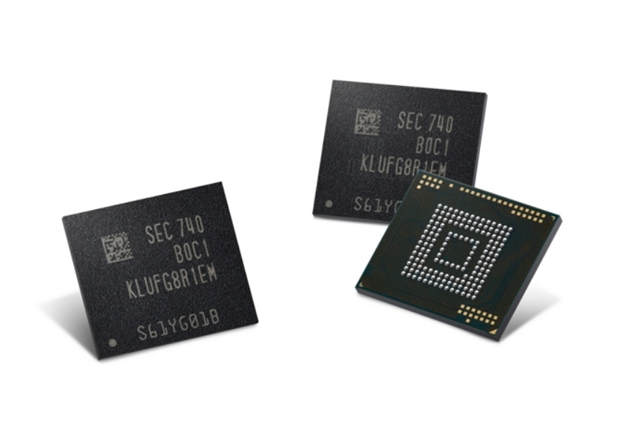 The upgraded flash storage consists of eight 64-layer 512 GB V-NAND chps and a controller chip that are stacked together. In comparison, Samsung's previous 256 GB eUFS was a 48-layer unit. Considering most of the mid to high-end smartphones nowadays are able to watch and record 4K content, the larger storage space is absolutely necessary to store all your media. The new 512 GB eUFS lets you store approximately 130 4K Ultra HD videos of 10-minute duration, which is nothing short of impressive. That's a tenfold improvement over the company's own 64 GB eUFS that's capable of storing only 13 similarly-sized clips.
Lastly, let's talk about speeds. The 512 GB eUFS should be able to deliver SATA SSD-levels of read and write performance. It's sequential read and write speeds can reach a maximum of 860 MB/s and 255 MB/s respectively. When it comes to random operations, Samsung's latest flash storage can read and write 42,000 and 40,000 IOPS respectively.
Availability hasn't been revealed by the company yet, but you can expect it to be packed in smartphones that are likely to be available by the end of 2018 or early 2019.