Amazon's yearly shopping extravaganza, Prime Day 2023, is right around the corner. It brings some of the best deals and unprecedented discounts on products across several categories. Be it home decor, smartphones, laptops, smart home technology, or more, you are bound to find an eye-catching deal. And we are here to help you with one such category, vacuum cleaners. Roborock, a well-known robot vacuum maker, is joining the Prime Day festivities (July 11 and 12) with amazing discounts on some of its popular products, including Roborock S7 Max Ultra and S7 MaxV Ultra. So, let's not waste time and look at all the Roborock vacuum cleaner deals this Prime Day!
Roborock S7 Max Ultra: Best Prime Day Deal!
During the Prime Day 2023 sale, the Roborock S7 Max Ultra robot vacuum and mop will be available to buy at $999, a discount of $300 on its usual selling price of $1,299.
If you are looking for a robot vacuum that pretty much does all the cleaning work in your home, the Roborock S7 Max Ultra is something you should get right now. The S7 Max Ultra has a suction power of a whopping 5,500 pa and a reactive obstacle avoidance system that detects and avoids any obstacle in its course during the cleaning process. You do not need to remove any obstacles from its path.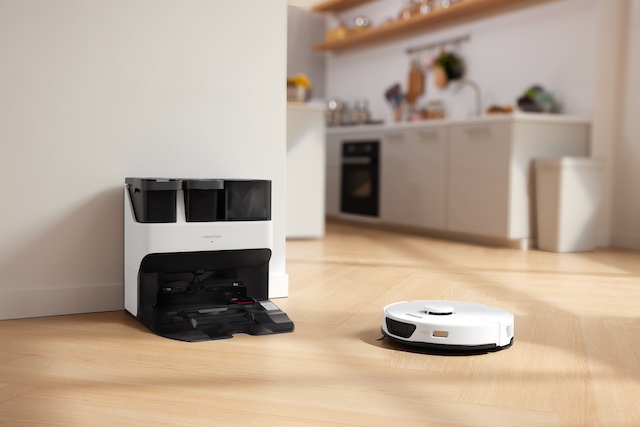 Moreover, Roborock S7 Max Ultra is self-sufficient. It not only empties itself, but if you are using it for moping purposes, it also refills the water tank and cleans & dries itself. Also, this robot vacuum lets you automate cleaning schedules using a smartphone app, so even if you are not at home, the S7 Max Ultra will clean the entire house, and you can return home to sparkling floors.
While the Prime Day sale will last only two days, buyers will be able to avail the benefit of this amazing deal even after the Prime Day sale ends, up until 16th July 2023.
Buy Roborock S7 Max Ultra on Amazon ($999, 23% discount)
Roborock Dyad Pro: Most Value for Money Deal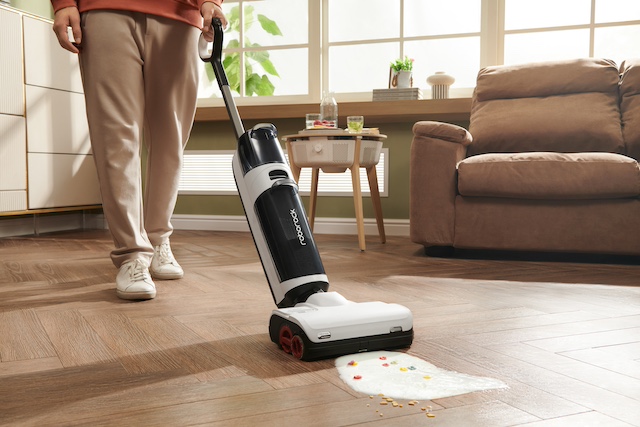 Roborock is also offering amazing deals on its range of hand-held vacuums during the Prime Day 2023 sale. The Roborock Dyad Pro will retail at $349.99, a 22% discount over its original $449.99 price tag.
Roborock Dyad Pro comes with 17,000Pa of intense suction power and a self-cleaning and drying system, making it more convenient. The handheld vacuum also has a DirTech Smart Sensor that helps the cleaner perform Adaptive Cleaning, meaning it can adjust its cleaning power and water flow for the perfect clean no matter how dirty the floor is.
Buy Roborock Dyad Pro on Amazon ($349.99, 22% discount)
Roborock S7 MaxV Ultra: Best Robot Vacuum Deal
The S7 MaxV Ultra is the most premium offering from the house of Roborock and will be available for $1,059.99, a 24% discount over its original price tag of $1,399.99. This means buyers will get an amazing discount of $340, which is amazing for a quality product like the S7 MaxV Ultra.
Roborock S7 MaxV Ultra robot vacuum and mop is a fabulous piece of tech and is very convenient to use, as it offers a complete hands-free cleaning experience. It has an all-purpose dock for auto dust dumping, mop washing, and robot water tank refilling. And along with this, the dock comes with a self-cleaning ability too. The robot vacuum has a 5,100pa suction power and VibraRise Mopping system that can mop the floor 3,000 times per minute to remove even the dried-on grime from the floor.
Unlike the S7 Max Ultra, the Roborock S7 MaxV Ultra will only be up grabs during the Prime Day Sale, i.e. from 11 to 12 July 2023. If the S7 MaxV Ultra doesn't fall under your budget, Roborock is also offering a deal on the Roborock S7 MaxV, the trimmed-down version of the S7 MaxV Ultra, which pretty much does all the job. While the Automatic Dock is missing, the robot vacuum can still perform almost all the functions of the S7 MaxV Ultra.
Buy Roborock S7 MaxV Ultra on Amazon ($1,059.99, 24% discount)
The deal price for the Roborock S7 MaxV robot vacuum is $539.99 on Amazon, 37% lower than its original price of $859.99. It will be available to buy from 11 July to 16 July 2023.
Get Huge Discounts of Upto 45% on Roborock Vacuum Cleaners
Alongside the three models discussed above, Roborock is also offering jaw-dropping discounts on its other vacuums during the Prime Day 2023 sale. Check out all the deals via the table below or visit Roborock's Amazon page right here.
The Roborock Q5 robot vacuum is the most pocket-friendly option you can get during the Amazon Prime Day sale, costing just $259.99, 40% less than its original sale price of $429.99. It is by far the most value-for-money robot vacuum on the market.
Roborock Q Revo is another great option and will be up for grabs at just $699.99, a lovely 22% discount on its regular selling price. The vacuum has a huge 5500 pa suction power and comes with a dual-spinning mop that spins at 200 RPM to remove the thickest dried stains from your floor. To make things easier for you, we have listed the remaining Roborock deals for Prime Day 2023 here:
If you're trying to keep the costs down and still want to keep your house neat, the Roborock deals are something you should not miss. Which of these Roborock vacuums are you getting this sale season? Do tell us in the comment section below.