For every tech nerd out there, troubleshooting computers and smartphones is a daily chore and we understand that. While we already have great remote desktop software for PC, there are only a handful of solutions in the Android ecosystem. And since people now use smartphones more than anything else, it has become important to troubleshoot smartphone issues remotely. That's why, we have detailed a guide that shows you how to remotely control an Android smartphone from another Android smartphone. No need to look for desktop computers. So on that note, let's go ahead and learn about the instructions.
Remotely Control an Android Smartphone from Another Android Smartphone
After testing TeamViewer, AirMirror, and AnyDesk, I have found that TeamViewer is simply the best solution for Android to Android remote control. It does not budge you with too many permissions or asks you to sign up for a new account. It just gives you a 9 digit code, and you are off to control your Android smartphone remotely.
So I would recommend you to use TeamViewer if you intend to remotely control an Android smartphone from another Android smartphone. Here is how to go about it.
1. First of all, install TeamViewer for Remote Control (Free) on the Android smartphone which you will use to control another device — basically the host device. For instance, if you are going to help your parents with some smartphone troubleshooting then install this app on your device.
2. Next, install TeamViewer QuickSupport (Free) on the Android smartphone that needs support. For example, your parent's device.
3. After installing the apps, open TeamViewer QuickSupport and it may ask you to enable "Allow display over other apps" so go ahead and enable the toggle.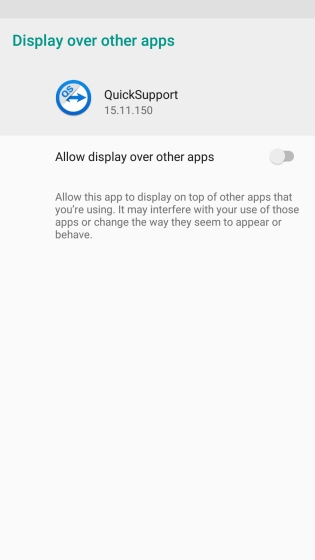 4. Next, it will ask you to download an add-on. Tap on "Download" and it will take you to the Play Store. Now, download and install it. Special add-ons are required so that TeamViewer can properly register the touch input and support the navigation system based on the Android device.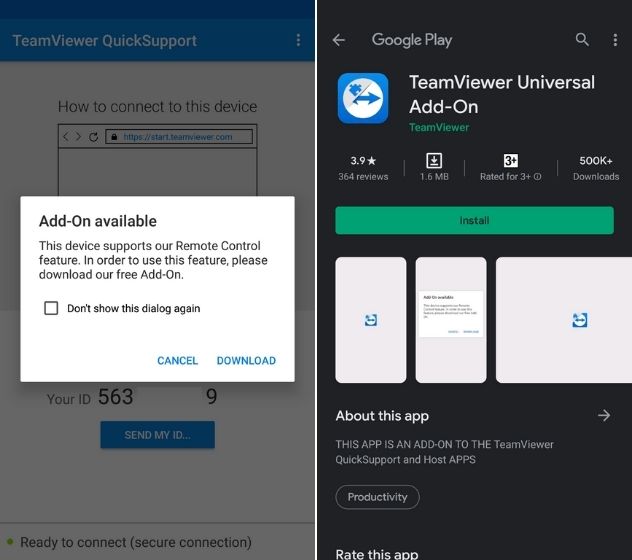 5. Finally, the QuickSupport app will offer you a 9 digit code next to "Your ID". Note it down and share it with the host.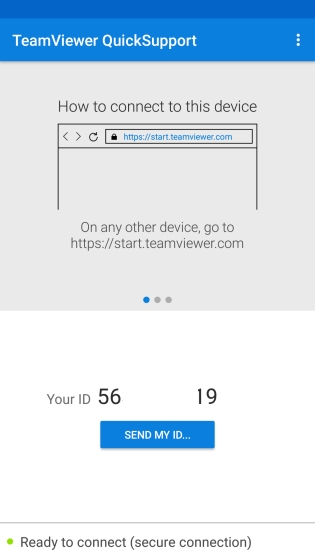 6. Open TeamViewer for Remote Control app on the host smartphone and enter the 9 digit code and tap on "Remote Control". On the other device, QuickSupport will get a prompt. Tap on "Allow."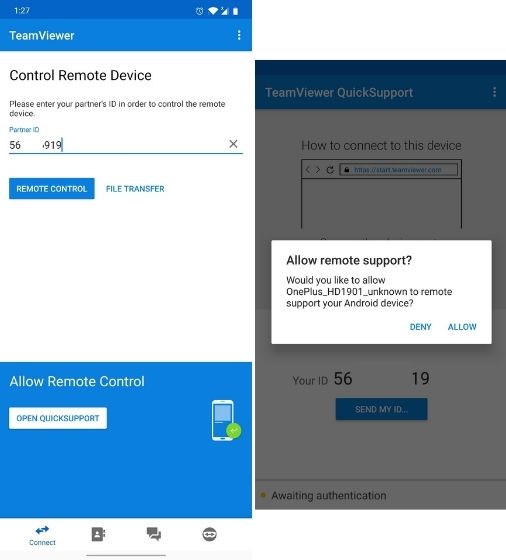 7. Now, you will get a prompt to enable the Accessibility Service for the add-on. Allow it. Next, it will ask if you want to share the screen. Tap on "Start Now".
8. Finally, you will be able to remote control one Android smartphone on another Android smartphone with full controls. For instance, here I am controlling Mi A1 on my OnePlus 7T without root or special ADB permissions.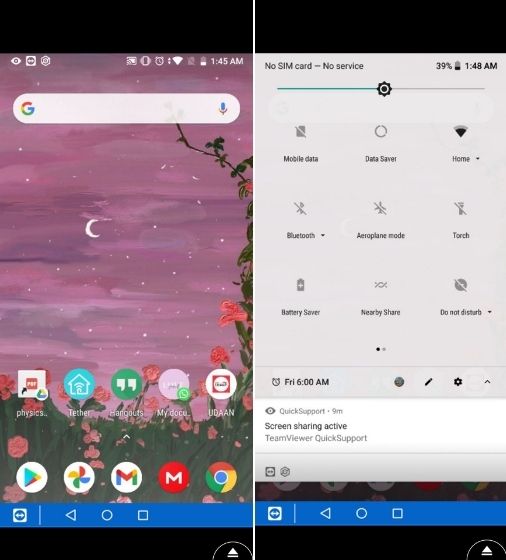 9. You can uninstall apps, change key settings, use the virtual navigation bar, and perform almost anything remotely. You can also transfer files using the dedicated "File Transfer" tool.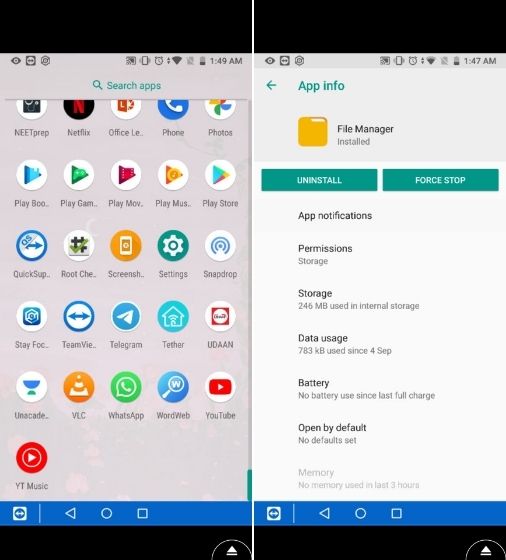 10. Surprisingly, when I reversed the setup and was remotely controlling the OnePlus 7T (running Android 10) on Mi A1 (running Android 8), even the gestures worked fine. Just make sure to lock the Zoom button to perform various touch actions.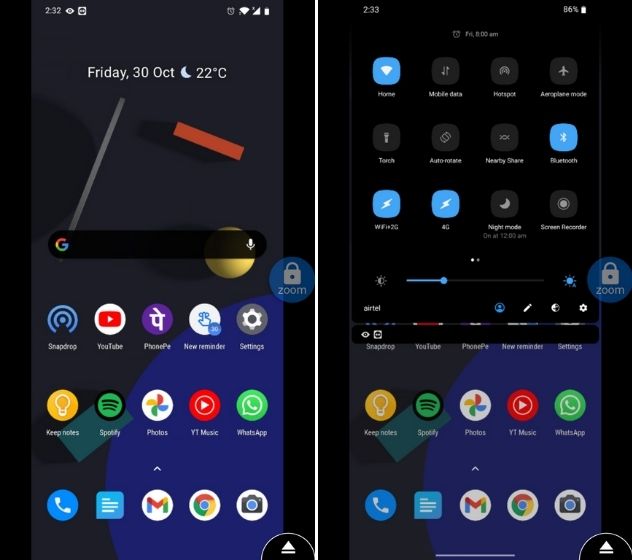 Remotely Control an Android Smartphone and Troubleshoot Issues Instantly
So that is how you can remotely control an Android smartphone from another Android smartphone. No need to use a computer to offer quick support to your parents, partner, or just about anyone. What I loved about TeamViewer is that you don't need root for many actions and it works even on Android 10 which is great. Anyway, that is all from us. If you want to learn more about such hidden Android features then go through our linked article.