Social Media and Politicians? When did that happen?
There has been a large spate of politicians flocking to Social Media in the recent past. Is it because of the elections? Do the politicians finally know that this is where the youth is? Why did we not see these politicians on Social Media before? Did they not find it important enough?
Evidently, the election season has played a major role. The state of social media before the election was dry and there was literally one major politician who was actively participating in social media, Shashi Tharoor. In fact here is his take on Social Media and how it would shape elections 2014.
Now, he was the only major player active on Social Media. In fact in 2013 there was a time when Modi had 18,24,639 followers and Tharoor had 18,21,469 followers.
Today Narendra Modi stands at almost 4.65 million followers. This very clearly due to his popularity and this number spiked when he was BJP's prime ministerial candidate.
Before v/s After
As mentioned before Modi had 18,24,639 followers and Tharoor had 18,21,469 followers. Before the election Omar Abdullah, Sushma Swaraj , Mr. Modi, Shashi Tharoor were the few prominent faces.
Today every political member and the cabinet minister too has a verified Twitter account. These include Ministers like Smriti Irani, Arun Jaitley, Sushma Swaraj, Meenakshi Lekhi, Subramanian Swami, Prakash Javedekar, Rajnath Singh, Amit Shah.
So you see the difference and magic of the elections? A few twitter accounts before 2013 vis a vis majority of the key politicians having a Twitter account during and after election.
The agenda was simple, speak to the youth directly and they will listen with all ears. This is one of the reasons Sushma Swaraj would tweet expressing what her feelings were without any fright!
In fact she even openly wished Arvind Kejriwal Congratulations on becoming Delhi Chief Minister. See for yourself.
Congratulations to Shri Arvind Kejriwal on taking over as Chief Minister of Delhi.

— Sushma Swaraj (@SushmaSwaraj) December 28, 2013
The impact Of Social Media Politics on the youth
Considering India being the youngest nation in the world by 2020 with the median age as 29, the youth was a major role this election. And when we say youth we mean 70% of India's population. (Source: Foreign Policy)
Foreignpolicy.com says "The new electorate, however, has brought an infusion of positive energy into the country that could help to overcome these challenges. Indian youth have become a potent electoral force, both demographically and ideologically."
The youth knows better than voting on the basis of caste. They have seen how actively politicians like Modi cater to the needs of the masses. He tweets and tells about what is going on live, may be something that even the television takes time to cover.
This strikes a chord with the youth and they see glimpses of a pro-active leader which majorly lead to the victory of BJP even on Social Media.
What It means for the public?
What this means for the public is that they are receiving a platform to speak to the politicians directly. But will this mean in grievance redressal and quick problem solving just because someone tweeted an issue. Highly doubt that happening. They are mentioned thousands of times in a day and it is virtually impossible to cater to all their needs.
Laying up hopes is a bit immature, though using their handles to gain access to information would make utmost sense.
What is the sustainability?
This sustainability of Social Media and politicians on it is going to be only growing form here given the majority of youth and their democratic power. It only makes sense for politicians to be here and interact and disseminate valuable information as much.
Viral in the election phase?
Here's a video you would never forget if you saw it. It received more than a million views within just a week of it airing. The Arnab Goswami interview with Mr. Modi.
It also received great success as it trended India number for a long time. #ModiSPeaksToArnab was a huge hit.
Stats of expenditure on Social Media by Parties
The total spend on Social Media by political parties was Rs. 400 – Rs. 500 crore, this was from the total advertising budget of Rs 4000 – Rs 5,000 crore.
As reported by TOI "Political parties typically spend around 30% of their poll expenditure, estimated at Rs 15,000 crore, on advertising and publicity. Of this amount, 15-20% is spent on the emerging digital marketing,"
Social Media innovations in the election
In fact Narendra Modi, the creative problem solver conducted Google hangouts and 3D rallies as well.
Narendra Modi even launched a site for the elections.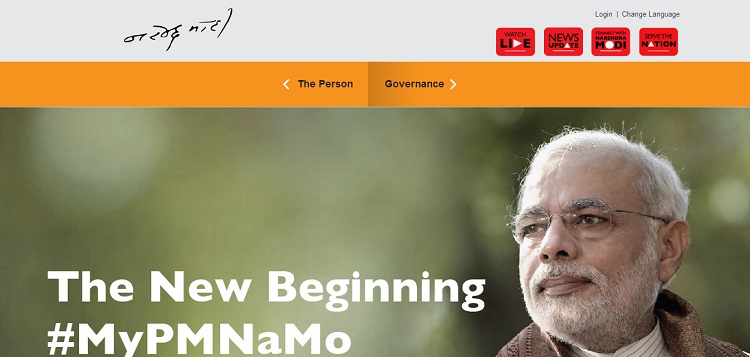 Arvind Kejriwal used the telephone mechanism. As said by Hindustan Times "The party has termed it 'Tele Door to Door' campaign. Anybody who has a phone and an internet connection and wants to contribute to AAP's campaign can register for it."
In fact even private players like MTS took to the game by inventing the Election tracker to tell you the status of mentions being negative or positive, total flowers of politicians on Twitter etc.
Bottom Line
All in all this election has been a Social Media election to a great extent. Maybe not in the remote areas, but in the urban areas with internet connectivity Social Media has played a pivotal role.