Remember the blissful days of approaching elections? Potholes getting filled, footpaths getting paved and hot snacks served at promotion rallies where party representatives would mount high vehicles and scream their promises in a mike. Well, gone are those days.
From making promises to vote bank strategies – it is all at the mercy of a few clicks and one click gone wrong and you can be rest assured that your entire campaign is dead already.
According to statistics, currently between BJP, Congress and AAP, microblogging has been the largest used method to communicate through the internet, comprising 74 per cent of these political parities' digital communications. Following closely are social networks that comprise 25 per cent of digital communications and on the third place stand Picasa and Google Plus which comprise one per cent of the total digital mix.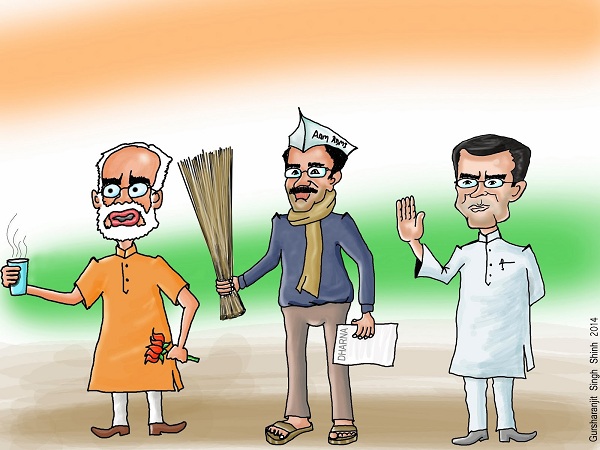 In the lieu of such active use of internet, thetecnica decides to take a view at the virtual election promotions for the leading political figures of the country.
The virtual politics game!
Somewhere between scrapping your friends on Orkut to Instagram-ing your Starbucks coffee cups – social media became a way of life in India.
One of the first political leaders using social media to voice his opinions was Shashi Tharoor. The man's no nonsense tweets garnered him huge social media fan following. In 2012 Shashi Tharoor was the only non-Bollywood Tweeter along with Rajdeep Sardesai who made it to the top 10 Indian tweeters list.
#NaMo

While Shashi Tharoor's social media approach was pure magic, Narendra Modi came with a social media strategy that was no less than an art form in itself.
#NaMo was one of the early passengers of the social media bus. He joined Twitter in 2009 and now has nearly 3.54 million followers. Narendra Modi, official Facebook page has over 11 million fans. He was also the first Indian politician to interact with his fans through a Google Hangout.
In 2013, Modi appointed Rajesh Jain who revolutionized internet in India with his project IndiaWorld Web Portal and B. G. Mahesh of Greynium Information Technologies to create the face of BJP in the virtual world.
According to a report by Blogworks, in August 2014, Modi was the most mentioned political leader on social media. Kiran Bedi lauding Modi's ability on good governance and development generated maximum positive mentions for him in January 2014.
#RaGa
Reportedly Congress, Vice President, Rahul Gandhi has now taken it upon himself to track the party's social media image.
Official Indian National Congress Facebook page has over two million fans and their official Twitter page has nearly 13 million followers. Congress also launched a website www.fekuexpress.com that features cartoons of Narendra Modi and allows users to predict which of his (Narendra Modi) earlier lies he will repeat.
In January 2014, Rahul Gandhi, Manmohan Singh and Sonia Gandhi occupied the third, fourth and fifth positions respectively in terms of mentions on social media stated the Blogworks report. Also, there was a 102 per cent jump in Rahul Gandhi's volume of conversations in January 2014 as compared to December 2013.
Rahul Gandhi received maximum positive mentions as a secular leader under 'Caste and Religion'.
#AAP & #ArvindKejriwal

If you get up in the morning and do not find Arvind Kejriwal or AAP in the news, go out and scream for help – because my friend you have not woken up on Earth!
If it is true that there is no such thing as bad publicity, Mr. Kejriwal and AAP are definitely the winners of the social media game. Right from his participation in Anna Hazare's movement to his finding against NaMo, Arvind Kejriwal and AAP has managed to make it to statuses and tweets most of the times without any efforts of their own.
Presently, AAP's official Facebook page has over 1.7 million fans and their official Twitter account has nearly 565 thousand followers. Arvind Kejriwal's official Twitter account has 1.5 million followers.
The report by Blogworks further states that in January, 2014 Arvind Kejriwal stood at the second position in terms of mentions on social media. Corruption was the buzz word for almost all the conversations around Mr. Kejriwal.
Decoding the moves
According to Sabyasachi Mitter, MD, ibs social media strategy of Rahul Gandhi does not come across as coherent. "His social media strategy looks very sporadic and reactive. One does not get a sense that a well defined strategy is in place and a think tank is working to implement the same."
However, NaMo's strategy is to use social media to amplify the message of development, the "Gujarat Model" online. NaMo supporters act in an organised manner on Twitter and Facebook to increased conversations around favourable stories. The use of hashtags and synchronised trending undertaken is quite remarkable. In face one can almost find out Narendra Modi's election speech schedule by checking #NaMoinCityName in the trending topics of the day.
"In contrast, I find the AAP strategy more reactive, hinging on "exposing" the Narendra Modi model," added Mitter.
They also have a large organized community that uses every opportunity to drum up support for Arvind Kejriwal. The use of comparative depictions and infographics to drive home their point is very interesting.
The double-edged sword!
While social media has the power of taking the political leaders close to their subjects, it is also a ticking time bomb that can explode with the slightest of error.
Indian political fraternity has managed to bridge gaps with the citizens of the country through social media. However, it has been more than once when slip of tongues has sent their strategies crashing to the ground.
The recent example of a social media disaster was the frenzy created post Rahul Gandhi and Arnab Goswamy interview. #RahulSpeaksToArnab was one of the longest trending hashtags on Twitter. Social media dwellers criticized Rahul Gandhi for being vocal on corruption related issues after almost two terms of the UPA government and also for taking credit of the Lokpal Bill.
Indian National Congress's, Yuva Congress campaign also backfired on social media. Within days of the first release of the ad wherein Youth Congress worker Hasiba Amin was featured a spoof of the ad started circulating on social media. Hashtags such as #YoHasibaSoDumb also trended on Twitter for quite some time.
While Narendra Modi's social media strategy had been cruising well, #NaMo managed to create negative waves on social media with Prashant Bhushan's comment on Modi walking off from a television interview in 2007 on being asked about Godhra riots.
Mr. Kejriwal and his unique style of dressing has been the source of n number of jokes on social media. Leading digital content creator AIB, created a spoof on the politician titled Nayak 2: The Common Man Rises which went viral. The politician garnered negative attention on social media for his statements around corruption and his decision to join hands with Congress to form government.
What next?
Mitter expressed that political leaders need to move beyond broadcast communications and go to personalized communication. NaMo managed to create some sort of personal rapport with his Holi greetings, however a lot can be still done.
"More social programs need to be orchestrated to manage the voter lifecycle right up to the polling day and thereafter," shared Mitter. "This should facilitate registering support for the party, provide social tools to enlist support from friends and family for the party leading to social recognition from the candidates themselves."
The national leaders also now need to project local candidates who actually will be standing for election through social media
With elections just around the corner, social media is one of the most obvious and important means to connect with Indian citizens and specially the youth. However, with politicians making this a virtual combat, there can be some pretty serious repercussions of the double edged sword they are playing with.
SEE ALSO : If Indian Politicians Were Characters of Game of Thrones
Image Courtesy: Facebook, Gursharan