If you happen to be a Netflix buff and have bought the super-charged affordable flagship, the Poco F1, for its attractive, notch display – which BTW, has great colors and sharpness – I have a bad news for you. The smartphone which is being hailed for its amazing hardware does not support HD playback on apps like Netflix, Amazon Prime, and Hulu – although it can Full HD videos on YouTube.
Well, this is because the Poco F1 does not feature what is called a "Widevine L1" license. Basically, Widevine is a licensing platform by Google used for digital rights management (DRM). If all those jargons just flew over your head, Widevine is a certification standard which restricts videos to lower resolution on certain phones in order to prevent pirates from screen-recording a movie or a show and distributing copies illegally.
As this article explains, to be able to allow HD access on devices, manufacturers must pass a test and are thus graded from L3, L2, or L1 (L1 being the highest) depending upon hardware support. The Pooc F1 scores L3 here and thus the video resolution you can achieve on it is limited to 540p.
Not Fixable by OTA
In case you're wondering, smartphones can be upgraded to L1, which is essential for 720p and higher playback, but in order to enable that, the Poco F1 must be taken to the service center or even worse, might have to be sent back to the company. A bummer, right? As the official Widevine documentation says,
The Widevine keybox must be encrypted with a device-unique secret key that is not visible to software or probing methods outside of the TrustZone. The Widevine key-box must be installed in the factory or delivered to the device using an approved secure delivery mechanism.
OnePlus 5T and 5 users had to face a similar tussle last year to get the feature enabled and actually send their devices to the company, in typically the same fashion such as a recall of a specific car model.
You can verify this on your smartphone by using an app called DRM Info.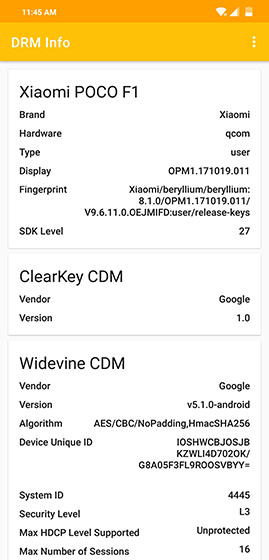 Result of Cost Cutting? Not Really!
As elaborated in this article, Widevine DRM licensing does not require manufacturers to pay. So, the only possible explanations I can think of right now are: first, Xiaomi hurried on the Poco F1 launch to slice through Honor Play's sales just because mobile gaming is suddenly booming, and second, it did not want the phone to leak – which, however, the phone did anyway.
Essentially, there needs to be some transparency in the way DRM rights are handled as spec sheets usually do not talk about it.
Meanwhile, we've written to Xiaomi to know whether they would be opening up a replacement program to enable the feature on the large number of Poco F1 already bought by users.