So far, the pre-release versions of iOS 11 have been available to the public as part of the developer and public beta program. If you were not a part of it, you'll be pleased to know that your wait is finally over. Apple has released the stable version of iOS 11 on September 19 to the general public, and several users have already updated their device to the latest version. However, some users have faced problems while trying to update to iOS 11, just like every other update roll-out in the past. If you were one of those people facing issues while trying to update your device, fret not, as iMobie's PhoneRescue for both Windows and Mac has been designed and developed to be your savior in such a scenario. With PhoneRescue, iOS users will be able to fix certain update issues like upgrade failure, stuck on Apple logo after update, unable to start iOS and device stuck in recovery mode. So, if you're interested, let's check out how PhoneRescue can be used to solve all your iOS 11 update issues:
Fixing iOS 11 Update Issues with PhoneRescue
As we mentioned earlier, PhoneRescue is capable of repairing your iOS device from multiple problems, just in case it runs into issues while trying to update it to the latest version of iOS. Once you've downloaded and installed PhoneRescue from iMobie's official website, simply follow the steps below to fix your iOS device:
Once you open up PhoneRescue, choose "iOS Repair Tools" from the software's home screen and go to the next menu by clicking on the arrow icon.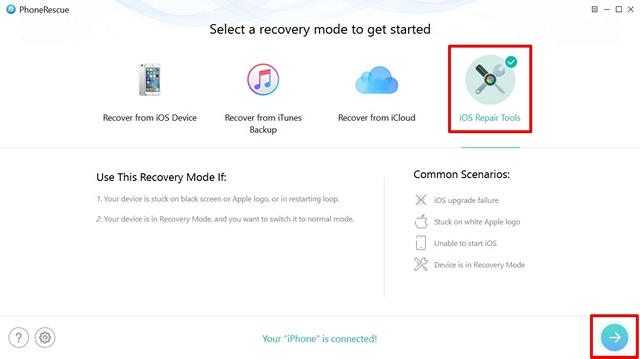 Now, users could either choose between the Standard Mode and Advanced Mode for repairing their iOS device, based on their preferences. One of the stark differences between the two modes is that all the data will be completely erased from the device after repairing in Standard mode, whereas in Advanced mode, the data remains intact.
Standard mode can fix issues like stuck on Apple logo, recovery mode loop, black screen, etc. On the other hand, Advanced mode will be able to solve system errors without losing any data. Once you've selected your desired mode, click on the arrow icon to proceed with the repairing process and wait for a while until PhoneRescue does its magic.
Use PhoneRescue to Solve Your iOS 11 Issues
iMobie's PhoneRescue is a great software that excels at solving all the problems that usually arise due to a software update. However, this is not the only thing that the software has to offer. PhoneRescue can also recover an iOS device from an iTunes / iCloud Backup or you could choose to recover data from an iOS device and store it on your computer. Personally, I feel like it does a much better job than iTunes when it comes to data management across your iOS devices. So, are you guys ready to make use of PhoneRescue to solve all the issues that might occur while trying to update your device to iOS 11? Do let us know, by shooting your valuable opinions in the comments section down below.
Download PhoneRescue here.