Microsoft Outlook is the most popular email client for both home and business users. However, it comes at a huge cost ($110). There are many viable alternatives that are completely free so we have put together a list of 7 of the best of email apps that could replace Microsoft Outlook.
Best Outlook Alternatives
1. Mailbird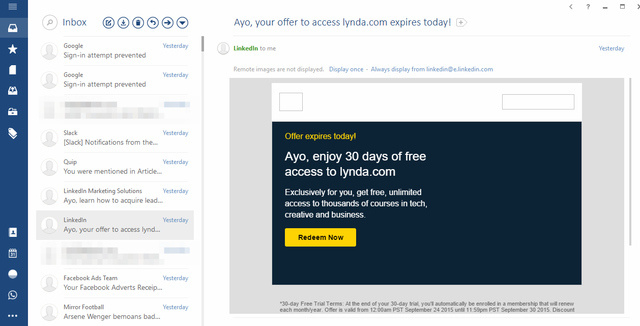 Mailbird is a new email app on the scene compared to the other apps on this list. However it packs some really good features that you should definitely pay attention to. Most important of them is the integrations with several popular productivity apps such as Google Calendar, Evernote, Google Docs and lots more. There's even a spot for Facebook, Twitter and WhatsApp, allowing you to message contacts or email them from one app. These features, and good clean design (inspired by Sparrow for Mac) is what makes MailBird really stand out from the others on this list.
Pros
Well designed and customisable
Integrates seamlessly with several productivity apps
Easy to configure and use
Supports POP3/IMAP and several email clients
Con
Not totally free for all features (Pro version costs $45)
2. Web Mail
How about some old fashioned Web Mail? You don't need to install anything, just enter the address of your email client (Gmail.com, Yahoomail.com, Outlook.com, etc.) in your browser and login to access your inbox. Most email providers, if not all, have some sort of webmail you can use. It's my own preferred way of checking my mail when I'm on the desktop since I don't like to install dedicated apps for everything. Some things are just best done through the browser. However, this is not without its own disadvantages as you will see below.
Pros
You can access your email from any Computer from all modern browsers
Really fast and easy to use. No need to install anything
Most clients offer free access to webmail
Cons
You may have to login frequently
You cannot access your inbox when offline
Features are usually low compared to dedicated email apps
Functionality is not as robust as desktop software
3. Windows 8/8.1/10 Mail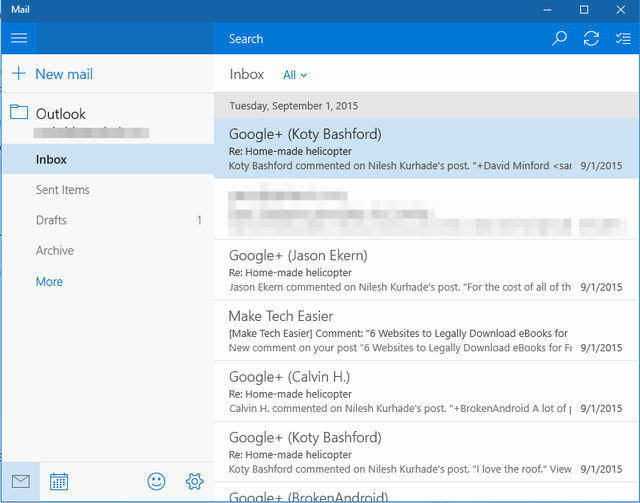 The Windows Mail app received a new look as part of the Windows 10 release and while it's not the most fully-featured email client out there, its still a nice alternative to Outlook if you have simple needs. It's a Metro app so it is well optimised for tablets and touch screens and has support for iCloud, Office365, Exchange, POP/IMAP and more. It's completely free to use and comes bundled with Windows 10 so that may be a good reason to upgrade if you haven't.
Pros
Completely Free
Easy to setup and use
Beautiful user interface
Cons
Bug-ridden
Mail notification alerts not reliable
4. Mozilla Thunderbird
Mozilla Thunderbird is one of the more stable alternative to Outlook; provides plenty of extensions and has a good security system which makes it ideal for business users or those concerned with privacy of their data. It is an advanced email app so there are plenty of features some of which even Outlook does not support. The various add ons and themes available make Thunderbird one of the most customisable email clients available and it should be able to meet your needs without any issues.
Pros
Completely Free
Highly customisable
Built-in security and privacy system
Plenty of advanced features
Allows importing from several email clients
Cons
Not very good looking by default
Can be a challenge to configure
5. eM Client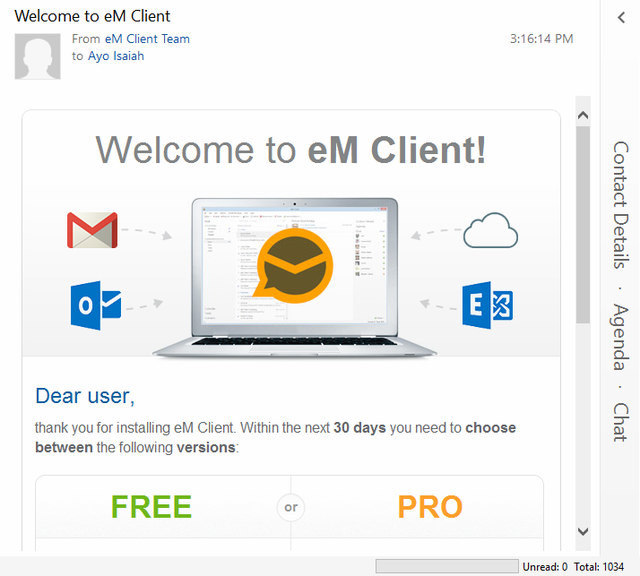 eM Client is a highly regarded app by many and has most of the essential features of a good email application. It's very well designed and has a beautiful, modern look by default. You can customise it by rearranging window panes or downloading different themes if you're not satisfied by the default appearance. It also supports all the major email clients (such as Gmail, Outlook, e.t.c), it also has a built in calendar and contacts manager which makes it a very qualified replacement for Microsoft Outlook.
Pros
Free version contains all the important features
Highly customisable
Supports a good range of email services
Cons
Pro version (£29.95) required for commercial use
Tech support included only in the pro version
6. Inky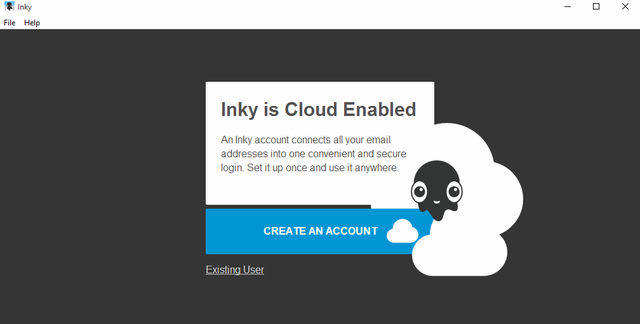 Inky is another new email app that features a clean and modern design as well as plenty of useful features. It is available for Windows as well as Mac OS X and iOS but not on Android. It allows you access your work and personal emails on a single screen which simplifies email management and there are plenty of filters available to organise your inbox. POP and IMAP accounts are well supported and there is an automatic setup feature for the popular email services which is great for beginners. Overall, Inky is a good looking email app that is potentially one of the most viable outlook alternative.
Pros
Easy to setup and use
Mobile app available for iOS
Supports POP and IMAP
Cons
No Exchange support
Lack of advanced features for business use
7. Apple Mail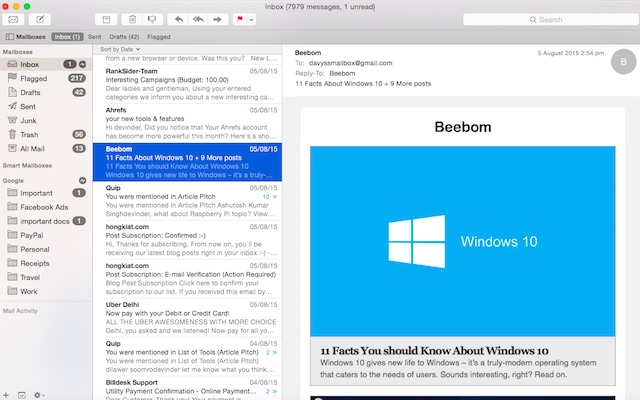 The default email client on Mac OS X is also a solid option as far as Microsoft Outlook alternatives go. It has a simple interface and is easy to navigate and use. Apple mail works well with all the popular email services such as iCloud, Gmail, Microsoft Exchange, AOL, Yahoo and more and makes managing multiple email accounts quick and easy. There is also a calendar and contacts feature so you can manage your schedule and keep your contacts up to date right from this app.
Pros
Free and easy to setup and use
Supports quick swiping gestures
Supports all the popular email clients
Cons
SEE ALSO: Best Email Apps For iPhone And Android
As you can see, all the above listed outlook alternatives have their pros and cons and offer different features. For the average user, the Web Mail interface or simple email apps such as Inky and Windows Mail may be all you need. Advanced users will prefer the flexibility and extensibility of Mozilla Thunderbird, eM Client and Mailbird.
Since they're all free, you can download and test each one of them to see which one fits your needs. Don't forget to tell us what you think in the comments section below.