Opera VPN has been one of the most popular VPN services for both Android and iOS users since it launched back in 2016. The service gained popularity because it was the first VPN service which was truly free to use while performing better than even some of the paid options out there. It is really sad to see that the service is being killed off and if I am being truthful, it will be very hard to replace it. That said, it's not impossible, and since the Opera VPN will no longer be operational after April 2018, we went out and found the best VPN services you can use instead of the Opera VPN:
The Best Opera VPN Alternatives on Android and iOS
1. Windscribe
Windscribe has been my favorite VPN service for quite some time and I believe that it is one of the best if not the best VPN service to replace Opera VPN. I say that because Windscribe is not only as easy to use as Opera VPN but it is also more secure and faster than it. Windscribe not only allows users to use internet anonymously using its VPN services but it also enhances the safety of your internet connection which comes in really handy if you are using a public network.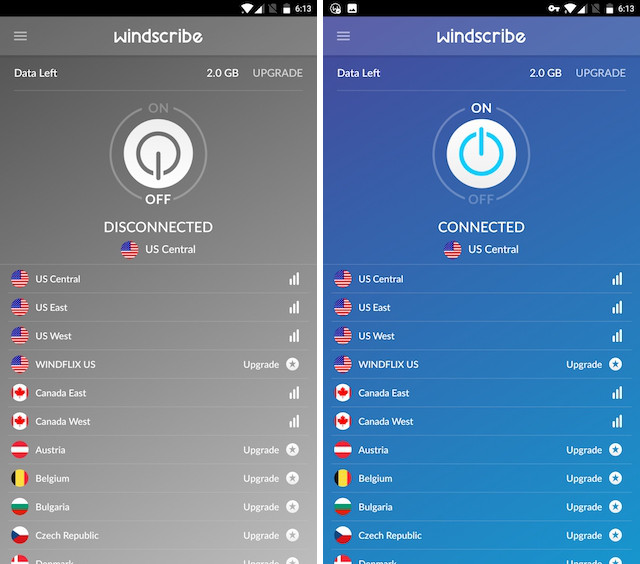 One thing more that I love about Windscribe is that its free plan comes with 10GB of data which is more than enough for many users. If you somehow run out of the data, you can always share the service with your friends or on your social media to earn additional data packs. Lastly, if you come to love the service as I do, you can always opt for the paid plan which not only brings extra features but also allows you to import your Opra VPN configs.
Install: Android / iOS (Free, $9/month or $49/year)
2. Betternet
Just like Opera VPN, Betternet is one of the few VPN services that are actually free to use. One thing that I love about Betternet is that the service is pretty clear about how it earns money to keep itself running without charging the users. You can visit its website and read all about it. For the purpose of this article, what matters is that the service is free to use without any restrictions and is a great replacement for Opera VPN. Betternet can help you unlock region locked content, secures your data by encrypting it, and doesn't even require you to register to use the service.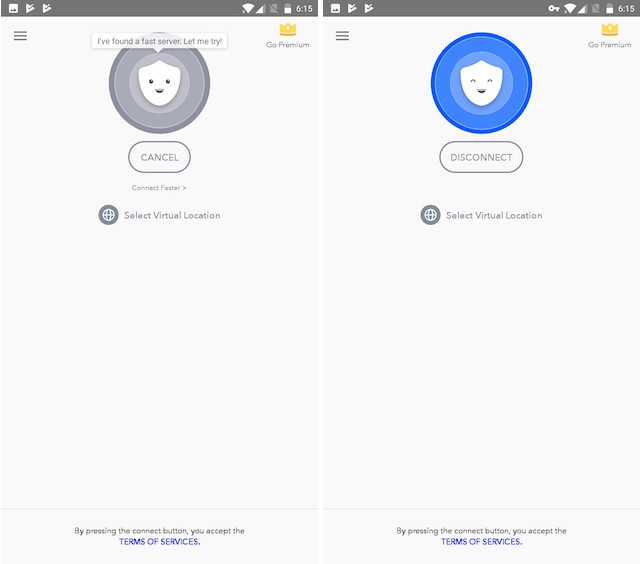 3. Hola VPN
Hola VPN has existed since long before Opera VPN and is also completely free to use. In fact, it was one of the first VPN services to go completely free. The service is really easy to use and all you need to do is hit a button to enable it. The service received a lot of flake a couple of years back as it was found to be selling user's internet bandwidth, however, the company has stopped doing that.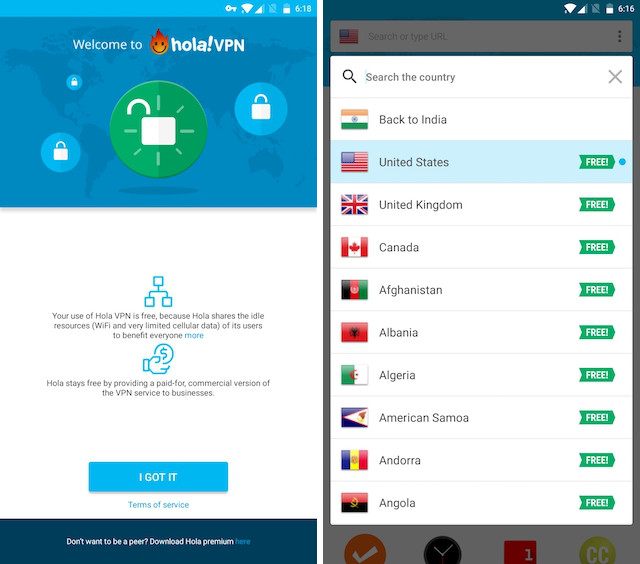 Look, there's always a risk if you are using a free service, and while some services like Betternet tell you in advance how they earn money, some do not. The point is that if you want to use a truly free VPN service, Hola is one of them and since its controversy back in 2015, the company has maintained a good track record till now. So, if you are looking for a free VPN without any restriction, this is the one for you.
4. TunnelBear
If you do not want to keep even a shred of doubt about your data privacy when you are using a VPN, you should probably be using a paid VPN service and TunnelBear is one of the best-paid VPN services out there. The best things about TunnelBear for me are its ease of use and fast connection speed. With TunnelBear, I have never felt that I am using a VPN as I don't notice any difference in speeds.
TunnelBear is one of the few services which I can recommend to anyone without any qualms just for the reason that I have been so satisfied with it. If you are ready to switch to a paid VPN, TunnelBear is probably your best option. The service does provide a free option, so you can check it out without having to enter your credit card info or anything like that.
Install: Android / iOS (Free, $4.99/month – Billed annually)
5. SurfEasy
SurfEasy is the VPN service that is being recommended by Opera itself as a replacement for its Opera VPN. It comes as no surprise as Opera VPN was based on SurfEasy VPN and utilized many of its servers. It's almost obvious that Opera will be recommending a service which the company itself was using to power its own VPN product. SurfEasy is a paid VPN service which brings awesome features like a strict no-log policy, bank-grade encryption, one click IP masking, secure torrenting, and more. If you are going to go for a paid VPN why not choose the one you have been already using.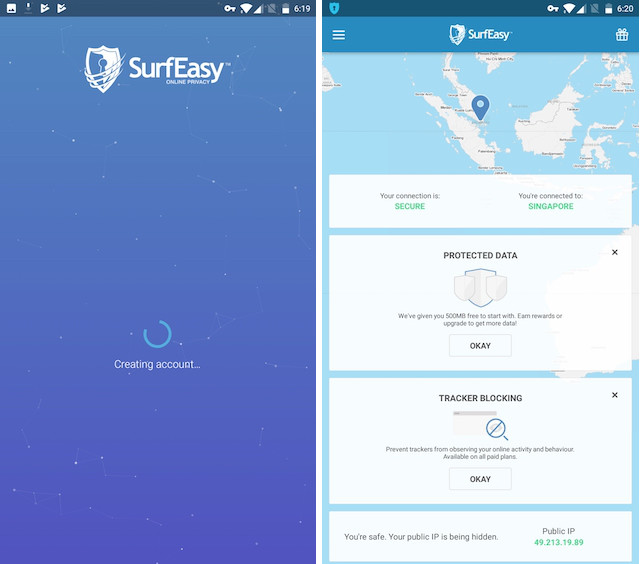 Install: Android / iOS (Free, $3.99 & $6.49/month – Billed annually)
6. HotSpot Shield
HotSpot Shield is another popular service which is especially popular on iOS and macOS platforms. The service is pretty robust and comes with great security features. Not only it lets you access the internet freely from anywhere in the world but it also makes sure to encrypt your connection making it secure against data thefts. It is also one of the few services which gives you an option to skip the subscription and buy the service forever. It is one of the best VPN services available and a worthy replacement for Opera VPN.
Install: Android / iOS (Free, $119.99 for unlimited or $5.99/month – Billed annually)
7. Rocket VPN
The last VPN service on our list is the Rocket VPN which promises fast connection speeds, reliable servers, privacy protection, content unblocking, multiple server locations, and cross-platform compatibility. I have used Rocket VPN for a couple of month in the past and I was pretty happy with the service. That's the reason why it made the list as most of the VPN promise to deliver the same features but only a few of them actually do and Rocket VPN is one of those who does.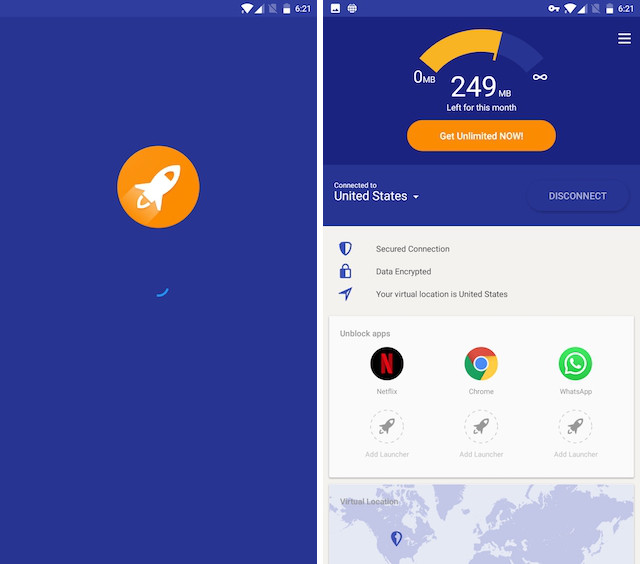 Install: Android / iOS (Free, $2.99/month – Billed annually)
SEE ALSO: Google Drive Alternatives: 10 Best Cloud Storage Services
Secure Your Connection With These Opera VPN Alternatives
Opera VPN was a great free VPN service and I for one am really sad to see it go. However, we cannot live in the past and if you want to secure your connection with a VPN you will have to find a new one. I hope that the Opera VPN alternatives that we mentioned in the list will help you find your next VPN service. Do check the list out and let us know which one did you pick by writing in the comments section below.