One of the biggest gaming expos, E3 2019, saw game publishers taking the wraps off the latest projects they've been working on – be it Keanu Reeve's appearance in Cyberpunk 2077 or the Avengers A-Day gameplay experience. Well, Opera decided to join the party with a new browser announcement and this time around, it isn't a take on the future of browsing experience, but a gaming browser of all things, called Opera GX.
I know you are confused about what a gaming browser could be and to be honest, I too was curious to learn more when I found out about it. I was like, does Opera GX (download) now let users play games inside a browser – like a cloud gaming service? Well, the answer is no. It's simply a browser that is designed to complement your gaming experience by offering you add-on features like the memory and CPU usage limiter, Twitch integration and more.
Being an Opera user for the past couple of years, I was too intrigued to test out what my favorite browser maker has come up with. So, here's my initial impression of the world's first gaming browser, Opera GX:
User Interface
Of course, the user interface of the Opera browser has gotten a facelift. You cannot come out with a gaming browser without having a dark theme pre-applied and some RGB colors in the mix. And Opera GX does exactly that. You now have a neon-colored highlight running all across the frame of the browser, which, paired along with the dark theme looks absolutely stunning. It comes with a red accent out-of-the-box.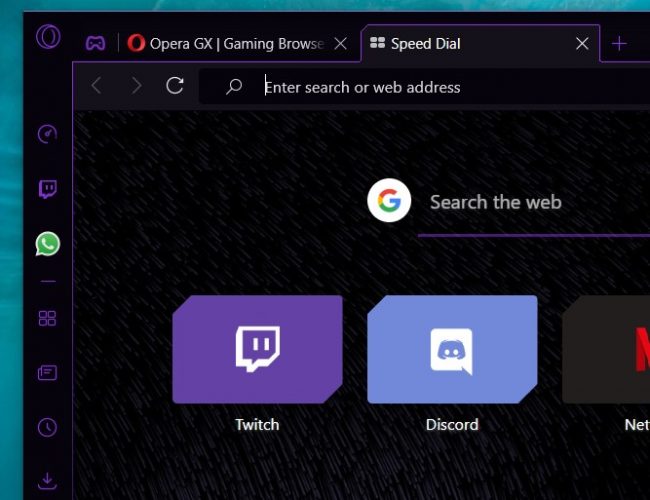 Opera GX also has an "easy setup" option available at the right-most corner, next to the address bar and it gives users the power to tweak how the browser looks and feels. You can literally change the appearance of your gaming browser and choose everything from the accent color, wallpaper, themes, and a lot more. This feature is available in Opera as well, but it more feels more fleshed out and game-centric here. I sure fancy it.
Razer fans would have a jolly time using Opera GX as it's compatible with Razer Chroma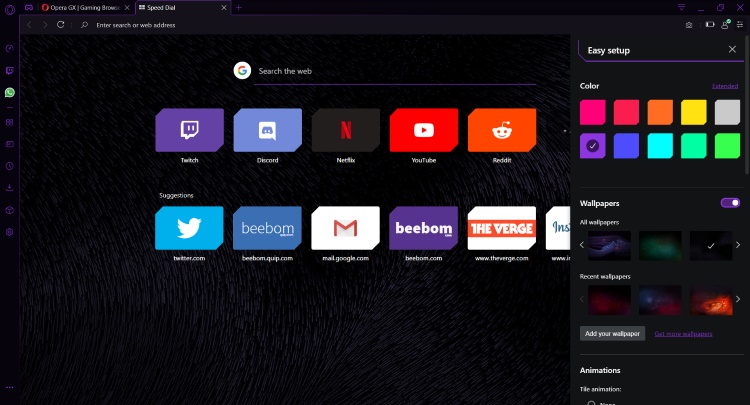 This easy setup also gives you the option to turn on/off GX sounds. Yes, Opera has also added sounds to its gaming browser for added effect. You'll experience them while you hover or click on your bookmarks and game listings in your Speed Dial. They'll catch you off-guard at first, but you're gonna play around with it for a while, showing it off to friends and it will soon become a part of your browsing experience.
Opera has partnered with Rubén Rincón, a popular sound designer and BAFTA Games Awards nominee to create the sound effects that can be toggled on/off.
Gaming-centric Features
One of the reasons that I've stuck by Opera for the past couple of years is the number of add-on features that it has to offer. You get a free and unlimited VPN service, a complete ad-blocker, a crypto-currency wallet, Instant search, and an Airdroid-like sharing feature – all of them baked right into the browser. There's also easy access to instant messengers right from this sidebar, which is great.
Opera GX builds upon the aforementioned feature set with the addition of new gaming-centric features that should come in handy for heavy gamers. Here are all the features newly added to this browser:
CPU and RAM Usage Limiter
Gamers require all the power that their PC has to offer while gaming and this sometimes means quitting the memory-hungry browser or other apps running in the background. If that's a problem you face often, well, Opera GX is made for you as you can set CPU and RAM limits for the browser. Yeah, you can set the maximum amount of RAM and CPU that your gaming browser can use up.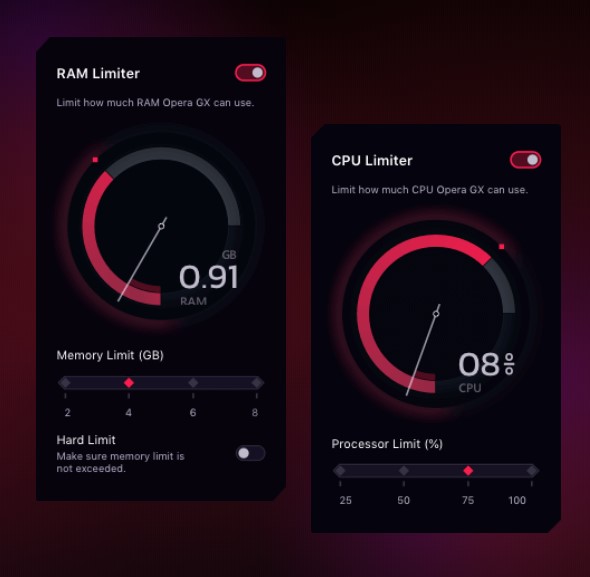 As you can see in the screenshot above, you can not only set the limits on RAM and CPU usage from GX Control center that's integrated into the sidebar but also see the amount being used at the moment. These aren't hard limits and Opera GX can go slightly over a limit you've set when required, but you can set hard limits so the task is terminated and your system isn't bogged down.
I really like this feature and have already set the limits to 50% on each, but there's also one piece of feedback here. I would like for Opera GX to offer a usage monitoring option within this section to help me better understand when the browser overshoots the limits. Is it while a certain number of tabs are open (whose number we can learn) or while some website it open or loaded? Wouldn't that be great?
One of the things that make Opera GX the world's first gaming browser is the GX Corner. Opera defines it as a destination for staying up-to-date with all new game releases, deals, and news from across the globe – especially gaming news for the fanatics.
Okay, I really like the concept of a dedicated game store section and it could certainly be handy for gamers of all kinds as it shows Windows, PS, Xbox, and Mac games. However, I feel that its placement is a bit intrusive and that Opera GX could find a place for it in the sidebar. You don't need a pinned tab at the top at all times. It's a no-no for me.
Apart from linking straight to official game listings, Opera GX also comes with a Twitch integration out-of-the-box. If you've ever used Opera, then you would know that the sidebar houses messenger pop-up windows that can be used over your existing window. Well, Twitch sits in one of these overlapping sidebar windows and once you've logged in, Opera GX should send you notifications for when channels you've followed go live.
I did log into Twitch from the sidebar, granting the necessary permissions, but for some reason, Opera GX didn't want to show the streamers I follow, so notifications are out of question at the moment. Refreshing the sidebar window didn't seem to do any good too.
The Opera GX gaming browser is currently in early access and bugs are sure to creep in during the testing phase. Overall, I think I will switch to Opera GX for the next couple of weeks to see if the CPU/RAM limiters are actually helpful and if the non-working features are enhanced or not.
I mean, I'll need to spend a bit more time with this browser to be able to judge whether this is useful for gamers or not. The features look to be nothing but gimmicky right now since it's the first-ever gaming browser but there's a possibility that it actually comes in handy for streamers down the road, and I'm excited about that future. What are your thoughts on the world's first-ever gaming browser? Let us know in the comments below.
Download Opera GX (Free)