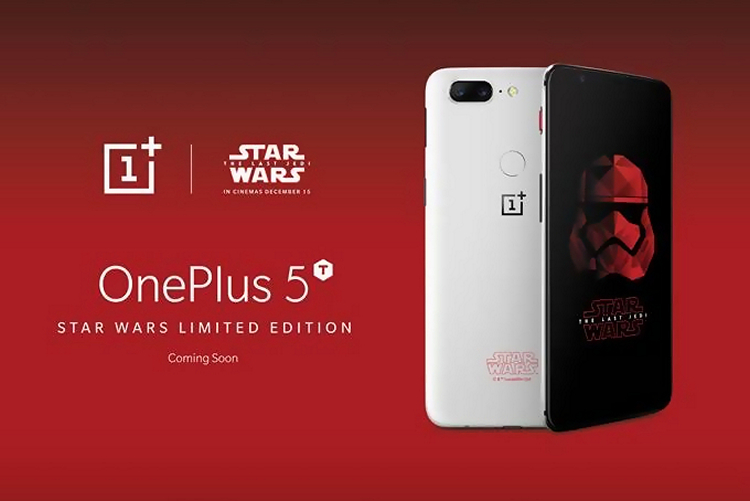 Popular Chinese smartphone manufacturer OnePlus has just announced a limited edition variant of the recently launched OnePlus 5T smartphone in the Indian market, aimed at Star Wars fans. This news comes just days after the company unveiled a "Lava Red" color option exclusively in India. So far, the OnePlus 5T Star Wars Edition seems to be exclusive to Indian customers as well, and this has been done to celebrate the company's third anniversary in the country as well as the release of the hugely awaited film, Star Wars: The Last Jedi that's all set to hit the screens on December 15th. The new variant was showcased on Saturday at the Comic-Con event in Bengaluru. So, let's take a look at all the changes and additions in the new OnePlus 5T Star Wars Edition, shall we?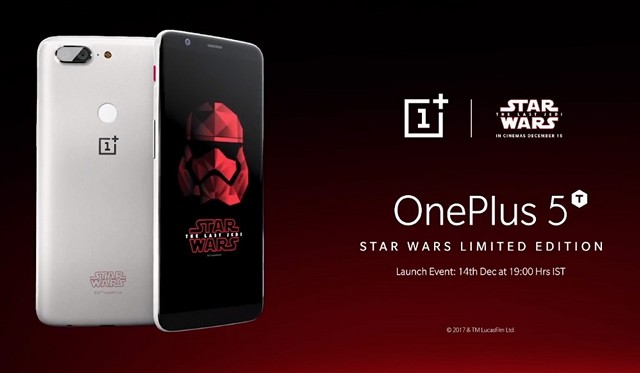 So far, the OnePlus 5T has been globally available in only one color option i.e. Midnight Black. For the first time, we'll see the new smartphone with a white back, in order to match the color of Stormtroopers.
There's a Star Wars logo on the back printed in red, so that you can show off to your friends that you own a limited edition variant of the smartphone.
If you notice carefully, the alert slider on the left has received a red paint job as well that should match pretty well with the white back.
Lastly, there's a new Star Wars: The Last Jedi wallpaper that showcases a Stormtrooper that goes well with the black front. Although this is cool, it can be easily downloaded and used as wallpaper on any other smartphone, so it's no big deal.
Well, these are all the cosmetic changes that the new OnePlus 5T Star Wars Edition brings to the table. The hardware remains the same with a 6-inch 18:9 Optic AMOLED display, dual 16 + 20 MP camera setup, Snapdragon 835 processor and 8 GB of RAM just like the standard OnePlus 5T.
OnePlus is hosting an event on December 14th at IMAX Wadala in Mumbai to formally launch the Star Wars Edition variant, but it's scheduled to go on sale starting from December 15, to coincide with the release of Star Wars: The Last Jedi. It will be available for purchase online from both Amazon India and the OnePlus online store. However, details regarding pricing and storage variants are yet to be revealed by the company.
So, if you haven't purchased the new OnePlus 5T yet, will you wait it out until the Star Wars Edition hits the shelves? Do let us know, in the comments section down below.
---