Android Emulators have recently started to gain a lot of attraction. Developers can debug their apps from the comfort of their PC, gamers can enjoy all those great Android titles on a large screen, and the list goes on. With so many reasons to run Android apps and games on your PC, many developers have tried their hand at producing a great Android emulator. Sadly though, most of the Android emulators on the market today are finicky and tend to not work as advertised. Well, if you're on the hunt for a stable and feature-full Android emulator, allow me to suggest to you – Nox Player.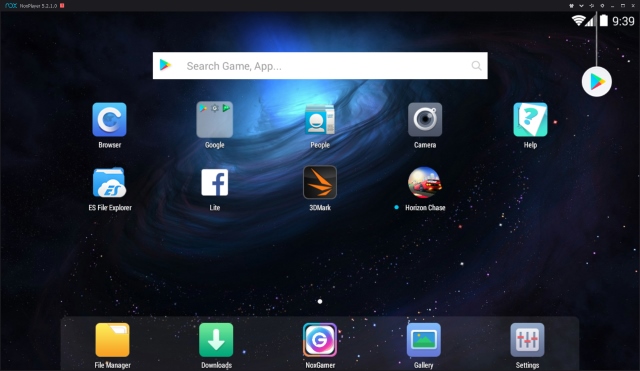 Nox Player is brought to you by Nox Digital Entertainment Co. Limited. This powerful Android emulator is used by more than 150 million users in over 150 countries and 20 different languages. Oh, and believe me, the software actually lives up to its promise of being the best Android emulator out there. And the best part? It's available for both Windows and macOS. So if you're looking for a powerful Android emulator for your needs, read on, as we bring to you our review of the best Android emulator out there:
Key Features
1. Fast and Smooth Gameplay
One of the biggest judgment points for any Android emulator is its speed, and boy is the Nox Player fast. The emulator blazes past through all my installed apps and games run smoother than ever. I have a Nokia 8 in my hand, but the Nox Player on my device can easily put it to shame in terms of speed.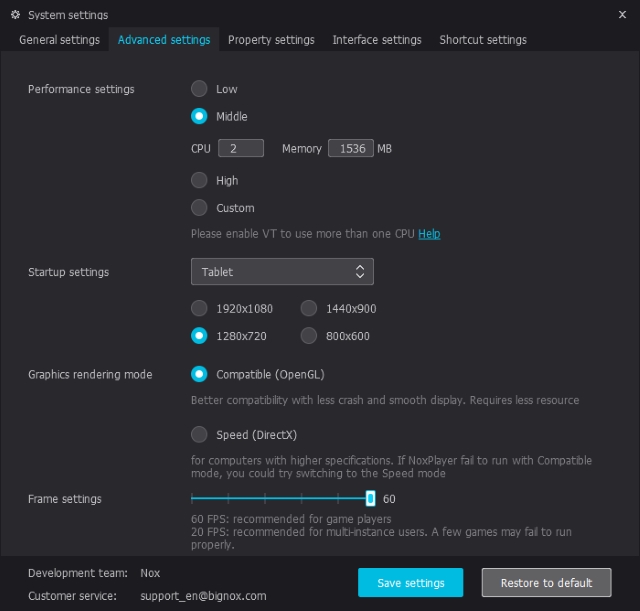 Probably the best part about Nox Player is the fact that you can customize its performance settings, by assigning it the number of CPUs and memory it utilizes. For a standard user, 2 CPUs and 1.5GB of RAM should be enough, considering it is desktop hardware and not mobile hardware. That being said, if you want to, you can easily take things higher by modifying these parameters. On my system, I was able to assign 8 cores and 8GB of RAM to the Nox Player for stellar performance.
2. Controller Compatibility
If you're someone who enjoys playing games, then you must know the superior powers of a controller as opposed to the normal touchscreen. While some Android devices have native support for 3rd party controllers, it is still an uncommon trait. But don't worry, Nox Player has got your back here as well. The Android emulator comes with full-fletched support for all 3rd-party controllers, including the Xbox 360 Controller. So you can play Asphalt 8 and Injustice easily on your Nox Player.
3. Real Android Device Emulation
While most Android emulators out there state that they are "emulators", not all of them have the superb features of Nox. The Nox Player has the ability to emulate device-specific features such as your mobile phone model, IMEI number, and your phone number.
4. Root Access
Now am sure you must have read about and even tried your fair share of Android emulators out there. For a general user, they're all fine. But for a power user, they do come with a problem of their own. Yes, you guessed it right – root access. I've tried a lot of emulators, and boy, was I annoyed by the unnecessary apps and packages I had to install simply to get root. Well, not with Nox Player. The wonderful emulator comes rooted right out of the box with Superuser. Now that's one handy feature and certainly makes things easier for any power user.
Oh, and there's more. Thanks to this "root access", the emulator can seamlessly access your PC's files, which is something that's restricted in other Android emulators. That indeed is another plus point.
Ease of Use
The user interface is one of the most talked about things while reviewing any app. Thankfully, the Nox Player doesn't disappoint. I'm personally a fan of stock Android, and even if you don't like it, you gotta admit it has one of the most simplest interfaces out there when put up against various other flavors of Android. Well, the Nox Player comes with a stock Android KitKat 4.4.2. Yeah yeah, I know what you're thinking. KitKat? Now? Well, let me assure you that almost 90% of the games on the Play Store run perfectly well on this version of Android, if not better. Also, BigNox, the company behind Nox Player, has assured us that they will be bringing out an update soon that will bring the Nox Player to Android 5.1 Lollipop.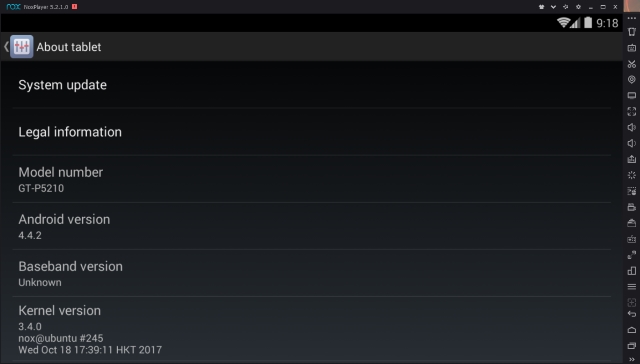 Oh, and one more thing about Nox Player is that it comes integrated with Google Play Store. So no more installing specific Google Play Services and then Play Store APKs. Just install the Nox Player, sign-in to your Google account, and you're good to go.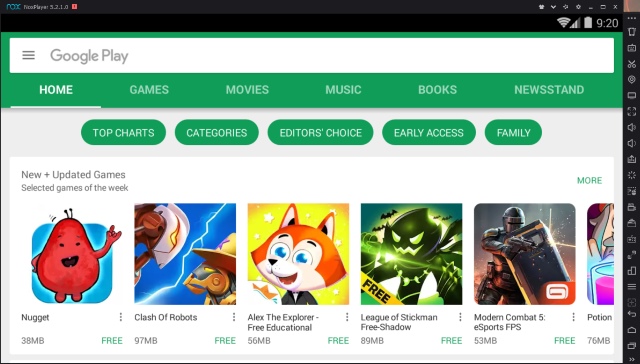 But then again, there are those "geeky" minds out there who wish to install the app the hard-way, by using the APK. Or maybe there is an app that you got from XDA, and you have no other option. Well, don't worry, Nox Player understands your interests, and is built upon them. Using a simple drag-and-drop, you can copy an APK file from your desktop to the Nox Player, and it will install automatically. Pretty cool, isn't it?
Pricing and Availability
Now I know what you all may be thinking. A software so good, and so reliable, must cost a lot right? Wrong! Nox Player comes absolutely free to use. So you can install it on multiple systems, and use it as much as you want to without any limits. Now that's one heck of a deal, considering the features it comes pre-loaded with. I've been using Nox Player for quite a while now, and I can assure you, once you try it, you'll love it. And at a low price of free, trying it ain't gonna hurt you, right?
Pros:
 Fast and Highly Customizable
 Pre-Rooted
 Google Play Store Supported
 Controller Compatibility
Cons:
 Still on Android 4.4.2 (But update coming soon)
Play Android Games on PC Easily
With Android being the world's most powerful mobile OS, am sure many of you have owned an Android device at some point in their lives. Sadly though, not of all us can afford a flagship device that runs all apps and games at full speeds. That's where Android emulators come in, that allow you to utilize your PCs power to run Android apps. In that context, Nox Player sits comfortably at the top. It provides tons of features, at absolutely zero cost. If you have power on your PC, Nox will make sure your emulator has it too. So what are you waiting for? Go ahead and try the amazing Android emulator that is Nox Player.
Download Nox Player (free)