Any gamer worth their salt know that after a particular threshold of budget, it's better to build a gaming PC to get the best experience. But what if you're someone who travels frequently? Or perhaps, you could be someone who doesn't want a big tower PC but all the power? For those cases and more, there are a fair share of extreme-performance gaming laptops out there. They may cost a pretty penny, but they are worth it. One such beast in question is the MSI Raider GE67 HX 12UHS, a 2022 high-end gaming laptop that is MSI's successor to their previous-gen GE66 series. Sporting top-of-the-line specs with a beautiful design, the MSI Raider is a laptop that will attract any gamer at first sight. Well, I have been using this machine for a few days now, and here's my in-depth review of the MSI Raider GE67 HX 12UHS.
MSI Raider GE67 HX 12U Review (2022)
Since this performant gaming laptop has many aspects to it, I have divided this review into various sections, touching upon the gamery design, crazy beautiful display, top-of-the-line internals and its performance. That said, let's dive right in.
Design and Build Quality
The MSI Raider GE67 HX 12UHS is one gaming laptop that invites you in immediately by its design. This beast is a performance machine that looks the part and appeals to the gamer inside us. The entire body of the laptop has been crafted out of a mixture of metal and plastic in various parts. That leads to a combination that is both durable and appealing at once.
The top panel of the laptop is made out of metal and sports the ever-famous MSI logo in the middle and an additional laser-engraved MSI branding on the top left. This laser engraving is a new addition to this year's HX lineup and looks quite cool.
The bottom half of the panel splits off and connects to the bottom hinge of the laptop. The sides of the hinge themselves are connected with a slightly glossier and darker shade of grey plates which give off a futuristic vibe. The bottom half itself also is also shaped in a way that gives way to the back I/O ports which sport a healthy variety but we will talk about those later.
Opening up the lid of the MSI Raider GE67 HX, you're welcomed by a modestly separated design between the big enough keyboard and trackpad. The interiors again have a metallic finish. MSI has incorporated a SteelSeries specialized keyboard inside the GE67 HX that fits perfectly along the intended sides that giving it a sunken-in feeling. While the trackpad itself is smaller than I expected, it will do since gamers often stick to mice.
The display itself is slim enough with thin bezels at the sides and top and a thick one at the bottom. MSI didn't go for a 16:10 ratio here which I would have loved. I bent the lid as far back as it goes and it stops around 140 degrees which are good enough. However, even for a laptop this size, it has a lid that opens with just one hand which is nice.
While the keyboard also supports RGB, the real RGB attraction is the big light strip at the front of the laptop. The sides of the laptop also conform to the same vibe and have accentuated vents for styling. It is also on the sides you will find the two speakers. So if you were hoping for some bottom-firing ones, sorry to disappoint you.
The bottom of the Raider GE67 HX has been redesigned by MSI to provide even better cooling. It gets its own spaceship vibe that you feel from the dual-division design. The top half is slightly raised to give the laptop more height. It also gets some sculpted lines around its sides. The bottom half itself matches the feeling and features more MSI branding and the Raider GE67 HX tagline.
The entire combination of the design choices by MSI has led to the Raider GE67 HX feeling like a solid gaming machine. Thankfully, the build quality itself matches the design. I encountered little to no flex over the entire body. While there is some flex on the lid, it's nothing too major.
However, a big thing to note here is that the Raider GE67 HX is not a portable machine by any means. Weighting in 2.38 KGs along with a massive 1.5 KG charger, this is one big boy. So if you do intend to keep this laptop as a traveling companion, be sure to do some weightlifting beforehand.
That aside, I actually love the design of the GE67 HX and would love to use it as a daily driver for my gaming and daily needs.
OLED 240Hz Display
Most gaming laptops stick to either refresh rate panels or an OLED one. MSI however, has combined the two facets and created a 240Hz OLED display. Sporting a QHD (2560×1440) resolution, the display is a 240 Hz panel that sports lightning fast 0.2 ms response time. Unlike many companies, the display gives a nice peak brightness of 500 Nits which feels more than sufficient in all use cases. As for you color purists out there, MSI has also given a 100% DCI-P3 coverage in the Raider GE67 HX. My main use case of the display was in gaming, working, and entertainment consumption, and I'm impressed with all of them.
Throughout my time using the screen for gaming and entertainment, the experience was consistently good. The wide color gamut coverage showed in real-time as the colors remained vibrant and popped out. Whether it is going inside the horrors of the Oldest House in Control or watching Our Planet on Netflix, it was beautiful. While I felt the default setting was fine, MSI does provide the TrueColor software in the raider to make that lets you choose from various display modes including the sRGB color profile with adjustment for color values.
Since this is an OLED display with a rich contrast ratio, dark shots inside while consuming content felt pitch black and almost palpable. So if you're someone who loves to repeat watch Polar on Netflix, this display is a dream for you.
As someone who is a sucker for OLED displays, I am happy with the panel. The high brightness also meant that HDR and even SDR performance was amazing and didn't feel inadequate. While I didn't do a lot of traveling with the Raider, I did use it under direct light but didn't feel the display being dim.
Now some of you might be worried about the infamous OLED burn-in that might befall this display. Now to counter that, the MSI has equipped the Raider GE67 HX with OLED Care. Found inside the MSI center software, OLED care allows users to perform a set of steps to basically refresh their displays. So you can run a 30-second screensaver to move your pixels, have the machine run screensavers, and more.
Lastly, if you're someone who also plans to use this display for work, you'll be pleased to know MSI performs well here too. The text is extremely sharp and very legible. The high resolution also means you get less stress on your eyes and the overall experience is comfortable.
As someone who cannot use a laptop without a killer display, the GE67 HX really pleased me.
Performance
When you're buying a laptop as expensive as this you expect nothing but the best performance that outmatches everything. And I was pleased to find out that indeed is the case. The MSI GE67 HX Raider comes with a mammoth 16-core Intel 12th Gen i9-12900HX combined with a 165W NVIDIA RTX 3080 Ti. Combined together, the two parts can go as high as 220Watts which is also the reason for the bricklike charger. On the memory side of things, you get a superfast combo of 32GB DDR5 RAM and a 1TB PCIe Gen 4 SSD.
To make sure all this power remains cool, MSI has also included a dual fan and 7 heat pipe system that is amazing in its own right. This ultra cooling tech popularly known as MSI Cooler Boost 5 will see your laptop keep the temps down even when the pressure is rising up.
I primarily used this beast for gaming. However, I also made sure to real-life usage and benchmarks to get a metric too. I have divided my experience into sections below for your ease so feel free to browse through them.
Daily Usage
My daily usage as a writer revolves around a couple of tabs of a web browser like Chrome combined with software like Paint.Net and Spotify in the background. While that is definitely light use, I decided to amp it up a bit by adding a few more RAM-hungry Chrome tabs combined with a couple of 4K videos.
As expected, all this daily/intensive work did not stand a chance against the power-packed laptop. MSI made sure that my problems of lag and anger are a thing of the past in the GE67 HX. Even after all the above scenarios open including a few more, the CPU and RAM usage barely had a dent in them. This meant I could easily go on to open more of the same and even more apps without any lag. While I could have amped up the fan speeds for better performance, I did not feel I needed that either. Since you can use the Raider GE 67HX as an editing suite, I also ran Premiere Pro and Photoshop and encountered no lag there either.
When it comes to daily work or entertainment, this beast of a laptop will pose no problems to you. So if you're someone working a 9 to 5 before your gaming sesh, feel free to use this laptop for your work. I can say the same for students who would like to multi-task with various apps.
Gaming
And on to the heart of the matter where the primary use case of the Raider lies. I'm someone who loves to game a lot. Perhaps a bit too much to be honest. In the same obsessive spirit, I put the MSI Raider GE67 HX through a series of games. I've included a healthy set of AAA and E-Sport titles that put stress on the system while looking amazing. Since the laptop also contains an RTX GPU, I included a title for Ray Tracing too. Furthermore, to fully test out this laptop's capabilities, I made sure to use the native resolution of QHD (2560×1440) for the full effect. This is what I found.
Control Ultimate Edition – QHD Ultra Preset with Balanced DLSS
Even though it was released back in 2019, Control is a game that remains a heavily demanding title on even the most modern PCS. The included RTX functionality only increases this burden and makes the game a good benchmark. I tested out the RTX version on the Raider. To put the most stress on the system, I used the Ultra preset including RTX. However, I did leave DLSS on the Balanced setting since I found no difference between that and the native res.
Without any surprise, MSI delivered as the Raider GE67 HX took it on the chin. I got an easy average of 75+ FPS with frames peaking 100+ in easier scenes. Checking GeForce Experience, I saw the full 165W TGP being used without any issues. I also want to mention the temps remained below the safe threshold of 85 Celsius without any problems. Furthermore, while I did get an instant boost to 100+ FPS by dropping resolution, I reverted back to QHD because of the insane level of detail in the game and happily enjoyed playing it.
God of War – QHD Ultra Preset with DLSS Off
Kratos' arduous journey with his son is one that lies close to my heart so it was almost obvious I would run this demanding beauty. I made sure to again run the game at its native QHD resolution combined with an Ultra preset. However, I kept DLSS off this time to see how far I can push this laptop.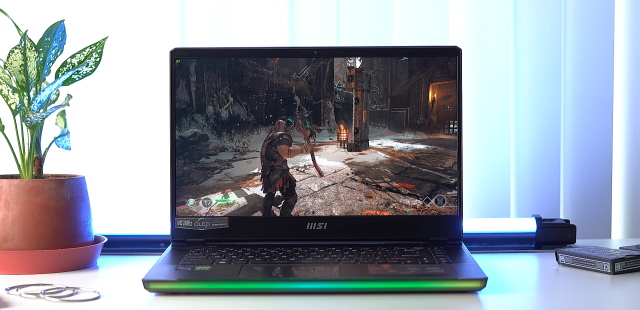 To my pleasant surprise, it delivered once again with consistent FPS across the game. The high wattage 3080 Ti delivered a consistent 75+ FPS experience throughout my time playing the game. The cooling too remained consistent and without issues and the GPU temps remained below 85 Celsius. This ensured my devastating fight against Baldur was satisfying and without any issues. While I expected minor stutters, I did not get even those so I'm happy.
Rainbow Six Siege @ QHD Ultra
Rainbow Six Siege is a well-optimized game in 2022. However, as someone who has almost 3000 hours into it, I was curious to see how it performs. Since R6 doesn't have DLSS, I used the Ultra settings on the native resolution. I again liked what I saw.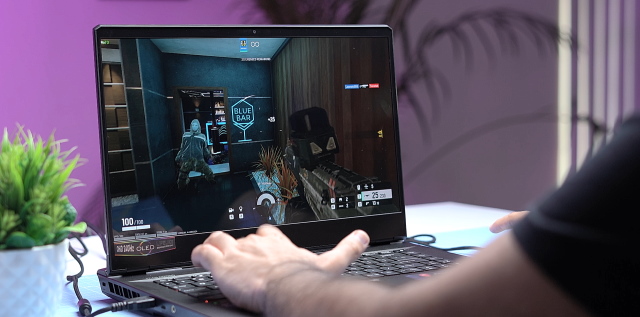 R6 Siege delivered a good 150+ FPS experience while I was going training grounds on the Coastline map. While the frames did drop once or twice below that level, they quickly recovered. The thermals again were satisfying and actually kept the temps below 80 Celsius.
If you're someone who lives to indulge in E-Sports titles, the MSI Raider GE67 HX will not disappoint you.
Forza Horizon 5 @ QHD Ultra
Lastly, for some good calm measure, I also decided to race a bit in Forza Horizon 5. While I expected more FPS from the game while driving through Mexico, the experience was still pleasant. The 3080 Ti gave me a 70+ FPS experience with frames peaking at 80 at moments. This was during casual driving and races. The thermals here too remained satisfying at keeping the temps down.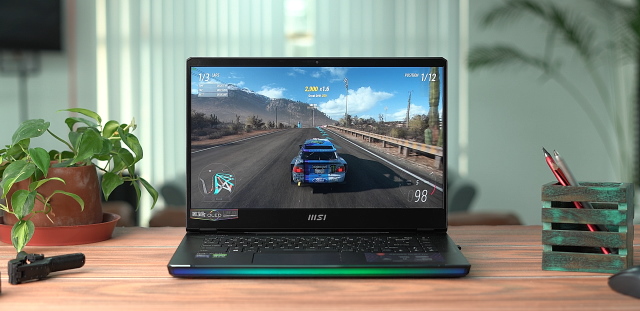 MSI has done a fantastic job when it comes to managing the proper thermal and power ratio. The high wattage CPU + GPU combined can reach a total of 220 Watts and that certainly shows. Throughout my time gaming on this machine, the Raider did not lag or stutter in any major way. This was helped even further along with its excellent thermal management.
No matter if you're a hardcore gamer looking for a high-end laptop or a casual one who plays only a few games, the Raider will not disappoint you in the realm of gaming.
Benchmarks
While real-life usage depicts performance better, benchmarks are also good for establishing a good numeral set. For the same reason, I ran a set of benchmarks including your popular ones to test it out. These are the results.
Cinebench R23
Long hailed as a popular CPU benchmark, R23 is a good metric to test out your CPUs' single and multi-core performance. Running the benchmark, the laptop dished out impressive results. I received a huge multi-core score of 19330 with an equally impressive single core of 1856. Infer from that what you may, but to simplify, these are some extremely impressive results indicating what I already knew; a powerful Intel inside.
PCMark 10
PCMark 10 is a benchmark meant to test out your machine's productivity performance. This 25-minute test was smooth enough and dished out a high score of 8160. A score above 5000 is considered to be very good as an 8K+ score is extremely impressive. This also confirms the smooth as butter daily and intensive performance I experienced above.
3DMark Time Spy
3DMark tests out your machine's GPU by making it run through a sequence of rendering cycles of animation. With the thermals kicked up to maximum, I ran this test and received a huge score of 12975. I don't know about you but this is one of the highest scores I've seen while using a machine so I was very impressed. As before, this also confirms the same smooth gaming experience I had with the machine.
Crystal Disk Mark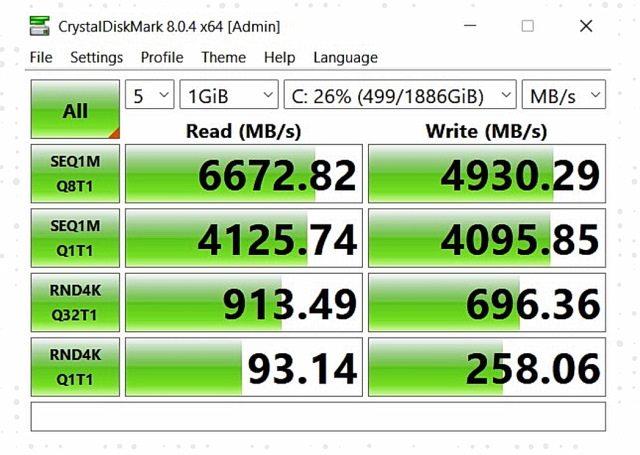 For those who do not like waiting at all, MSI has equipped the GE67 HX Raider with a Gen 4 SSD for super-fast transfer speeds. I decided to confirm the same by running a disk benchmark and was not disappointed. With read and write speeds of 6672 and 4930 MB/s, it is obvious that this drive is Gen 4 and can easily handle intensive copying across the board. For those of you only focused on gaming, this also means little to no loading times which was also the case in my experience.
While I do believe in real-life usage above numbers, there is no doubt the MSI Raider GE67 HX delivers some impressive results.
Keyboard and Trackpad
The MSI GE67 HX comes with a cool yet functional keyboard that is meant for gamers and casual users alike. During my testing of the laptop, this per-key RGB keyboard provided an excellent typing experience. The keyboard provided a perfect combination of tactile feedback and comfort. Since the keycaps have been shaped so evenly, the fingers fall naturally on the fingers and I had little to no errors.
This experience was also reflected while I was gaming away on the machine. I also had my fair share of fun customizing the RGB keyboard along with the lightbar using the SteelSeries GG software which I'll detail below.
The trackpad itself doesn't give the level of experience I expected. This small-sized trackpad is a bit uncomfortable to use. The internal left and right buttons don't feel as smooth to click on day to day. The trackpad however has a smooth surface so there's that.
Despite the average trackpad, the overall experience of using the MSI GE 67 HX's keyboard was quite nice.
Software and MSI Center
Like every laptop, the Raider GE 67 comes with its fair share of pre-installed software. This includes a collection of MSI-related ones like MSI Center, Afterburner, and TrueColor and then you have your Norton Antivirus. I'll begin with the best one.
MSI Center
Meant to be an all-in-one suite for the MSI Raider GE67 HX, the MSI Center is software that lets you manage it all from one place. Users can basically oversee and control everything including real-time monitoring, turning on the MUX Switch, various User Scenarios, OLED care, and more.
However, the first and foremost thing is the real-time hardware monitoring which is an informative screen showcasing everything. This is the place where you can see the live CPU and GPU usage keep an eye on its load and see if any app is drawing power.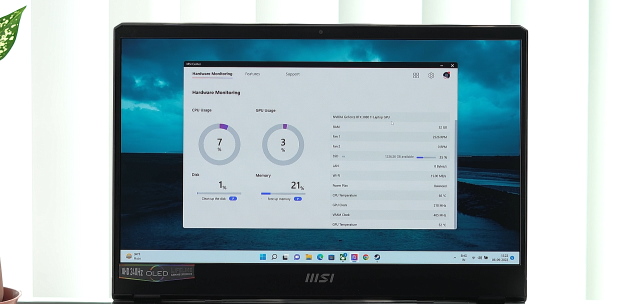 To see even more in-depth information, the column to the right holds information including your specs, RAM capacity, Speeds for Fan 1 and 2 in RPM, LAN and Wi-Fi speed, Power Plan, GPU and CPU Temp, and more aspects. Since this screen opens up when you open MSI Center, you can simply press the handy F7 shortcut for it.
Another handy addition is the included user scenarios meant to manage the laptop's performance. Depending on your use case and app usage, you can select a particular profile and have the machine react. So if you're currently just browsing a tab or two, you can keep the laptop quiet. However, for the times you need nothing but the best, turn on Extreme Performance.
This puts the system into overdrive and lets you use all of its power for the best performance. If you feel like quickly tinkering with your GPUs Core Clock and VRAM offset, you can do that too. However, for the ones who don't want Discrete Graphics on all the time, the MSI center holds the MUX switch option. Simply go into general settings and choose from the drop-down menu to switch.
MSI Center is chock full of different feature sets. From pinpoint monitoring, system diagnosis, Wi-Fi Analysis, and OLED Care to much more, you can explore around and check it all out.
Afterburner
If you're in the habit of messing around with your GPU to push it over the limit, the GE67 HX does come with MSI Afterburner. Long been famous for its extensive overclocking abilities, Afterburner contains a variety of settings gamers have come to love. Like MSI Center, you can see your GPUs' real-time stats including its memory clock, voltage, and exact temperature.
You can also overclock its core clock and memory clock through the handy sliders provided. Just make sure to be careful and not blow it. For those into video capture, you can use Afterburners' built-in recording capabilities to quickly record your gameplay. Or if you're bored simply change the software's appearance through the dozens of skins provided inside.
SteelSeries GG
Since the MSI Raider GE67 HX comes with a specialized SteelSeries keyboard, MSI has also provided the SteelSeries GG app. While built for many purposes, the primary one on the laptop is to control the beautiful RGB keyboard and the Aurora lightbar placed on the front of the laptop.
Going into the Engine tab, you find the RGB controls for both there. The MSI Aurora lightbar is a massive 35-zone bar. You can control all of its individual light zones to create your own palette. Or if you fancy presets the GE67 HX comes with a lot of them. Some of these include Aurora, Casino, Chakra, Disco, and more. No matter which way you go, you will have lots of fun customizing the lightbar according to your taste. I decided to have a mixture of odd colors on various zones and created a breathing RGB pattern for myself.
The per-key RGB keyboard works the same way with its light patterns. You can choose from the numerous pre-sets available which look super cool. Or if you're an FPS gamer who likes their WSAD highlighted, simply choose those individual keys and assign an effect or color to them.
I had lots of fun making weird patterns on the keyboard and lightbar. Once you get your GE67 HX do let me know about your experience.
As you can tell, MSI does pre-load the GE67 HX with some software. While I loved all the software above, the pesky Norton Anti-Virus is something I could have lived without. I don't know about you but I feel Windows Defender is enough in 2022. Nevertheless, even with all this loaded, my Windows 11 experience was smooth.
Ports and Connectivity
The MSI Raider GE67 HX is basically an entire PC replacement. As such it contains quite a lot of I/O output options that have been divided to the sides and back.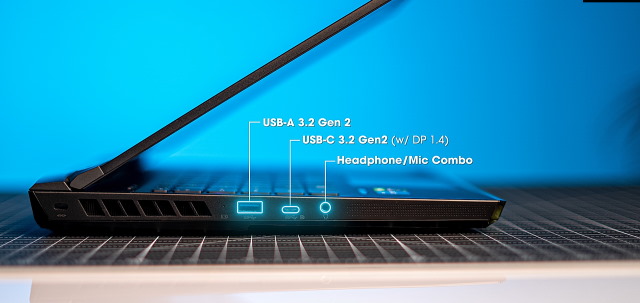 The left side of the laptop has a trio combo of a headphone jack, a USB-C 3.2 Gen 2 that supports DP, and a 3.2 Gen 2 Type-A. The right side of the laptop continues with two 3.2 Gen 2 Type-A ports and an SD Express card reader.
Finally, the back of the laptop is also packed with a good pair of ports. You get a good Thunderbolt 4 port, an RJ-45 port that is a Killer GB LAN up to 2.5G, and an HDMI port capable of going as high as 8K @ 60Hz. You naturally get your power in the port that is meant for the massive 330 Watt adapter.
When it comes to connectivity, the GE67 HX comes with Killer ax Wi-Fi 6E + Bluetooth v5.2 and a 2.5G LAN port. As you can see for yourself, the GE67 HX with more than enough I/O options that should be enough for any gamer or just an everyday joe.
Audio Quality
The MSI GE67 HX comes with a dual speaker 2x2W Dynaudio speaker setup that in theory should be a good listening experience. MSI has done well to make sure the setup is nicely tucked away to the sides thereby giving it an elegant and useful mix. While the speakers do output a good amount of bass I could actually feel, the overall effect was decent.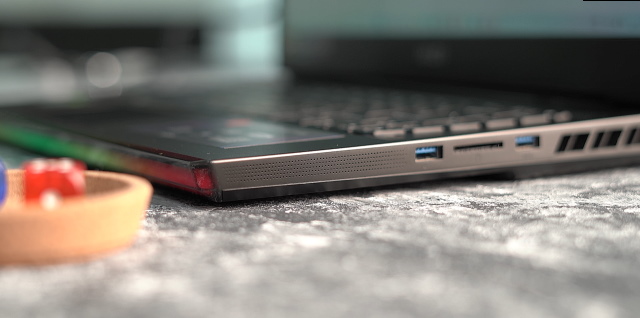 The speaker quality itself is quite satisfying with a good mix of sound quality and details. The overall volume while a bit low is still loud enough for a group of people to enjoy tunes or movies. This in turn makes the Raider GE67 HX 12UHS a proper entertainment laptop that mostly gets its audio right.
Webcam and Microphone
I am so used to encountering 720p webcams on laptops that the Full HD one on the MSI Raider GE67 knocked me for a loop. Since this is a Full HD webcam, the level of detail and sharpness is noticeably better than what I find on most laptops. This translates to better images and videos that handle light better and generally look much better. However, do keep in mind that this webcam is not a Windows Hello webcam so goodbye to IR scanning.
The microphone setup matches the webcam's performance and records audio quite well. The audio is quite balanced and neither too loud nor too quiet. Thankfully, you don't need to be sitting close to your mic to make that happen. My experience with this camera and mic setup was generally quite good.
Battery and Charging
The MSI GE67 HX comes with a 99.9 Whr battery along with a massive 330W power brick. While one would expect all-day battery life with this laptop, I knew that wasn't going to be the case.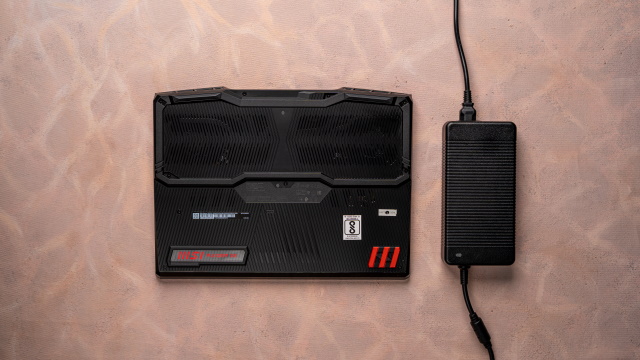 However, despite my moderate usage of battery, the GE67 lasted a little over 5 hours on a single charge. It goes without saying that I had the system RGB lights off and power plan at efficiency to make this happen. And before you ask, I did not test the battery life while gaming.
Fortunately, this was actually a good experience as I'm used to short battery life on laptops. When it comes to charging, the process is slow. A single 10 to 100% cycle takes a little over 2 hours to charge. The only problem I had is the massive 330 Watt charging brick that comes paired with the laptop. If you're someone looking for a portable gaming experience, you will need to get used to carrying a monster around.
MSI Raider GE67 HX: Pros and Cons
| PROS | CONS |
| --- | --- |
| Extremely powerful gaming performance | Speakers could be louder |
| Capable thermals keep the temps down | Massive power adapter |
| Beautiful and responsive 240Hz display | |
| Per key RGB keyboard and Aurora bar add aesthetics | |
MSI Raider GE67 HX Review: Is It the Ultimate Beast?
There is a certain price threshold beyond which the affordable goes out the window and performance gaming takes over. The MSI GE67 HX is a heavyset player in the market that is meant for gamers who want nothing but the best. Sporting a beautiful 240Hz OLED screen along with the latest CPU and GPU combo from Intel and Nvidia, the MSI GE67 HX is a laptop that will devour everything you throw at it.
However, all that performance comes at a price, quite literally. The MSI GE67 HX Raider's base 12UGS variant begins with a price tag of Rs 2,59,990 and goes all the way up to Rs 4,47,990. Now, I do not need to tell you that this makes this an expensive deal. However, if you are willing to shell out the money, you will be pleasantly surprised by what it offers. And if you are willing to go all the way and buy the highest-end variant, like the one we have reviewed here, you'll get the latest and greatest with a big price tag.
However, for gamers willing to make compromises on a few areas due to budget constraints, there are a few good alternatives out there. An example of this is the Alienware x15 R2, a capable laptop sporting the same specs but an IPS panel. The Alienware x15's 3070 Ti variant is priced at Rs 2,81,300. However, I recommend going in for the long haul and getting the MSI GE67 HX gaming machine for its breathtaking performance, fantastic visuals, and gaming profile that will future-proof you for years to come.
And that's all for our in-depth MSI GE67 HX's review. What do you think about this gaming laptop? Would you buy this gaming beast or go for a more affordable alternative? Let us know your thoughts in the comments below.
REVIEW OVERVIEW

SUMMARY

There is a certain price threshold beyond which the affordable goes out the window and performance gaming takes over. The MSI GE67 HX is a heavyset player in the market that is meant for gamers who want nothing but the best. Sporting a beautiful 240Hz OLED screen along with the latest CPU and GPU combo from Intel and Nvidia, the MSI GE67 HX is a laptop that will devour everything you throw at it.