MSI is one of the best names in the gaming business, and its new range of laptops have attracted interests from all price segment buyers. However, their best product, the MSI GT75 Titan, is reserved for the premium lovers and boasts of the best performance there is. Priced at Rs 3,00,000, the MSI GT75 packs in a 4K panel along with an 8th-gen i7 processor and a Nvidia GeForce GTX 1080. But is the laptop worth your money? Let's find out, as we do an in-depth review of the MSI GT75 Titan 8RG:
Note: We have the 8th-gen i7 variant with us. There is, however, an i9 variant available as well, and is priced at Rs. 3,35,000.
MSI GT75 Titan 8RG Specs
Before we get started with the review, how about we discuss the actual specs on board of the device. The GT75 does come with a variety of customizable options, and I'll be listing them all out below. You can choose between an 8th-gen i7 or an i9 processor, along with a 120Hz Full HD display or a 4K Panel with 100% Adobe RGB, with both options supporting Nvidia G-Sync. All the variants of the laptop come with Nvidia's GeForce GTX 1080 with 8GB of GDDR5X VRAM. Below is the detailed list of the hardware powering the MSI GT75 Titan:
Dimensions
428 x 314 x 31~58 mm
Processor
Up to 8th Gen. Intel® Core™ i9 Processor
Memory
DDR4-2400 speed up to 4 slots; or
DDR4-2666 speed up to 2 slots, 4 Slots, Max 64GB
Storage
512GB SSD + 1TB HDD
Display
17.3" UHD (3840x2160), IPS-Level; or
17.3" FHD (1920x1080), 120Hz, 3ms, Wide-View
Graphics
NVIDIA® GeForce® GTX 1080 OC with 8GB GDDR5X
Wireless
Killer ac Wi-Fi + Bluetooth v5
Ports
1x Type-C (USB3.1 Gen2 / DP / Thunderbolt™3)
5x Type-A USB3.1 Gen2
1x RJ45
1x SD (XC/HC)
1x (4K @ 60Hz) HDMI
1x Mini-DisplayPort
Weight
4.56 kg
Operating System
Windows 10 Pro
Battery
8-Cell , 90 Whr
Design and Build Quality
Have you ever seen an evil character in the game that is about to spit fire and is always ready for a battle? Well, the MSI GT75 Titan looks just like that. While it doesn't spit fire, it certainly looks like it is ready for a battle.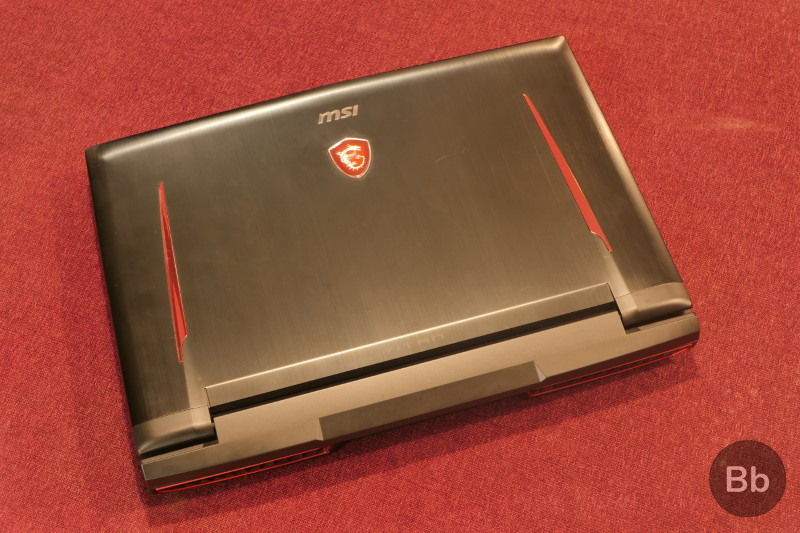 The back of the laptop houses the glowing MSI logo in the center, coupled with brushed metal red streaks on either side. It looks plain simple in some ways but also exhibits a gamer look.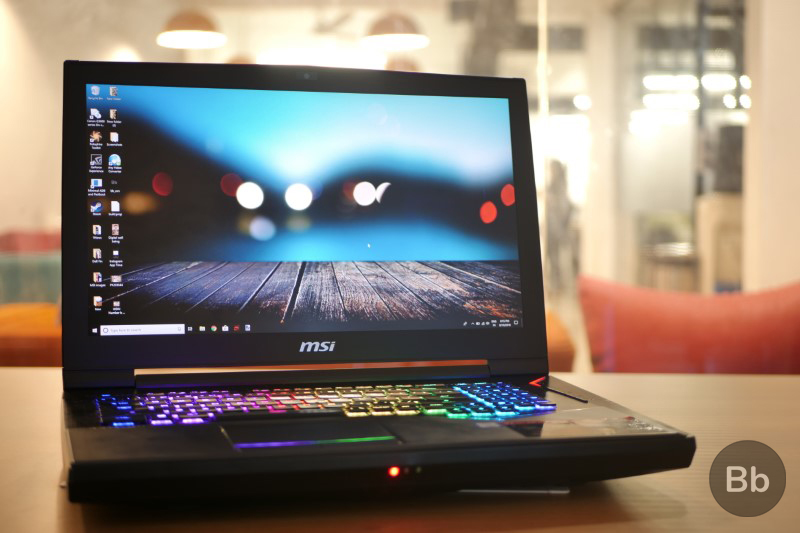 The MSI GT75 has quite a chunky build, but sadly, the build quality is not that good. It is made up of plastic, and while it may be of a good quality, it still feels cheap. Almost every other laptop in this premium price segment looks premium as well. However, the same cannot be said for the MSI GT75 Titan.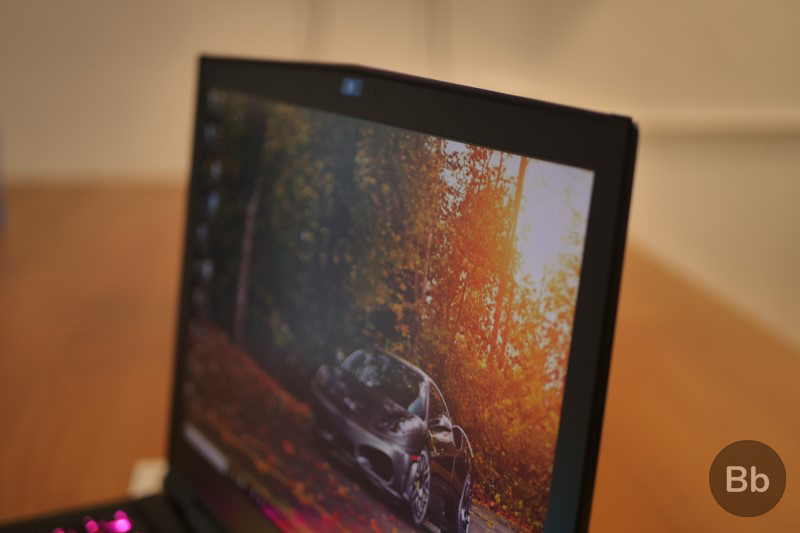 What's more is that there are those huge bezels surrounding the display. While the 17-inch beast will be replacing your desktop ideally, the bezels might raise flags for some users. But then again, that's your personal preference. In my opinion, once you actually start gaming, you'd hardly notice them.
All in all, while the MSI GT75 features a decent design, the build quality is really bad, and doesn't really justify the premium price tag.
Ports and Connectivity
Oh boy, does the MSI GT75 love ports. You'll obviously be spending big if you go with this machine, and MSI had made sure to provide you with every port you'd require.
On the right side, you get a pair of USB 3.0 ports with a 4-in-1 card reader and a secure lock slot.
Over to the left side, you get three more USB 3.0 ports on the left, with audio jacks for headphone, microphone, audio-in and S/PDIF.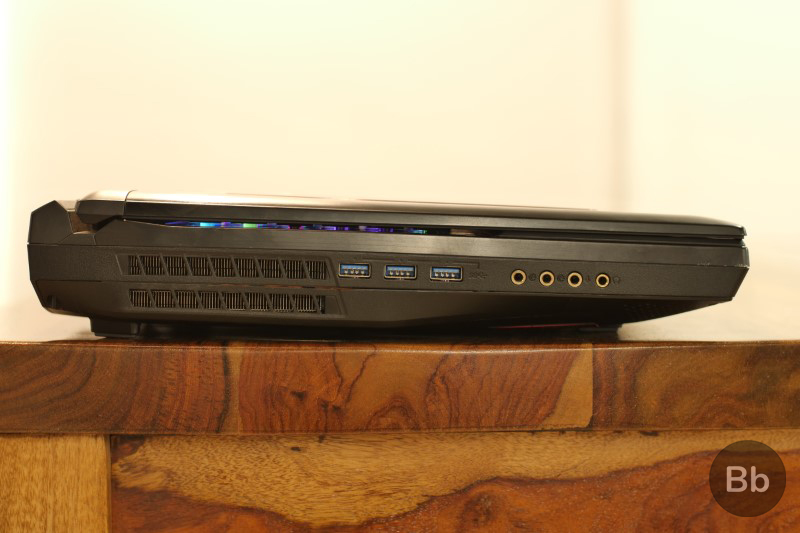 Oh, and if you thought that was all, there's more. Over to the rear side, you have an HDMI 2.0, a mini DisplayPort, Thunderbolt 3, Ethernet and a power jack.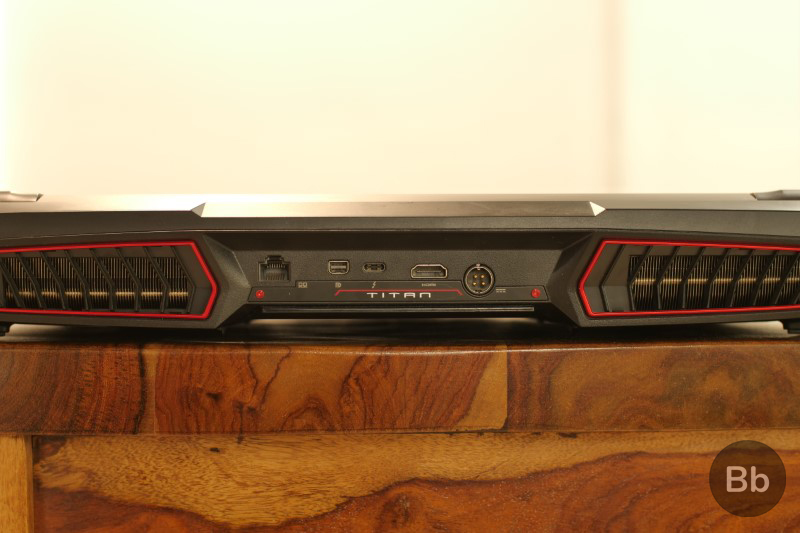 Honestly, the MSI GT75 has all the ports that you'd ever require, and then some. In terms of ports and connectivity, I had absolutely no complaints.
Display
The GT75 Titan comes in two screen variants – a 120Hz G-Sync Full HD panel, or the one that I have, which is a 4K panel capped at 60Hz. In either case, the screen size is 17.3-inches, making it ideal for a desktop replacement PC.
The display on this thing is absolutely great, for both gamers as well as content creators. While gamers would definitely enjoy the overall colors and the depth of content, professional users would love the actual color accuracy that the display has. Despite going for a matte finish rather than a glossy one, the MSI's panel registered 175 percent of the sRGB color gamut. What's more is that it comes with 100% Adobe RGB coverage, which is absolutely stunning, making it ideal for those who are considering the i9 variant of the device for video editing and 3D modeling.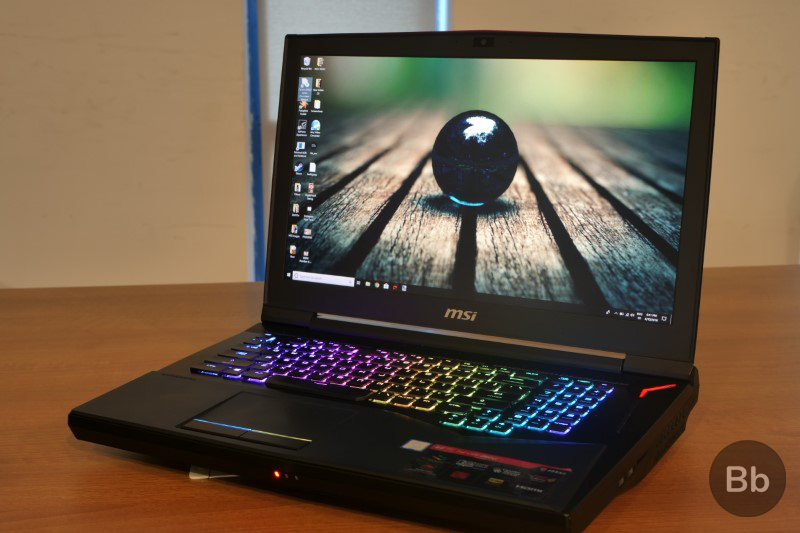 That being said, the panel is not as bright as you'd expect it to be. The MSI GT75 has an average value of 257 nits, which is even below the bare minimum of 280 nits at this price point. Comparatively, the Alienware 17 R5 which I had reviewed earlier, boasted of a huge 400-nits panel, making it perfect for outdoor use as well. It's not like you're going to be carrying a 4.5kg machine out in the sun anyway, but its good to have on your panel.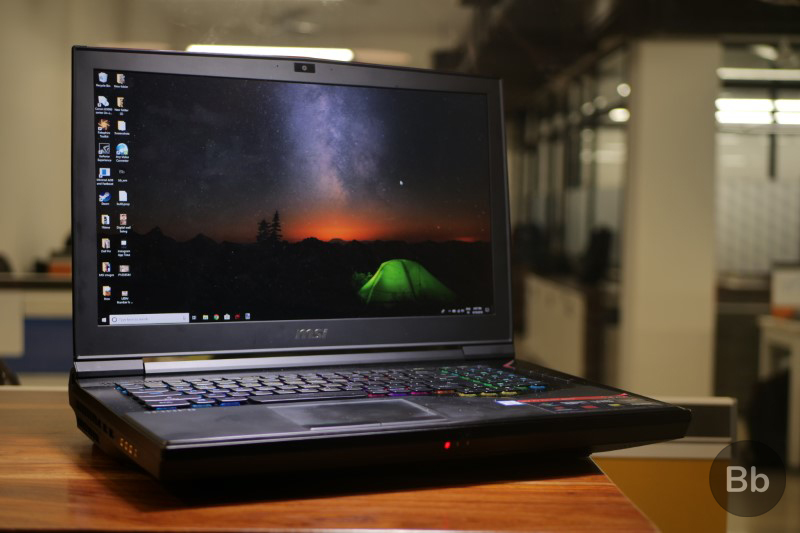 All things considered, the panel is great for all sorts of users, be it gamers or content creators. That being said, you might want to avoid direct light getting thrown at the screen, for the low nit value can be an issue for some, especially if the content you're watching has more of blacks.
Keyboard
Oh boy, let me just outrightly say the keyboard on this thing is the best that I've used in a very long time! Like literally. Sure, it has its own minor flaws, but it is still the best keyboards out there, especially on a laptop.
The island-style mechanical keyboard from SteelSeries is a godsend. The keyboard boasts of a whopping 2.4 millimeters of key travel with 75 grams of force actuation. The gaming experience is good, but man, the typing on this keyboard is just amazing. I don't like to show off, but I'm one of the fastest writers in the team, and this laptop just helped me increase that speed, even more, helping me achieve a speed of well over 85 words per minute.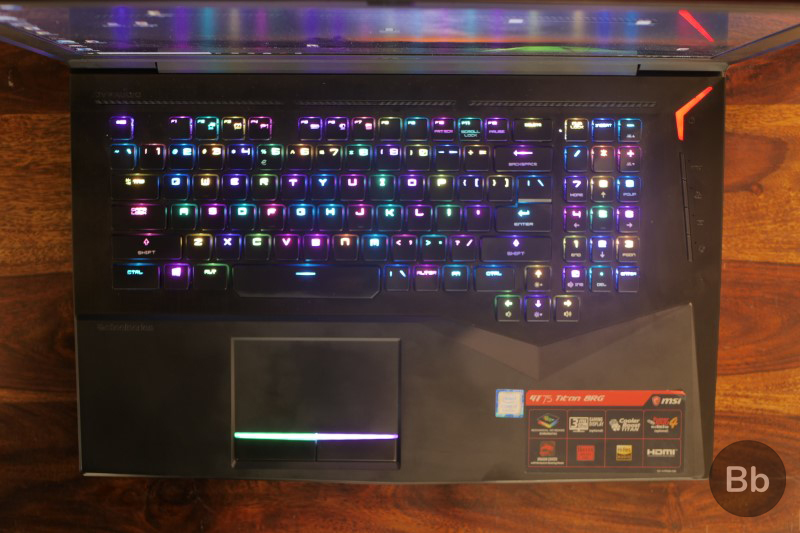 Oh, but the mechanical switches aren't the only thing that's great about this keyboard. Let's not forget that this is a gaming keyboard after all, and there's got to be that RGB feeling about it. Using SteelSeries Engine 3 software, users can create their own custom lighting effects apart from using the default spectrums and other effects. Thanks to per-key lighting and a 16.7-million-color palette, imagination is the limit.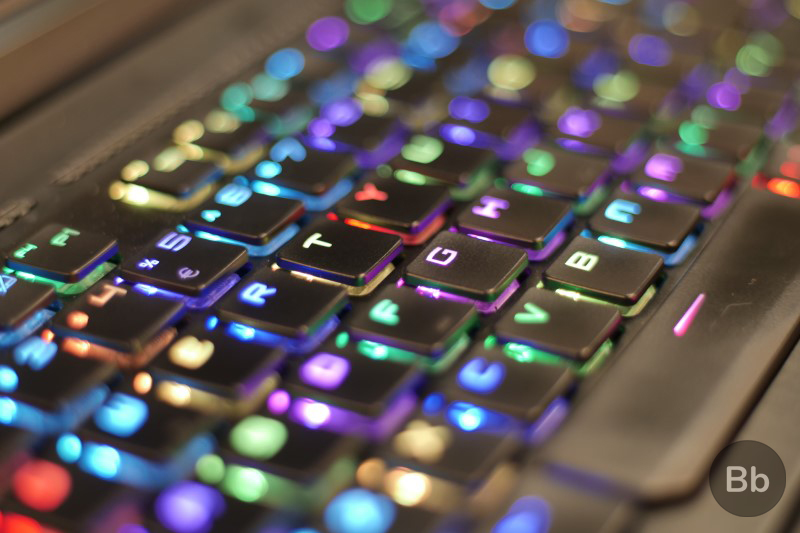 The only thing where the keyboard sort of lacked was that it does not have any sort of macros. While some might argue that you don't really need it, try telling that to a MOBO player. I ain't one, so it didn't really bother me, but then again, your take on it could differ, depending on your use case. For me, MSI and SteelSeries have done a fantastic job with the keyboard, and it is something that I fell in love with the moment I laid my hands on it
Touchpad
As much as I love the keyboard on this machine, I despise the touchpad. Okay, maybe not that much, but it just sucks.
For starters, the touchpad lacks the support for Windows Precision Drivers. It does come with Synaptics custom software for gestures, but they were missing from my device, and I had to go through with the extra step of installing them manually. For some reason, even Windows Update failed to pick it up.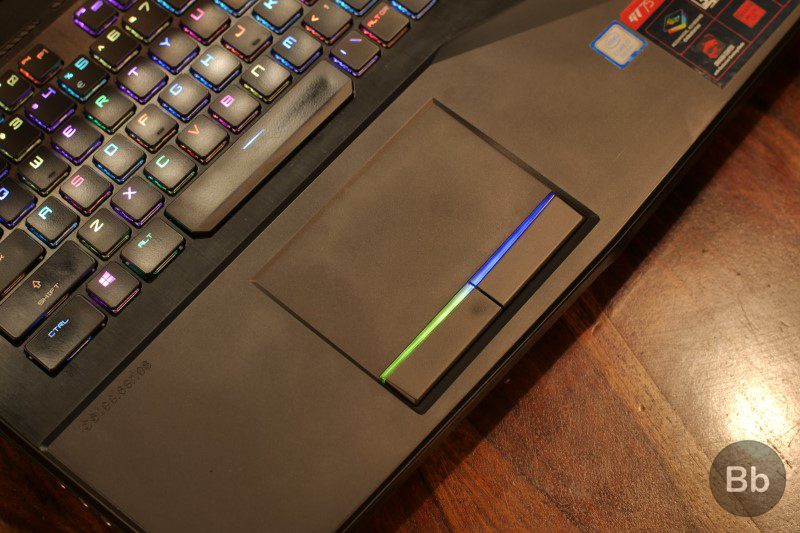 The touchpad has a size of 4 x 2.8-inch, which indeed, is pretty big. That being said, the overall surface wasn't as welcoming as a glass surface, or even the higher quality plastic surfaces. There are dedicated left and right click buttons that offer a tactile feedback, but nothing great. There are also two fancy lights cramped in between, but they're damn dull, and I feel I would have liked it better than MSI removed them altogether.
Audio
Drop. That. Bass. Like literally.
I've tried a plethora of laptops, and reviewed a lot of them here at Beebom, but not one machine has managed to amaze me in the audio department as the MSI GT75. In coordination with Dynaudio, MSI's GT75 gives you the superb feeling of having a soundbar on your laptop.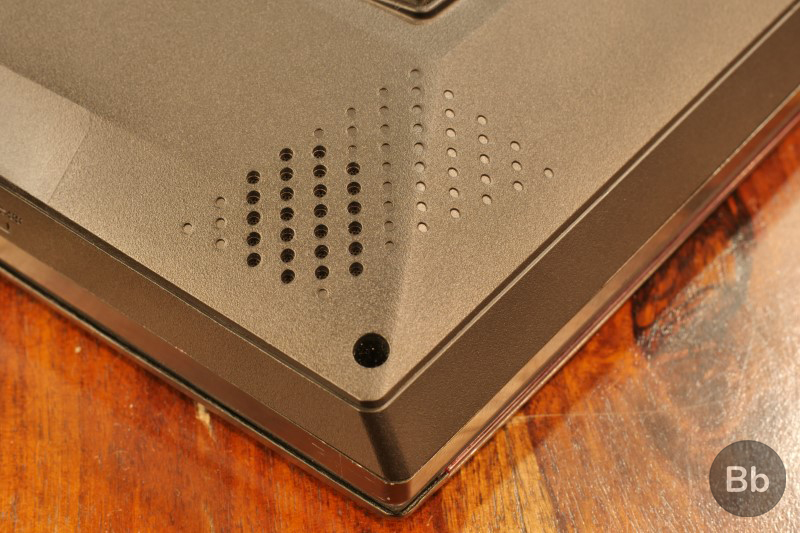 Be it any kind of music, the laptop handles them amazingly. The lows, the mids, and the highs, they're all well balanced, and can even be further tuned for one's liking. I played some of my favorite audio testing tracks, such as Two Feet's Go F**k Yourself, Scatta by Skrillex, and Michael Buble's I'm feeling good, and boy does this machine handle them all amazingly. The software comes with plenty of presets as well, such as Music, Movie, Communication, and Gaming. However, the best part of the new software is the Surround Sound effect, which adds noticeable depth to anything you're listening to, giving the illusion that you're in a small concert hall.
For me, the MSI GT75 scores a perfect tenner in the Audio department. Forget everything you've heard before, this beast has the best audio. Period
Camera
Cameras aren't meant to be great in laptops, said no one ever. And if you're a streamer, having a good quality webcam on your laptop can make a world of a difference. Thankfully, the MSI GT75 packs in a stunning camera to ensure you can stream without having the need to buy an external camera.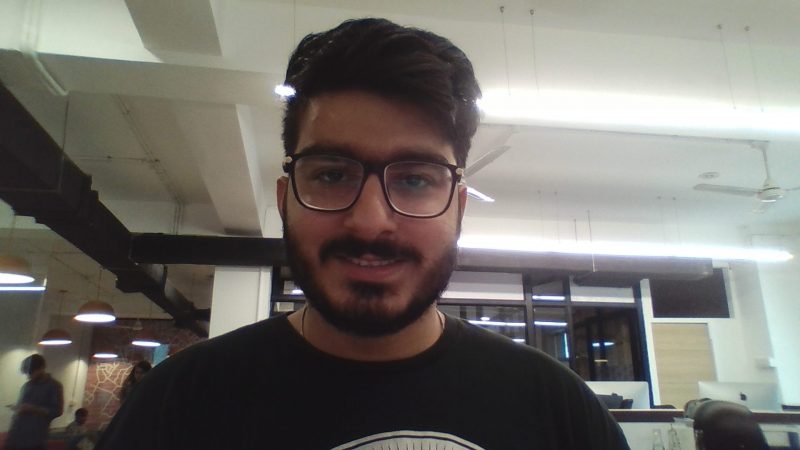 The camera offers true HD Clarity. It's not a camera review so I won't get into the depths of it since nobody even cares about that. Just know that it offers great clarity, and the overall lighting is well managed by the camera. Be it the video call or your own stream, MSI GT75's webcam should aid you for all purposes.
MSI's Bundled Software/Bloatware
The MSI GT75 comes with the company's Dragon Center software, which is their software for all sorts of customizations. Honestly, I really like this approach from MSI. While other OEM's leave custom software everywhere, MSI has cramped all the OEM features into one single tool, and it works pretty well, for the most part.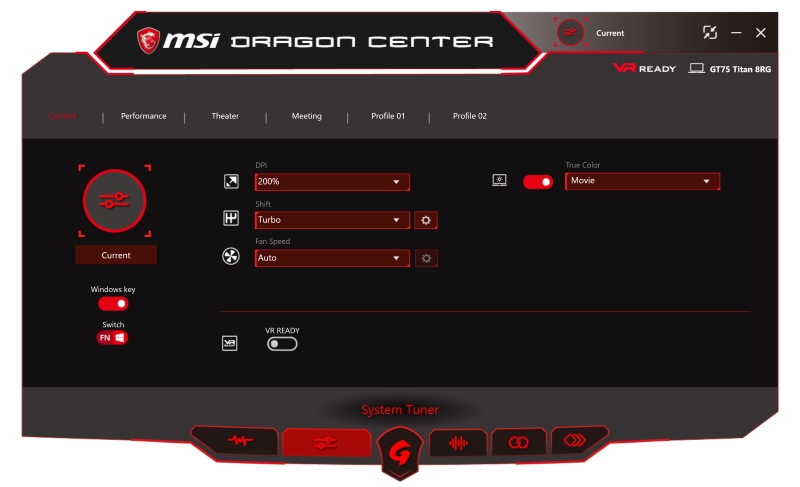 You can use the Dragon Center to customize various fan speeds, undervolt or overclock the processor or the GPU, or even connect it to your mobile device using the MSI App. There are other options such as DPI Tuner, Display Color Tuner, and so much more. How often do I find myself using them? Not so much. But then again, it's perfect in the way that it doesn't get in your way every time you use your laptop.
It's there when you need it, available at the press of a button, or hidden in the background otherwise, optimizing your experience without you even noticing it.
Performance
The MSI GT75 comes in two options, either the i7-8750H processor or the more beastly i9-8950HK processor. Obviously, you'd get better performance with the i9 variant, but I had the i7 variant with me, and it held up just as good. Normal day-to-day tasks shouldn't be an issue, such as web browsing, watching a movie, working with office documents and more, which the MSI GT75 breezed past.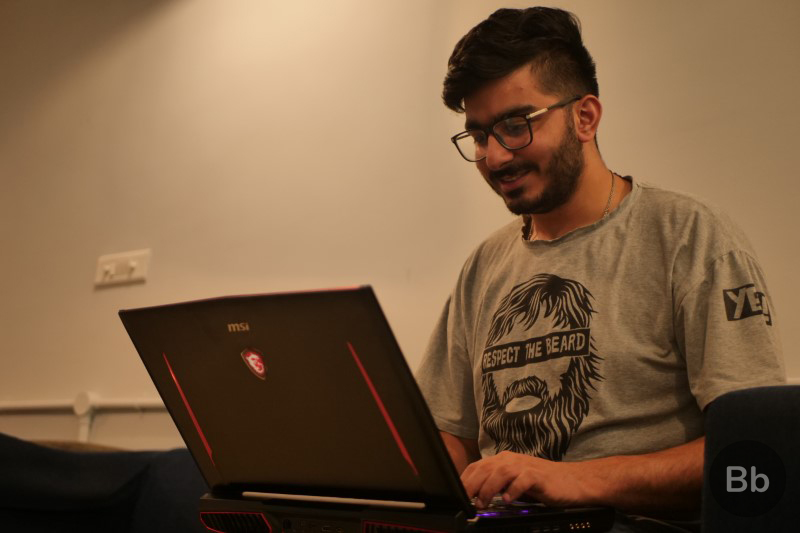 For those of you considering this laptop for content creation, you won't be disappointed either. The GT75 Titan was able to render a full-fletched 4K video that you see on your YouTube channel in under 45 minutes, which, is pretty damn good, compared to the 28 minutes that our actual render machine takes.
Gaming Performance
A 4K Panel with an Intel i7-8750H processor and a Nvidia GeForce GTX 1080 GPU. I was expecting nothing but the best. And boy, did the MSI GT75 deliver. The laptop was able to run all the games I ran on it, well over 60 fps, running at full 3840 x 2160 resolution. Oh, and they all ran at High and Ultra settings as well, so there were no complaints in the gaming department.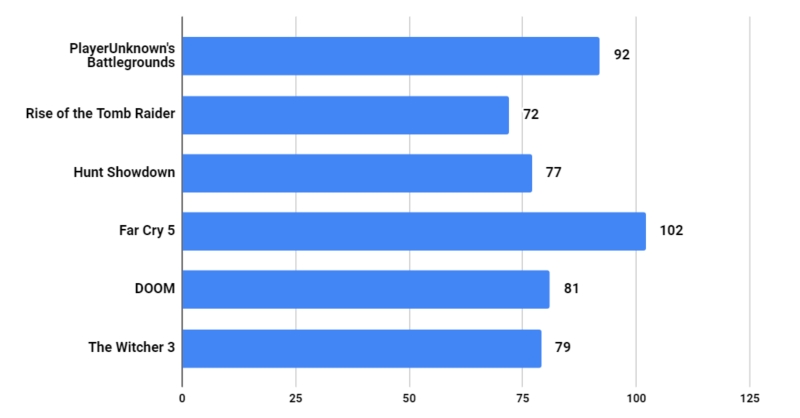 As you can see from the list above, the MSI GT75 went through the stress testing benchmarks, and easily pushed above 73FPS on 2160p without breaking a sweat. Even on the most demanding of games such as Metro Last Light, Rise of the Tomb Raider, and The Witcher 3, the GTX 1080 was easily rendering frames above 70 FPS while being on the highest of settings. The relatively newer Far Cry 5, which has been critically acclaimed for being well optimized, was running at a stable 102 frames per second, which is just sick. And then there's the fan favorite game, PlayerUnknown's Battlegrounds (PUBG), which the laptop was able to run at a comfortable 92 FPS. Also, I tried playing DOOM on it, the Vulcan beast, and the game was once again rendering at an easy 81 FPS mark.
But that's not what amazed me the most. What's amazing is the thermal department while playing out all these games, and how MSI has managed to keep the temperatures so low!
Thermals
Called the Cooler Boost TITAN cooling technology, the MSI GT75 is a master at handling the heat. The Cooler Boost Titan consists of triple enhanced fans, called the Whirlwind Blade. Each fan has 29 blades, increasing 30% more airflow at same RPM. What's more is that there is an independent thermal solution on both CPU and GPU with a total of 9 heat pipes to ensure that heat doesn't pile up on either CPU or GPU.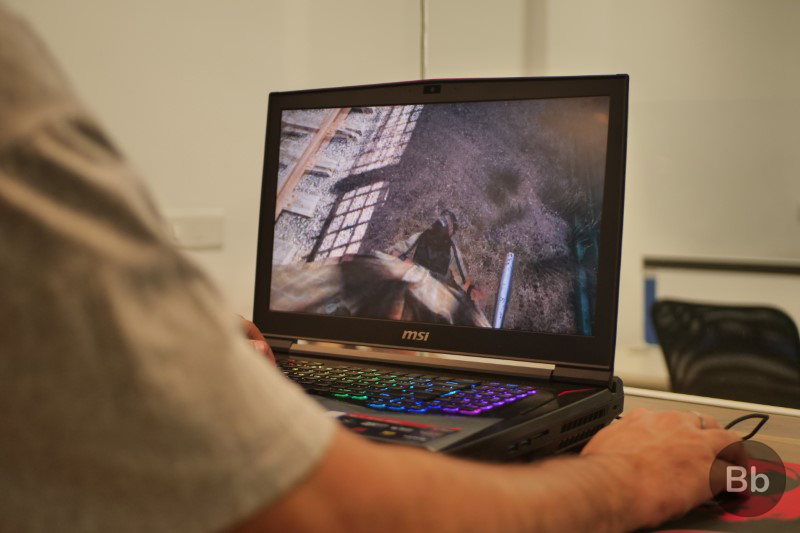 I played all these games listed above on the laptop on a stretch of 4 hours, with benchmarking done both prior to and post the gaming session. During the gaming session, the beast went up till, wait for it, just 57-degrees Celsius, which is absolutely crazy! The fans run fast on their own, but you can crank them up at a higher speed with the CoolerBoost button on the side.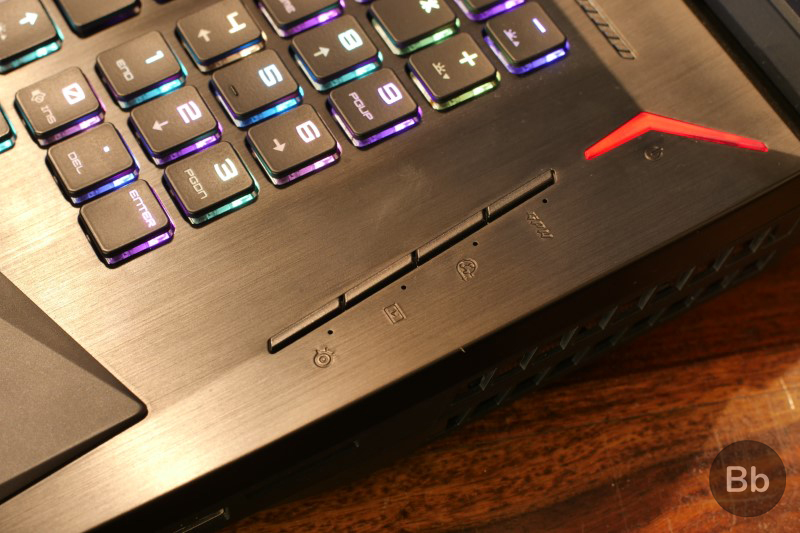 As for during the benchmarks, the laptop did reach a whopping high temperature of 98-degrees, but then again, there was absolutely no throttling. Once again, I'd like to emphasize the fact that all this was while rendering frames at 4K resolution. Yep.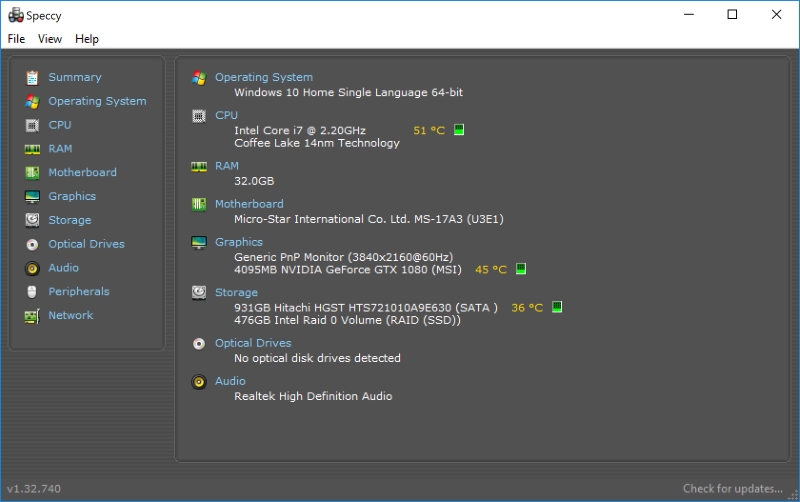 Obviously, all this does come at a cost. The fans can run super fast but also super loud. As such, gaming sessions are enjoyed with good headphones that boast of noise cancellation, otherwise, the entire experience would be hampered.
Battery Life
Gaming laptops aren't positioned as good battery backup devices, and the MSI GT75 is no different. With a 90Wh battery, the laptop manages to last a measly 2 hours on medium usage, and just over an hour on gaming, all while the screen is set to maximum brightness.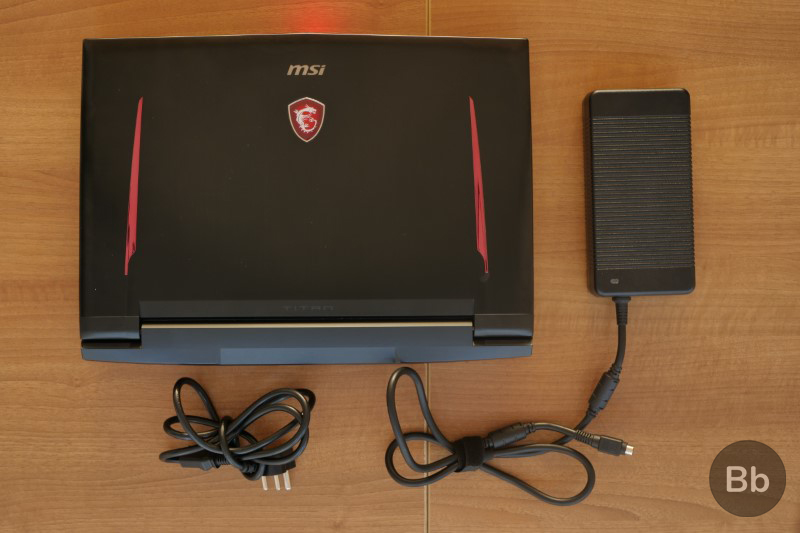 As for charging, MSI makes 's use of its own 4-pin charger, which isn't really convenient nor is it fast. First, it's a hassle to plug the charger correctly, for there's the fear of breaking the pins. Next, the charger isn't that fast either, taking over 2 and a half hours to completely charge the device. In case you're wondering why MSI went with such a heavy-duty power solution which doesn't perform as well as you'd expect it to, my guess would be to provide enough juice to comfortably game on 4K while being on AC.
As for the user, the actual battery life is the bare minimum from a gaming laptop, and the charging time is just too much.
MSI GT75 Titan 8RG: Is It For You?
Well, at this point of the review, you're probably wondering if the MSI GT75 is for you or not. Honestly, it is one of the best gaming laptop's you can buy in the market right now. The device comes in plenty of configurations, best suited to match each of your interests. Whether it's pure gaming, pure content creation, or a balance between the two, the GT75 Titan is the best there is to buy, and it comes with a sense of value for money as well. That being said, being in the premium price bracket does open the door to a lot of alternatives as well.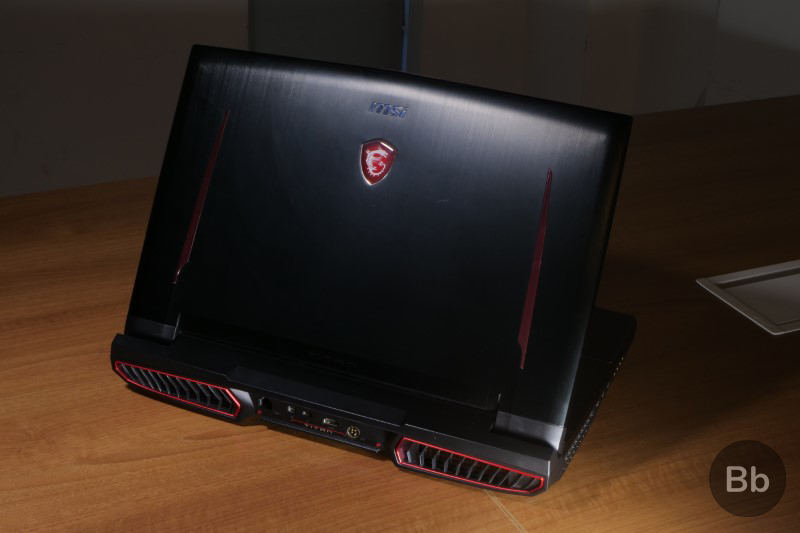 For instance, you can go with the Alienware 17 R5 (Rs. 3,36,000) that I had reviewed earlier. Sure, it does not have the best displays or the best keyboards, but the build quality is one of the best out there, especially when compared to the GT75 Titan's build. Alternatively, you can go for the Auros X9 (Rs. 2,80,000), which is pretty much the best gaming laptop out there currently, but is limited to availability in specific regions. It's lighter, slightly cheaper, and slightly more powerful.
All in all, if looks and build quality are something you can compromise on, the MSI GT75 is a perfect buy, that offers the best performance all around.
Pros:
Great Performance
Excellent Thermal Management
Keyboard is a delight to use
Audio is excellent as well
Cons:
Build Quality could be better, feels cheap
Touchpad is not that good
Quite Bulky
Buy MSI GT75 Titan 8RG: Rs. 3,00,000
SEE ALSO: Alienware 17 R5 Review: Your Tank for All Sorts of Fights?
MSI GT75 Titan 8RG Review: Massive Sized Insanity!
The MSI GT75 Titan 8RG is one of the, if not the best gaming laptop out there. It offers the best-in-class performance and handles the load with great thermal management. The display is great and so is the keyboard. The plastic build, however, does take away the premium feel from the laptop, but the performance sure as hell makes up for it.
---
Load More