The Moto 360 is a gorgeous looking smartwatch but looks do not matter a lot when you start using it daily, the software experience does. As we mentioned in our Moto 360 review, Android Wear is still evolving and that's the reason we have to rely on third party apps to increase functionality on the Moto 360. There are thousands of apps available for Android Wear on the Google Play Store but there are a number of poorly optimized apps too. That's why it's important you download the right apps on your Moto 360 smartwatch that add to the whole smartwatch experience.
So, without waiting any longer, here are 20 best Moto 360 apps you should install.
1. Wear Mini Launcher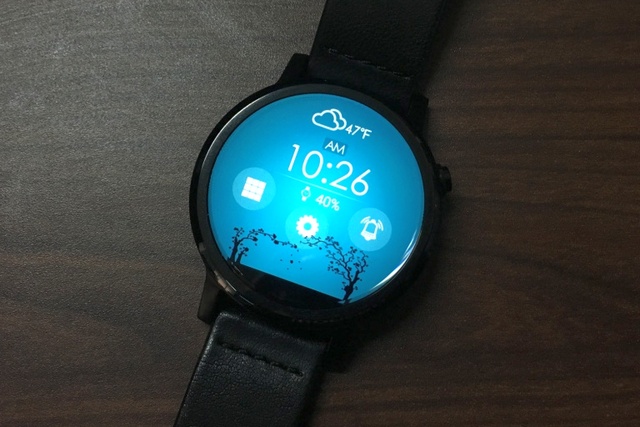 Wear Mini Launcher is one app that totally revamps the Moto 360's interface. The smartwatch launcher implements various gestures to let you do some tasks quickly and easily. The app revamps smartwatch's watch face, app drawer, icons and brings interactive actions. It also includes various watch faces along with customization options for toggles, layout, icons, colors and more.
Install: (Free with in-app purchases)
2. Evernote for Android Wear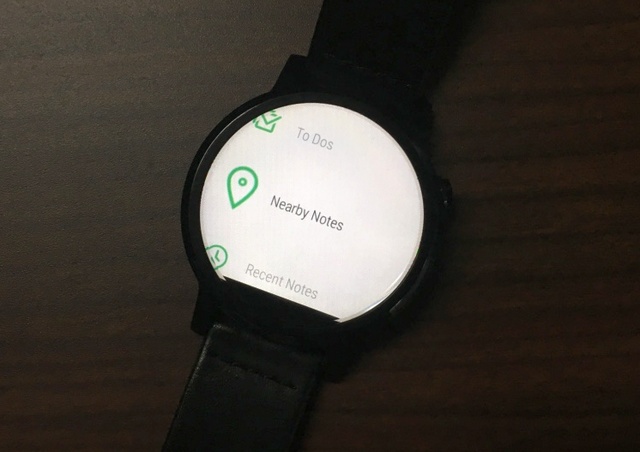 Unlike most other popular apps, Evernote has a standalone app available for Android Wear devices. The wear app brings ability to create notes directly from your smartwatch, check to-dos, search for notes and more. It also makes sure to sync your notes with the smartphone app, so that you can start noting something on the smartwatch and finish it off on your smartphone.
Install: (Free)
3. Coffee SMS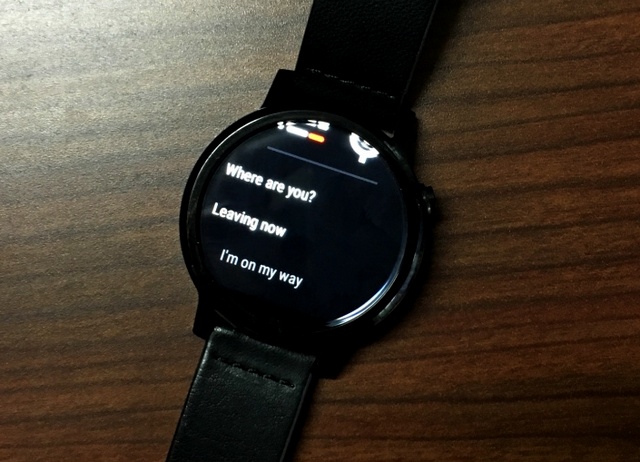 Coffee SMS makes sure your Moto 360 is a perfectly capable messaging device. The app lets you easily send or reply to an SMS without awkwardly speaking to your watch in public. It features hundreds of detailed preset messages categorized for different moods along with support for FlickKey wear keyboard to type your messages manually. Other features include ability to quickly launch the app through various gestures & movements and ability to customize vibration patterns for an important contact and more. You can also add favorite contacts, manual replies etc. in the companion app available for smartphone.
Install: (Free)
4. WatchMaker Watch Face
There are tons of beautiful & customizable watch faces available for Moto 360 on the Play Store but what if you want to create a custom watch face. Well, you can use the WatchMaker app. WatchMaker Watch Face includes thousands of watch faces and you can create your very own watch face with animated GIFs, custom animations, text & gyroscope effects, interactive actions and more. You can also choose among various infos to show on your watch face like calendar, weather, countdowns, tasker, stopwatch, compass, heart rate etc.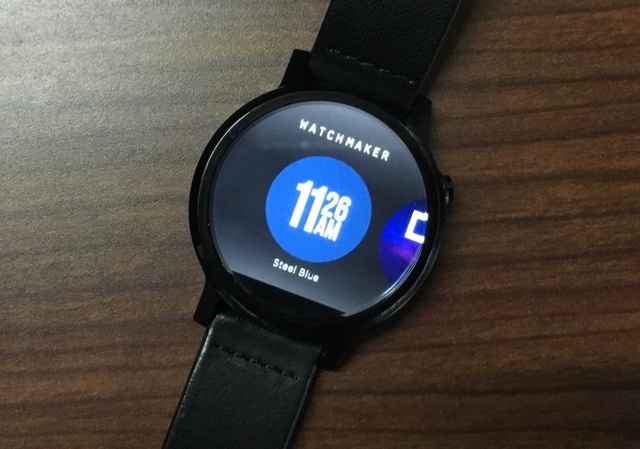 Furthermore, all watch faces are highly customizable and you can even program a watch face with the in-built Lua programming engine. The app is available in a free version along with a Premium version that brings access to more watch faces, backgrounds, fonts etc. You can also check out Facer, which is another feature packed watch face designing app.
Install: (Free, Premium $2.99)
5. FlickKey Keyboard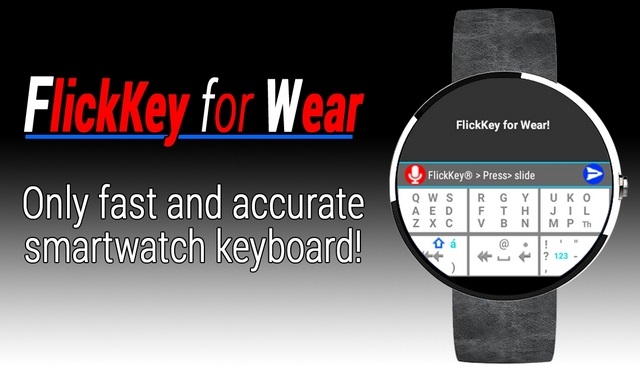 Looking for a keyboard app for Moto 360? FlickKey is the one to go for. Instead of populating your smartwatch's tiny display with keys, it brings six big keys consisting on letters & symbols. You can flick or tap these keys in 8 different directions and the keyboard app will bring predictions to choose from. FlickKey keyboard is supported by various messaging apps, so that you can reply manually. The app does have a pretty steep learning curve but you might be able to type quickly once you get used to it.
Install: (Paid $1.00)
6. Video for Android Wear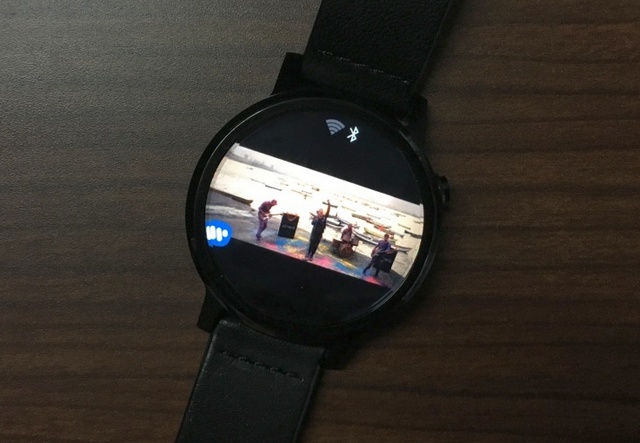 As the name indicates, Video for Android Wear app lets you watch videos on your Moto 360 smartwatch. The app lets you search and play YouTube videos through easy voice commands. It offers Bluetooth headphones and speaker support or you can even cast a video through Chromecast. The full version of the app also lets you choose among various YouTube channels for videos.
Install: (Free with in-app purchase for Full version)
7. Wear Audio Recorder
The Moto 360 smartwatch on your wrist can become a quite discreet audio recorder and the Wear Audio Recorder app lets you do exactly that. The app records audios even when you turn off the screen and you can sync recorded audios to Dropbox or Google Drive.
Install: (Free)
8. IF by IFTTT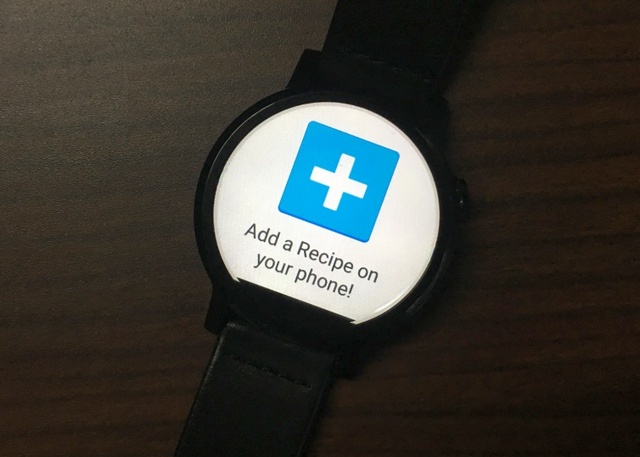 IF by IFTTT is a useful app that lets you create connections between different apps to create "recipes" for certain results or actions. For instance, you can set the Moto 360 to send a text to someone once you tap the smartwatch. You can add plenty of new "recipes" on your smartphone to work on the Moto 360.
Install: (Free)
9. Calendar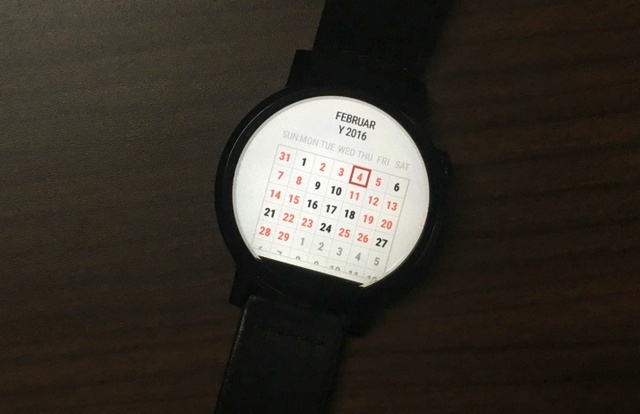 The Calendar for Android Wear app brings your calendar & events to the Moto 360 smartwatch. It brings a month view, where you can swipe left or right to change months. It also syncs events from your smartphone and you can even view them on your Moto 360 along with appointment details.
Install: (Free)
10. Calculator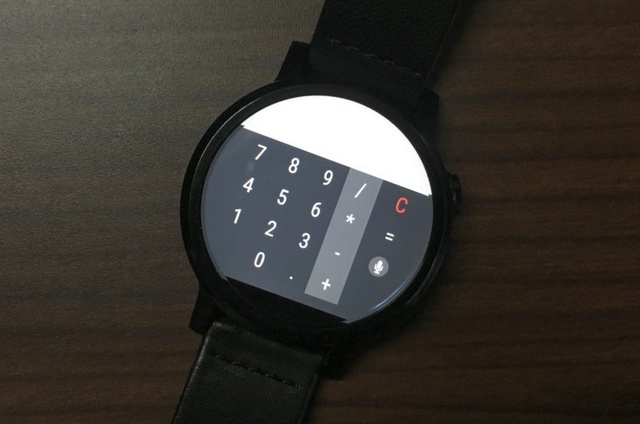 Thanks to the Calculator for Android Wear app, you can make calculations right on your Moto 360 without the need of taking out your phone. The app supports both basic functions as well as scientific functions. You can switch between the two functions with ease and you can input calculations through voice commands or tap them on the display.
Install: (Free)
11. Sleep as Android
Sleep as Android is a sleep tracking app that supports Android Wear and you can sleep with your Moto 360 strapped for more accurate results. The app brings numerous features like sleep cycle tracking, statistics, sleep talk or snoring detection, smart alarm clock and more. It also features integration with Philip's Smart bulbs, so you can set it up to glow when you want to wake up.
Install: (Free trial, Premium $1.96)
12. Strava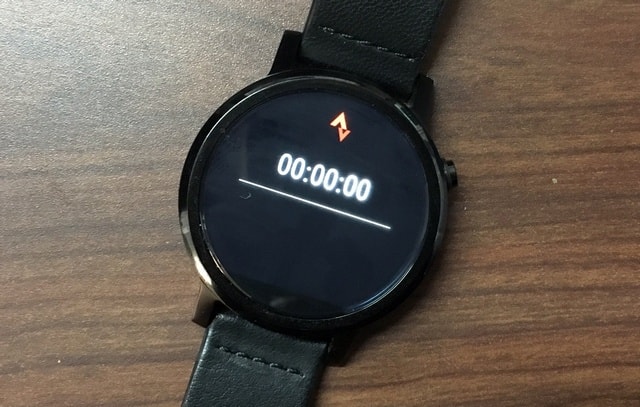 There are a number of fitness aimed apps available for the Moto 360 including Motorola's very own Moto Body but we especially like Strava. Strava works on the Android Wear running Moto 360 in combination with its smartphone's companion app. So, you can start recording a ride on the phone and pause it or stop it on your smartwatch. You can also directly add flags and markers from the Android Wear app.
Install: (Free version, Premium subscription for $5.59/month)
13. Wear Internet Browser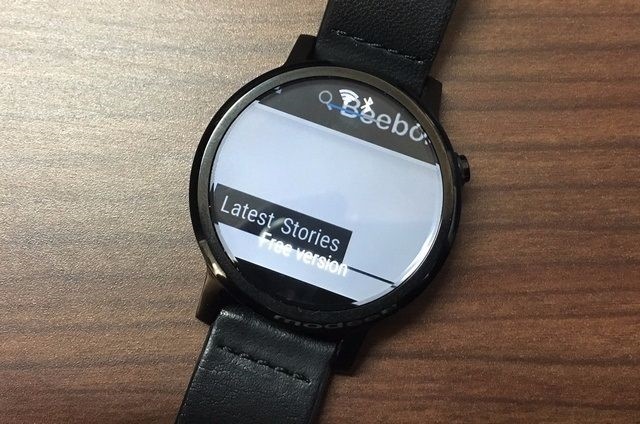 As the name suggests, Wear Internet Browser lets you surf the web directly from your Moto 360 smartwatch. The app brings a full fledged web browser to your smartwatch and you can either type in the built-in keyboard or speak the webpage you want to visit. It also supports bookmarks or favourites and it even shows you your web history. Other features of the browser app include pinch to zoom support, HTTP and HTTPS support, connection, smooth scrolling, back button etc. While some webpages do feel a little clunky on the tiny display, the browser app is currently your best bet at visiting the web through your Moto 360.
Install: (Demo version with in-app purchase of $2.62 for Full version)
14. Wear Photos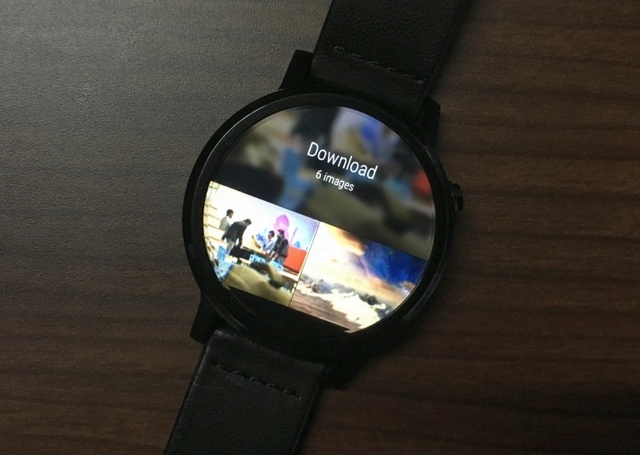 The Wear Photos app syncs all photo albums from the paired smartphone, so that you can easily view them on your Moto 360 smartwatch. The app implements various gestures like swipe up down to browse through photos, swipe left to get options like sharing, delete & open in phone. Moreover, the app supports pinch to zoom and high resolution view for photos. The free version of Wear Photos only lets you view 50 photos on your smartwatch, so you will have to get the full version if you want to view more.
Install: (Free with in-app purchase of $2.64 for Full version)
15. Wear Camera Remote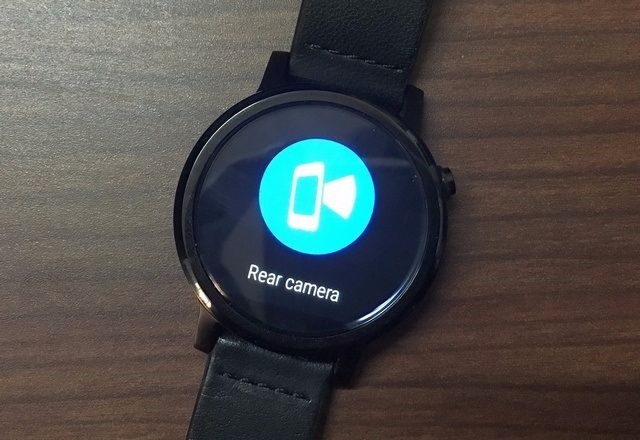 The Wear Remote Camera app makes your Moto 360 the remote for your smartphone camera. You can mount your smartphone anywhere you want and then take photos using the smartwatch app. The smartwatch app lets you switch between front & rear cameras, turn flash on or off and activate self timer. If you want more options along with the ability to capture video, you can give PixtoCam a try.
Install: (Free)
16. Task Manager
Android Wear running on Moto 360 does not yet have the ability to multitask but you can manage apps that are open in the background with the Task Manager app. The Task Manager shows you apps running on smartwatch and you can choose to close apps individually or close them all at once. You might notice that some apps restart themselves after they are closed, which is normal because some apps run as constant services.
Install: (Free)
17. Apps2Wear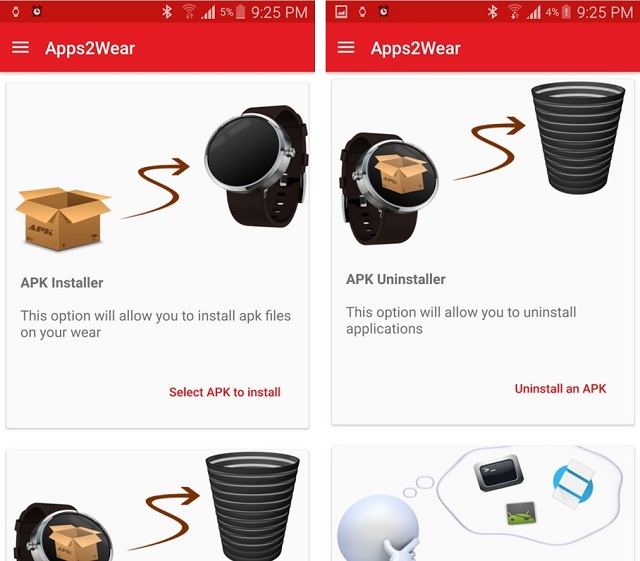 Moto 360 runs on Android Wear, which as we all know is a version of Android, which means you can tinker with the OS and sideload apps. Apps2Wear lets you sideload any APK file to your smartwatch. Basically, you can run any app on the Moto 360 but some apps might force close or won't function properly due to not being customized for the tiny smartwatch display. You will need a rooted smartphone for Apps2Wear to install APK files on Moto 360.
Install: (Free)
18. Mini Dialer
If you have wanted to dial a number quickly from your smartwatch, the Mini Dialer app should be quite handy. The app lets you dial new numbers and end a call right from your Moto 360 smartwatch. It also lets you enable auto speakerphone for calls dialed from the app making sure you don't need to touch your phone at all.
Install: (Paid $1.99)
19. Doodle Note
Doodle Note is a very simple note taking app for Android Wear devices. The app lets you doodle a note on your Moto 360 smartwatch, although doodling on the tiny display can be quite a tough task.
Install: (Free)
20. Bubble Widgets + Launcher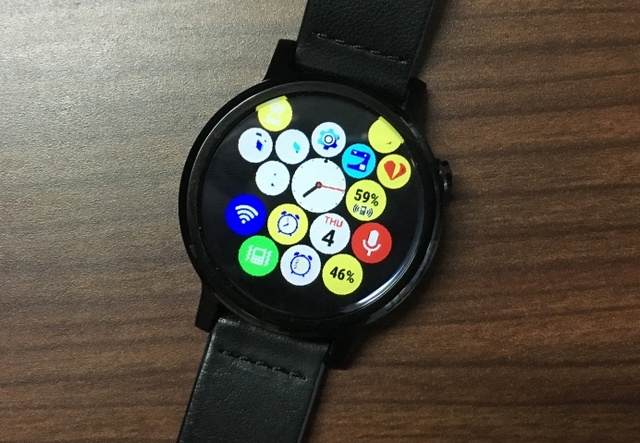 Like the Apple Watch's watch face? Well, you can get a feel of it on your Moto 360 through the Bubble Cloud Widgets + Launcher. The app implements bubbles as various apps in the interactive watch face on your smartwatch and you can quickly launch apps through these bubbles. There are also tons of personalization and customization options for watch face, app drawer to play with. The app is available in a free version but it's limited and you will need the Premium version to get unlimited features.
Install: (Free with in-app purchase of $2.49 for Premium version)
SEE ALSO: 15 Beginner Tips for Moto 360 Users
Add functionality to your Moto 360 with these apps
The Moto 360 is arguably the most popular Android Wear smartwatch on the market today and developers are slowly starting to bring more Wear apps owing to its steady rise in popularity. These are the best apps presently available for Moto 360 and we have made sure to include different types of apps, be it essential apps, productivity, fitness, watch face apps and more. So, if you are a Moto 360 owner, go ahead and try these apps, and do let us know how you like them.
---
Load More