The first Moto 360 smartwatch was a welcome change from the barrage of ugly looking smartwatches. In a world where smartwatches were looked as tiny ugly computers strapped to our hands, the Moto 360 was much appreciated, thanks to its traditional watch like design. Obviously, the expectations are higher with the Moto 360 2nd generation and the good news is that Motorola has made some improvements without sacrificing the classy look. Unlike the year when the first Moto 360 launched, there's no dearth of round face smartwatches this time around. So, does the Moto 360 2nd gen manage to be the best Android Wear smartwatch this year? Does it justify its price hike? Well, let's find out!
The new Moto smartwatch has been available for some time now but if you are still confused about buying one or not, here's our review to make up your mind.
Box Contents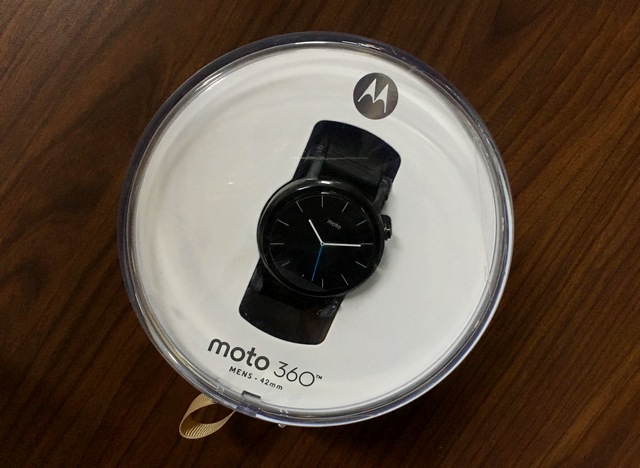 We loved the first gen Moto 360's premium cylindrical packaging and Motorola has now added a transparent touch to it, so that the new beautiful Moto 360 smartwatch is clearly visible in the box. Here's what you get inside the box:
Moto 360 2nd generation with Black Leather Band
Wireless Charging cradle
USB cable
Adapter
Documentations
Note: The charger bundled with Moto 360 1st gen is not compatible with Moto 360 2nd gen. Also, PC charging via USB data cable or Dual-Port wall chargers are not recommended for the Moto 360. 
Specifications
Dimensions
42 x 42 x 11.4 mm (42 mm)
46 x 46 x 11.4 mm (46 mm)
Build
Stainless Steel with leather or metal bands
IP67 certified water resistance
Display
1.37-inch IPS LCD (42 mm)
1.56-inch IPS LCD (46 mm)
Resolution
360 x 325 pixels (263 ppi) (42 mm)
360 x 330 pixels (233 ppi) (46 mm)
Processor
Adreno 305 GPU, Quad-core 1.2 GHz Qualcomm Snapdragon 400
RAM & Storage
512 MB, 4 GB
Connectivity
Bluetooth 4.0, WiFi
Camera
No
Battery
300 mAh (42 mm)
400 mAh (46 mm)
OS
Android Wear 1.3 (5.1.1 Lollipop)
Sensors
Gyroscope, Accelerometer, Heart Rate, Proximity
Microphone & Speaker
Yes, No
Hardware & Design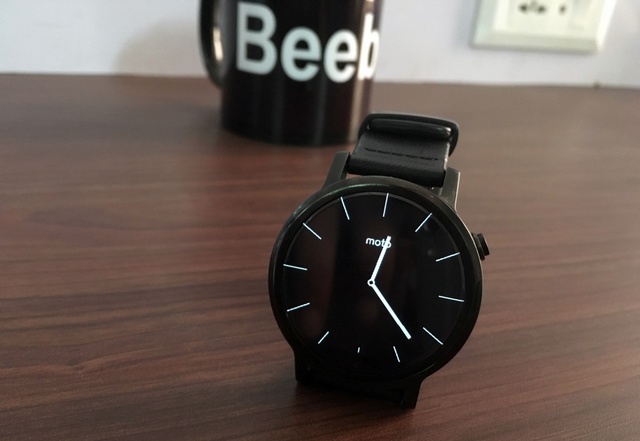 Unlike last year, the Moto 360 2nd generation comes in different sizes and styles. There are two sizes: big (46 mm) and small (42 mm) along with separate versions for men and women. The women's version comes only in the 42 mm size and the bands are also narrower. The new sizes are a welcome change, considering the older Moto 360 felt huge on most hands. Furthermore, you can also customize the color of the stainless steel case & bezel and choose from different bands (leather and metal) at Motorola's Moto Maker website.
No matter what design or style you choose, the Moto 360 is an attractive looking smartwatch and there are no doubts about that. The watch looks beautiful in the pictures and it looks gorgeous up front. The metal case and sleek looking bezels do give the smartwatch a distinct personality, which no other smartwatch can boast of.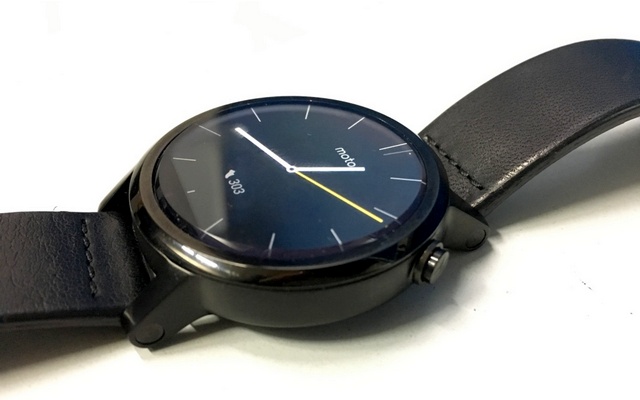 While it does look great, it isn't without its flaws. Firstly, we aren't really fans of the leather bands' quality. We had the basic black leather band and it's the most affordable one but there's no excuse for the band looking old & weary in a couple of days usage. Also, the stainless steel metal case remains thick like last year, which might irk some people. However, the watch feels supremely comfortable to wear, if that's your concern.
On the hardware front, the Moto 360 still packs in the heart rate sensor on the back among other sensors like accelerometer, ambient light sensor, haptics and pedometer. It is also rated IP67 for water resistance (up to 1 meter and 30 minutes) but it's important to note that the watch case is water resistant, which does not apply to the leather bands. Another good news is, unlike the first gen, the new Moto 360 features easily detachable straps.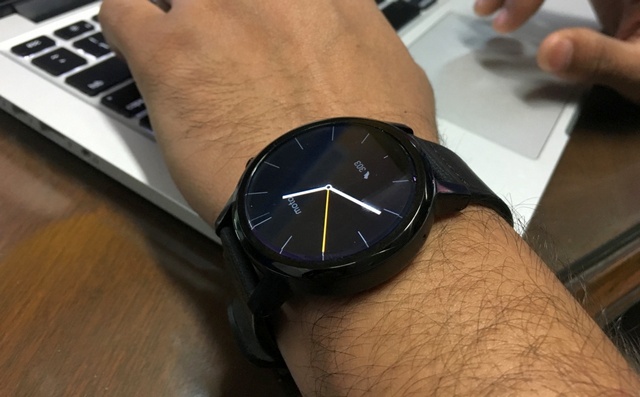 The looks of a watch depends upon the wearer, considering it's a personal accessory but we are sure you will agree when we say that the Moto 360 is a handsome looking smartwatch. According to us, if there's any other smartwatch that comes close to it on the looks front is Huawei Watch. So, if you are getting the Moto 360 for the looks, you will not be disappointed but take good care of those leather bands.
Display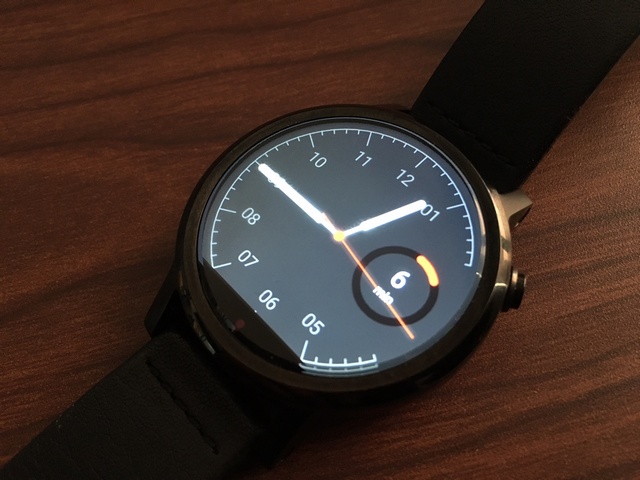 The original Moto 360 was panned for not featuring a great looking display and Motorola has tried to fix that with the Moto 360 2nd gen. On the new Moto 360, the smaller size features a 1.37-inch display (360 x 325 pixels, 263 ppi) and the larger size features a 1.56-inch display (360 x 330 pixels, 233 ppi). The smartwatch features Corning Gorilla Glass 3 for scratch and shatter resistance. While the display quality has improved, the "flat tyre" (as angry fans call it) or "shelf" (as Motorola calls it) at the bottom remains a deal breaker for us. The "shelf" or the black bar, as we see it, might be housing important sensors but it certainly ruins the beauty of the circular display. The LG G Watch R features a circular display and it does not have a black bar at the bottom, so here's hoping Motorola fixes this in the next iteration.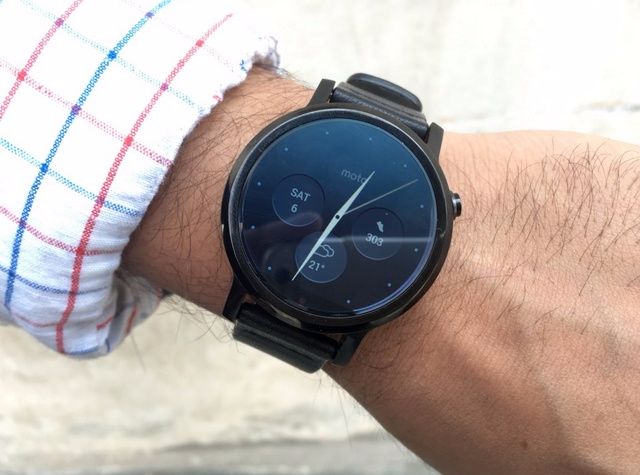 The IPS LCD display on the Moto 360 2nd gen is good enough but we wished for an OLED display, which is used in most popular smartwatches these days like Apple Watch, LG Watch Urbane, Huawei Watch due to its deep blacks and vibrant colors. Overall, the LCD display is sharp and sufficiently bright and Motorola has packed a "brightness boost" feature for better sunlight visibility. However, we did face issues with touchscreen responsiveness, which was inconsistent throughout. Overall, the Moto 360 2nd gen's display is good but not impressive enough.
User Interface: Android Wear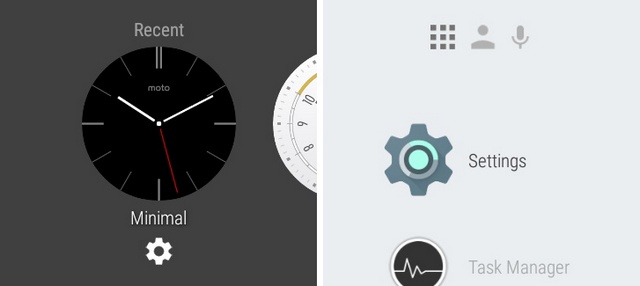 The Moto 360 2nd gen runs on the Android Wear (v1.3 based on Android 5.1.1) platform, which has gone through various updates since the original Moto 360 launched but still feels like a work in progress. The basics remain the same, with the platform incorporating simple gestures for navigation and mirroring notifications from your paired smartphone along with letting you take a few actions. The platform also implements various voice commands for sending a text, opening an app, searching something on Google etc. but lacks behind when it comes to deep integration with third party apps. For instance, there's no way to reply to a WhatsApp message and there's also no way to make payments like Apple Watch does.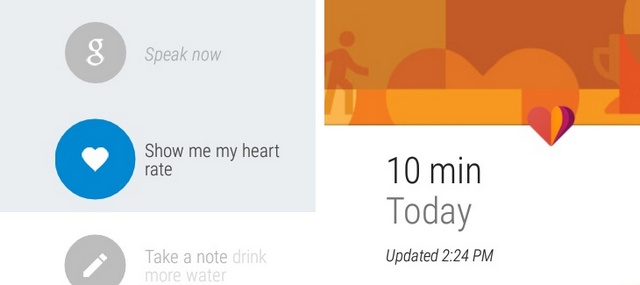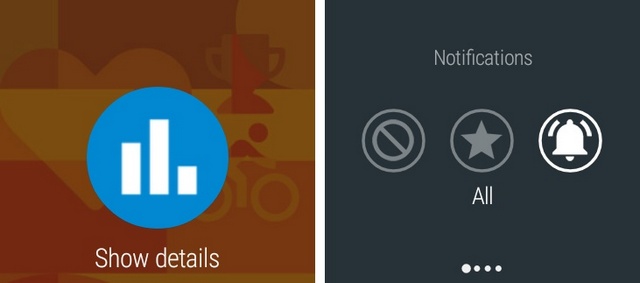 Android Wear also includes various wrist gestures to let you browse through notifications without touching the screen. While the wrist gestures do seem stupid, it can be useful at times. The heart rate sensor and fitness integration with apps like Google Fit & Moto Body work as they're supposed to. On the apps front, there are a some very useful apps available for the smartwatch platform but their inconsistent performance certainly plays a spoilsport. Along with the Android Wear companion app, you can also install the Motorola Connect app, which lets you customize the watch face, dock mode and more. Other than that, Motorola has added some new cool watch faces and the latest Android Wear version also supports iPhone although the performance is limited due to restrictions on iOS and the lack of third party apps.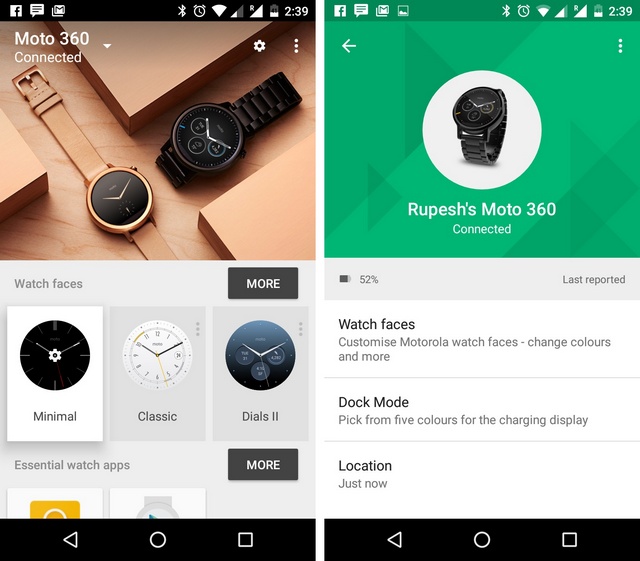 Honestly, Android Wear feels unfinished, what with the crashes and hang ups we experienced while using it. Moreover, some apps aren't well optimized for the circular display of the Moto 360, which is a concern considering it's one of the most popular Android Wear smartwatches out there.
Overall, Android Wear is still evolving and while it's a decent smartwatch platform, we expect a lot more if we are paying more than $300 for a watch. Well, Google is certainly at work as it recently announced a new Android Wear update based on Marshmallow, which should bring support for third party messengers like WhatsApp, Telegram, Viber etc., new gestures, dictation, doze mode and ability to listen to calls from your smartwatch, if your smartwatch has a speaker of course, which Moto 360 doesn't. Here's hoping that Android Wear becomes a mature smartwatch OS in the coming future.
Performance & Usability
While the Moto 360 2nd gen retains the 512 MB RAM and 4 GB internal storage from its predecessor, the processor has been upped to a 1.2 GHz Snapdragon 400 coupled with Adreno 305 GPU for graphics performance. The horsepower seems fairly good for a smartwatch but let me tell you straightaway that it's not the most smooth performing device out there. The Moto 360 performs okay-ish most of the times but the interface gets laggy when you have a lot of apps installed. For instance, there are presently 20 apps installed on our Moto 360 and the stutters & lags feel part of the OS. We are not sure if the processor is not powerful enough for the watch or if it's Android Wear but the point remains that Moto 360 isn't a great performing device.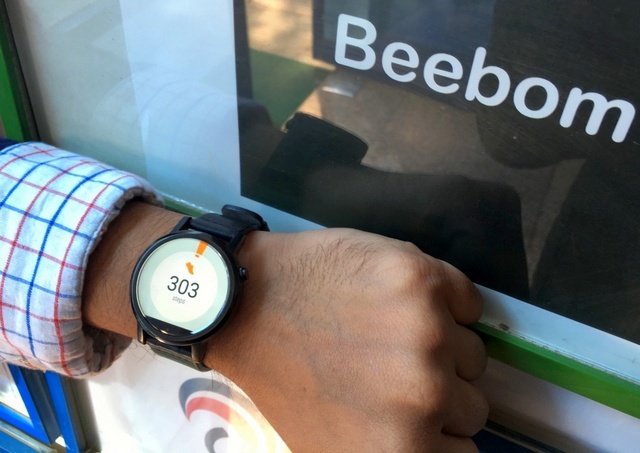 In our day to day usage of the Moto 360, we have faced a number of "Android Wear has stopped" messages and apps crashing multiple times. That may be due to the poor optimization and quality of apps on Android Wear but it's suffice to say that usability is unsatisfactory on the Moto 360. We also felt the voice recognition was inconsistent even with the Moto 360 featuring 2 digital mics and that may have been due to the microphones being situated at the bottom rather than at the top.
To sum things up, the Moto 360 2nd gen smartwatch works fine if you don't want a lot of apps and you're okay with what it has to offer. But if you are looking for a smartwatch which packs a punch on its own, the Moto 360 is not that device.
Battery Performance
Non of the modern day smartwatches except for Pebble can boast of a great battery life and the Moto 360 2nd gen is no exception. The previous gen Moto 360 was criticized a lot for its poor battery life and while Motorola has made some improvements, the battery performance still leaves a lot to be desired. The smaller version of Moto 360 comes with a 300 mAh battery while the larger version has a more beefed up 400 mAh battery.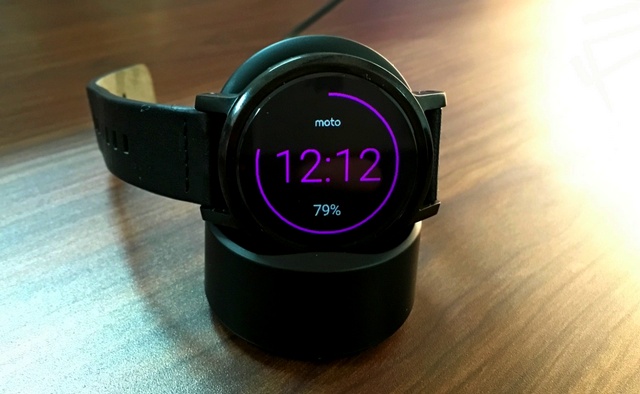 We cannot comment on the 46 mm Moto 360's battery performance but we definitely used the 42 mm Moto 360 extensively and have a good enough idea about its battery. According to Motorola, the 46 mm version should last you a couple of days and the 42 mm version should run for 1.5 days but in our usage, the watch only managed to last a day somehow. That is with medium to light usage and the screen always on with the ambient mode, which is disappointing. On the charging front, the smartwatch takes approximately a couple of hours or less to charge. It also comes with a cool looking wireless charger, which is easy to set up and also works as a nightstand clock.
The battery is a problem for most modern smartwatches and it's one of the reasons for the slow adoption rate of wearables. The Moto 360 2nd packs a better battery life than its predecessor but it still barely manages to last a day. Nobody wants a watch that you have to charge every night and that's the reason the battery performance of Moto 360 isn't upto the mark for us.
The Competition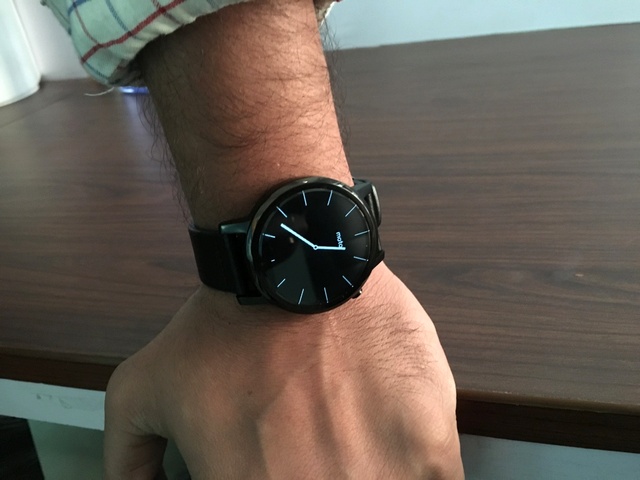 Unlike its predecessor, the Moto 360 2nd gen smartwatch has a lot of competitors. While the smartwatch has improved upon its design, battery and almost everything, it's not the only round smartwatch anymore and there are some great smartwatches on offer. It competes with the likes of Apple Watch, Huawei Watch, Samsung Gear S2, LG Watch Urbane, Asus Zenwatch 2 and Pebble Time Round. On the looks front, the Moto 360 is a winner with the Apple Watch and Pebble Time Round coming close. If you are looking for better software integration and fitness features, Apple Watch and Gear S2 are the ones to look for. Want great battery life? Go for Pebble, and if you want a standalone watch, then Gear S2 is your best bet.
Moto 360: An unsatisfactory beta product
The Moto 360 2nd gen smartwatch is a product you will admire but will not be able to fall in love with it. The good looks of the smartwatch is marred by the poor performance and undercooked software. Moreover, we hate the "flat tyre" or "shelf" or whatever else Motorola calls it. To be frank, Moto 360 still feels like a beta product going into its second generation. Things are not all glum though, the Moto 360 is a well designed product and the experience should improve with the new Android Wear update based on Marshmallow rolling out.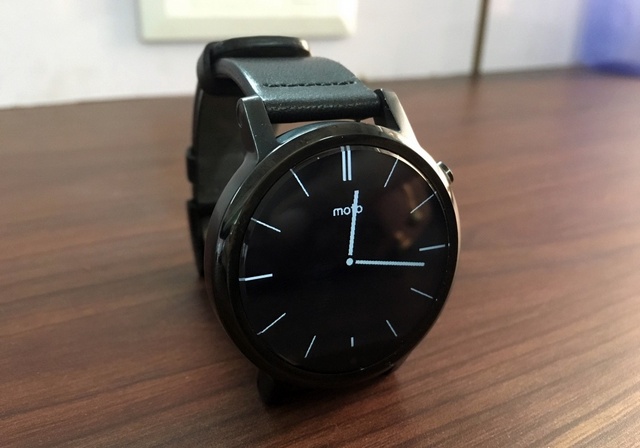 Pros:
Beautiful design
Comfortable to wear
Moto Maker customizations
The nightstand charger
Different size options
Cons:
Black bar below the display
Inconsistent performance
Poor to average battery life
Android Wear is still a work in progress
Overall, the Moto 360 2nd Gen is for people who can't stop drooling over its good looks and who can accept Android Wear with all its flaws. For others, it's just not a product you would expect for a base price of $299.
So, tell us what you think? Do you plan on buying the Moto 360 2nd gen smartwatch? If you already have, let us know your experience in the comments section below.