Momo Yaoyorozu is one of the best female characters in the My Hero Academia anime series. With her unique personality, appearance, and unique quirk, she has won many hearts and become an instant fan favorite. If you are a fan of Momo Yaoyorozu like me, you might want to learn some interesting facts you didn't about her to better understand her character. So, we have compiled 12 hidden facts that fans should know about Momo Yaoyorozu in My Hero Academia.
1. Momo Is the Most Intelligent Character in MHA
Momo Yaoyorozu is regarded as the most intelligent character in My Hero Academia. The reason behind it is straightforward.
Momo's quirk is creation, and the person using this quirk must possess extensive molecular understanding and knowledge of anything they wish to produce. As a result, Momo has chosen to read encyclopedias in an effort to expand her knowledge and strengthen her creation technique. Thus, she is the smartest and most knowledgeable character in the entire series.
2. Momo's Official Stats According to Databooks
If you want to know how strong Momo Yaoyorozu is in the skills and power department, here are the official stats. Before that, you should know there are two different official stats available from two databooks. We bet most of the fans didn't know about Yaoyorozu's stats in My Hero Academia. They are as follows:
| Stats | Technique | Intelligence | Power | Speed | Cooperativeness |
| --- | --- | --- | --- | --- | --- |
| Points | 4/5 | 6/5 | 2/5 | 3/5 | 5/5 |
| Grades | B | S | D | C | A |
Momo Yaoyorozu's stats according to the Ultra Archive Databook
| Stats | Technique | Wits | Power | Speed | Strategic Mind |
| --- | --- | --- | --- | --- | --- |
| Points | 5/6 | 6/6 | 2/6 | 3/6 | 5/6 |
| Grades | A+ | S | D | C | A |
Momo Yaoyorozu's stats according to the Ultra Analysis Databook
3. Momo's Quirk Was Originally Planned for a Different Hero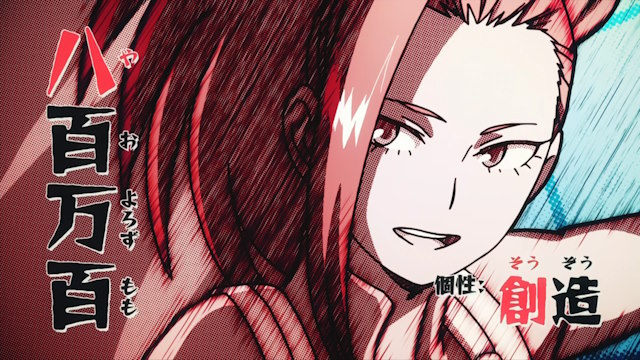 It was confirmed that the mangaka Horikoshi actually had the plan to give the creation quirk to a Pro-Hero. But he later rejected the idea as he thought it will be fun to watch such an overpowered quirk in the hands of a novice. With this quirk, a Pro-Hero could've even become the number 1 hero, but for me, it is intriguing to watch Momo understand and grow her powers to become a great hero.
4. Meaning Behind Momo's Name
I'm sure we have all struggled to pronounciate Momo's perplexing full name at one point. But what if I tell you there is an intriguing reason behind her name?
When you split her name, the Japanese kanji for each word are 百 (momo) – hundred, 八 (ya) – eight, 百 (o) – one hundred, and 万 (yorozu) – ten thousand. This may seem confusing but when you combine them all it's regarded as an idiom. The translation for that idiom is an uncountable number. This can be a reference to her creation quirk as she can create millions of things with ease. If you want to know the literal meaning of her name, it is eight million.
5. Momo's Academic Track Record at U.A
Momo Yaoyorozu is a brilliant student at U.A. Highschool. And if you're wondering what are the achievements of Momo in her academy. They are as follows:
Momo Yaoyorozu's Academic Records
She ranked first in Class 1-A's mid-term exams
She was placed in the Top 16 of the First-Year Stage of the U.A. Sports Festival.
She also topped at first place in Quirk Apprehension Test
She passed the Provisional Hero License Exam with a total score of 94.
Momo was the sixth-most nominated Class 1-A student overall with 108 nominations from Pro Heroes for her U.A. Sports Festival performance
6. Momo's Favorite Things
Momo Yaoyorozu 's quirk is called creation. Thus, the user of this quirk is required to hold immense knowledge of molecular knowledge of everything the user wants to create. Hence, Momo has made reading encyclopedias her favorite thing in order to gain more knowledge and improve her arsenal. It was also mentioned that she is a pianist. Since she comes from an elite family, it is intended that an intelligent girl like Momo was taught many things before she joined U.A.
7. Momo's Quirk Creation is Limited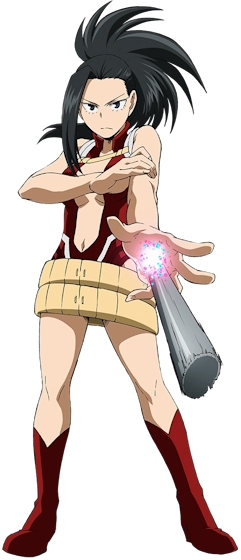 Everyone is aware of Momo Yaoyorozu's creation quirk in My Hero Academia. It essentially lets her produce objects from the exposed skin on her body. How exactly does it work, though? Well, Momo creates things by rearranging the molecular structure in her fat cells to make the desired objects.
This quirk is surely overpowered and fans were wondering if she could actually create any living thing using her quirk. To put an end to this confusion, the creator Horikoshi clarified that she can't do it. But it was also confirmed that she can create organic materials such as an apple. But it would take a lot of effort to get everything correct, or it will be bland in taste.
8. Momo's Initial Character Design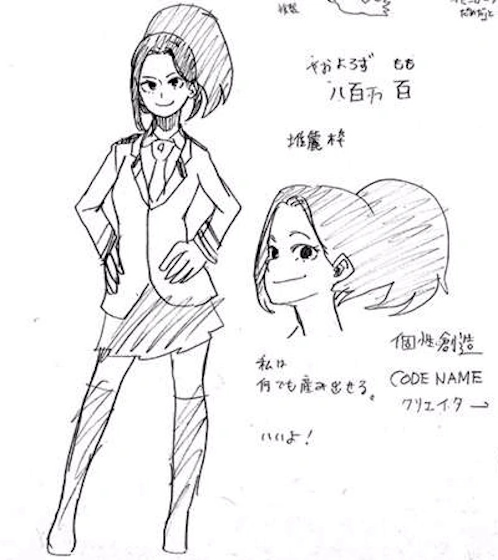 I'm sure you will be surprised by the fact that the creator of MHA had a different character design in his mind for Momo Yaoyorozu at the start. She was initially sketched as a character with a slim body and a slightly different hairstyle.
While this fact sounds typical, her hero costume was also expected to be totally different than what we have now. She even wore a mask in her superhero outfit and its design is very unique too.
9. Momo Has Different Hero Outfits
Everyone has a go-to hero costume in times of rescue time and Momo Yaoyorozu has been seen having different superhero costumes. The regular one is her dark red costume where she reveals her torso for quirk creation. She alters her attire during the winter by adding a cloak/ cape, which makes the ensemble cooler.
What makes this more unique is that it includes a drawing made by MHA creator, mangaka Kohei Horikoshi for MHA's fourth Popularity Poll.
10. Momo Is the Tallest Female in Her Class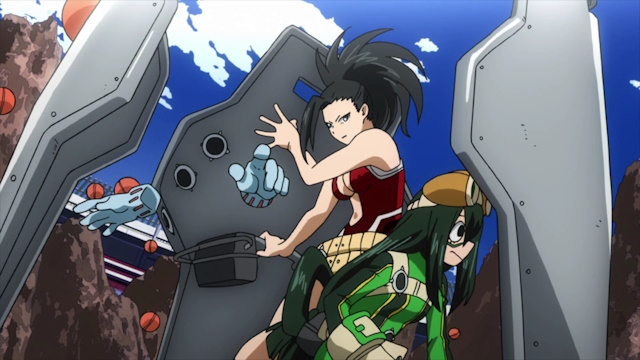 We all know that Mezo Shoji is the tallest character (187 cm or 6'2″) in class 1-A. But did you know that Momo Yaoyorozu is the tallest female student in the whole class in My Hero Academia? Yeah, she is the tallest female with 173cm or 5'8″ height. So there you go with a trivial fact about Momo that you didn't expect here.
11. Momo Once Broke the Fourth Wall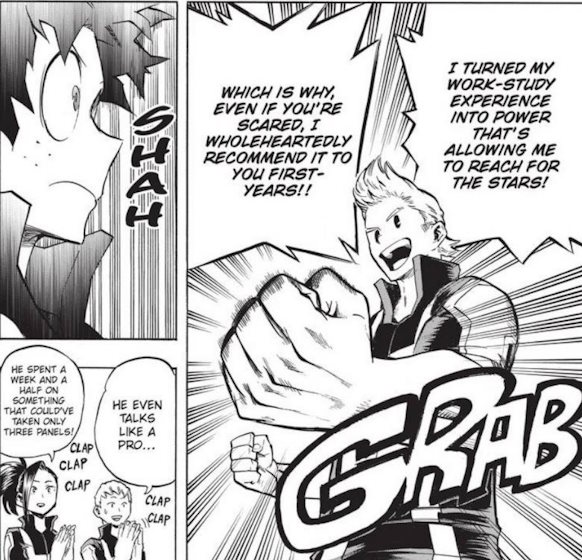 The fourth wall-breaking moments are always super cool and fun to watch whenever it appears in any form of art. We have seen several characters in MHA break the 4th wall and, one time, Momo Yaoyorozu had the opportunity to do it too.
In manga chapter 124 (episode 63), Mirio Togata will be explaining his powers and character. To which Momo jokingly comments that he could have taken only three manga panels to explain that. Her hilarious facial reaction combined with the joke was a cracker to watch.
12. Got a Seat in U.A Through Recommendations
The U.A. is one of the highly reputed high schools for heroes in Japan. So, as one might already know, it's a lot tougher to get in by clearing the entrance exam. Momo sealed her spot through recommendations and clearing the U.A. Recommendation Entrance Exam. The other students who have joined the U.A. this way are Shoto Todoroki, Juzo Honenuki, and Setsuna Tokage.
That's it for all the things that fans should know about Momo Yaoyorozu in My Hero Academia. We hope we were able to share with you some unknown facts and things you didn't know about her before. Stay tuned for more articles like this from My Hero Academia. In the meantime, tell us what's your favorite thing about Momo in the comments below.
Frequently Asked Questions
What is Momo Yaoyorozu's favorite thing?
Momo's favorite thing to do in her free time is to read encyclopedias. It is to gain more knowledge and strengthen her technique
Who has a crush on Momo Yaoyorozu?
Being one of the most beautiful characters in the show, many have a crush on Momo. But Yosetsu Awase is considered to be the first person who had a crush on her.