According to Newzoo's latest Global Games Market Report, the global market for videos games is expected to grow 13.3 percent YoY this year, with revenues rising from $121.7 billion in 2017 to $137.9 billion in 2018.
What's more, 91 percent of that is expected to come from digital transactions. The report also states that the industry is poised for a compound annual growth rate (CAGR) of 10.3 percent over the next three years, rising from $137.9 billion in 2018 to more than $180.1 billion in 2021.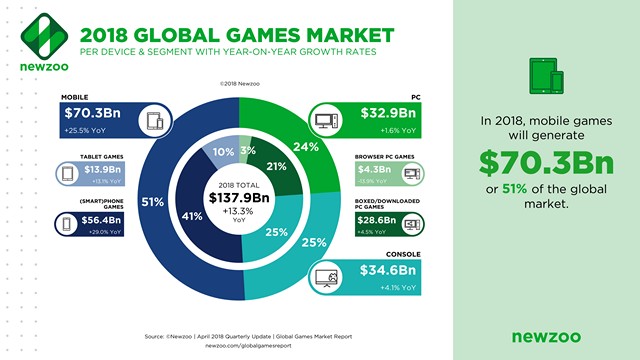 One of the major takeaways from the report is that revenues from mobile games is likely to outstrip other platforms combined by the end of this year. As per Newzoo, mobile games are expected to grow 25.5 percent this year and account for 51 percent of the total industry revenues with earnings of $70.3 billion. By 2021, revenues from mobile games is slated to hit $106.4 billion, or 59 percent of the total earnings of the industry.
Smartphones would account for 80 percent of all mobile gaming revenues ($56.4 billion) this year, while the remaining 20 percent will come from tablets. The division of revenues between consoles and PC will be a little more even, although, PC will continue to remain relatively more dominant, raking in $32.9 billion all by itself. All consoles, meanwhile, will combine to generate $34.6 billion in gaming revenues in 2018.
Newzoo, however, predicts that the console gaming market will grow faster than PC over the next three years. According to the report, while the PC gaming market will only grow at a CAGR of 1.8 percent between 2017 and 2021, while the console segment will continue on a CAGR of 4.1 percent in this time.
Geographically speaking, the US remains at the top of the pile, with China and Japan following close behind. In terms of spend-per-person, however, the Japanese far surpass any other nation, with average spend per player around 1.5 times higher than in North America and more than 2.5 times higher than in Western Europe.