Reviewing Bluetooth earphones (or earphones or headphones of any kind, actually) is a task unlike any other. Earphones and headphones have long since crossed the point where audio quality was the most important metric to judge them by. There are simply too many things to consider, the price, the build quality, whether they're comfortable enough, the battery life, and how easy they are to carry taking the fore-front. So when we received the Mivi ThunderBeats Bluetooth earphones (Rs. 2999) I quickly dived into all of these aspects. Having used these earphones extensively and as my go-to pair of earphones (letting my personal favorite Sony MDR-XB950BT stay hidden in my bag) for the last couple of weeks, I have formed some really strong opinions about them. So this here is my review of the Mivi ThunderBeats Bluetooth earphones.
What's In the Box
The Mivi ThunderBeats come inside a larger-than-usual box than what you'd find with most earphones, but that can be chalked up to the included hard-shell carrying case which I personally found to be a very neat touch from the company. Anyway, here's everything you get inside the box:
The Mivi ThunderBeats earphones
A hard-shell carrying case
2 extra pairs of earbuds
3 extra pairs of earhooks
microUSB charging cable
Probably a manual, but who cares.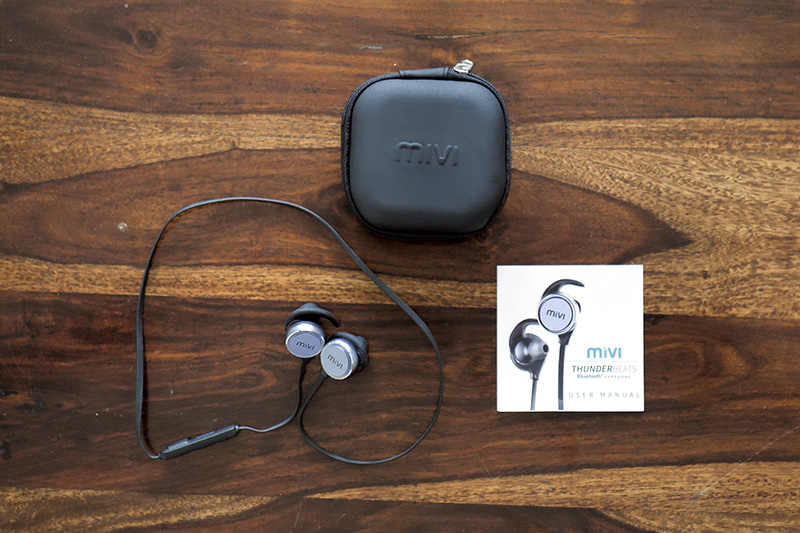 Design and Build
The Mivi ThunderBeats are a mixed bag when it comes to the design and build. For one, the earphones have a really sturdy build, with metal casing on the earpieces themselves, and a plastic casing for the driver compartment that fortunately doesn't feel like cheap quality plastic. The cable itself is a flat cable which I like as it doesn't tangle at all and since there's no neckband, there isn't the usual issue of the earphones feeling heavy around the neck.
However, the design of the earphones themselves is a bane to what is otherwise a really well-built audio accessory. The earpieces are way too big for their own good, and they constantly feel like they're putting a lot of pressure on the ears. Needless to say, even without the band, the earphones feel heavy and uncomfortable to wear for long hours.
I fully understand the need for a bigger chunk of metal on the earpieces — since there's no neckband, Mivi needed someplace to chuck the battery and the Bluetooth IC, and as far as I can tell that's inside the earpieces. It's an almost good approach to removing the neckband, but personally, I'd take the OnePlus Bullets Wireless over the Mivi Thunderbeats for the comfort and design.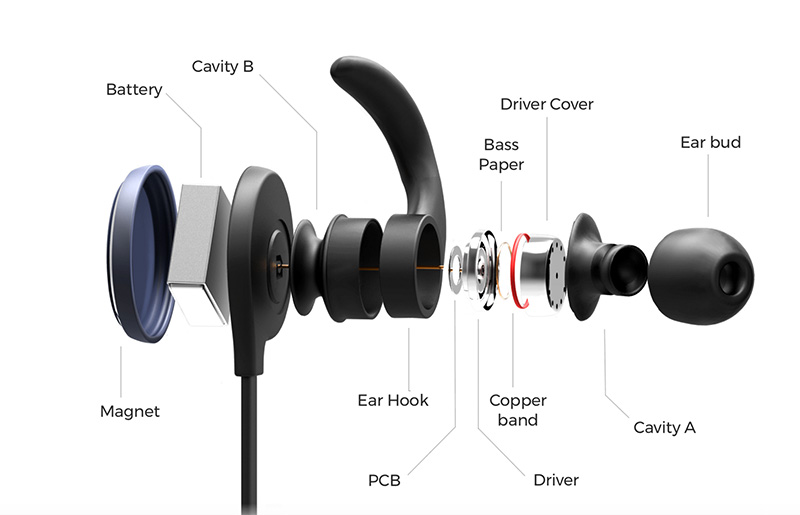 Another issue I have with the extraordinarily large design of the earpieces is that they look decidedly out of place in the ear; almost like a piece of translation-tech from a science fiction show, except they don't have any such features.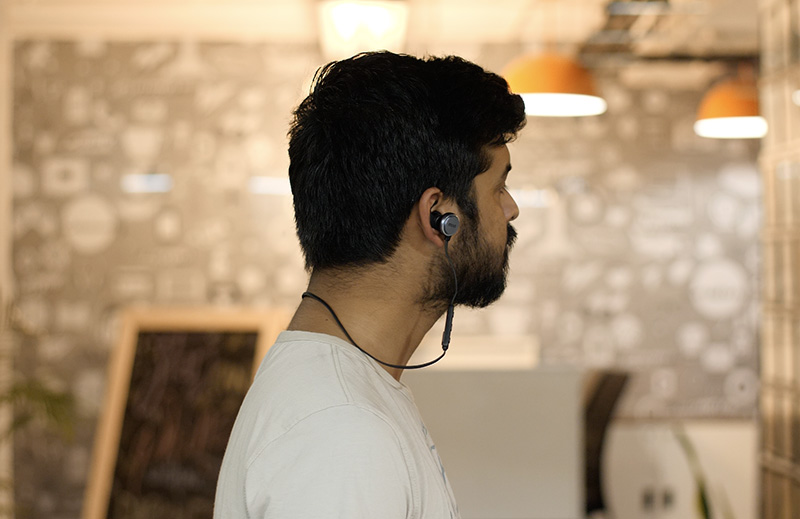 The inline controls, on the other hand, are a stark contrast to the earpieces themselves. The small plastic bit that houses the controls and the charging port is extremely lightweight, the buttons are tactile, but even though Mivi has engraved a plus, minus, and circle symbol into the buttons to make for easy differentiation between the three, I usually found myself fumbling around to figure out which button was which. It's not a big issue, and to be completely honest, I've faced similar issues with the OnePlus Bullets Wireless, the Audeara A-01, and most other earphones and headphones with inline or on-ear controls.
The flap that covers the microUSB charging port is a good touch, especially when you consider that Mivi is marketing the ThunderBeats as workout-friendly earphones, but I couldn't help but notice that it feels flimsy and like it'll probably break off in a couple of months. Hopefully, that won't happen, but I'm not really a fan of removable flaps on devices, and the Mivi ThunderBeats failed to impress me in that regard.
Comfort and Fit
As far as comfort and fit are concerned, the Mivi ThunderBeats aren't my cup of tea for sure. Like I said, the earpieces are too large to be comfortably worn around for long hours (at least for me) and even though they come with earhooks (and a really nice selection of them), none of the hooks seemed to work properly for my ears.
Heck, it could just be me, but the earhooks kept popping out, which made it feel like the earphones will fall out soon (which didn't happen), but I ended up removing the hooks completely, and opted to just stick with the earbuds, which brought to my attention yet another flaw.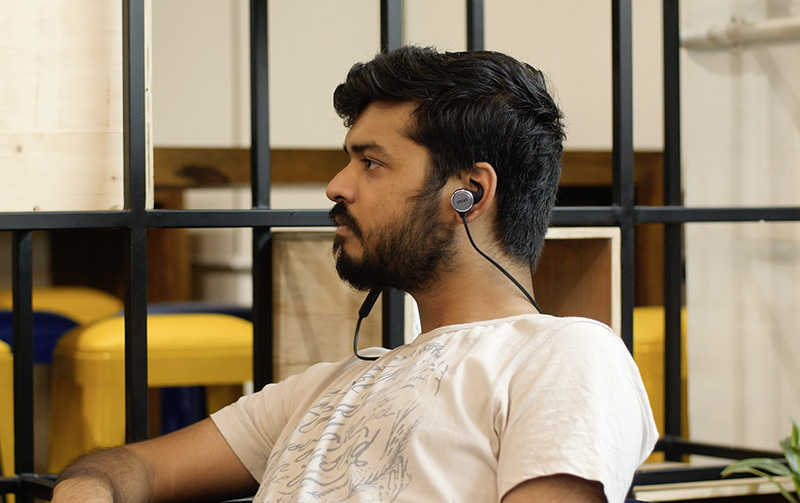 So the Mivi ThunderBeats have a groove in the plastic where the earhooks go, okay? That's fine and all, but since I was using the earphones without the hooks, this groove just kept rubbing into my ear and after a couple of hours wearing these earphones, my ears started hurting from the constant friction. If you use the earhooks, this wouldn't be a problem, but in my personal experience Mivi could've done something better here.
Also a problem is the fact that since the earpieces are so heavy they keep bending out of my ears (damn it, gravity), which then leads to bass leak and whatnot. More on that in the audio section, but you get my gist right?
If I've said it once, I've said it a hundred times, I'm not a fan of earphones because of these very issues, and while the OnePlus Bullets Wireless did manage to tempt me, the Mivi ThunderBeats are far from doing the same.
Sound Quality
I normally argue that sound quality is one of the most important metrics about a pair of earphones, and while that is less true than usual these days, the Mivi ThunderBeats definitely have a sound that I crave for.
I personally prefer bass heavy headphones (I've said this a lot of times as well), and the Mivi ThunderBeats are a pair of earphones that have a thumping bass that rivals that of earphones like the Sony MDR XB55 (Rs. 1,499) that Rupesh uses.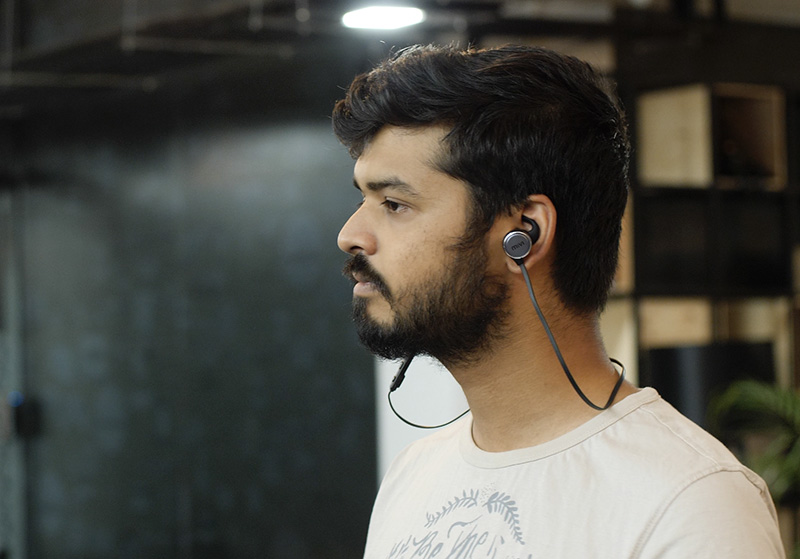 The sound quality on the Mivi ThunderBeats is well beyond the reach of any other earphones I've tried in a long time. The bass is exquisite, but the earphones don't shy away on the highs and the mids either. I tried listening to a wide variety of songs on these earphones, ranging from artists like Kenny Rogers and Bob Seger, to Drake, Coldplay, and The Chainsmokers, and these earphones handled everything beautifully.
I've never heard the bassline of Coward of the County in a fashion that these Mivi ThunderBeats managed to present them in, and The Gambler is a track that I'd recommend every Kenny Rogers fan to check out on these earphones if you can.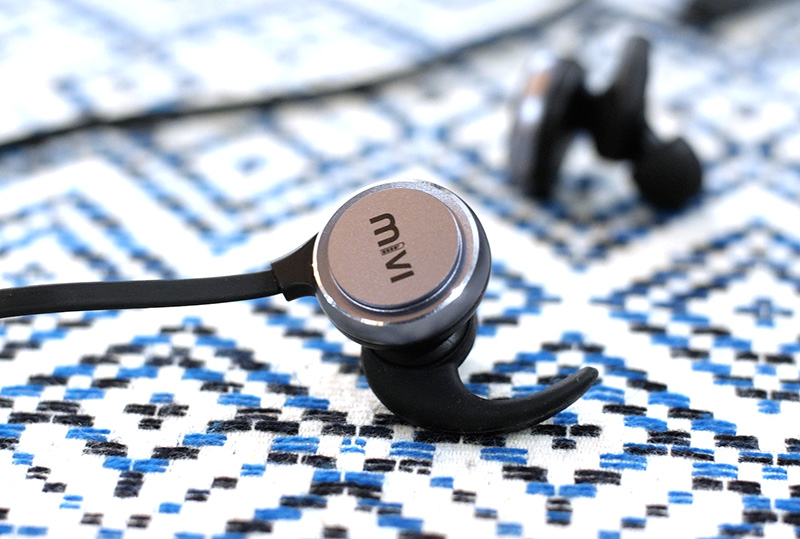 Plus, in songs like God's Plan, or The Chainsmokers' hits like Closer, and Sick Boy, these earphones pump out bass like I wouldn't expect from earphones. However, I did notice that at maximum volume the bass sometimes overpowers the highs and the mids which can quickly get to nausea-inducing levels. To be fair though, these earphones get so inhumanly loud that you'll probably keep them at around 70-80% volume, and at that level, everything sounds perfectly amazing.
All things considered, the Mivi ThunderBeats are definitely a really impressive sounding pair of earphones. They're excellent for listening to almost every kind of song, be it classic rock, rap, or anything in between. If you end up checking them out, I'd recommend listening to The Gambler by Kenny Rogers for the amazing bass line and overall balance of the earphones, and God's Plan to get an idea of the kind of thumping bass you can expect from them.
Usability
When it comes to usability, the Mivi ThunderBeats are difficult to explain. They're lightweight when hanging around the neck, but the earpieces are too heavy to stay properly in place for long hours.
However, the ThunderBeats also come with a magnetic latch-on feature which ensures that when they're just hanging around your neck they don't keep flip-flopping all over the place. Bear in mind, though, that the Mivi ThunderBeats don't offer any sort of magnetic control such as what you'll get with the OnePlus Bullets Wireless, but then again, I did label the Bullets Wireless' magnetic control as a boon and a bane.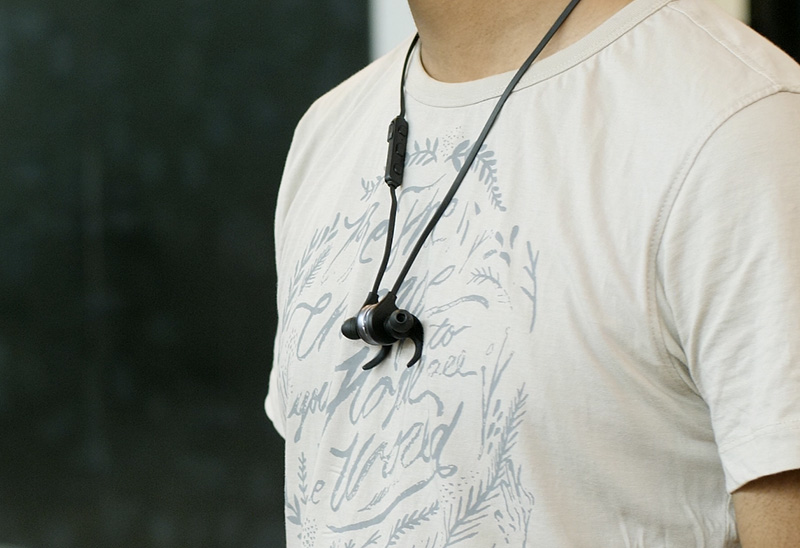 For as long as the earphones do stay in your ear though, they are pretty great. No neckband means no extra weight around your neck, and the inline controls are pretty easy to access, even if they're not as easy to reliably discern between.
The buttons will let you control playback, volume, and answer/end calls without having to take your phone out. Plus, the Mivi ThunderBeats come with voice-announcements, so you don't really need to look at the small LED light to know when they're on, connected, or when the battery is low. All those things are announced into your ear in a volume that's not nearly loud enough to make you jump up in fright, but not so low that you'll miss it.
Connectivity
For connectivity, the Mivi ThunderBeats come with Bluetooth 4.1 with aptX HD support which means better audio quality, lower latency, and a more stable Bluetooth connection with supported devices.
Pairing is pretty much what you'd expect with any other pair of Bluetooth earphones, and they maintain connection pretty well. In all my usage I didn't come across any situation where the earphones randomly disconnected, or any issue with the sound starting to break as it so often happens with Bluetooth earphones of a lower caliber than these.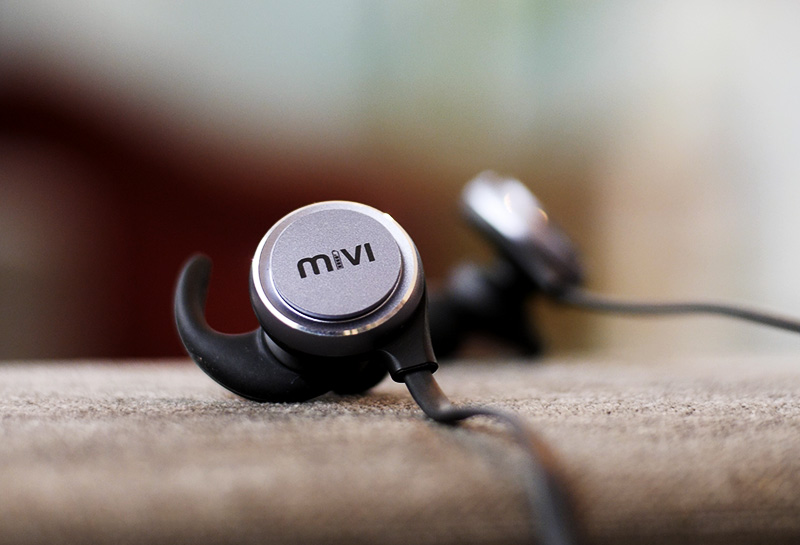 Speaking of connectivity and sound, the Mivi Thunderbeats come with cVc Noise Cancellation which means that your voice should technically sound crystal clear on calls, however in my usage I noticed little to no difference in the audio quality when taking calls on the earphones — something I don't like to do much anyway.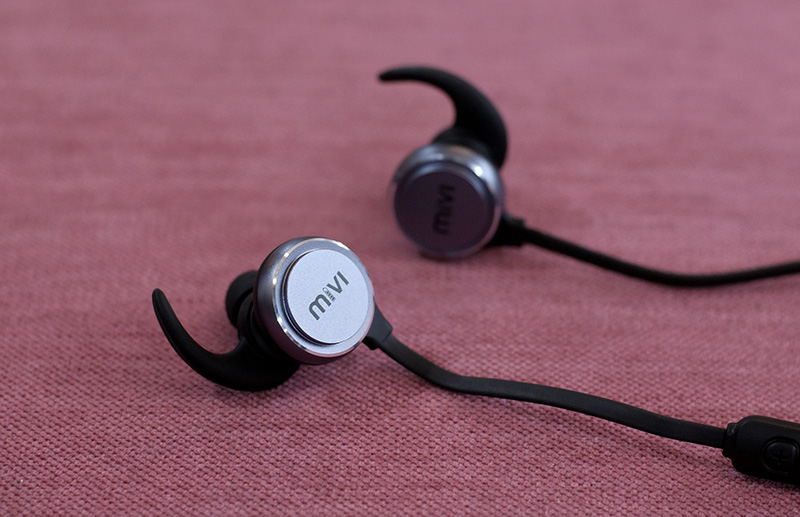 Mivi claims a connection range of 30 feet, which is approximately 9 meters, and that doesn't hold true in real life. To their credit though, it comes quite close. I was able to reliably use the earphones even at a distance of around 6-7 meters, and sometimes even 8 meters depending on the obstacles in the way. However, for most situations I found that staying within a 5 meter radius will be your best bet for completely uninterrupted connection.
Battery
Yet another thing where the Mivi Thunderbeats surprised me is the battery life. I mean sure, I'd be lying if I said I wasn't pissed off by the battery being placed inside the earpieces in a way that made them so huge and heavy, but damn if that battery doesn't last long.
I used these earphones extensively, and not once have they died on me before 6.5 hours of listening. Mivi claims 7 hours of listening time, but at 80% volume, I got a consistent listening time of 6 and a half hours, which is pretty good.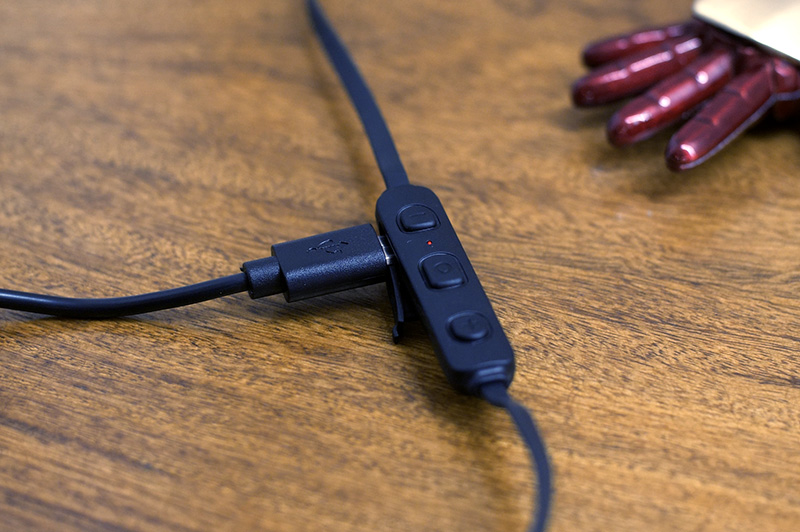 The earphones are also rated to last 3 hours on a 30 minute charge, and while that's nowhere close to what the OnePlus Bullets Wireless offer (5 hours on 10 minutes), it's still pretty good. I tested that out as well, and to my surprise the earphones lasted more than 3 hours on a 30 minute charge. At the same 80% listening volume, the Mivi Thunderbeats lasted me around 3 hours and 20 minutes on average after a 30 minute charge, before they died out on me. It's noteworthy that the first "battery low" announcement is made around the 3 hour mark, but after that the earphones last around 15 – 20 minutes more.
For charging completely, the earphones take a little over an hour to get fully charged. In fact, that single 30 minute charge usually puts them well over the 70-80% mark, which means I personally favored charging them for 30 minutes every now and then instead of fully charging them.
Pros and Cons:
The Mivi Thunderbeats, like I said earlier, are a mixed bag. They do somethings really well, while they fail at others. So here's an exhaustive list of the pros and cons of these Bluetooth earphones.
Pros:
Excellent sound quality with thumping bass
Very loud
Great battery life
Cons:
Feel heavy on the ears
Fit isn't nearly as good as it should be
No water-resistance
Uncomfortable without the earhooks
SEE ALSO: OnePlus Bullets Wireless Earbuds Review: Overpriced or Worth Buying?
Mivi ThunderBeats: A Great Sounding Pair of Earphones Let Down By the Design
To conclude, the Mivi ThunderBeats have the makings of an excellent pair of Bluetooth earphones, and for Rs. 2999 the sound almost makes them punch above their weight. However, the design of the earbuds, and the fact that they get really uncomfortable sometimes is a huge let down that makes me unable to recommend them off the top of my head. If I was to sum these earphones up in one sentence, I'd say "get them for the sound, leave them for the comfort." If your budget for Bluetooth earphones can be extended to another thousand bucks, I'd suggest you go with the OnePlus Bullets Wireless (Rs. 3,999) However, do note that the OnePlus Bullets Wireless are usually out of stock due to the huge demand. However, in the Rs. 2,999 price, I can suggest the Skullcandy Jib (Rs. 2,199), or Skullcandy Ink'd (Rs. 2,999) Bluetooth earphones instead.
REVIEW OVERVIEW

Design and Build Quality

7

SUMMARY

The Mivi Thunderbeats are a decent pair of Bluetooth earphones capable of producing a sound that's unnervingly loud and has great levels. However, they drop the ball consistently when it comes to the design and comfort. For Rs. 2,999 there are better options out there, that take a more balanced approach between sound and build quality.