After announcing it during WWDC 2018 earlier this month, and releasing a Developer Beta for it that very day, Apple has now made the latest iteration of its desktop operating system — macOS 10.14 Mojave — available to download as a Public Beta for anyone who wants to try it out.
Now, macOS Mojave isn't another 'under-the-hood' upgrade like macOS High Sierra was last year (and fortunately, it has a better name than macOS High Sierra), in fact, it brings quite a lot of new features to Apple's lineup of desktops and laptops. However, while the Public Beta is available for anyone to download without the need for a $99/year developer account, is it really something you should download on your MacBook or iMac? Well, let me list out my experience with Apple's latest desktop operating system so far.
macOS Mojave Public Beta — The Good
For as long as I can remember (other than last year with High Sierra), every macOS update has brought a bunch of new features to the proverbial table, and this year seems to be the biggest update in recent memory.
Boot Up Time
Right off the bat, the boot-up time in macOS Mojave is incredible. MacBooks have always been insanely fast to boot up, especially since Apple switched to those blazing fast SSDs, but macOS Mojave has made it even faster. So much so, that it basically doesn't feel like it's booting up at all, and I love that.
New Features… Everywhere!
There are a bunch of new features in macOS Mojave, most visible among them being the oh-so-beautiful dark mode (thank you, Apple!), the amazing Dynamic Wallpapers that look stunning (especially the one it shows at night), desktop stacks which, for me at least, are a godsend, and a lot more.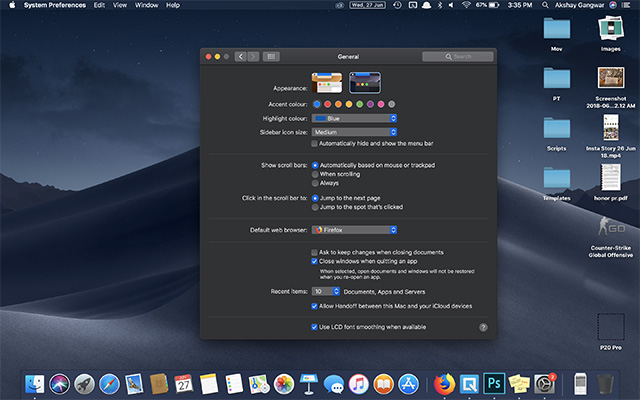 Apple has also made Quick Look a lot more useful, and it can handle basic markup right there without having to open Preview, which means I basically don't open Preview any more. It can even let you trim videos without having to open them up in QuickTime first. It's a ridiculously good time saver that I can not live without now.
There are a bunch of other features as well, and we've covered them in a dedicated article, so you should definitely go and check it out.
Bragging Rights
I mean, c'mon, being on the latest version of macOS will give you bragging rights.
Your colleague is opening up a video in QuickTime to trim it? You can do that in Quick Look. It's literally just a space-bar press away.
Dark Mode will make almost anyone envious, including those Windows users because that dark mode may be decent, but it's not as awesome as the one in macOS Mojave.
You'll be signed into your laptop by the time your colleague gets their laptop started.
You can tell everyone how it's the latest and the greatest of macOS versions ever built.
You won't ever need to worry about a cluttered desktop because Desktop Stacks will save you every time, effortlessly.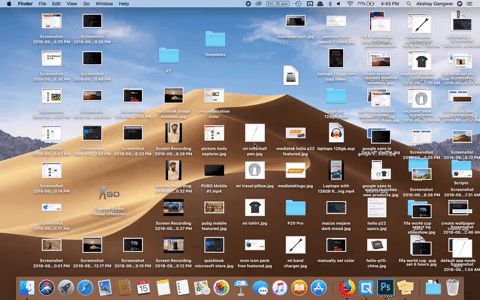 There's a lot more to brag about in macOS Mojave, and top of all that, it's pretty stable as far as beta releases go.
macOS Mojave Public Beta — The Bad
Just as "with great power comes great responsibility," with great features come some pretty major drawbacks as well, at least on beta software. Not that you shouldn't be expecting the issues I'll be listing down below, because it's a beta, and literally everyone will tell you to beware because it's pre-release software and it can damage, or completely kill your laptop.
While macOS Mojave didn't kill my 2017 MacBook Pro without Touch Bar, I take no guarantees for what your laptop might end up like. Now that I've mortified you, let me take you through the wild roller-coaster ride that is the bugs and issues with macOS Mojave.
Battery Life
The biggest issue for me is the hit my battery life has taken. While I was on High Sierra, my MacBook consistently lasted around 10 hours on a full charge. Now… well, now it lasts 4 to 5 hours at best, with the same workload it had earlier. So clearly, the battery life will take a hit with macOS Mojave.

However, I'm pretty confident that Apple will fix this by the time we get to the stable release later this fall.
Random Compatibility Issues
This is quite possibly the most obvious drawback of installing a beta build of an operating system. Apps will break; not all of them, fortunately, but enough of them.
I've always loved writing in Ulysses, but with macOS Mojave, it simply doesn't let me create a new sheet anymore… My usual fallback is iA Writer, which fortunately is working.
At Beebom, we use Quip as our preferred tool to collaborate, and it messes up big time in Mojave. Select multiple lines and the entire page will get grayed out with the only solution being going back and then coming back to the page.
Better Touch Tool, which is by far the best app I've ever spent my money on (yes, it is), randomly quits in the background. Fortunately the developer is awesome and there's already a fix in the alpha-channel, but I'm waiting for it to come to the stable channel as well.
Apps randomly start lagging sometimes. I've noticed while trying to save an image I edited in Photoshop, and while closing multiple tabs in Firefox Quantum, the apps sometimes take a moment or two to realize that I asked them to do something.
The fan! What do I even say about the fan… It randomly starts up and goes full blast, and then slows down after a while. While writing this article, it has started up once, made everyone stare at me, and then gone back quiet again.
macOS Mojave Public Beta — The Ugly
Like I said, everyone tells you not to install beta software on your primary machine as it can lead to data loss, and might even permanently screw up your Mac, what I've never seen people mentioning is the simple, ugly fact that once you've updated your Mac to the Public or Developer Beta, you can't rollback to the original version you had before.
So, if you're coming from macOS High Sierra, and you think that there are maybe too many bugs and you want to roll back, well you're out of luck because you can't. You can only go to the next beta, or to the stable version of Mojave when it releases later this fall.
once you've updated your Mac to the Public or Developer Beta, you can't rollback to the original version you had before
Why, you ask? Well, it's simple. Whenever you try to install an OS update, your laptop checks whether it's newer as compared to whatever is installed on your system already. If it is, everything is fine and the update starts up. However, if it's not, it'll simply fail.
Now imagine this, you installed the Public Beta on your primary laptop and it broke the very apps that you need for your work. You, kind reader, are unfortunately screwed.
Don't Panic, There's a Solution… an Extreme One
All that said, if you were still feeling brave enough to install macOS Mojave on your laptop, only to find out that it did screw up the very apps that your livelihood depends upon, don't go rushing to drop another $1000+ on a replacement. There is a way to roll back your system. However, it involves steps that will almost always wipe your data right off the system.
It's called the recovery mode, and it basically resets your Mac to its factory settings, which means it'll take you back to the OS your laptop shipped with. That's fine if you're using a 2016 or 2017 Mac which came with macOS Sierra and higher. If you're using a MacBook Air from 2015, as I was last year when I had to use the recovery mode, you'll be taken back to… Mac OS X Mavericks (or at least I was).
macOS Mojave Public Beta — To Install or Not to Install? That Is the Question
So, the question arises, should you install the macOS Mojave Public Beta? Well, you can but I wouldn't recommend it unless you absolutely need the new features right now.
In my usage, the macOS Mojave beta hasn't been so buggy that I regret jumping the gun and upgrading right away. However, as it is with most software updates, your mileage may vary, and I can't really recommend anyone to install the beta version of macOS Mojave.
Obviously, if you're as keen as I am, you probably are going to install it anyway, in which case, I wish you the best of luck, and leave you with two things:
A warning that beta software can be harmful to your system. It can be unstable, and it might render your system unusable. In which case, I (or Beebom) take no responsibility about it. You've been warned about the drawbacks and the risks.
and, should you still choose to upgrade your system, a link to our article on how to install it (where we'll warn you yet again, by the way!)
So, are you updating your Mac to the latest version of macOS available? If you are, let us know, if you already have, let us know how it's working out for you. There's a comment section down below, so drop your thoughts and comments right there.