The fingerprint sensor on an Android phone is no longer a luxury, but a necessity. Some think of it as an easier way to unlock the phone without remembering the pin or the password, some think of it as an additional unit of hardware input device using which you can get so much more done. While the former makes your device less vulnerable as you don't have to type in your PIN or unlock pattern in front of everyone, the latter makes your phone do so much more.
Though some users feel that lock screen is enough for prying eyes and nasty intruders, others' opinion might differ and they are the ones who use 3rd-party apps to lock other crucial apps like the WhatsApp or the Gallery. While in most of the Android phones, these apps just work with a PIN or a Pattern but your Galaxy S7 can take off the pain of typing PIN and replace it with the fingerprint reader.
There are a couple of apps using which you can lock other apps with fingerprint security on a Samsung Galaxy device, but as you know, we always bring the best for you, here are the top two of them.
App Locker : Fingerprint
This one is a very basic app but delivers what it promises right on the spot. After you have installed the app from the Play Store you will be asked to authenticate the fingerprint and it takes the data from the ones you have configured in the system. After successful authentication,  you will be asked to enable two settings. First of all, you will have to allow it Accessibility Settings permission to be able to gain access over other running apps and also activate Device Administrators control as a part of uninstall protection.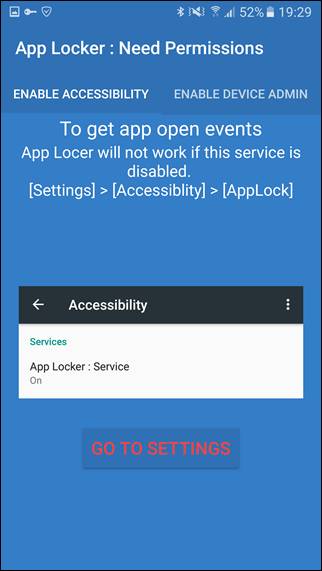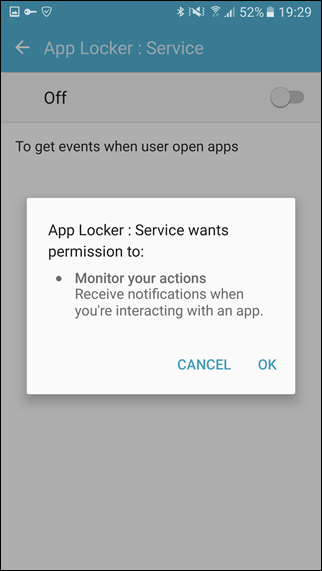 After all the necessary permissions are provided, the app will list all the apps that are installed on your device. The list of apps will also include the system apps, apart from the ones downloaded and installed by you. To enable fingerprint security for an app, just toggle the button and enable it.
Thereafter, whenever you launch any of these apps, you will be asked to authenticate your fingerprint before the app can be launched. The app works flawlessly and there are no ads and one cannot even peak in the recent apps to have a glance. The only problem with the app is that its relies completely on the fingerprint sensor and that there is no failsafe. What if you have cut your finger and have a Band-Aid on it? Or you are away from the phone and your spouse is asking you to unlock your phone?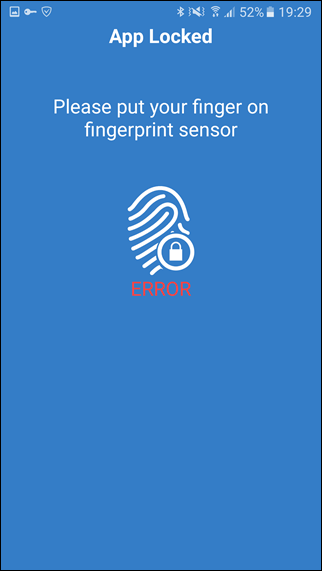 In such scenarios, you might want to look for an alternative which is discussed next.
Download: App Locker : Fingerprint
App Lock: Fingerprint & Password
This one is a bit polished and has some additional features that make it worth discussing. The app can be installed and used on any device to lock the other apps, but the feature of fingerprint security is only compatible with Samsung devices. The app allows you to use a pattern or a pin, if the fingerprint sensor is not able to capture the fingerprint. This way you can use the app to lock other apps and then tell your pin to someone you trust when the time calls.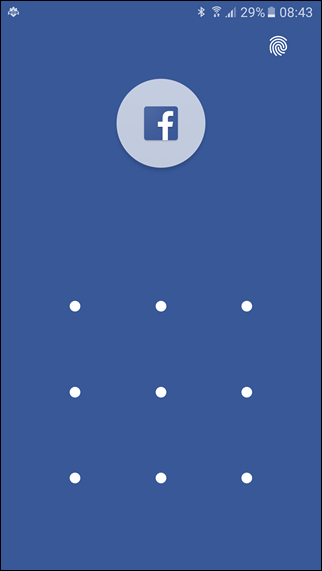 The app reads the saved fingerprints and you can enable the option from the settings. You also get to choose if you would like to re-lock the recently unlocked apps immediately or wait for some time as that minimizes the irritation in most of us. Toggling the apps on or off from the list is all it takes to lock or unlock an app.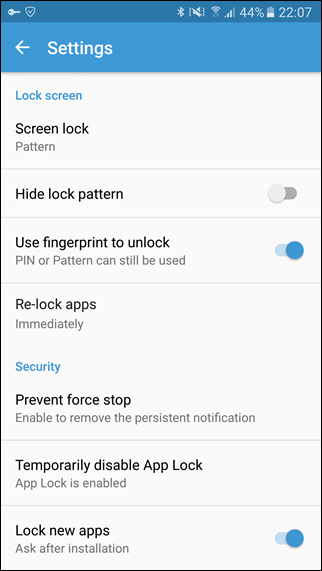 Then there is uninstall prevention so that no one can remove any app from your phone (including App Lock) without your permission. The only thing that's missing is that the App Lock doesn't work on System apps, but that's pretty advanced anyways. You can activate the app as Device Administrator to give it an extra layer of security.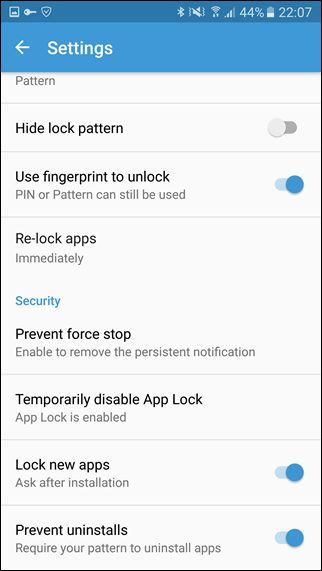 Download: App Lock: Fingerprint & Password
SEE ALSO: Samsung Galaxy S7 and S7 Edge: Snadragon 820 vs Exynos 8890
Do Even More with Marshmallow
The two apps cover everything and make your Samsung Galaxy S7 more secure by adding 2-factor authentication for some of the apps you would like to secure. Also, remember that the Samsung Galaxy S7 comes with Marshmallow that makes it compatible with Nexus Imprints. Which means that you can use the fingerprint sensor directly on apps like PayPal, LastPass, etc. to make them more secure without using any third party apps.
---
Load More