LG has today launched the X-Boom Handy Splash Bluetooth speaker in India, and as the name clearly suggests, the device comes with an IPX-4 rating which guarantees protection against occasional splashes of liquid. The new Bluetooth speaker is aimed at outdoor usage and certainly features a build that aids in mobility, thanks to an inbuilt telescoping handle and recessed wheels at the base of the speaker.
The X-Boom Handy Splash speaker is equipped with a 12V battery that is rated to deliver music playback of 13 hours when fully charged, and also brings remote Bluetooth standby access from smartphones to the table. A unique trait of the device is that it offers multi-Bluetooth connectivity, which means users can wirelessly connect two devices simultaneously with the speaker, facilitating seamless switching between the connected gadgets for music playback without the need to disconnect any of the devices.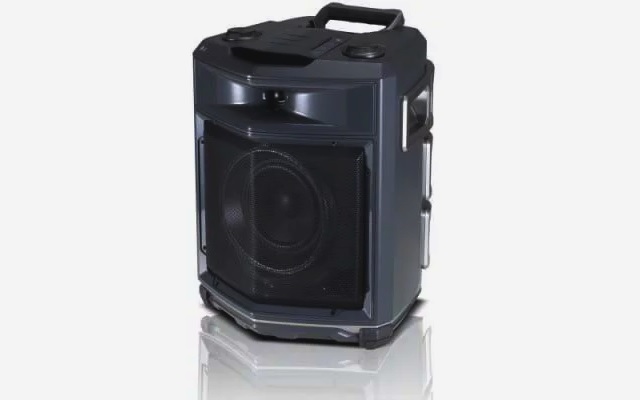 The X-Boom Handy Splash speaker allows users to stream audio from Echo smart speakers, YouTube as well as through LG's Karaoke app, while wired connectivity is handled by Mic in, USB, Portable In port. FM Radio is on-board too, and an FM antenna comes bundled in the package as well.
The device can play MP3 and WMA audio files and has support for 18 vocal effects such as Soprano, Helium, Robot, etc. as well as the standard EQ modes like Pop, Bass Blast, and Jazz to name a few. The Bluetooth speaker tips the scales at 10.8kg and has a 42W power consumption rating. The X-Boom Handy Splash Bluetooth speaker has been priced at Rs. 19,990, however, details about its availability on e-commerce platforms or retail stores has not been revealed.