Intel announced its 10th-gen Ice Lake processors back at Computex 2019, and for those of you interesting in the ongoing Intel vs AMD battle of the processors, a new benchmark of the 10th-gen Core i7 (mobile) processor has now leaked showing some interesting results, especially in the Single Core tests.
The leaked Geekbench result for the new Core i7 chip shows a single core score of 5566, and 5691 in two different Geekbench runs performed on an HP Spectre X360 laptop. Compare that to the Ryzen 9 3900X which scores 5625 points on the single core test. However, while the difference seems small, this comparison is being made between the mobile 10th-gen Core i7 chip with a 15W TDP, and the fully-fledged desktop Ryzen 9 3900X, with a TDP of 105W.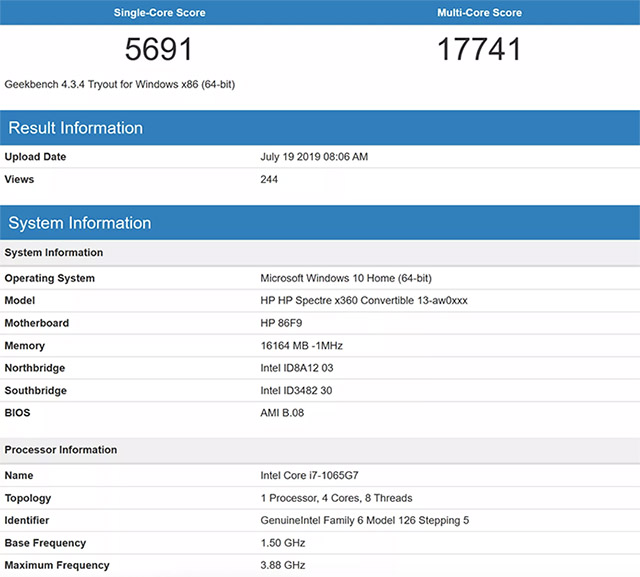 Even in terms of CPU frequencies, the 10th-gen Core i7 (mobile) is running on a base frequency of 1.5GHz, and a maximum frequency of 3.85GHz as compared to the desktop Ryzen 9 3900X with a base frequency of 3.8GHz and a maximum frequency of 4.6GHz. That's a lot of big numbers for the Ryzen 9 3900X, and yet the Intel Core i7 (mobile) is able to outperform it in the single core tests.
Things are wildly different in the multi-core test, however, where the Core i7 scores only 17741 points, while the desktop Ryzen 9 3900X scores a whopping 45,338 points. Still, the fact that a mobile processor is able to beat the Ryzen 9 desktop processor in single core is a pretty big deal, and one that Intel would want to use to push back against the ever increasing dominance of AMD in the world of desktop and laptop processors.