The recent announcement of Intel's eighth-generation Core processors has enthused a lot of gamers and PC geeks around the world. That's because the mainstream high-end PC market is finally seeing some serious competition after well over a decade of virtually one-way traffic, as Intel dominated the landscape with successive generations of its Core processor lineups. That all changed earlier this year when AMD announced its powerful Ryzen lineup that outperformed pretty much all existing mainstream, similarly-priced parts from Intel by a handsome margin. However, with the announcement of its 'Coffee Lake' processors earlier this week, Intel is well and truly back in the reckoning, as the new lineup is said to bring the biggest performance jump in an Intel Core lineup since Sandy Bridge. So how does the chips stack up against their immediate predecessor, Kaby Lake? Let's find out!
What is Coffee Lake?
Coffee Lake is the code-name for Intel's latest processor lineup that's manufactured on a slightly more refined manufacturing process (14nm++) than its two immediate predecessors, Kaby Lake (14nm+) and Skylake (14nm). The new chips also offer more cores across the board, and a different allocation of cache resources along with a few new features for modders and overclockers. It is essentially a refinement over last year's Kaby Lake lineup, which was itself an iterative improvement over the company's first-generation 14nm chips known as Skylake. As part of the package, the Santa Clara-based company announced 6 different CPUs which include three overclockable 'K' series processors with unlocked multipliers and three non-overclockable chips with locked multipliers.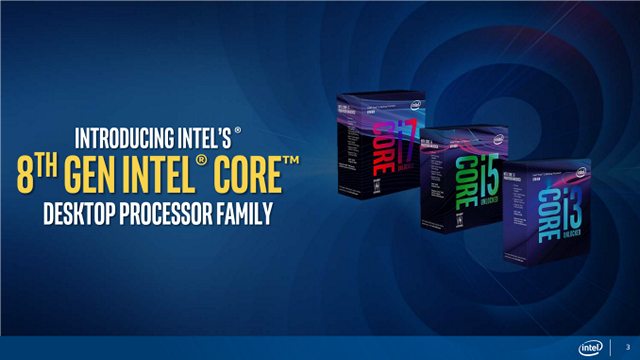 Taking a look at the K-series chips first, the top-of-the-line i7-8700K comes with 6 physical cores and 12 threads along with 12MB of L3 cache and a boost clock up to 4.7GHz. The mid-range i5-8600K also features 6 physical cores clocked at 3.6GHz out-of-the-box, but unlike its higher-end sibling, doesn't have hyperthreading. It comes with 9MB of L3 cache, and has a boost clock of up to 4.3 GHz. As for i3 chips, not only do they also gain two extra cores, but the more premium of the two also comes with an unlocked multiplier. The i3-8350K features 4 cores clocked at 4 GHz, and has a 6MB L3 cache. As for the chips with locked multipliers, they feature slightly lower clock speeds and are a bit lighter on your pocket.
CPU
i7-8700K
i7-8700
i5-8600
i5-8400
i3-8350K
i3-8100
Cores
/Threads
6 / 12
6 / 12
6 / 6
6 / 6
4 / 4
4 / 4
Base
Clock
3.7 GHz
3.2 GHz
3.6 GHz
2.8 GHz
4 GHz
3.6 GHz
Turbo
(All Cores)
4.3 GHz
4.3 GHz
4.1 GHz
3.8 GHz
N / A
N/A
Turbo
(Single)
4.7 GHz
4.6 GHz
4.3 GHz
4.0 GHz
N / A
N/A
L3
Cache
12 MB
12 MB
9 MB
9 MB
6 MB
6 MB
TDP
95 Watts
65 Watts
95 Watts
65 GHz
91 Watts
65 Watts
Coffee Lake vs Kaby Lake: Specifications
Whether as a knee-jerk reaction to AMD's Ryzen or whether it happened organically, Intel introduced more than 4 cores in its mainstream processor lineup for the first time in its history. Previously, anything with more than four cores was classified as 'high-end' (HEDT), and was marketed under the company's premium E-series and X-series lineups that cost significantly more than mainstream processors. However, with the advent of these eighth-gen chips, the minimum core-count has gone up from two to four in the i3 chips, while the i5 and i7 CPUs all now have 6 physical cores each, with the latter actually featuring 12 threads, thanks to hyperthreading. Clock speeds have seen slight increases across the board, but the integrated GPU (Intel UHD 630) aren't expected to be much better than their last-generation counterparts. It's not yet clear how all of that will translate into real-world performance, but we should get to know all of that in the weeks to come. Till then, let's take a quick look at the key specs of the unlocked Coffee Lake chips and see how they compare to their Kaby Lake counterparts.
| | | | | | | |
| --- | --- | --- | --- | --- | --- | --- |
| CPU | Core i7-8700K | Core i7-7700K | Core i5 8600K | Core i5-7600K | Core i3 8350K | Core i3-7350K |
| Cores / Threads | 6 / 12 | 4 / 8 | 6 / 6 | 4 / 4 | 4 / 4 | 2 / 4 |
| Base Clock | 3.7 GHz | 4.2 GHz | 3.6 GHz | 3.8 GHz | 4.0 GHz | 4.2 GHz |
| Turbo Frequency | 4.7 GHz | 4.5 GHz | 4.3 GHz | 4.2 GHz | N / A | N / A |
| Integrated GPU | UHD Graphics 630 (GT2) | HD Graphics 630 | UHD Graphics 630 (GT2) | HD Graphics 630 | UHD Graphics 630 (GT2) | HD Graphics 630 |
| L3 Cache | 12 MB | 8 MB | 9 MB | 6 MB | 6 MB | 4 MB |
| TDP | 95 Watts | 91 Watts | 95 Watts | 91 Watts | 91 Watts | 60 Watts |
| Socket (PCH) | LGA 1151 (300-Series) | LGA 1151 (200-Series) | LGA 1151 (300-Series) | LGA 1151 (200-Series) | LGA 1151 (300-Series) | LGA 1151 (200-Series) |
| Memory Support | DDR4-2666 MHz (Dual Channel) | DDR4-2400 MHz (Dual-Channel) | DDR4-2666 MHz (Dual Channel) | DDR4-2400 MHz (Dual Channel) | DDR4-2666 MHz (Dual Channel) | DDR4-2400 MHz (Dual Channel) |
| Price | $359 | $339 | $257 | $242 | $168 | $149 |
Coffee Lake vs Kaby Lake: Gaming and Multi-Threaded Performance
Intel claims that the flagship i7-8700K will offer up to 25-percent better performance in games, while "mega-tasking" speeds will apparently improve by as much as 45-percent compared to the Core i7-7700K, which is certainly something to look forward to. We'll also have to see if these chips are really that much better at gaming than their Ryzen counterparts, given how one of the major criticisms against AMD's latest chips is their relatively underwhelming performance in games as compared to their Intel counterparts.
As far as multi-tasking is concerned, the added cores and increased frequencies are expected to come in handy in multi-threaded applications like 3D modeling and rendering, so it should make for very interesting comparison against the Ryzen chips if you're planning to run 3ds Max or Maya on your workstation. While we're yet to get our hands on verified benchmarks, initial reports seem to be extremely favorable, which is why we can't wait for more dope on these chips going forward.
Coffee Lake vs Kaby Lake: Pricing and Availability
While the core-count, clock speeds and other enhancements are definitely welcome, prices are up across the board, and even though the hikes aren't too steep, you'll still have to fork out more for these chips that you would have had to for their immediate predecessors. For example, the i7-8700K costs $359, up from the $305 launch price of the i7-7700K, while the i5-8600K costs $257, up from the $217 of the i5-7600K. As for the i3-8350K, it costs $168, which isn't bad for a latest-gen, unlocked, Intel quad-core clocked at a whopping 4GHz, but it is still more expensive than its immediate predecessor, the Core i3-7350K that comes with a $149 price-tag. The Coffee Lake processors will launch officially on October 5th, and is expected to be available at both local stores as well as online retailers with immediate effect.
Coffee Lake vs Kaby Lake: Compatibility Controversy
While the increase in prices is an annoyance for many, the most common complaint about Intel's latest chips seem to be about their lack of compatibility with current motherboards in spite of making use of the same LGA 1151 socket as their predecessors. So anybody wanting to build a Coffee Lake-based rig will have to invest in a new 300-series motherboard, as the current 200-series boards won't run these new chips even with firmware updates. Given that the Z270 and Z370 platforms are fairly similar, many have cried foul about what they see as Intel's planned obsolescence of its 200-series platform. Furthermore, the 300-series motherboards also won't be backwards compatible with Kaby Lake and Skylake chips either, stoking further anger among enthusiasts and DIY PC builders.
When asked about the lack of compatibility, Intel's official reason was that, "Getting the max out of 6 core processor required changes to our motherboards, specifically to provide improved power delivery to new 6-core processors". The company also said that the new boards will improve the overclocking abilities of Coffee Lake processors "by improving the package power delivery to the CPU". Another new feature that, according to Intel, necessitated the change was the increased memory bandwidth to 2,666MHz, which apparently, required another improvement on the motherboard layout.
Many hardware experts, however, have summarily rejected such reasoning, because, according to them, most of the high-end Z270 motherboards come with over-engineered power-delivery circuitry that make them more than capable of handling the additional requirements of these latest processors. High-end boards feature beefed-up VRMs to enable high overclocks, which should be able to accommodate any additional power requirements. All said and done, the new chips still max out at 95 watt TDP, and although they do have higher core counts compared to their Kaby Lake counterparts, the additional power draw should not be inordinately higher.
SEE ALSO: Intel Coffee Lake vs AMD Ryzen: A Quick Comparison
Intel Coffee Lake vs Kaby Lake: The Best Mainstream Processors Ever From Intel?
While the jury is still out on whether Coffee Lake represents the best that Intel has ever had to offer in terms of its mainstream desktop processors (non-X, non-E), most initial reports seem to point that way. In fact, most people seem to be of the opinion that the range represents the biggest generational performance leap we've seen from the company since Sandy Bridge, which was launched back in 2011. However, even as most enthusiasts are rejoicing at the prospect of true competition between Intel and AMD after about a decade and a half of one-way traffic, the lack of compatibility with older motherboards and the slight increase in prices are some of the sore points that may throw a spanner in Intel's hopes of halting AMD's Ryzen-powered march. As somebody who's looking to build an all-new rig from scratch, the Coffee Lake does look pretty lucrative to me, but what about you? Are you considering an upgrade to Coffee Lake, or is the lack of backward compatibility a deal-breaker for you? Do let us know in the comment section below, because we love hearing from you.