Chinese smartphone manufacturer Infinix has lifted the covers off the Hot 6 Pro, a budget smartphone with a modern 18:9 bezel-less display and a dual camera setup. The budget smartphone segment in the country is quite saturated with offerings from other Chinese smartphone manufacturers, with Xiaomi completely dominating the scene with its cheap yet powerful devices. The sub-10000 INR price bracket has seen a major influx of devices with bezel-less displays and dual camera setups which, more often than not, aren't as great as the companies claim them to be. So, how does the Infinix Hot 6 Pro hold up against the competition? Is it actually a great device or is it just another Chinese budget smartphone which will be forgotten soon after release? In order to answer these questions we took a close look at the Hot 6 Pro, which is currently retailing for Rs. 7,999, and here's what we found out:
Specifications
Before we get to the nitty-gritty and deliver our final verdict for the Infinix Hot 6 Pro, let's get the raw specifications out of the way. Here's what Infinix has packed within the Hot 6 Pro:
| | |
| --- | --- |
| Display | 5.99-inch 18:9 720p IPS LCD |
| Processor | Qualcomm Snapdragon 425 |
| GPU | Adreno 308 |
| RAM | 3GB |
| Storage | 32GB |
| Primary Cameras | 13MP f/2.0 + 2MP |
| Secondary Camera | 5MP f/2.8 |
| Battery | 4,000mAh |
| OS | XOS Hummingbird based on Android 8.0 Oreo |
| Price | Rs. 7,999 |
What's In the Box
Another thing that we'd like to address before we delve any deeper into the review is the box contents. Infinix has packed in the usual paraphernalia within the flashy packaging of the Hot 6 Pro. The device ships with:
5V/1.2A charging brick
USB Type-A to micro-USB charging cable
SIM ejector tool
Screen protector
Translucent case
Paperwork
Design & Build Quality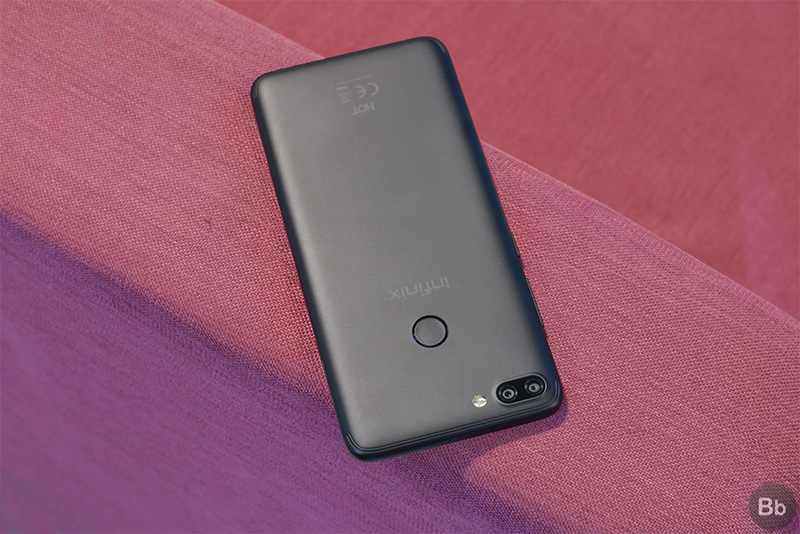 When it comes to the design, the Infinix Hot 6 Pro look a bit too familiar. The device has a horizontal dual camera setup on the back with a round fingerprint on the center which instantly reminds me of the OnePlus 5T. While the entire case is made up of plastic, it doesn't feel cheap and the 4,000mAh battery adds a bit of heft to the device which makes it feel a bit more premium. The front is dominated by the 6-inch HD display which is flanked by thick bezels on the top and bottom and thin bezels on either sides. The top bezel houses the front facing camera and an LED flash on either side of the earpiece, along with other sensors.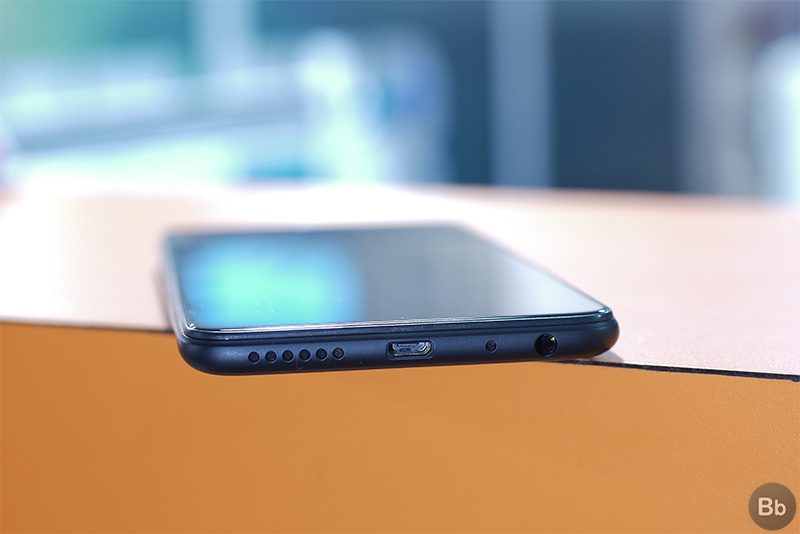 The power button as well as the volume rocker reside on the right edge of the device, whereas the SIM tray is placed on the left edge. The top edge of the device is devoid of any ports or buttons, while the bottom edge of the device houses the micro-USB port for charging and data syncing, flanked by the mono speaker on one side and the 3.5mm headphone jack on the other side. The primary microphone can also be found on the bottom edge of the device in between the headphone jack and the micro-USB port.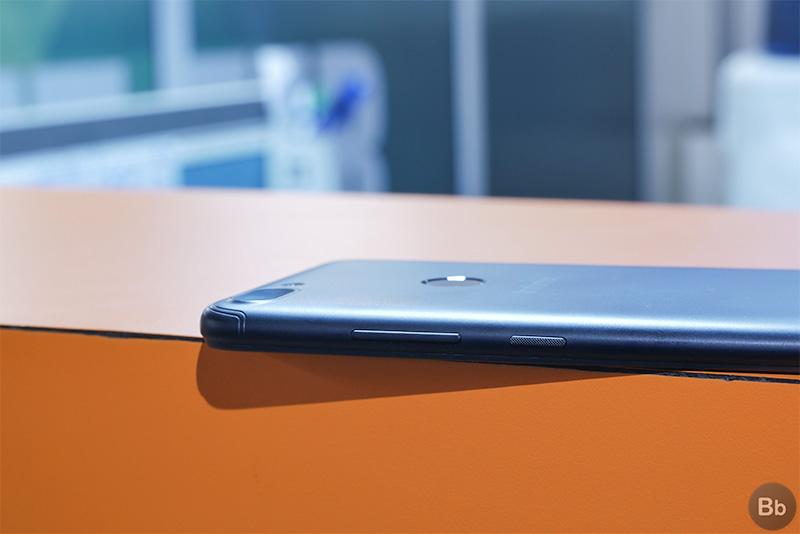 Even though the Infinix Hot 6 Pro doesn't have a revolutionary design, it looks rather minimal and feels quite sturdy which is more than what one could expect from a device in this price range. All-in-all, the Hot 6 Pro has a decent design and I couldn't think of anything more that I could want from an affordable device like this.
Display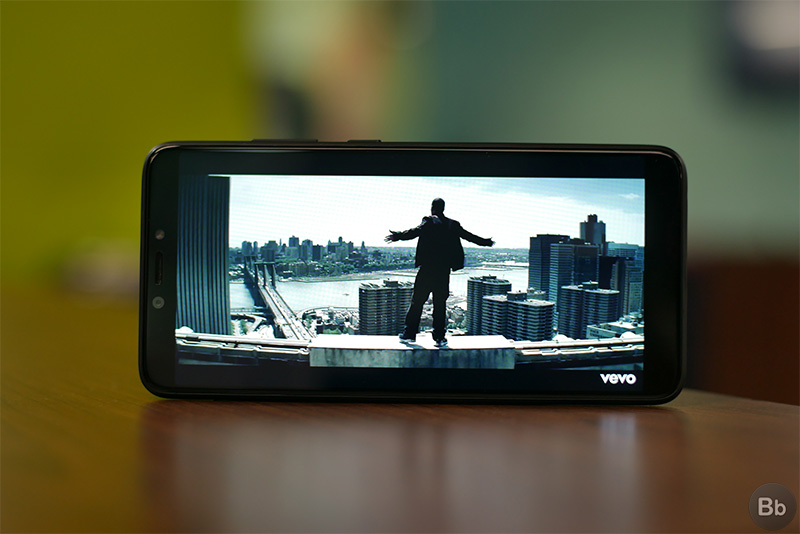 The Infinix Hot 6 Pro sports a 6-inch 18:9 HD+ IPS display up front which can get reasonably bright and has great viewing angles. The display has a resolution of 720 x 1440 pixels which gives it a pixel density of 282 pixels per inch, which means that it isn't as crisp as you'd expect and you'll easily be able to spot individual pixels even from a normal viewing distance.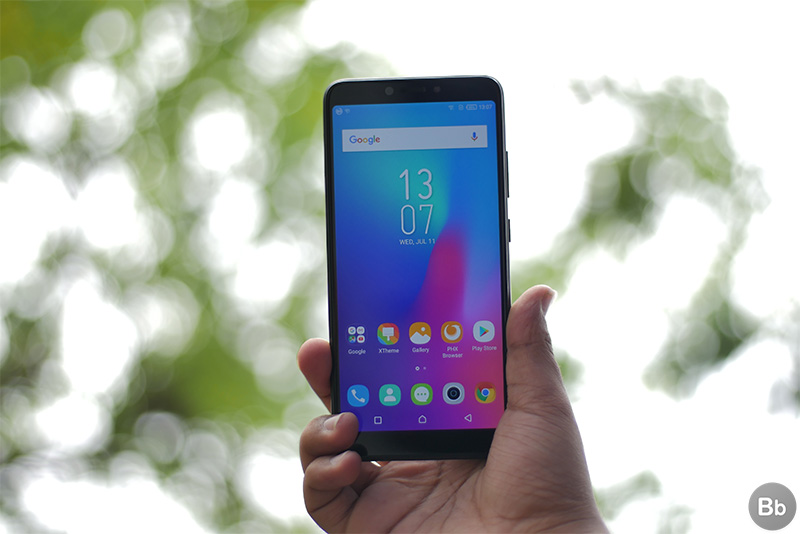 Since the Hot 6 Pro has an IPS display, color accuracy is just about decent, which makes pictures and videos look pretty vibrant. Compared to other Chinese smartphones in this price range, the Hot 6 Pro has a decent display which only lags behind when it comes to the pixel density as it has a larger 6-inch display. Daylight visibility is also pretty great and the display remains clearly visible even in direct sunlight.
User Interface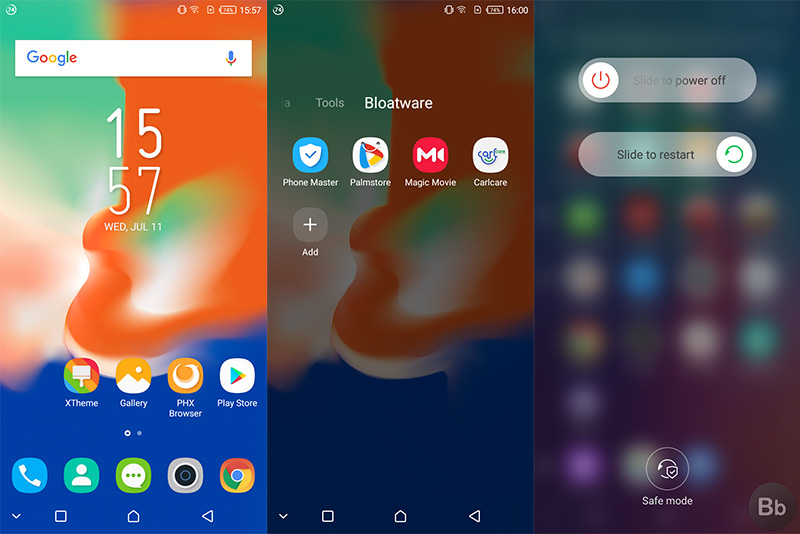 While the Infinix Hot 6 Pro comes with Android 8.0 Oreo out of the box, it runs a heavily skinned version of Android called XOS Hummingbird which looks a lot like iOS. I'm not a big fan of Android manufacturers including an iOS-like interface on their devices, but I've come across certain exceptions that handle the implementation quite gracefully. Sadly, the Infinix Hot 6 Pro isn't one of them. The user interface on the device is frankly quite tacky and cumbersome which makes the phone feel slower than it already is. Animations aren't smooth, the device is full of bloatware and for some godforsaken reason the app drawer displays ads.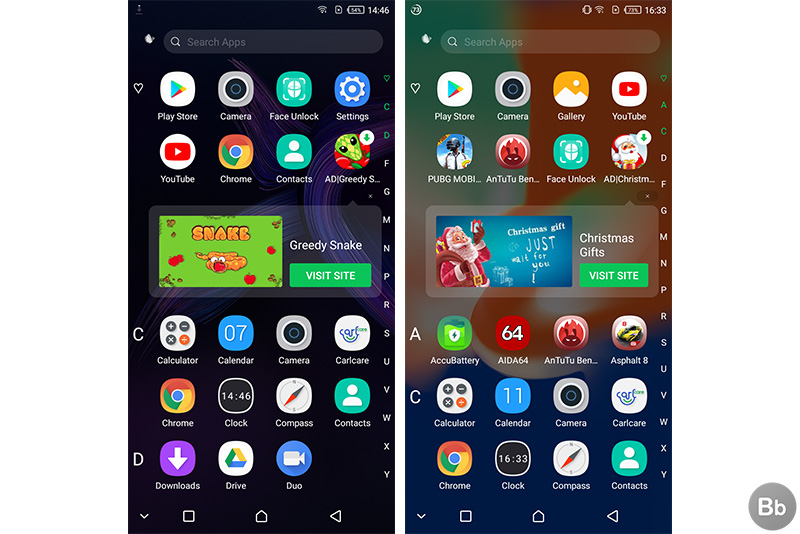 Yes, you read that right. The Infinix Hot 6 Pro has ads in its app drawer. The ads appear as app icons in the app drawer and open a larger banner when clicked. The ads are usually limited to a variety of different browser-based games which display even more ads when opened. Personally, I didn't like the UI at all and I quickly installed Nova Launcher on the device because I just couldn't bear with the sluggish animations, poor icon design, and of course, the ads.
Performance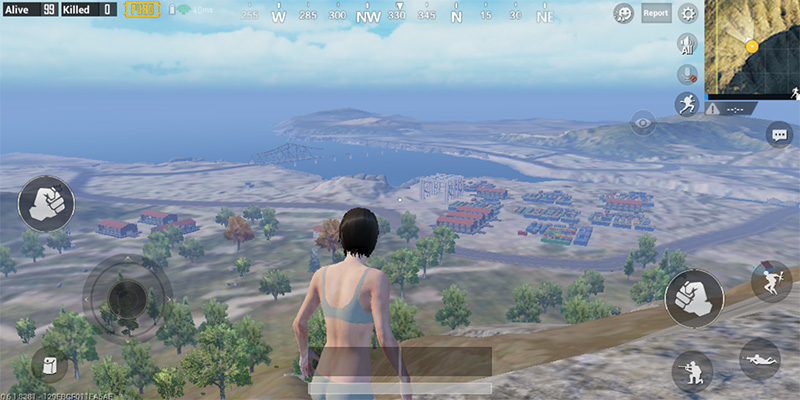 The Hot 6 Pro features a Qualcomm Snapdragon 425 SoC coupled with Adreno 308 graphics and as you'd expect, the device's performance won't blow you away. The dated processor and GPU, which were released back in 2016, are decent enough for everyday tasks like calling, texting and web browsing, but if you're expecting to play graphics intensive games on this device, you're gonna be disappointed. I tried playing PUBG Mobile on the device and even though it automatically selected the lowest possible graphics settings, the device didn't perform well, often dropping frames and stuttering during gunfights.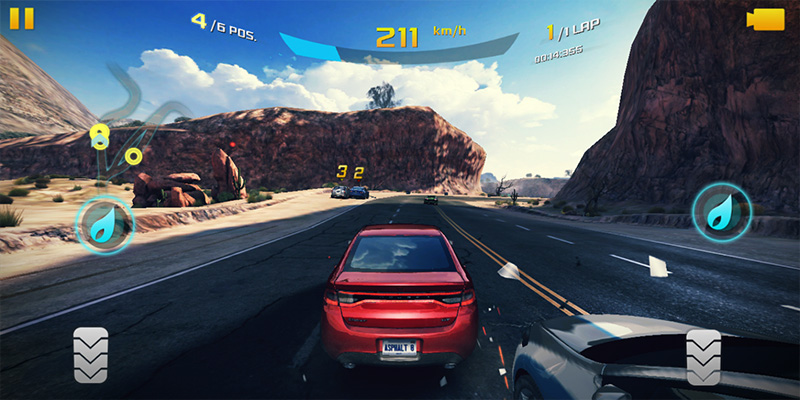 I also tried playing Asphalt 8 on the device and although it automatically selected the medium graphics setting, the device still stuttered time and again. On top of that, the device got fairly warm within 15 minutes of gaming, which clearly indicates that it isn't something you'd choose if you're looking to play games. Multitasking was also an issue with the device, probably because of the heavily skinned UI which takes up most of the 3GB RAM to stay afloat. The device couldn't hold more than two apps in memory at any given time and it always took a while to start apps, which added onto the poor experience.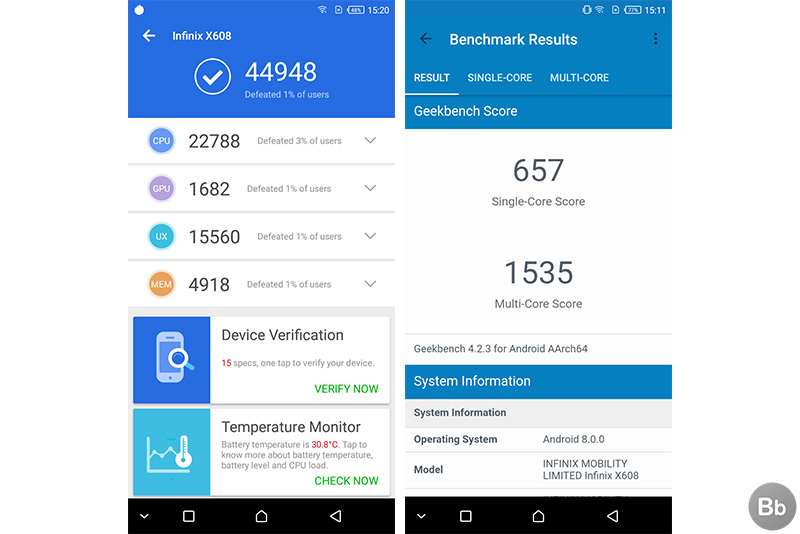 While I'm not one who cares much about synthetic benchmarks, there are quite a few who swear by the scores. For those few, the Hot 6 Pro managed to secure a score of 44,948 in AnTuTu and a score of 657 (single-core)/1535 (multi-core) in Geekbench 4.
Cameras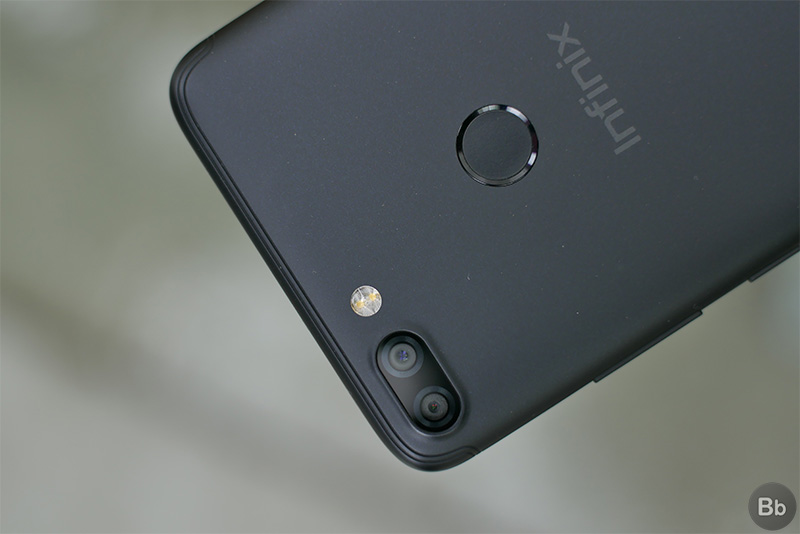 Infinix has packed in a 13MP+2MP dual camera setup on the Hot 6 Pro, along with a 5MP front facing sensor for selfies. Before you read any further let me make something very clear, the cameras on this device are just about average but for the price they're pretty decent.
Pictures captured by the primary dual camera setup aren't super sharp, but they're fairly usable and the camera will get you by in day to day use. In bright daylight, the camera is able to capture just enough detail to qualify the images as decent, however,  in low light conditions, the camera just gives up. Images have barely any detail and there's a whole lot of noise. In well lit scenarios, the camera also tends to overexpose the images, making the background too bright .
The device also comes with portrait mode functionality on the rear camera setup, thanks to the secondary 2MP lens, but much like the normal shots, the portrait mode images aren't anything worth talking about. Edge detection is wonky at times, images turn out fine in decent lighting and the bokeh effect looks just about okay. It's worth noting that while the camera is pretty snappy while clicking images in auto mode, it takes a fair bit longer to click and process portrait mode images. If you're thinking of getting this phone for its camera prowess, then I'd advice you against it, but if camera quality is something which you can overlook then you can probably live with the camera on the Hot 6 Pro.
The 5MP front facing selfie camera is below average, capturing smooth images with little to no detail. There's no portrait mode on the front facing camera and it gets even worse in low lighting conditions. Selfies clicked with the device were just so bad that even Arti, who's an avid fan of taking selfies, was sad and disappointed.
Connectivity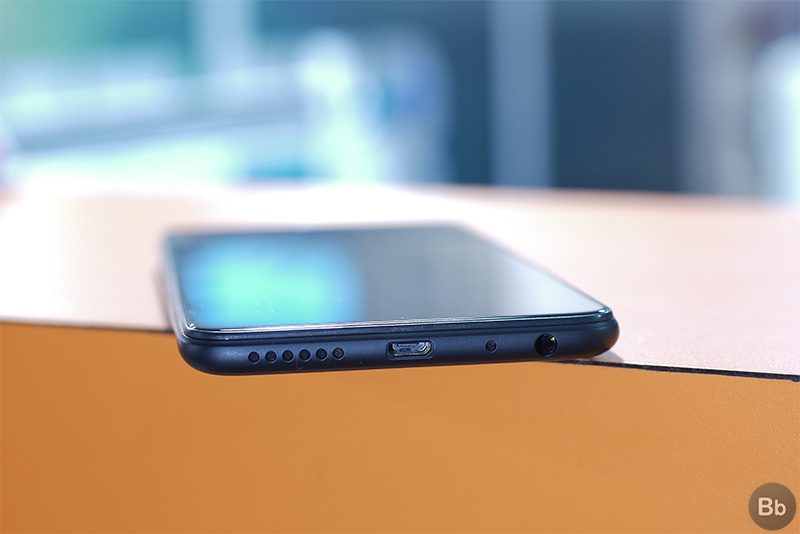 Port selection on the Hot 6 Pro is exactly what you'd expect from a device in this price range. The smartphone comes with a micro-USB charging port, instead of a USB Type-C port, which is still the norm in budget devices. It includes a 3.5mm headphone jack, which is great if you're a fan of wired earphone like me, but the voice quality isn't something that would please an audiophile.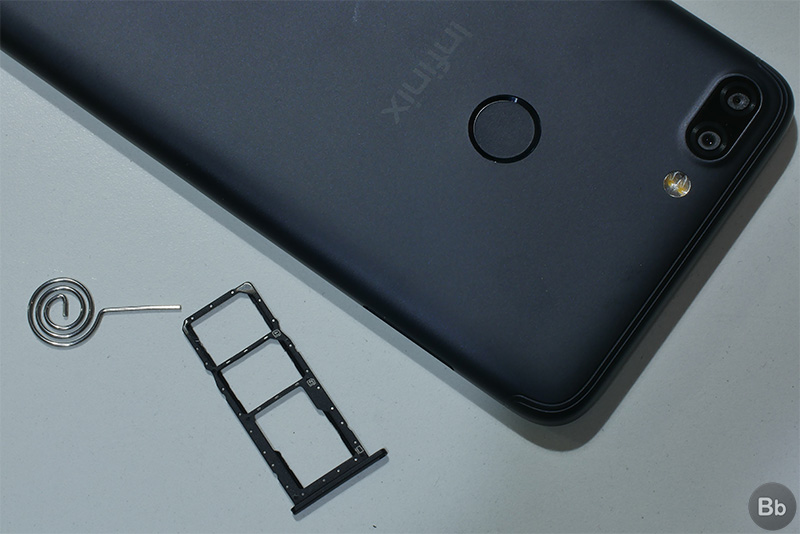 The device has a single three-slot SIM tray which can house two nano SIM cards along with a microSD card for expansion. I really like the fact that the device has a dedicated slot for a microSD card, as it comes with just 32GB of onboard storage and using a microSD card might be more of a necessity than a luxury for most users. For this reason, I'll give the Hot 6 Pro a few brownie points.
Battery Life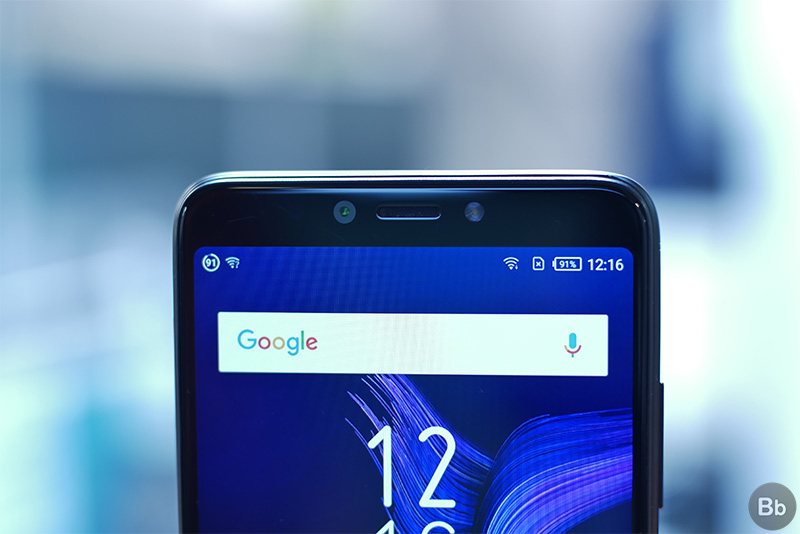 The Hot 6 Pro packs in a respectable 4,000mAh battery which is probably the only saving grace for this device. The smartphone is easily able to power through the day with heavy use with enough battery left at the end of the day to last you most of the next day. Charging up the massive battery with the included charger could be a bit frustrating as it only delivers a max output of 5V/1.2A, however, since the device supports Qualcomm's Quick Charge 2.0 standard, you can speed up the process by investing in a supported charger.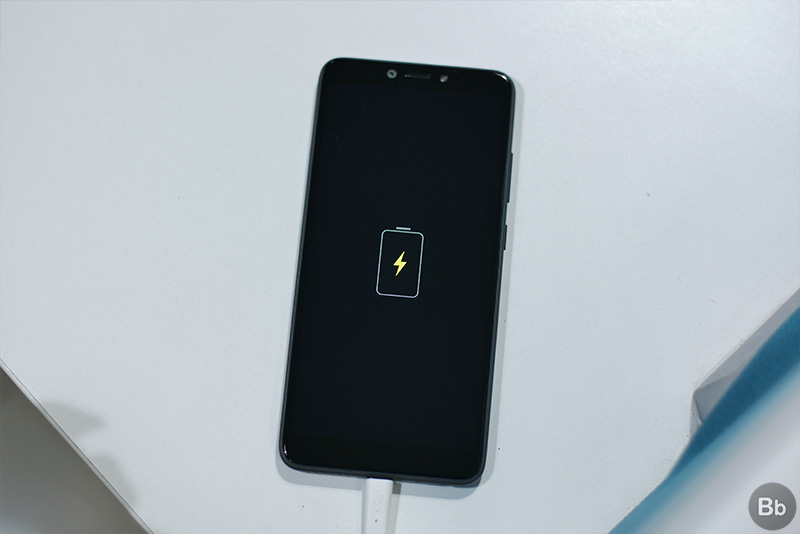 In my testing, the smartphone took over 3 hours to charge from 0-100% with the device turned off, but as I mentioned earlier, you can speed up the process by using a better charger. I really wish Infinix had included a Quick Charge 2.0 compliant charger in the box, but that would probably be too much to ask at this price point. It's also worth noting that the device gets fairly warm while charging, so if you do end up buying the Hot 6 Pro, don't keep it by your side when you set it down to charge at night.
Pros:
Great battery life
Decent display
Three slot SIM tray with a dedicated microSD card slot
Cons:
Lackluster performance
Awful user interface with ads
See Also: Samsung Galaxy A6+ Review: Overpriced and Underpowered
Infinix Hot 6 Pro Review: Hot? Definitely Not!
Coming to the final verdict. Should you spend Rs. 7,999 on the Infinix Hot 6 Pro? Quite frankly, no. You could go for it if you're looking for exceptional battery life on a budget device with a large display. But then you could also go for the Xiaomi Redmi 5 instead, which costs just a thousand bucks more and offers a significantly better user experience, a more powerful processor and a big bezel-less display. On top of that, you'd probably also get better after sales services with the Xiaomi device as it has an elaborate network of service centers across the country. You'd be right to bring up the fact that the Redmi 5 doesn't have a dual camera setup, but then again, what good is the dual camera setup on the Hot 6 Pro? It's nothing but a gimmick and at this price range you'd be better off investing in a smartphone which has a single decent camera than on one which has two bad ones.
Buy from Flipkart: Rs. 7999

REVIEW OVERVIEW

SUMMARY

The Hot 6 Pro from Chinese smartphone manufacturer Infinix promises a large bezel-less 18:9 display and a dual camera setup on a device priced at just Rs. 7,999. However, even for the price, the device is barely able to keep up with the competition as it has an awful user interface, sub-par cameras, and lackluster performance. The only redeeming quality of the Hot 6 Pro is its 4,000mAh battery, which lasts a long while even on a extensive workload.